Лаборатория лиганд-рецепторных взаимодействий
Лаборатория организована в 2009 г. и возглавляется доктором химических наук И. Е. Кашеверовым.
Основными задачами лаборатории лиганд-рецепторных взаимодействий являются структурно-функциональные исследования некоторых Cys-петельных рецепторов (никотиновые, глициновый) с помощью пептидных лигандов природного происхождения и их искусственных аналогов, а также создание новых биологически активных пептидных соединений на основе известных холинергических лигандов.
В лаборатории проводятся работы по компьютерному дизайну новых соединений на базе структур известных холинергических лигандов (конотоксины разных классов) и моделей их комплексов с никотиновыми рецепторами или их гомологами (ацетилхолин-связывающие белки), химическому синтезу различных пептидных соединений и анализу их биологической активности с применением различных методов исследования (радиолигандный анализ, электрофизиология, плазмонный резонанс).
В лаборатории было синтезировано (в том числе и на основе дизайна с применением методов компьютерного моделирования) более 4-х десятков различных конотоксинов и их аналогов, часть из которых в дальнейшем модифицировалась радиоактивными и/или фотоактивируемыми метками. С помощью некоторых из них были структурно охарактеризованы лиганд-связывающие участки природного никотинового рецептора. С использованием другого аналога, оказавшегося более активным соединением, чем природный конотоксин, впервые была установлена кристаллическая структура ацетилхолин-связывающего белка в комплексе с пептидным антагонистом и выявлены ее принципиальные отличия от структуры комплексов с агонистами. Полученные данные стали основой для создания компьютерных моделей различных типов никотиновых холинорецепторов.
Часть представленной работы нашла отражение в недавно опубликованных обзорах: Tsetlin V., Utkin Y., Kasheverov I. (2009). Polypeptide and peptide toxins, magnifying lenses for binding sites in nicotinic acetylcholine receptors. Biochem Pharmacol. 78(7), 720—731 иKasheverov I.E., Utkin Y.N., Tsetlin V.I. (2009). Naturally occurring and synthetic peptides acting on nicotinic acetylcholine receptors. Curr Pharm Des. 15(21), 2430—2452.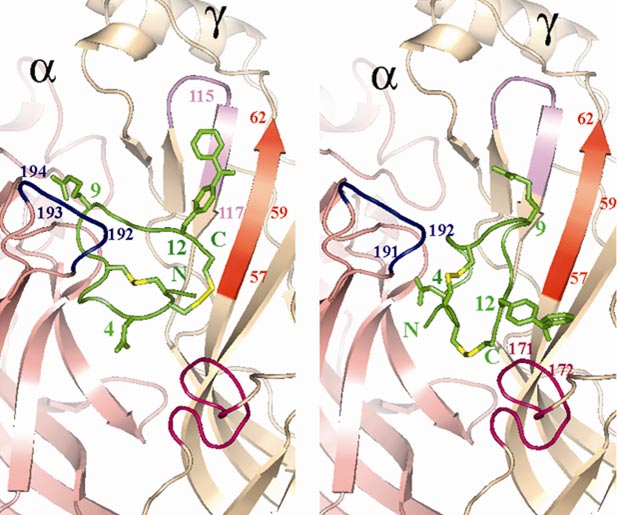 Модель комплекса аналога α-конотоксина GI с природным холинорецептором Torpedo: предложены две возможные ориентации пептида в кармане связывания между a- и γ-субъединицами на основании данных метода фотоаффинной модификации. Kasheverov IE, et al. FEBS J. 273(7), 1373—1388 (2006).
Ф.И.О.
Должность
Контакты
Кашеверов Игорь Евгеньевич, д. х. н.
рук. подр.
iekash@mx.ibch.ru, +7(495)995-55-57#2118
Жмак Максим Нургаянович, к. х. н.
с.н.с.
mzhmak@gmail.com, +7(495)330-73-74
Крюкова Елена Викторовна, к. х. н.
с.н.с.
evkr@mail.ru, +7(495)330-73-74
Рябинин Владимир Витальевич
с.н.с.
Макарова Яна Владиславовна
н.с.
yanson1@yandex.ru, +7(495)330-73-74
Кудрявцев Денис Сергеевич, к. б. н.
н.с.
kudryavtsev@ibch.ru
Иванов Игорь Андреевич
н.с.
chai.mail0@gmail.com
Лебедев Дмитрий Сергеевич
н.с.
dmitry-1@bk.ru, +7()
Кузьмин Дмитрий Андреевич
асп.
kuzmin@mx.ibch.ru, +7(495)330-73-74
Карамышева Наталия Дмитриевна
инженер
target_lockon@mail.ru, +7(495)335-57-33
Спирова Екатерина Николаевна
инженер
Сон Лина Викторовна
инженер

Ранее здесь работали:

Хрущев Алексей Юрьевич
асп.
khrushh@rambler.ru
Нигматулина Наталья Борисовна
инженер
natnb@mail.ru
Кашеверов Игорь Евгеньевич
Москва, ул. Миклухо-Маклая, 16/10 — На карте
ИБХ РАН, корп. 33, комн. 236
Тел.: +7(495)995-55-57#2118
Эл. почта: iekash@mx.ibch.ru
Разработка новой методики на основе кальциевого имиджинга и функциональная характеристика с ее помощью α7/α9 мутантов нАХР. (2017-12-15)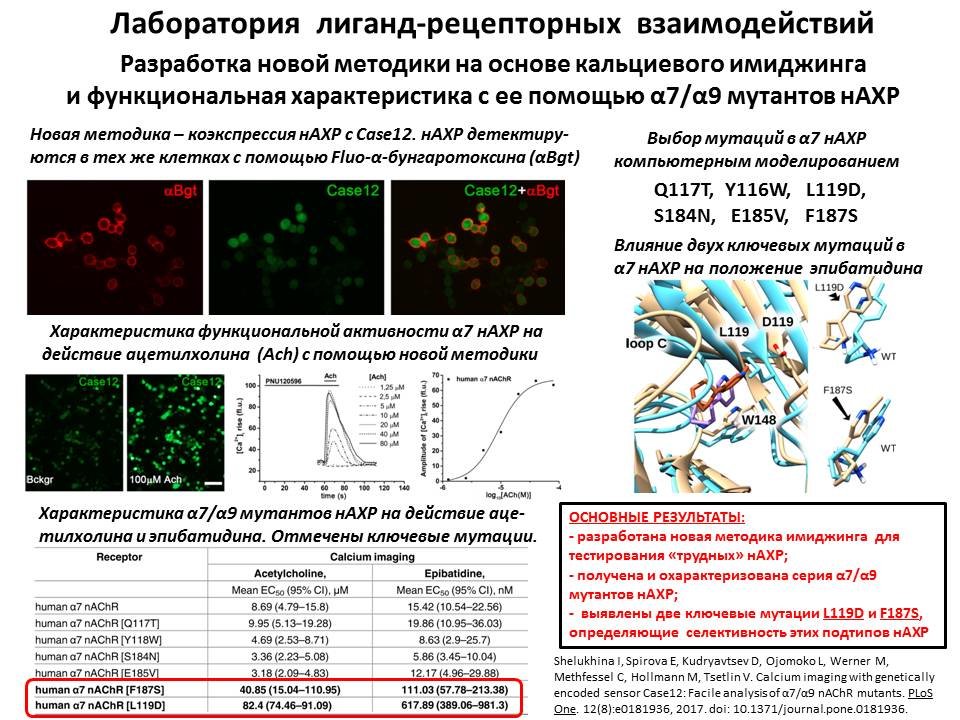 На основании метода кальциевого имиджинга была разработана новая методика, позволяющая достаточно эффективно экспрессировать в клеточных линиях функционально активные «трудные» подтипы никотиновых рецепторов (нАХР). Методика включает  в себя коэкспресиию с соответствующим подтипом рецептора шаперона и флуоресцентного кальциевого сенсора Case12.  Данная методика позволила получить 6 мутантных форм α7 нАХР с выбранными одиночными заменами аминокислотных остатков из α9 подтипа нАХР. Все полученные мутанты вместе с исходными рецепторами были проанализированы на сродство к ацетилхолину и эпибатидину с помощью разработанной методики. Это позволило выявить две ключевые мутации - L119D и F187S, определяющие селективность к указанным лигандам этих подтипов нАХР. Компьютерное моделирование показало существенное изменение расположение молекул лигандов в участках связывания именно этих двух мутантных форм рецептора, объясняя полученные данные.   
Публикации
(2017).

Calcium imaging with genetically encoded sensor Case12: Facile analysis of α7/α9 nAChR mutants.

PLoS ONE

12 (8)

,

e0181936

[+]

Elucidation of the structural basis of pharmacological differences for highly homologous α7 and α9 nicotinic acetylcholine receptors (nAChRs) may shed light on their involvement in different physiological functions and diseases. Combination of site-directed mutagenesis and electrophysiology is a powerful tool to pinpoint the key amino-acid residues in the receptor ligand-binding site, but for α7 and α9 nAChRs it is complicated by their poor expression and fast desensitization. Here, we probed the ligand-binding properties of α7/α9 nAChR mutants by a proposed simple and fast calcium imaging method. The method is based on transient co-expression of α7/α9 nAChR mutants in neuroblastoma cells together with Ric-3 or NACHO chaperones and Case12 fluorescent calcium ion sensor followed by analysis of their pharmacology using a fluorescence microscope or a fluorometric imaging plate reader (FLIPR) with a GFP filter set. The results obtained were confirmed by electrophysiology and by calcium imaging with the conventional calcium indicator Fluo-4. The affinities for acetylcholine and epibatidine were determined for human and rat α7 nAChRs, and for their mutants with homologous residues of α9 nAChR incorporated at positions 117-119, 184, 185, 187, and 189, which are anticipated to be involved in ligand binding. The strongest decrease in the affinity was observed for mutations at positions 187 and 119. The L119D mutation of α7 nAChR, showing a larger effect for epibatidine than for acetylcholine, may implicate this position in pharmacological differences between α7 and α9 nAChRs.

ID:1836
Cинтезирован SLURP-1 (81 аминокислотный остаток, 5 дисульфидов), идентичный по аминокислотной последовательности эндогенному белку человека, отличающийся от всех известных рекомбинантных белков по (2017-12-15)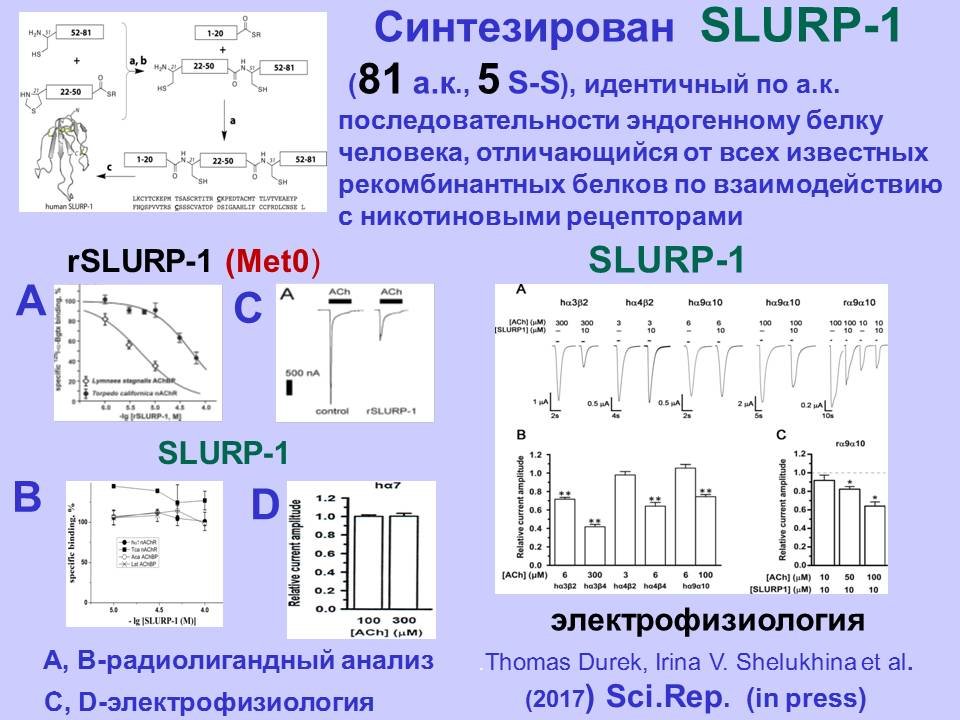 Синтезирован  SLURP-1 (81 аминокислотный остаток, 5 дисульфидов), идентичный по аминокислотной последовательности эндогенному токсино-подобному белку человека. По данным 1Н-ЯМР он имеет ту же структуру, что и рекомбинантный rSLURP-1, несущий дополнительный N-концевой Met0, несколько отличается по молекулярной динамике и существенно по биологической активности в отношении различных подтипов никотиновых рецепторов. То есть необходимо максимальное приближение к структуре природного белка для установления механизмов его эндогенной активности и выбора последующих медицинских применений.
Публикации
(2018).

Interaction of Synthetic Human SLURP-1 with the Nicotinic Acetylcholine Receptors.

Sci. Rep.

, [+]

Синтезирован  SLURP-1 (81 аминокислотный остаток, 5 дисульфидов), идентичный по аминокислотной последовательности эндогенному токсино-подобному белку человека. По данным 1Н-ЯМР он имеет ту же структуру, что и рекомбинантный rSLURP-1, несущий дополнительный N-концевой Met0, несколько отличается по молекулярной динамике и существенно по биологической активности в отношении различных подтипов никотиновых рецепторов. То есть необходимо максимальное приближение к структуре природного белка для установления механизмов его эндогенной активности и выбора последующих медицинских применений.

ID:2014