Лаборатория молекулярной иммунологии
Дружный коллектив Лаборатории молекулярной иммунологии на Дне Здоровья.
Видео - собирательный образ выездных семинаров лаборатории на Москве-реке Дни здоровья 2008-2011
Интервью с заведующим лабораторией Деевым Сергеем Михайловичем, опубликованное в журнале "Наука из первых рук" Самонаводящееся лекарство.pdf (2017).
Вручение премии Президента в области науки и инноваций для молодых учёных за 2017 год старшему научному сотруднику лаборатории - Никитину Максиму Петровичу Видеозапись церемонии
В лаборатории выполняется проект КОМФИ 17-00-00121-Н "Новые подходы к адресной терапии злокачественных новообразований с использованием инновационного направляющего модуля неиммуноглобулиновой природы", 2017-2020 гг. Проект КОМФИ_2017.pdf
2017 год.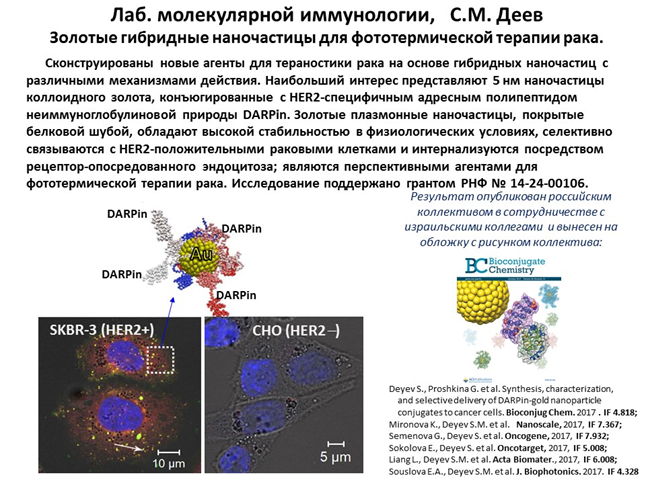 2010 год. На основе разработанных принципов сконструированы и охарактеризованы два новых высокоэффективных иммунотоксина направленного действия для адресного поражения патогенных клеток. Показано, что бифункциональное производное рекомбинантных анти-HER2/neu-мини-антител - полностью генетически кодируемый иммунофотосенсибилизатор на основе фототоксического белка KillerRed – адресно поражает при облучении опухолевые клетки, гиперэкспрессирующие онкомаркер HER2/neu, причем его действие усиливается при сочетанном применении традиционного химиотерапевтического агента - цисплатина. Второй иммунотоксин, нацеленный на модельные В-клетки с помощью специфического эпитопа, вызывает апоптоз клеток-мишеней за счет действующего агента - рибонуклеазы барназы и характеризуется оптимальным соотношением токсичности и селективности.
На основе разработанных принципов созданы и охарактеризованы гибридные биосовместимые флуоресцентные  нанокомплексы  разной природы для  визуализации опухолевых клеток человека in vitro и in vivo. Впервые на универсальной платформе белкового модуля барназа-барстар созданы конъюгаты люминесцентных наноалмазов с флуоресцентным белком EGFP и с золотыми наночастицами. Полученные наночастицы устойчивы в виде водных суспензий в течение длительного времени, способные неспецифически метить эукариотические клетки, обладают широким спектром излучения и фотостабильностью. Путем включения в полимерные частицы получены стабильные водные суспензии флуоресцентных нанокристаллов (квантовых точек) и их конъюгатов с противораковыми мини-антителами.  Полученные соединения специфически метят раковые клетки и характеризуются высоким квантовым выходом и фотостабильностью. В работе получен набор флуоресцентных полимерных частиц, в том числе, содержащих КТ,  отвечающих требованиям биоанализа, и проведена оценка возможности использования полученных частиц для визуализации биомолекул на примере реакции латексной агглютинации и маркирования клеточных рецепторов. Высокая эффективность флуоресценции, уникальная фотостабильность синтезированных полимерных частиц, разнообразие цветов флуоресценции при использовании одного источника возбуждения открывают широкие возможности для применения полимерных частиц в медицине и биологии.
Предложен уникальный метод самосборки в единые суперструктуры заранее программируемого состава различных компонентов, например магнитных частиц, квантовых точек и антител, независимо от свойств их поверхности. Создаваемые с помощью разработанного метода частицы могут использоваться в новейшей области медицины - терагностике, в которой один препарат используется как для диагностики, и для терапии заболеваний.
Обзор в журнале "Биохимия": "ERBB онкогены - мишени моноклональных антител".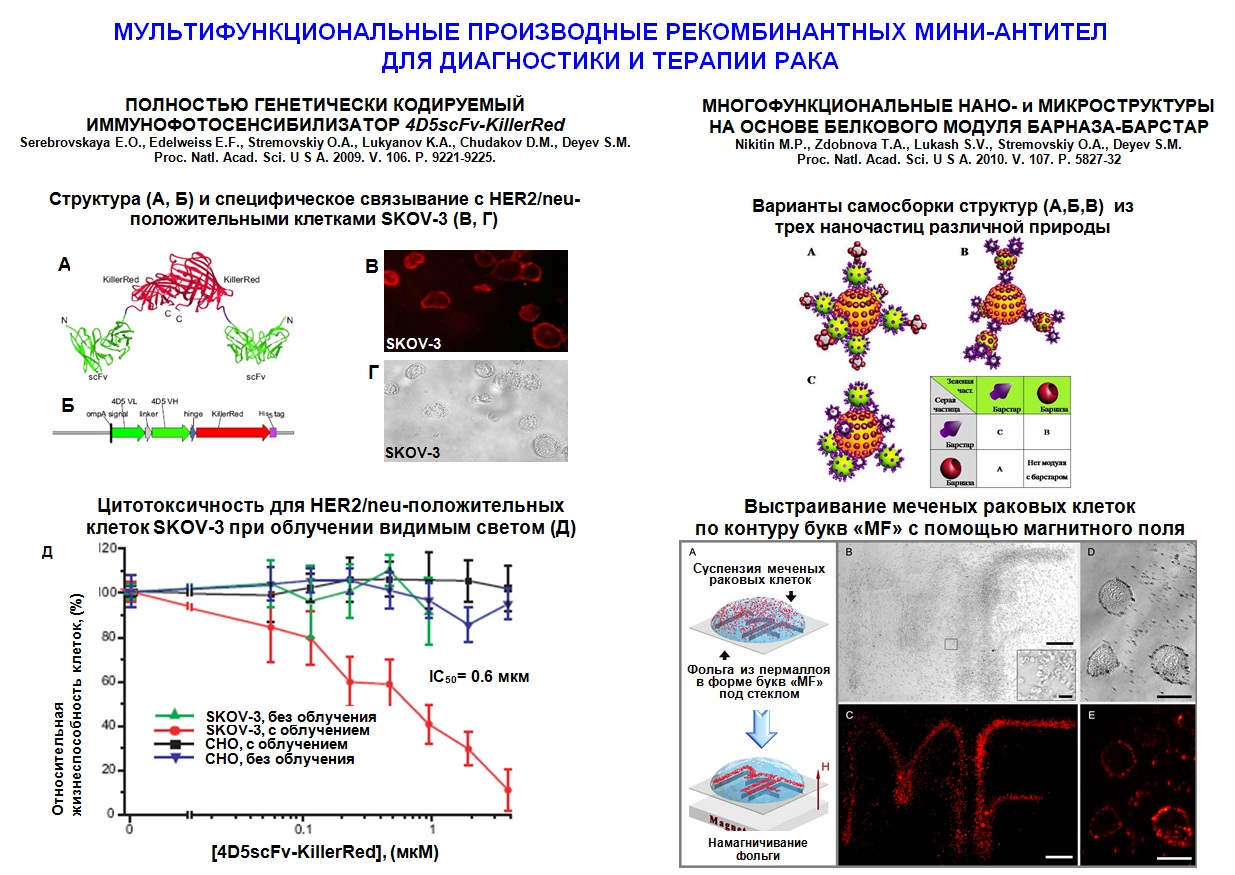 Ф.И.О.
Должность
Контакты
Деев Сергей Михайлович, чл.-корр. РАН
рук. подр.
deyev@mail.ibch.ru, +7(495)429-88-10, +7(495)223-52-17, +7(495)995-55-57#5217
Прошкина Галина Михайловна, к. б. н.
с.н.с.
+7(499)724-71-88
Лебеденко Екатерина Николаевна, к. б. н.
с.н.с.
elebedenko@mail.ru, +7(495)3306392, +7(926)2417030, +7(499)1510178
Холоденко Роман Васильевич, к. б. н.
с.н.с.
khol@mail.ru, +7(495)330-40-11
Шульга Алексей Анатольевич, к. б. н.
с.н.с.
schulga@gmail.com
Никитин Максим Петрович, к. ф.-м. н.
с.н.с.
max.nikitin@gmail.com, +7(495)330-63-92
Шипунова Виктория Олеговна, к. б. н.
с.н.с.
viktoriya.shipunova@phystech.edu, +7(985)2519909
Миронова Кристина Евгеньевна, к. б. н.
н.с.
kgobova@gmail.com, +7(495)3353788
Суслова Екатерина Андреевна, к. б. н.
н.с.
souslova@gmail.com
Шрамова Елена Ивановна, к. б. н.
н.с.
fei@psha.org.ru, +7(916)950-35-49
Ходарович Юрий Михайлович, к. б. н.
н.с.
khodarovich@mail.ru, +7(495)330-64-65
Стремовский Олег Анатольевич
н.с.
ostr@mail.ru
Доронин Игорь Игоревич, к. б. н.
н.с.
doroninII@gmail.com, +7(495)330-72-56
Кагарлицкий Герман Олегович
м.н.с.
webdiver@inbox.ru
Семёнова Галина Владимировна
м.н.с.
Холоденко Ирина Викторовна
м.н.с.
Коновалова Елена Валерьевна
асп.
elena.ko.mail@gmail.com, +7()
Зелепукин Иван Владимирович
асп.
ivan.zelepukin@gmail.com, +7()
Шилова Ольга Николаевна
асп.
olchernykh@yandex.ru, +7()
Моисеев Ярослав Павлович
асп.
biotech.moiseev@gmail.com
Шилова Мария Вячеславовна
тех.-лаб.
Здобнова Татьяна Александровна, к. б. н.
инженер
t.zdobnova@mail.ru, +7(495)3306392
Киселёва Дарья Владимировна
инженер
darkiseleva@mail.ru
Котельникова Полина Александровна
инженер
kotelnikova@phystech.edu, +7()
Дунина-Барковская Антонина Яковлевна
инженер
Кузичкина Евгения Олеговна
инженер
Миркасымов Азиз Бахтиярович
инженер
Рахманинова Дарья Дмитриевна
инженер
Лукьянова Тамара Ивановна
вед. инж.
Соколова Евгения Александровна
ст. инж.

Ранее здесь работали:

Баландин Тарас Геннадиевич
м.н.с.
Лукаш Сергей Васильевич
м.н.с.
Верюгин Борис Викторович
инженер
boris.veryugin@gmail.com
Карпенко Дмитрий Владимирович
инж.-иссл.
Корольчук Ольга Леонидовна
инж.-иссл.
olg.kor@gmail.com
Избранные публикации
(2017).

Synthesis, Characterization, and Selective Delivery of DARPin-Gold Nanoparticle Conjugates to Cancer Cells.

Bioconjug. Chem.

28 (10)

,

2569–2574

[+]

We demonstrate that the designed ankyrin repeat protein (DARPin)_9-29, which specifically targets human epidermal growth factor receptor 2 (HER 2), binds tightly to gold nanoparticles (GNPs). Binding of the protein strongly increases the colloidal stability of the particles. The results of experimental analysis and molecular dynamics simulations show that approximately 35 DARPin_9-29 molecules are bound to the surface of a 5 nm GNP and that the binding does not involve the receptor-binding domain of the protein. The confocal fluorescent microscopy studies show that the DARPin-coated GNP conjugate specifically interacts with the surface of human cancer cells overexpressing epidermal growth factor receptor 2 (HER2) and enters the cells by endocytosis. The high stability under physiological conditions and high affinity to the receptors overexpressed by cancer cells make conjugates of plasmonic gold nanostructures with DARPin molecules promising candidates for cancer therapy.

ID:1963

(2017).

Ultraviolet phototoxicity of upconversion nanoparticles illuminated with near-infrared light.

Nanoscale

9 (39)

,

14921–14928

[+]

Recently introduced upconversion nanoparticles (UCNPs) have pushed the depth of photodynamic therapy (PDT) treatment to the centimetre range by converting deeply-penetrating near-infrared (NIR) radiation to visible radiation for photoexcitation of PDT drugs. Here we demonstrate that the direct exposure of the cancer tissue to phototoxic ultraviolet radiation generated by NIR-photoexcited UCNPs enabled successful PDT. To this aim, core/shell UCNPs of the formula NaYF4:Yb(3+)Tm(3+)/NaYF4 featuring an enhanced band in the ultraviolet UV-A and UV-B spectral bands were rationally designed and synthesised. Coupling UCNPs to the recombinant modules of the Designed Ankyrin Repeat Protein (DARPin) fused to a fluorescent protein mCherry allowed the target delivery of DARPin-mCherry/UCNP to human breast adenocarcinoma SK-BR-3 cells overexpressing HER2/neu receptors, as confirmed by fluorescence microscopy. DARPin-mCherry/UCNPs were demonstrated to be phototoxic to SK-BR-3 cells under 975 nm laser irradiation at a dose of 900 J cm(-2) due to the UV photoexcitation of endogenous photosensitizers and concomitant generation of reactive oxygen species. The Lewis lung cancer mouse model was employed to demonstrate the feasibility of PDT using UCNP-mediated UV excitation of endogenous photosensitizers in the tumor tissue at a NIR dose of 1200 J cm(-2). This study paves the way for exploring and harnessing UV photoexcitation processes in deep tissues in vivo.

ID:1966

(2017).

Targeting group I p21-activated kinases to control malignant peripheral nerve sheath tumor growth and metastasis.

Oncogene

36 (38)

,

5421–5431

[+]

Malignant peripheral nerve sheath tumors (MPNSTs) are devastating sarcomas for which no effective medical therapies are available. Over 50% of MPSNTs are associated with mutations in NF1 tumor suppressor gene, resulting in activation of Ras and its effectors, including the Raf/Mek/Erk and PI3K/Akt/mTORC1 signaling cascades, and also the WNT/β-catenin pathway. As Group I p21-activated kinases (Group I Paks, PAK1/2/3) have been shown to modulate Ras-driven oncogenesis, we asked if these enzymes might regulate signaling in MPNSTs. In this study we found a strong positive correlation between the activity of PAK1/2/3 and the stage of human MPNSTs. We determined that reducing Group I Pak activity diminished MPNST cell proliferation and motility, and that these effects were not accompanied by significant blockade of the Raf/Mek/Erk pathway, but rather by reductions in Akt and β-catenin activity. Using the small molecule PAK1/2/3 inhibitor Frax1036 and the MEK1/2 inhibitor PD0325901, we showed that the combination of these two agents synergistically inhibited MPNST cell growth in vitro and dramatically decreased local and metastatic MPNST growth in animal models. Taken together, these data provide new insights into MPNST signaling deregulation and suggest that co-targeting of PAK1/2/3 and MEK1/2 may be effective in the treatment of patients with MPNSTs.

ID:1965

(2017).

HER2-specific recombinant immunotoxin 4D5scFv-PE40 passes through retrograde trafficking route and forces cells to enter apoptosis.

Oncotarget

8 (13)

,

22048–22058

[+]

Immunotoxin 4D5scFv-PE40 is a recombinant protein that comprises 4D5scFv antibody as a targeting module and fragment of Pseudomonas exotoxin A as an effector (toxic) one. The immunotoxin has shown pronounced antitumor effect on cancer cells overexpressing HER2 receptor in vitro and on HER2-positive experimental tumors in vivo. We clarified the mechanism of 4D5scFv-PE40 activity that is of particular importance in the case of targeted therapeutic agent aimed at personalizing treatment of disease in relation to molecular genetic characteristics of each patient. After specific binding to HER2 on the cell surface and clathrin-mediated endocytosis the immunotoxin passes through retrograde trafficking route. During this route the immunotoxin molecule is supposed to undergo enzymatic processing that ends in separation of C-terminal and N-terminal fragments of the immunotoxin. Finally, C-terminal functionally active fragment of 4D5scFv-PE40 arrests protein synthesis in cytoplasm followed by cell death via apoptosis.

ID:1967

(2017).

Deep-penetrating photodynamic therapy with KillerRed mediated by upconversion nanoparticles.

Acta Biomater

51

,

461–470

[+]

The fluorescent protein KillerRed, a new type of biological photosensitizer, is considered as a promising substitute for current synthetic photosensitizes used in photodynamic therapy (PDT). However, broad application of this photosensitiser in treating deep-seated lesions is challenging due to the limited tissue penetration of the excitation light with the wavelength falling in the visible spectral range. To overcome this challenge, we employ upconversion nanoparticles (UCNPs) that are able to convert deep-penetrating near infrared (NIR) light to green light to excite KillerRed locally, followed by the generation of reactive oxygen species (ROS) to kill tumour cells under centimetre-thick tissue. The photosensitizing bio-nanohybrids, KillerRed-UCNPs, are fabricated through covalent conjugation of KillerRed and UCNPs. The resulting KillerRed-UCNPs exhibit excellent colloidal stability in biological buffers and low cytotoxicity in the dark. Cross-comparison between the conventional KillerRed and UCNP-mediated KillerRed PDT demonstrated superiority of KillerRed-UCNPs photosensitizing by NIR irradiation, manifested by the fact that ∼70% PDT efficacy was achieved at 1-cm tissue depth, whereas that of the conventional KillerRed dropped to ∼7%.

ID:1964

(2016).

MPQ-cytometry: a magnetism-based method for quantification of nanoparticle-cell interactions.

Nanoscale

, [+]

Precise quantification of interactions between nanoparticles and living cells is among the imperative tasks for research in nanobiotechnology, nanotoxicology and biomedicine. To meet the challenge, a rapid method called MPQ-cytometry is developed, which measures the integral non-linear response produced by magnetically labeled nanoparticles in a cell sample with an original magnetic particle quantification (MPQ) technique. MPQ-cytometry provides a sensitivity limit 0.33 ng of nanoparticles and is devoid of a background signal present in many label-based assays. Each measurement takes only a few seconds, and no complicated sample preparation or data processing is required. The capabilities of the method have been demonstrated by quantification of interactions of iron oxide nanoparticles with eukaryotic cells. The total amount of targeted nanoparticles that specifically recognized the HER2/neu oncomarker on the human cancer cell surface was successfully measured, the specificity of interaction permitting the detection of HER2/neu positive cells in a cell mixture. Moreover, it has been shown that MPQ-cytometry analysis of a HER2/neu-specific iron oxide nanoparticle interaction with six cell lines of different tissue origins quantitatively reflects the HER2/neu status of the cells. High correlation of MPQ-cytometry data with those obtained by three other commonly used in molecular and cell biology methods supports consideration of this method as a prospective alternative for both quantifying cell-bound nanoparticles and estimating the expression level of cell surface antigens. The proposed method does not require expensive sophisticated equipment or highly skilled personnel and it can be easily applied for rapid diagnostics, especially under field conditions.

ID:1530

(2015).

A comprehensive study of interactions between lectins and glycoproteins for the development of effective theranostic nanoagents.

Dokl. Biochem. Biophys.

464 (1)

,

315–8

[+]

A comprehensive study of the interactions between lectins and glycoproteins possessing different glycosylation profiles in the composition of nanoparticles was carried out in order to find specifically interacting protein pairs for the creation of novel classes of multifunctional nanoagets that based on protein-assisted selfassembly. We obtained information about specific interactions of certain lectins with selected glycoproteins as well as about the ability of certain monosaccharides to competitively inhibit binding of glycoproteins with lectins. These protein-mediated interactions may be involved in the formulation of self-assembled nanoparticles for therapy and diagnostics of various diseases.

ID:1322

(2015).

Submicron polyacrolein particles in situ embedded with upconversion nanoparticles for bioassay.

Nanoscale

7 (5)

,

1709–17

[+]

We report a new surface modification approach of upconversion nanoparticles (UCNPs) structured as inorganic hosts NaYF4 codoped with Yb(3+) and Er(3+) based on their encapsulation in a two-stage process of precipitation polymerization of acrolein under alkaline conditions in the presence of UCNPs. The use of tetramethylammonium hydroxide both as an initiator of acrolein polymerization and as an agent for UCNP hydrophilization made it possible to increase the polyacrolein yield up to 90%. This approach enabled the facile, lossless embedment of UCNPs into the polymer particles suitable for bioassay. These particles are readily dispersible in aqueous and physiological buffers, exhibiting excellent photoluminescence properties, chemical stability, and also allow the control of particle diameters. The feasibility of the as-produced photoluminescent polymer particles mean-sized 260 nm for in vivo optical whole-animal imaging was also demonstrated using a home-built epi-luminescence imaging system.

ID:1431

(2015).

Cytotoxicity and non-specific cellular uptake of bare and surface-modified upconversion nanoparticles in human skin cells.

Nano Research

8 (5)

,

1546–1562

[+]

The cytotoxicity and non-specific cellular uptake of the most popular composition of upconversion nanoparticle (UCNP), NaYF4:Yb3+:Er3+, is reported using normal human skin cells, including dermal fibroblasts and immortalized human epidermal linear keratinocytes (HaCaT). A new hydrophilization reaction of as-synthesized UCNPs based on tetramethylammonium hydroxide (TMAH) enabled evaluation of the intrinsic cytotoxicity of bare UCNPs. The cytotoxicity effects of the UCNP surface-coating and polystyrene host were investigated over the concentration range 62.5–125 μg/mL with 24-h incubation, using a MTT test and optical microscopy. The fibroblast viability was not compromised by UCNPs, whereas the viability of keratinocytes varied from 52% ± 4% to 100% ± 10% than the control group, depending on the surface modification. Bare UCNPs reduced the keratinocyte viability to 76% ± 3%, while exhibiting profound non-specific cellular uptake. Hydrophilic poly(D,L-lactide)- and poly(maleic anhydride-alt-1-octadecene)-coated UCNPs were found to be least cytotoxic among the polymer-coated UCNPs, and were readily internalized by human skin cells. Polystyrene microbeads impregnated with UCNPs remained nontoxic. Surprisingly, no correlation was found between UCNP cytotoxicity and the internalization level in cells, although the latter ranged broadly from 0.03% to 59%, benchmarked against 100% uptake level of TMAH-UCNPs.

ID:1430

(2013).

ErbB-онкогены - мишени моноклональных антител.

Биохимия

77 (3)

,

289–311

ID:872

(2013).

Polyethyleneimine-coated magnetic nanoparticles for cell labeling and modification.

Dokl. Biochem. Biophys.

452 (1)

,

245–7

ID:1266

(2013).

Denaturation-resistant bifunctional colloidal superstructures assembled via the proteinaceous barnase-barstar interface.

ACS Nano

7 (2)

,

950–61

[+]

To date, a number of biomolecule-mediated nanoparticle self-assembly systems have been developed that are amenable to controllable disassembly under relatively gentle conditions. However, for some applications such as design of self-assembled multifunctional theragnostic agents, high stability of the assembled structures can be of primary importance. Here, we report extraordinarily high durability of protein-assisted nanoparticle self-assembly systems yielding bifunctional colloidal superstructures resistant to extreme denaturing conditions intolerable for most proteins (e.g., high concentrations of chaotropic agents, high temperature). Among the tested systems (barnase-barstar (BBS), streptavidin-biotin, antibody-antigen, and protein A-immunoglobulin), the BBS is notable due to the combination of its high resistance to severe chemical perturbation and unique advantages offered by genetic engineering of this entirely protein-based system. Comparison of the self-assembly systems shows that whereas in all cases the preassembled structures proved essentially resistant to extreme conditions, the ability of the complementary biomolecular pairs to mediate assembly of the initial biomolecule-particle conjugates differs substantially in these conditions.

ID:862

(2010).

Protein-assisted self-assembly of multifunctional nanoparticles.

Proc. Natl. Acad. Sci. U.S.A.

107 (13)

,

5827–32

[+]

A bioengineering method for self-assembly of multifunctional superstructures with in-advance programmable properties has been proposed. The method employs two unique proteins, barnase and barstar, to rapidly join the structural components together directly in water solutions. The properties of the superstructures can be designed on demand by linking different agents of various sizes and chemical nature, designated for specific goals. As a proof of concept, colloidally stable trifunctional structures have been assembled by binding together magnetic particles, quantum dots, and antibodies using barnase and barstar. The assembly has demonstrated that the bonds between these proteins are strong enough to hold macroscopic (5 nm-3 microm) particles together. Specific interaction of such superstructures with cancer cells resulted in fluorescent labeling of the cells and their responsiveness to magnetic field. The method can be used to join inorganic moieties, organic particles, and single biomolecules for synergistic use in different applications such as biosensors, photonics, and nanomedicine.

ID:744

Современные технологии создания неприродных антител для клинического применения.

Acta Naturae

1 (1)

,

30–52

ID:336

(2009).

Fluorescent immunolabeling of cancer cells by quantum dots and antibody scFv fragment.

J Biomed Opt

14 (2)

,

021004

[+]

Semiconductor quantum dots (QDs) coupled with cancer-specific targeting ligands are new promising agents for fluorescent visualization of cancer cells. Human epidermal growth factor receptor 2/neu (HER2/neu), overexpressed on the surface of many cancer cells, is an important target for cancer diagnostics. Antibody scFv fragments as a targeting agent for direct delivery of fluorophores offer significant advantages over full-size antibodies due to their small size, lower cross-reactivity, and immunogenicity. We have used quantum dots linked to anti-HER2/neu 4D5 scFv antibody to label HER2/neu-overexpressing live cells. Labeling of target cells was shown to have high brightness, photostability, and specificity. The results indicate that construction based on quantum dots and scFv antibody can be successfully used for cancer cell visualization.

ID:332

(2009).

Construction of the plasmid-free strain for human growth hormone production.

Biochimie

128-129

,

148–53

[+]

The E. coli strain, overproducing human growth hormone (hGH) was made by integration of the hGH gene under the control of T7 promoter into the chromosomal LacZ gene of BL21(DE3) via lambda Red recombineering. The strain gave higher productivity (50 mg·L(-1)·OD550(-1)) and better growth characteristics than the corresponding strain in which the same hGH expression cassette was placed in a plasmid. The protein produced by the plasmid-free strain was purified and characterized to be hGH. The results demonstrates that a plasmid-free recombinant strain having a single-copy gene expression cassette in the chromosome could provide better gene activity regulation, higher productivity, superior growth characteristics, as well as more stringent control of the gene sequence invariance than a plasmid-based strain.

ID:1669

(2008).

Multivalency: the hallmark of antibodies used for optimization of tumor targeting by design.

Bioessays

30 (9)

,

904–18

[+]

High-precision tumor targeting with conventional therapeutics is based on the concept of the ideal drug as a "magic bullet"; this became possible after techniques were developed for production of monoclonal antibodies (mAbs). Innovative DNA technologies have revolutionized this area and enhanced clinical efficiency of mAbs. The experience of applying small-size recombinant antibodies (monovalent binding fragments and their derivatives) to cancer targeting showed that even high-affinity monovalent interactions provide fast blood clearance but only modest retention time on the target antigen. Conversion of recombinant antibodies into multivalent format increases their functional affinity, decreases dissociation rates for cell-surface and optimizes biodistribution. In addition, it allows the creation of bispecific antibody molecules that can target two different antigens simultaneously and do not exist in nature. Different multimerization strategies used now in antibody engineering make it possible to optimize biodistribution and tumor targeting of recombinant antibody constructs for cancer diagnostics and therapy.

ID:333
Золотые гибридные наночастицы для фототермической терапии рака. (2017-11-27)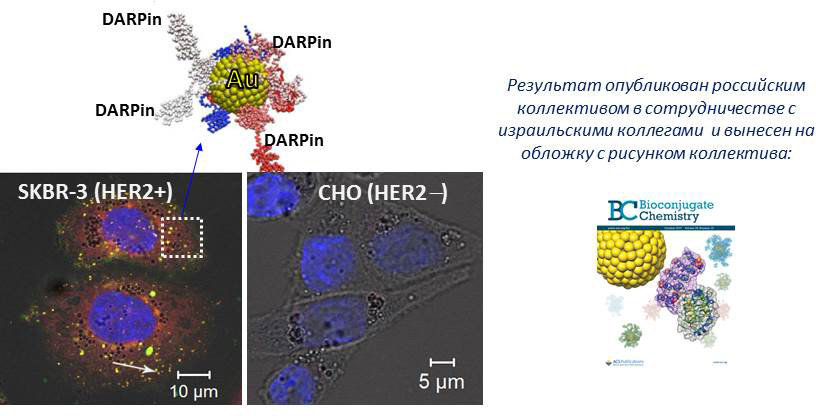 Сконструированы новые агенты для тераностики рака на основе гибридных наночастиц с различным механизмом действия. Наибольший интерес в качестве перспективных агентов для фототермической терапии рака представляют 5 нм наночастицы коллоидного золота, конъюгированные с HER2-специфичным адресным полипептидом неиммуноглобулиновой природы DARPin. Золотые наночастицы, покрытые белковой шубой, обладают высокой стабильностью в физиологических условиях, селективно связываются с HER2-положительными раковыми клетками и интернализуются посредством рецептор-опосредованного эндоцитоза. 
Работа поддержана грантом РНФ №14-24-00106.