Группа нанобиоинженерии
Биоинженерия клеточной мембраны целых клеток – биоинженерное конструирование и встраивание в бактериальную мембрану рекомбинантных мембранных рецепторов, изучение их лиганд-связывающих свойств в составе клеточной мембраны с использованием флуоресцентных методов детекции.
Разработка биоинженерных подходов к получению рекомбинантных мембранных светочувствительных белков с целью исследования их структурной организации и особенностей фотохимических превращений. 
Разработка биоинженерных методов получения растворимых белковых и пептидных лигандов в функционально-активной форме с целью изучения их взаимодействия с рецепторными белками.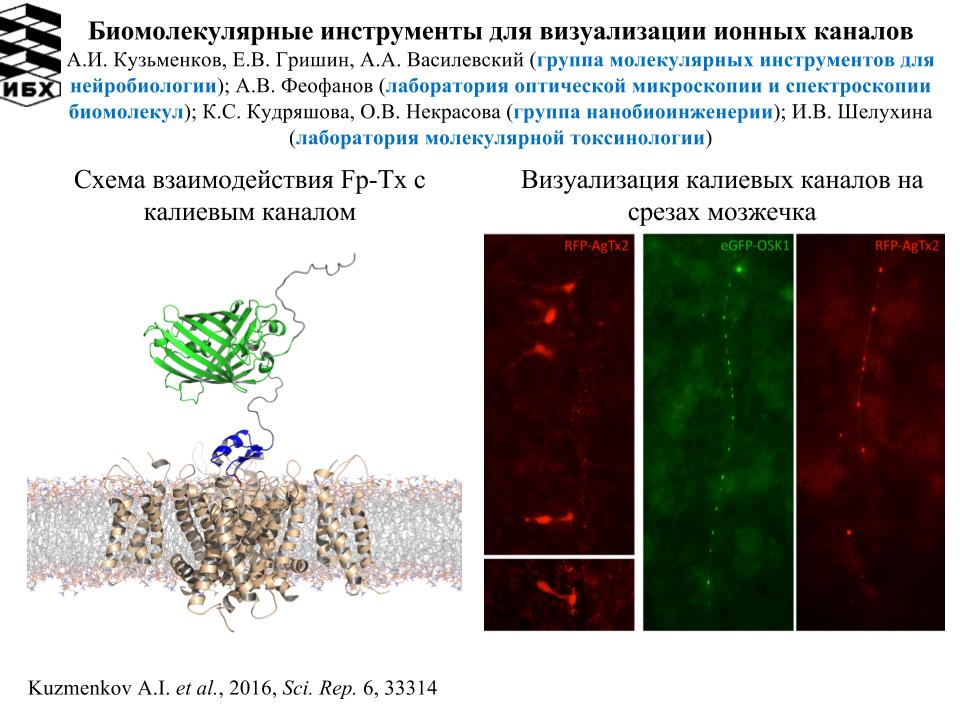 1.     Разработана биоинженерная тест-система изучения взаимодействия калиевых каналов с лигандами. Тест-система основана на использовании флуоресцентно-меченых пептидных зондов и гибридных калиевых каналов, встроенных в бактериальную мембрану целых клеток. Детекция лиганд-рецепторных взаимодействий осуществляется методом лазерной сканирующей конфокальной микроскопии (ЛСКМ). С помощью тест-системы в ядах животного происхождения найдены и охарактеризованы новые пептидные блокаторы калиевых каналов Kv1.1, Kv1.3, имеющих важное биомедицинское значение. С привлечением методов молекулярного моделирования проводится изучение молекулярных основ взаимодействия пептидных токсинов с калиевыми каналами, осуществляется конструирование мутантных форм пептидных токсинов с повышенной избирательностью действия в отношении канала-мишени. Разработан принцип создания генокодируемых флуорецентных лигандов калиевых каналов с целью их использования в качестве флуоресцентных зондов при изучении связывания пептидных блокаторов с каналами, а также для визуализации калиевых каналов в клетках и тканях. Работа проводится совместно с подразделениями ИБХ РАН – лабораторией оптической микроскопии и спектроскопии биомолекул, группой молекулярных инструментов для нейробиологии, лабораторией молекулярной токсинологии, а также с кафедрой биоинженерии биологического факультета МГУ имени М.В. Ломоносова.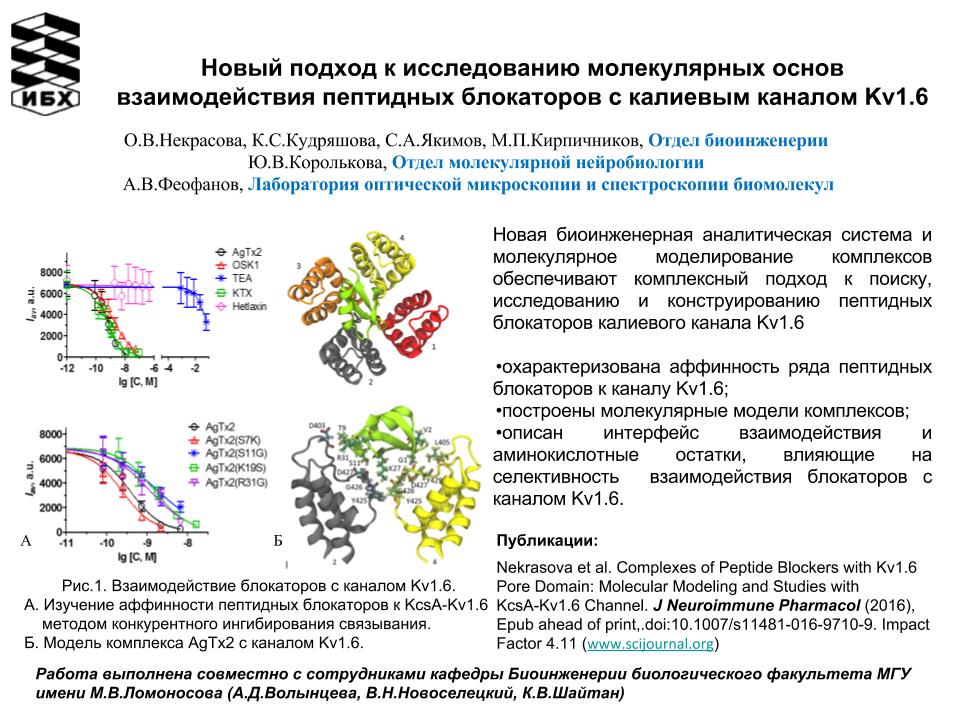 2.     Разработан биоинженерный метод супер-продукции рекомбинантного бактериородопсина (из Halobacterium salinarum) в системе экспрессии E.coli. Фотохимические свойства рекомбинантного бактериородопсина аналогичны свойствам мономерной формы природного бактериородопсина. Рекомбинантный бактериородопсин и его мутантные формы используются для изучения первичных стадий фотоцикла и процессов переноса энергии методом фемтосекундной абсорбционной спектроскопии (совместно с лабораторией физико-химических основ рецепции ИБХФ им. Н.М. Эмануэля РАН). 
3.     Разработаны новые эффективные биоинженерные методы получения функционально-активных рекомбинантных лигандов: дисульфид-богатых пептидных токсинов из яда скорпионов; эфрина А1 - лиганда эфриновых рецепторов. Полученные рекомбинантные пептиды и белки используются в различных исследованиях лиганд-рецепторных взаимодействий.
Некрасова Оксана Васильевна
Разработка эффективного метода получения рекомбинантных пептидов α-KTX – блокаторов калиевых каналов (2017-11-28)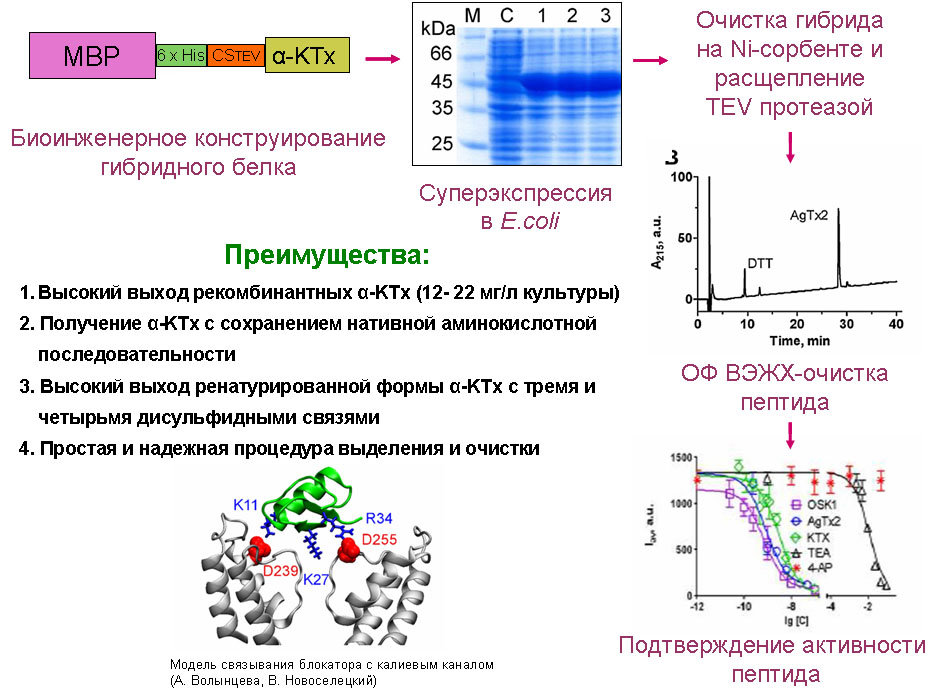 Разработан биоинженерный метод получения пептидных блокаторов калиевых Kv1-каналов, который отличается: высоким выходом целевых пептидов (12-22 мг/л культуры);
сохранением нативной аминокислотной последовательности пептидов; высоким выходом ренатурированной формы пептидов с правильно замкнутыми тремя и четырьмя дисульфидными связями; простой и надежной процедурой выделения и очистки. Получаемые этим методом рекомбинантные пептиды семейства α-КТх обладают активностью исходных природных блокаторов. Пептидные высокоаффинные блокаторы  калиевых каналов из яда скорпионов широко используются для изучения структуры и функции каналов и имеют перспективное медицинское значение.
Публикации
(2017).

Recombinant scorpion toxins: Focus on four-disulfide peptide blockers of Kv1-channels.

Bioengineered

,

1–5

[+]

We have recently developed a simple and effective bioengineering approach to large-scale production of alpha-KTx, peptide toxins from scorpion venoms, that block voltage-gated potassium channels with high affinity and specificity. This approach was successfully approved for different peptides containing three disulfide bonds. To extend this method to production of peptide toxins with four disulfide bridges, in particular, maurotoxin and hetlaxin, appropriate conditions of a cleavage reaction with tobacco etch virus (TEV) protease need to be found. For this, the interplay between efficiency of TEV hydrolysis and sensitivity of the target peptides to disulfide reducing agents was studied, and optimized protocols of TEV cleavage reaction were worked out. Maurotoxin and hetlaxin were produced in a folded form avoiding in vitro renaturation step with yields of 14 and 12 mg/liter of culture, respectively.

ID:1978

(2016).

Straightforward approach to produce recombinant scorpion toxins-Pore blockers of potassium channels.

J. Biotechnol.

241

,

127–135

[+]

Scorpion venom peptide blockers (KTx) of potassium channels are a valuable tool for structure-functional studies and prospective candidates for medical applications. Low yields of recombinant KTx hamper their wide application. We developed convenient and efficient bioengineering approach to a large-scale KTx production that meets increasing demands for such peptides. Maltose-binding protein was used as a carrier for cytoplasmic expression of folded disulfide-rich KTx in E. coli. TEV protease was applied for in vitro cleavage of the target peptide from the carrier. To produce KTx with retained native N-terminal sequence, the last residue of TEV protease cleavage site (CSTEV) was occupied by the native N-terminal residue of a target peptide. It was shown that decreased efficiency of hydrolysis of fusion proteins with non-canonical CSTEV can be overcome without by-product formation. Disulfide formation and folding of a target peptide occurred in cytoplasm eliminating the need for renaturation procedure in vitro. Advantages of this approach were demonstrated by producing six peptides with three disulfide bonds related to four KTx sub-families and achieving peptide yields of 12-22mg per liter of culture. The developed approach can be of general use for low-cost production of various KTx, as well as other disulfide-rich peptides and proteins.

ID:1690
Разработка интегрального транскриптомного и протеомного подхода для поиска блокаторов калиевых каналов в яде животных (2016-03-27)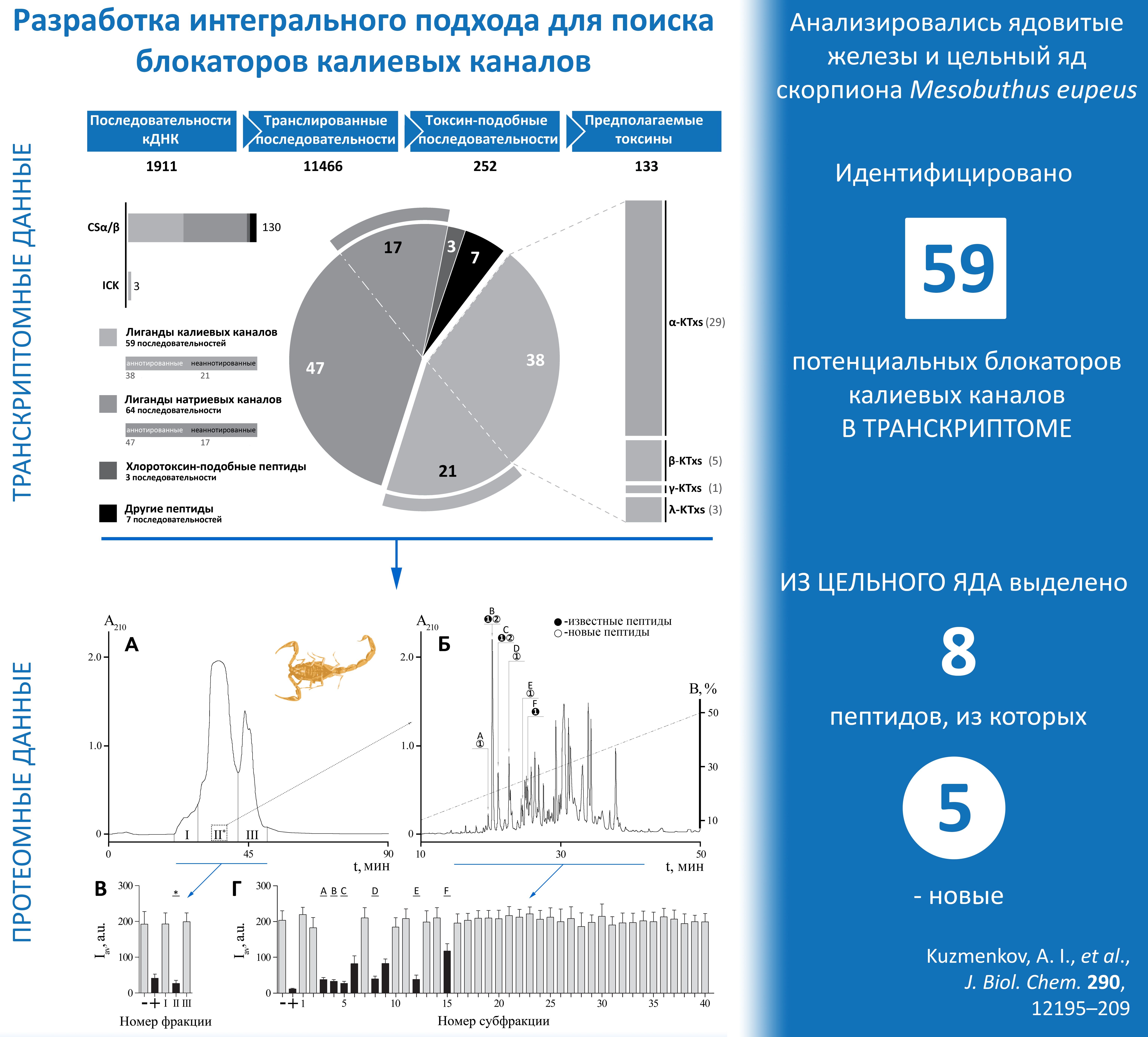 Авторы: 
Кузьменков А.И., Василевский А.А., Гришин Е.В. Отдел молекулярной нейробиологии.
Кудряшова К.С., Некрасова О.В., Кирпичников М.П. Отдел биоинженерии.
Феофанов А.В. Лаборатория оптической микроскопии и спектроскопии биомолекул. 
Аннотация: 
Разработан оригинальный подход для поиска новых лигандов калиевых каналов, объединяющий биоинженерную клеточную тест-систему и транскриптомный и протеомный анализ яда животных. С применением этого подхода из яда скорпиона Mesobuthus eupeus были получены восемь высокоаффинных пептидных блокаторов потенциал-зависимого калиевого канала Kv1.1, включая пять новых пептидов. Предложенный подход является универсальным и эффективным инструментом для направленного поиска блокаторов калиевых каналов в природных ядах.
Публикации
(2015).

Variability of Potassium Channel Blockers in Mesobuthus eupeus Scorpion Venom with Focus on Kv1.1: AN INTEGRATED TRANSCRIPTOMIC AND PROTEOMIC STUDY.

J. Biol. Chem.

290 (19)

,

12195–209

[+]

The lesser Asian scorpion Mesobuthus eupeus (Buthidae) is one of the most widely spread and dispersed species of the Mesobuthus genus, and its venom is actively studied. Nevertheless, a considerable amount of active compounds is still under-investigated due to the high complexity of this venom. Here, we report a comprehensive analysis of putative potassium channel toxins (KTxs) from the cDNA library of M. eupeus venom glands, and we compare the deduced KTx structures with peptides purified from the venom. For the transcriptome analysis, we used conventional tools as well as a search for structural motifs characteristic of scorpion venom components in the form of regular expressions. We found 59 candidate KTxs distributed in 30 subfamilies and presenting the cysteine-stabilized α/β and inhibitor cystine knot types of fold. M. eupeus venom was then separated to individual components by multistage chromatography. A facile fluorescent system based on the expression of the KcsA-Kv1.1 hybrid channels in Escherichia coli and utilization of a labeled scorpion toxin was elaborated and applied to follow Kv1.1 pore binding activity during venom separation. As a result, eight high affinity Kv1.1 channel blockers were identified, including five novel peptides, which extend the panel of potential pharmacologically important Kv1 ligands. Activity of the new peptides against rat Kv1.1 channel was confirmed (IC50 in the range of 1-780 nm) by the two-electrode voltage clamp technique using a standard Xenopus oocyte system. Our integrated approach is of general utility and efficiency to mine natural venoms for KTxs.

ID:1310