Laboratory of Carbohydrates
The Laboratory is engaged in the synthesis of oligosaccharides, glycoconjugates and  self-assembling peptides/glycopeptides, design of glycoarrays and glycolandscapes, study of carbohydrate-protein interactions, characterization of specificity of mammalian and bacterial lectins, study of natural anti-glycan antibodies.
Multiantigen microchip
Researchers of the Laboratory together with Consortium for Functional Glycomics have developed a glycan microarray (printed glycan array, PGA) – a multi-antigen microchip; due to the presence of tumor-specific markers (glycans)  it allows for prognosis, diagnosis and monitoring of cancer at a new level. Now it is possible to use it both in basic research and in the development of diagnostic approaches, first of all oncological and reproductive system diseases.

Supramolecular chemistry
Booming interest in the self-assembly of small molecules is due to the ability to use them in design of nanomaterials with individual properties and molecular devices. To gather nanomaterials and devices we use simple molecules consisting almost exclusively of oligoglycine; the chains are organized in a star-like fashion. Oligoglycines are capable of forming supramers due to hydrogen bonds. In supramers of (Glycosyl-S)n type, the S-fragment provides the assembly, and the carbohydrate part  provides both biological activity and water solubility. Click here for details.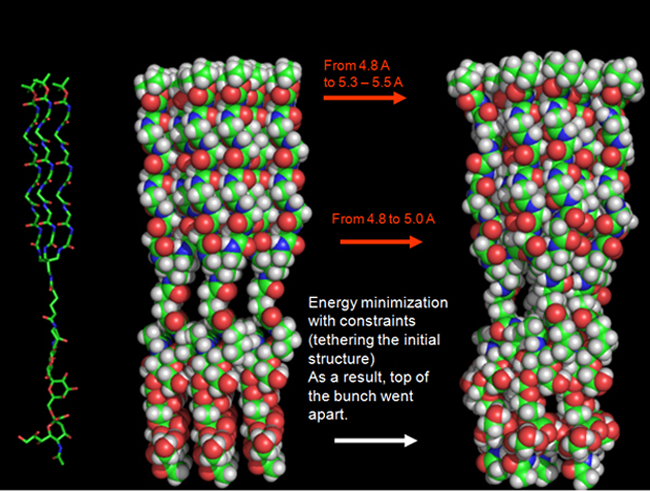 Synthesis of oligosaccharides and glycoconjugates
The Laboratory is engaged in the synthesis of oligosaccharides and glycoconjugates, the universal instruments for various biochemical and immunological studies of all types of carbohydrate-binding proteins. Details are here and here.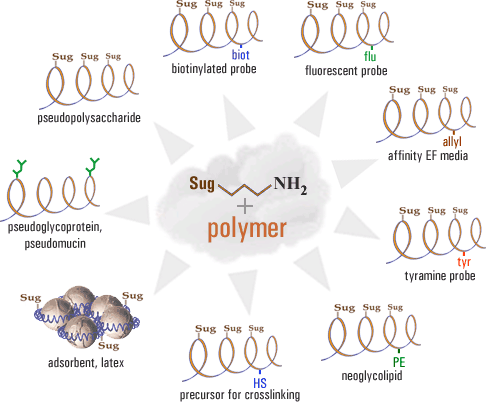 Modification of the cell surface (glyco-landscaping)
The Laboratory is engaged in studying the transfer of glycolipids between cells, as well as the development of synthetic glycolipids (and similarly constructed lipophilic peptides) capable of insertion into almost any cell (animal cells, bacteria, membrane viruses). Modification of erythrocytes allows to identify antibodies (in practical, diagnostics purposes) by the simplest possible method – the agglutination.
"Painting" of cancer cells with synthetic glycolipids promised to be new therapeutic approach, it based on the initiation of an immune antitumor response: injection of the glycolipid into the tumor leads to an immediate immune attack with pre-existing natural antibodies directed to the glycan of this glycolipid. We identified a number of natural antibodies that specifically bind and destroy the cells of breast cancer. Click here  and here for details.
Also, the Laboratory is engaged in development of vaccines based on dendritic cells.
The Laboratory collaborates with Institute's departments and also with the Blokhin Cancer Research Center, the Kulakov Scientific Center of Obstetrics, Gynecology and Perinatology, the Bellvitge University Hospital (Barcelona, Spain), the Institute of Health Research of the University of Nantes (France), the Auckland University of Technology (New Zealand), the Institute for Glycomics of the Griffith University (Australia), the University of Basel (Switzerland), the Masaryk University Central European Institute of Technology (Czech Republic) etc.
The Laboratory of Carbohydrates was organized in 1988, it became a natural continuation of the direction laid by academician N. Kochetkov and then Professor A. Khorlin ("Laboratory of glycoproteins and mixed biopolymers") in the Institute.
Synthesis of oligosaccharides and glycoconjugates, self-associating peptides and glycopeptides;
Design of diagnostic glycoarray;
Study of carbohydrate-protein interactions;
Natural antibodies to carbohydrates, B1 cell immunity.
Fullname
Position
Contacts
Nicolai Bovin

, Prof., D.Sc

pr. r. f.
Sergey Khaidukov

, D.Sc

s. r. f.
Galina Pazynina

, Ph.D.

s. r. f.
Evgenia Rapoport

, Ph.D.

s. r. f.
Ivan Rishov

, Ph.D.

s. r. f.
Nadezhda Shilova

, Ph.D.

s. r. f.
Alexander Tuzikov

, Ph.D.

s. r. f.
Oksana Galanina

, Ph.D.

r. f.
Polina Obukhova

, Ph.D.

r. f.
Ovchinnikova T.V.

, Ph.D.

r. f.
Inna Popova

, Ph.D.

r. f.
Sablina M.A.

, Ph.D.

r. f.
Svetlana Tsygankova

, Ph.D.

r. f.
Tyrtysh T.V.

, Ph.D.

r. f.
Alexander Chinarev
j. r. f.
Ekaterina Slivka
j. r. f.
Belyanchikov I.M.
res. eng.
Kapustkina D.S.
t. q. - lab. as.
Lavrent'eva M.V.
t. q. - lab. as.
Petrakova D.O.
t. q. - lab. as.
Vladimir Atanov
eng.
Kunetskii R.A.
eng.
Lipatnikov A.D.
j. r. f.
Nokel' A.Y.
eng.
Polyakova S.M.
eng.
Savchenko M.S.
eng.

Previously worked here

Korchagina E.Y.

, Ph.D.

Chugunov P.A.
Kira Dobrochaeva
Kuzmicheva K.L.
Nasonov V.V.
Anna Nikiforova
Alexey Nizovtsev

, Ph.D.

Novakovski M.E.

, Ph.D.

Nadezhda Ignatieva
Khasbiullina N.R.
Sukhareva E.P.
Fomina A.A.
Voznova G.P.
Gorbach M.M.
Komarova V.A.
Tatyana Ksenofontova
Loading...
Loading...
Nicolai Bovin
Russia, Moscow, Ul. Miklukho-Maklaya 16/10 — On the map
Loading...