Лаборатория химии метаболических путей
Лаборатория создана в 2017 году на основе Группы синтеза природных соединений, которая, в свою очередь, работала с 2002 года при Лаборатории молекулярных технологий ИБХ РАН, возглавляемой академиком Сергеем Анатольевичем Лукьяновым. Основным направлением исследований группы является применение методов органического синтеза для решения актуальных проблем в биохимии, молекулярной биологии и медицинской химии.
Деятельность группы включает в себя:
структурный дизайн и синтез модельных соединений для изучения биохимических процессов
полный синтез природных соединений
дизайн, получение и тестирование лекарственных средств
проведение совместных биомедицинских и биологических исследований
СВЕЖИЕ НОВОСТИ
Наша обложка журнала Accounts of Chemical Research (ACS) с обзором о последних достижениях группы в изучении биолюминесцентных систем
В НАСТОЯЩЕЕ ВРЕМЯ
Изучение механизма биолюминесценции высших грибов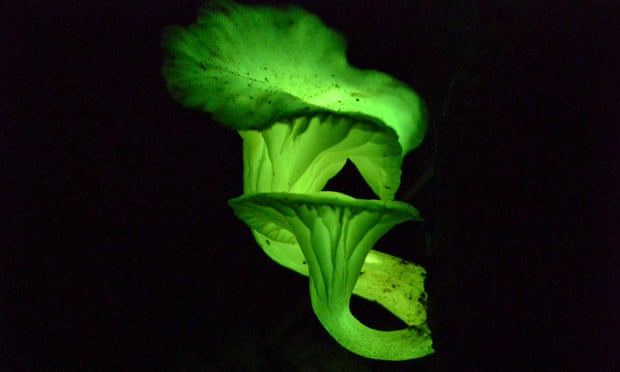 Фотография профессора Кассиуса Стевани (Университет Сан-Пауло, Бразилия)
Статья в The Guardian о нашей работе
Исследование биолюминесценции морского червя Chaetopterus variopedatus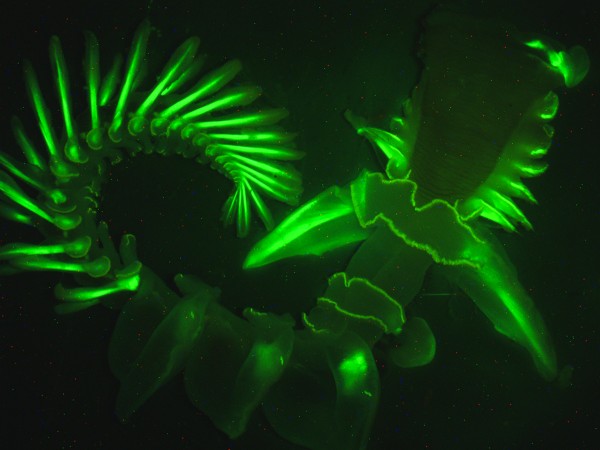 Фотография Дмитрия Дейна, Scripps Institution of Oceanography at UC San Diego
Изучение механизма биолюминесценции сибирского почвенного червя Fridericia heliota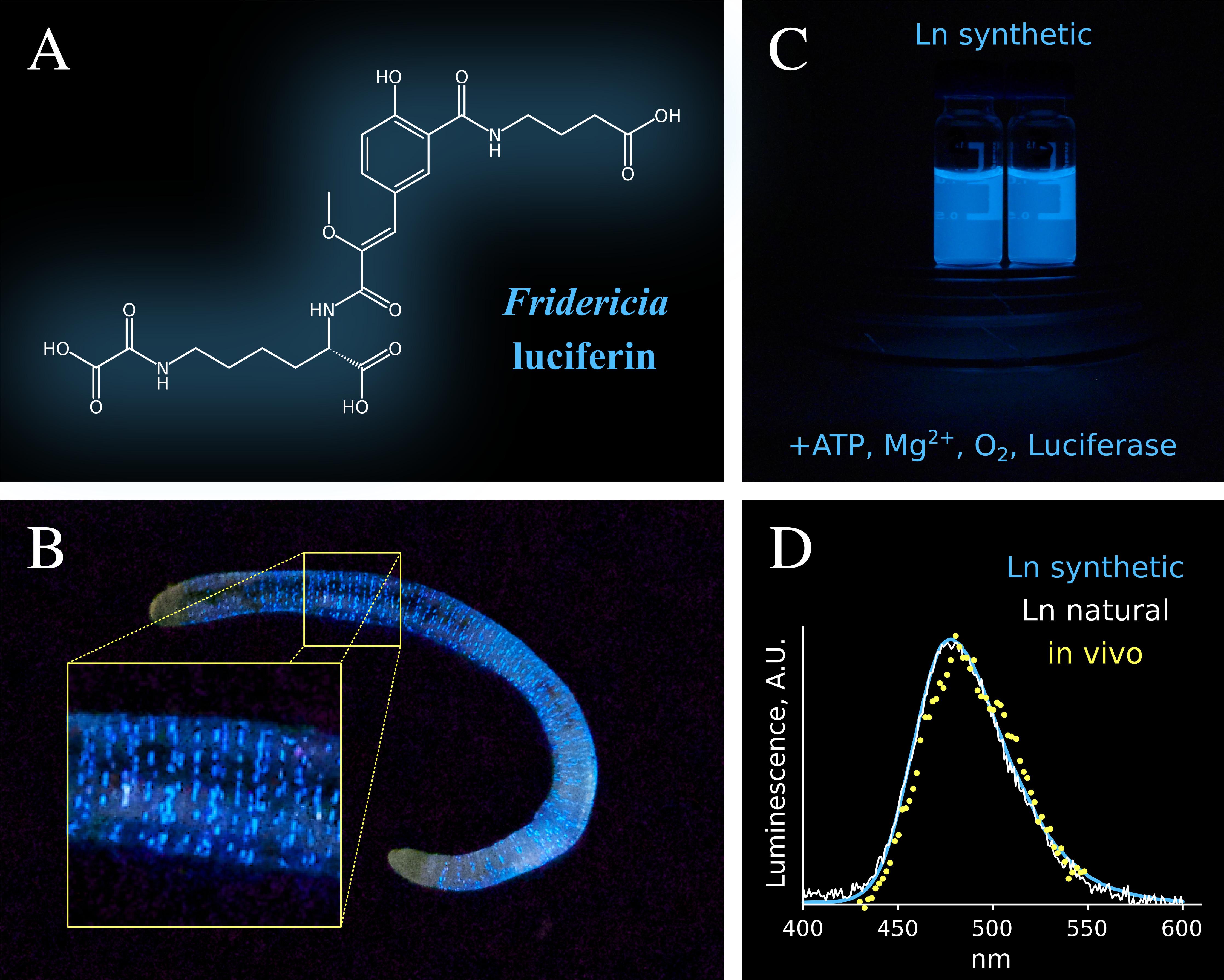 (А) Структура люциферина червя Fridericia (B) Биолюминесценция Fridericia heliota. Фотография предоставлена Александром Семеновым (Беломорская биологическая станция, биологический факультета МГУ М.В. Ломоносова). (C) Люминесценция синтетического люциферина Fridericia. (D) Сравнение спектров биолюминесценции природного и синтетического образцов люциферина.
Разработка нового класса флюоресцентных красителей на основе хромофора GFP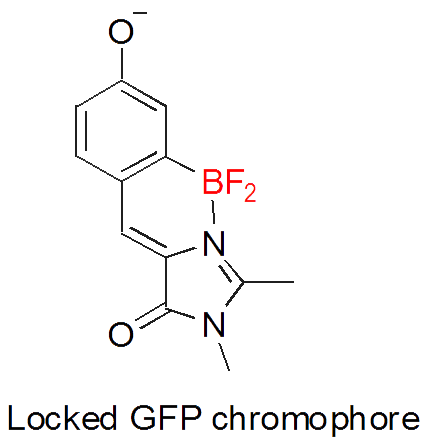 Разработка противовирусных лекарственных препаратов - структурных аналогов Флутимида

Полный энантиоселективный  синтез грибкового терпеноида Паналя из биолюминесцентных грибов Panellus stipticus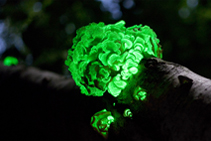 Panellus stipticus
Изучение механизма биолюминесценции светящихся грибов

Установление биосинтеза морских люциферинов: целентеразина и Cypridina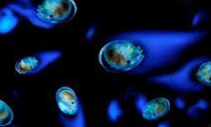 Cypridina hilgendorfii
Разработка флуорогенных датчиков для важных белковых структур

ВЫПОЛНЕНО
2009-2011
Исследован биосинтез химически неустойчивого ацимилина - хромофора красного флюоресцентного белка. В рамках этой задачи разработан способ получения 2-ациламиноимидазолонов - биосинтетических прекурсоров 2-ацилиминолимидазолонов. Показано, что спонтанное окисление прекурсоров кислородом воздуха проходит по необычному механизму.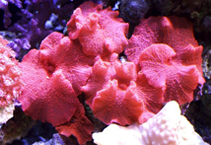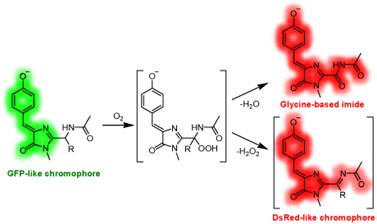 Discosoma
2002-2009
Полный синтез хромофоров GFP-подобных флуоресцентных белков был использован в качестве инструмента для самостоятельного определения структуры этих хромофоров. Кроме того, изучена взаимосвязь между структурой и спектральные свойствами отношения в этом классе производных имидазола. Разработаны новые подходы к синтезу 2-функционализованных арилиденмидиазолонов. Синтезированы хромофоры из asFP595, Kaede и YFP538.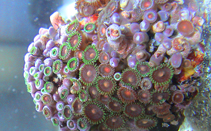 Zoanthus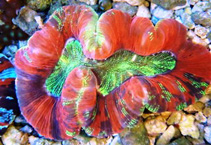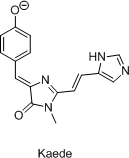 Trachyphyllia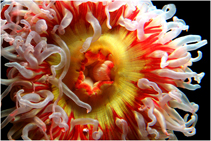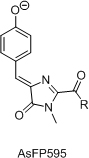 Anemonia
2002-2004
Выделен, секвенирован и исследован биохимическими методами синий белковый пигмент из Rhizostoma pulmo (медуза, обитающая в Черном море). Определить природу синей окраски (структуру хромофора) не удалось.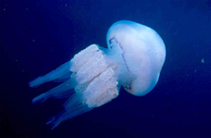 Rhizostoma pulmo
Ф.И.О.
Должность
Контакты
Ямпольский Илья Викторович, д. х. н.
рук. подр.
ivyamp@ibch.ru, +7(499)724-84-77
Соловьева Вера Александровна, к. х. н.
с.н.с.
vera.solovyeva@kaust.edu.sa
Пуртов Константин Викторович
с.н.с.
Царькова Александра Сергеевна, к. х. н.
н.с.
altsarkova@gmail.com
Щеглов Александр Сергеевич, к. б. н.
н.с.
jukart@mail.ru, +7(495)330-70-56
Гороховатский Андрей Юрьевич, к. б. н.
н.с.
andrey.gorokhovatsky@yandex.ru, +7()
Чепурных Татьяна Владимировна
н.с.
Осипова Зинаида Михайловна, к. х. н.
н.с.
zkaskova@ibch.ru, +7(903)5826660
Маркина Надежда Михайловна
м.н.с.
markina.nadya@gmail.com
Котлобай Алексей Анатольевич
м.н.с.
alexey_kotlobay@mail.ru, +7(499)742-81-22
Пахомова Вера Геннадьевна
м.н.с.
Введенский Андрей Владимирович
асп.
Vvedenskiia@gmail.com
Палкина Ксения Андреевна
асп.
palkina93@mail.ru
Панкратова Янина Александровна
студ.
snailmail916@gmail.com
Хаврошечкина Анастасия Викторовна
тех.-лаб.
Бубырев Андрей Иванович
тех.-лаб.
Шахова Екатерина Сергеевна
тех.-лаб.
ekashakhova@rambler.ru
Болт Ярослав Васильевич
инженер
a1gol@icloud.com
Мяснянко Иван Николаевич
инженер
conzbutcher@gmail.com
Каратаева Татьяна Александровна
инженер
Петушков Валентин Николаевич
инженер
Чекова Софья Викторовна
инженер
Чернышёва Ангелина Николаевна
инженер
Шломина Алина Игоревна
ст. инж.
alinaishlomina@gmail.com

Ранее здесь работали:

Матвеева Надежда Константиновна
пом. дир.
luk.officemanager@gmail.com
Балеева Надежда Сергеевна
м.н.с.
Dyuha-89@yandex.ru
Баранов Михаил Сергеевич, к. х. н.
м.н.с.
baranovmikes@gmail.com
Пичугин Александр Максимович
студ.
am-pichugin@yandex.ru
Ямпольский Илья Викторович
Москва, ул. Миклухо-Маклая, 16/10 — На карте
ИБХ РАН, корп. БОН, комн. 525
Тел.: +7(495)995-55-57#2007
Эл. почта: ivyamp@ibch.ru
52 корпус, 356 комната
+7 (499) 724-84-77
Изучен механизм биолюминесценции высших грибов (2016-11-24)
Впервые определена структура оксилюциферина высших грибов. Предложен уникальный механизм биолюминесценции, включающий в себя отщепление молекулы углекислого газа по схеме ретро-[4+2]-циклоприсоединения. Механизм подтвержден экспериментами с О-18. Также получен ряд аналогов люциферина грибов, обладающих отличающимся спектром биолюминесценции.
Публикации
(2017).

Mechanism and Color Modulation of Fungal Bioluminescence.

Sci Adv

3 (4)

,

e1602847

[+]

Bioluminescent fungi are spread throughout the globe, but details on their mechanism of light emission are still scarce. Usually, the process involves three key components: an oxidizable luciferin substrate, a luciferase enzyme, and a light emitter, typically oxidized luciferin, and called oxyluciferin. We report the structure of fungal oxyluciferin, investigate the mechanism of fungal bioluminescence, and describe the use of simple synthetic α-pyrones as luciferins to produce multicolor enzymatic chemiluminescence. A high-energy endoperoxide is proposed as an intermediate of the oxidation of the native luciferin to the oxyluciferin, which is a pyruvic acid adduct of caffeic acid. Luciferase promiscuity allows the use of simple α-pyrones as chemiluminescent substrates.

ID:1628

(2016).

A Tale Of Two Luciferins: Fungal and Earthworm New Bioluminescent Systems.

Acc. Chem. Res.

49 (11)

,

2372–2380

[+]

Bioluminescence, the ability of a living organism to produce light through a chemical reaction, is one of Nature's most amazing phenomena widely spread among marine and terrestrial species. There are various different mechanisms underlying the emission of "cold light", but all involve a small molecule, luciferin, that provides energy for light-generation upon oxidation, and a protein, luciferase, that catalyzes the reaction. Different species often use different proteins and substrates in the process, which suggests that the ability to produce light evolved independently several times throughout evolution. Currently, it is estimated that there are more than 30 different mechanisms of bioluminescence. Even though the chemical foundation underlying the bioluminescence phenomenon is by now generally understood, only a handful of luciferins have been isolated and characterized. Today, the known bioluminescence reactions are used as indispensable analytical tools in various fields of science and technology. A pressing need for new bioluminescent analytical techniques with a wider range of practical applications stimulates the search and chemical studies of new bioluminescent systems. In the past few years two such systems were unraveled: those of the earthworms Fridericia heliota and the higher fungi. The luciferins of these two systems do not share structural similarity with the previously known ones. This Account will survey structure elucidation of the novel luciferins and identification of their mechanisms of action. Fridericia luciferin is a key component of a novel ATP-dependent bioluminescence system. Structural studies were performed on 0.005 mg of natural substance and revealed its unusual extensively modified peptidic nature. Elucidation of Fridericia oxyluciferin revealed that oxidative decarboxylation of a lysine fragment of luciferin supplies energy for light generation, while a fluorescent CompX moiety remains intact and serves as a light emitter. Along with luciferin, a number of its natural analogs were found in the extracts of worm biomass. They occurred to be highly unusual modified peptides comprising a set of amino acids, including threonine, aminobutyric acid, homoarginine, unsymmetrical N,N-dimethylarginine and extensively modified tyrosine. These natural compounds represent a unique peptide chemistry found in terrestrial animals and raise novel questions concerning their biosynthetic origin. Also in this Account we discuss identification of the luciferin of higher fungi 3-hydroxyhispidin which is biosynthesized by oxidation of the precursor hispidin, a known fungal and plant secondary metabolite. Furthermore, it was shown that 3-hydroxyhispidin leads to bioluminescence in extracts from four diverse genera of luminous fungi, thus suggesting a common biochemical mechanism for fungal bioluminescence.

ID:1562

(2016).

1001 lights: luciferins, luciferases, their mechanisms of action and applications in chemical analysis, biology and medicine.

Chem. Soc.Rev.

45

,

6048–6077

[+]

Bioluminescence (BL) is a spectacular phenomenon involving light emission by live organisms. It is caused by the oxidation of a small organic molecule, luciferin, with molecular oxygen, which is catalysed by the enzyme luciferase. In nature, there are approximately 30 different BL systems, of which only 9 have been studied to various degrees in terms of their reaction mechanisms. A vast range of in vitro and in vivo analytical techniques have been developed based on BL, including tests for different analytes, immunoassays, gene expression assays, drug screening, bioimaging of live organisms, cancer studies, the investigation of infectious diseases and environmental monitoring. This review aims to cover the major existing applications for bioluminescence in the context of the diversity of luciferases and their substrates, luciferins. Particularly, the properties and applications of D-luciferin, coelenterazine, bacterial, Cypridina and dinoflagellate luciferins and their analogues along with their corresponding luciferases are described. Finally, four other rarely studied bioluminescent systems (those of limpet Latia, earthworms Diplocardia and Fridericia and higher fungi), which are promising for future use, are also discussed.

ID:1563
Осуществлен стереоселективный синтез углеродного скелета паналя – терпеноида из биолюминесцентных грибов Panellus stipticus (2016-11-24)

Структура паналя, ранее предполагаемого предшественника люциферина грибов, была определена в 1988 году Накамурой и коллегами [Nakamura H, Kishi Y, Shimomura O. Tetrahedron 1988, 44, 1597]. Паналь представляет собой бициклический сесквитерпен кадаланового типа. Нами был осуществлен полный синтез терпенового ядра паналя с использованием реакции Дильс-Альдера, восстановления по Барбье и метатезиса в качестве ключевых превращений.
Публикации
(2017).

Synthesis of Panal Terpenoid Core.

Synlett

28 (5)

,

583–588

[+]

Panal is a natural bicyclic cadalane-type sesquiterpenoid with an unusual combination of stereocenters. It was isolated in 1988 as an alleged biosynthetic precursor of luciferin (a light-emitting molecule) in a bioluminescent fungus Panellus stipticus. Herein we present the first approach to the synthesis of the terpenoid skeleton of panal, which includes construction of five stereocenters, one of which is easily epimerizable. The key steps in the synthetic approach presented are high-pressure Diels–Alder reaction disobeying the 'endo rule', Barbier reductive allylation, and cyclization of trans-decalin ring via ring-closing metathesis.

ID:1623
Изучен механизм биолюминесценции сибирского почвенного червя Fridericia heliota (2016-03-30)
Определена структура оксилюциферина – продукта окислительного декарбоксилирования люциферина червя Fridericia heliota под действием кислорода в присутствии люциферазы. Определен механизм биолюминесценции: он включает стадию активации карбоксильной группы лизина с образованием промежуточного аденилата, циклизацию в оксетанон и распад до возбужденной молекулы оксилюциферина.
Публикации
(2015).

Novel Mechanism of Bioluminescence: Oxidative Decarboxylation of a Moiety Adjacent to the Light Emitter of Fridericia Luciferin.

Angew. Chem. Int. Ed. Engl.

54 (24)

,

7065–7067

[+]

A novel luciferin from a bioluminescent Siberian earthworm Fridericia heliota was recently described. In this study, the Fridericia oxyluciferin was isolated and its structure elucidated. The results provide insight into a novel bioluminescence mechanism in nature. Oxidative decarboxylation of a lysine fragment of the luciferin supplies energy for light generation, while a fluorescent CompX moiety remains intact and serves as the light emitter.

ID:1265

(2015).

Novel Peptide Chemistry in Terrestrial Animals: Natural Luciferin Analogues from the Bioluminescent Earthworm Fridericia heliota.

Chem. Eur. J.

21 (10)

,

3942–3947

[+]

Пресс-релиз по теме статьи Новый класс природных пептидов: аналоги люциферина почвенного червя Fridericia heliota

ID:1243
Определена структура ключевого субстрата биолюминесцении высших грибов (2016-03-30)

Впервые определена структура люциферина биолюминесцентных грибов. Также определен механизм биосинтеза люциферна грибов - гидроксилирование вторичного метаболита грибов гиспидина НАДФ-Н-зависимым ферментом. Люциферин  (3-гидроксигиспидин) является субстратом фермента люциферазы в реакции биолюминесценции. Структуры люциферина и его предшественника доказаны с помощью методов ЯМР-спектроскопии и масс-спектрометрии. Показано, что люциферин является общим субстратом биолюминесценции для ряда высших грибов.
Публикации
(2015).

The Chemical Basis of Fungal Bioluminescence.

Angew. Chem. Int. Ed.

127 (28)

,

8242–8246

[+]

Many species of fungi naturally produce light, a phenomenon known as bioluminescence, however, the fungal substrates used in the chemical reactions that produce light have not been reported. We identified the fungal compound luciferin 3-hydroxyhispidin, which is biosynthesized by oxidation of the precursor hispidin, a known fungal and plant secondary metabolite. The fungal luciferin does not share structural similarity with the other eight known luciferins. Furthermore, it was shown that 3-hydroxyhispidin leads to bioluminescence in extracts from four diverse genera of luminous fungi, thus suggesting a common biochemical mechanism for fungal bioluminescence.

ID:1295