Laboratory of Chemistry of Metabolic Pathways
The Laboratory was established in 2017 on the basis of  the Total Synthesis Group which was created in the Laboratory of Molecular technologies at IBCH RAS, headed by Sergey Lukyanov. The mission of the group is to apply organic synthesis to solving actual problems in biochemistry, molecular biology and medicinal chemistry.
This includes:
structural design and synthesis of model compounds for studying biochemical processes
total synthesis of natural products
design, synthesis and testing of drug candidates
offering our expertise in organic synthesis to biological and biomedical researchers in collaborative projects
LATEST NEWS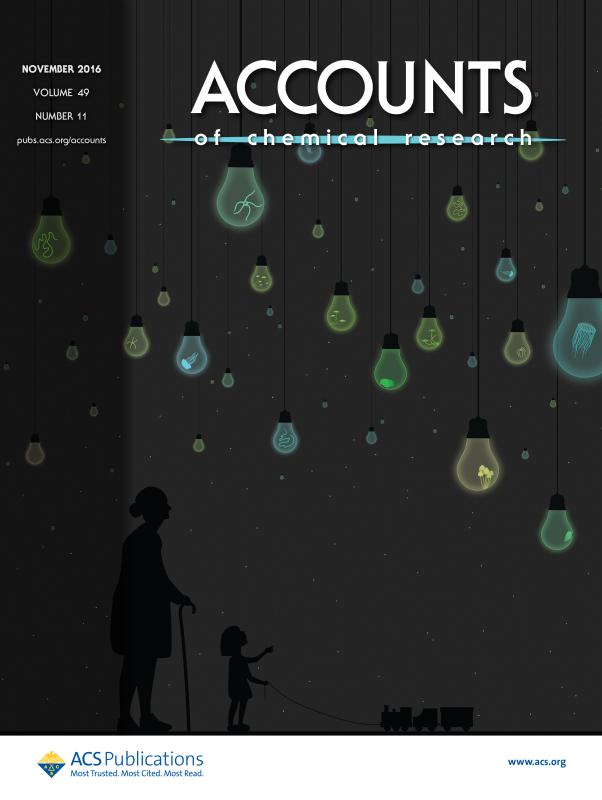 Our Accounts of Chemical Research (ACS) cover with review of the latest developments in bioluminescent systems research of our group
CURRENT
Studies of fungal bioluminescence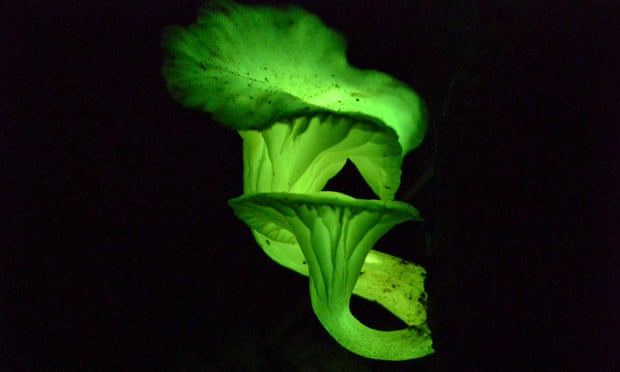 Photograph by Professor Cassius Stevani (University of San Paulo, Brazil)
The Guardian about our work
Studying bioluminescence of marine worms Chaetopterus variopedatus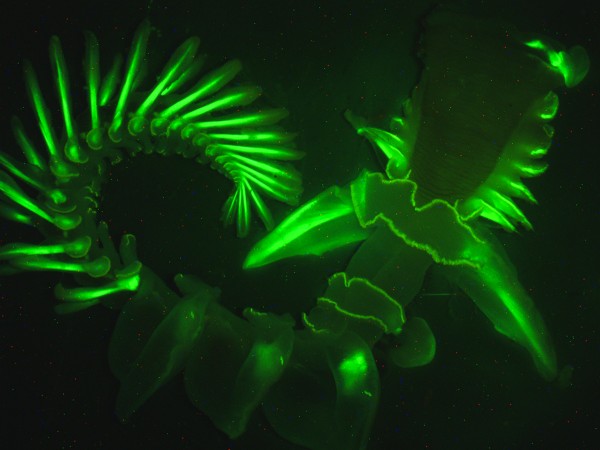 Photograph courtesy Dimitri Deheyn, Scripps Institution of Oceanography at UC San Diego
Studying Studying bioluminescence mechanism of Siberian earthworms Fridericia heliota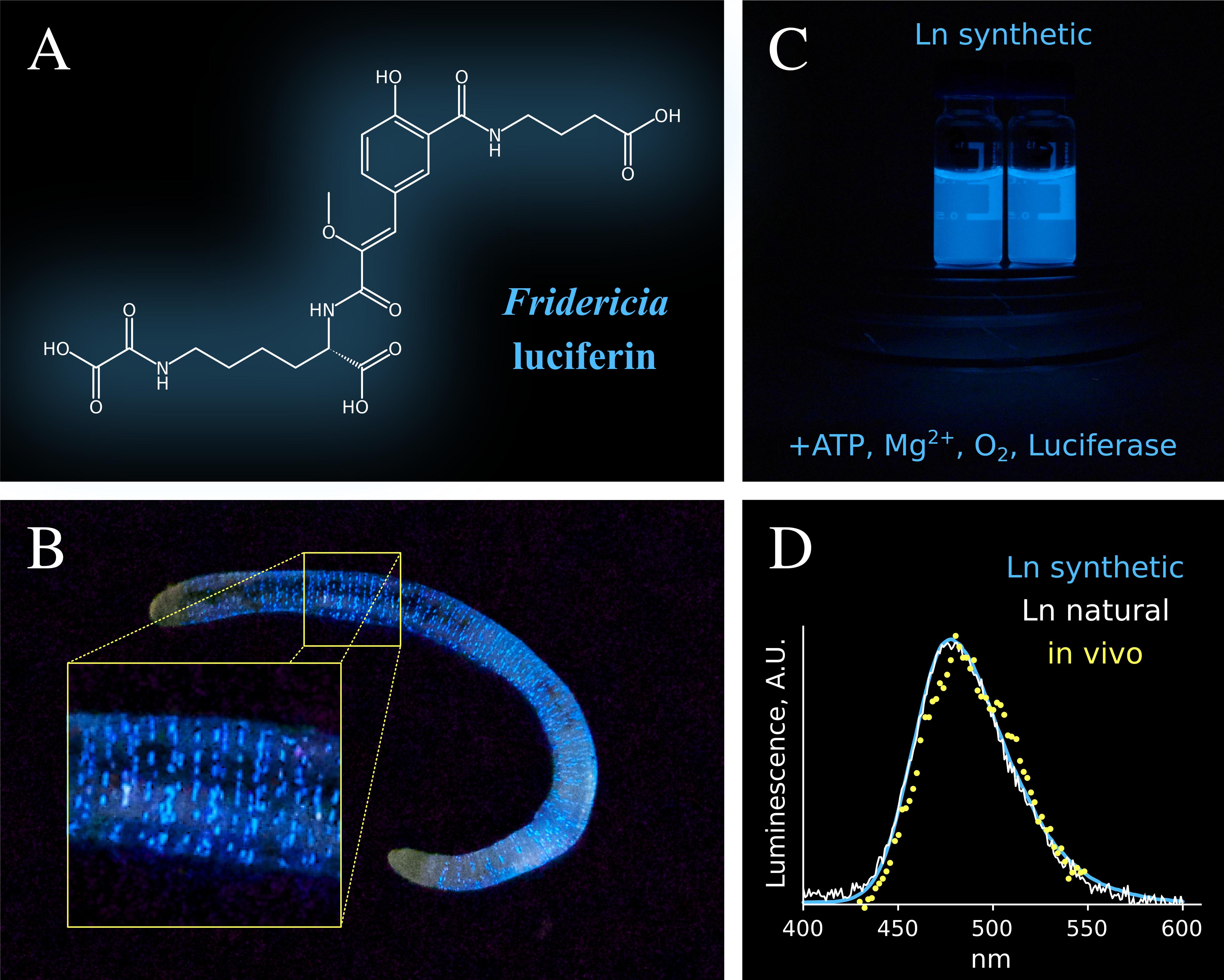 (А) 
Structure of
Fridericia
luciferin.
 (B) 
Bioluminescence of Fridericia heliota. The photograph is courtesy of Alexander Semenov (the White Sea Biological Station, Biology Department of Lomonosov Moscow State University). (C) Luminescence of synthetic Fridericia luciferin . (D) Comparison of in vivo bioluminescence spectra of worms, with in vitro bioluminescence spectra of natural and synthetic samples of luciferin.
Development of novel class of fluorescent dyes based on GFP chromophore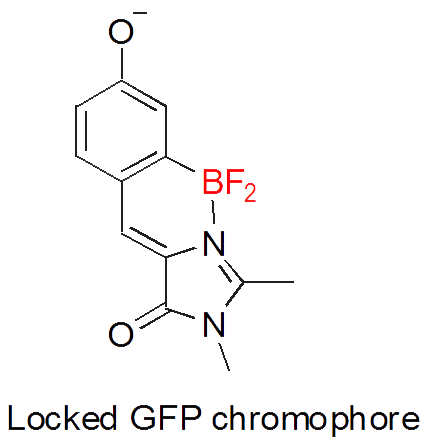 Development of anti-influenza drug candidates based on structural analogs of Flutimide

Enantioselective total synthesis of fungal terpenoid panal from bioluminescent fungus Panellus stipticus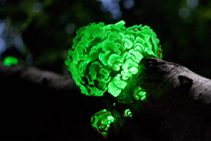 Panellus stipticus
Studying luminescence mechanism of luminous fungi

Studying biosynthetic origin of marine luciferins: coelenterazine and Cypridina luciferin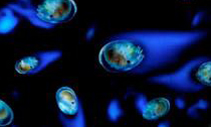 Cypridina hilgendorfii
Developing fluorogenic sensors to important protein targets

FULFILLED
2009-2011
Biosynthetic mechanism of chemically unstable acylimine chromophore of red fluorescent proteins was investigated. This required development of new synthetic strategy to 2-acylaminoimidazolones - biosynthetic precursors of 2-acyliminoimidazolones. We have shown spontaneous oxidation of precursors with air oxygen by unusual mechanism.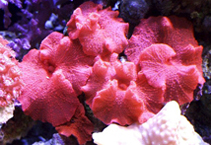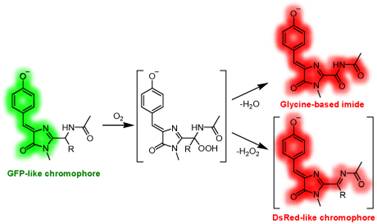 Discosoma
2002-2009
Total synthesis of chromophores of GFP-like fluorescent proteins was used as a tool for independent structure determination of these chromophores. Also, this allowed to study structure-spectral properties relationship within this range of imidazole derivatives and to develop novel synthetic approaches to 2-functionalized arylideneimidazolones. Chromophores of AsFP595, Kaede and YFP538 were synthesized.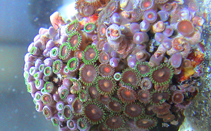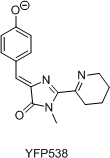 Zoanthus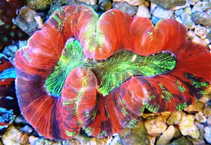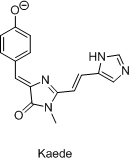 Trachyphyllia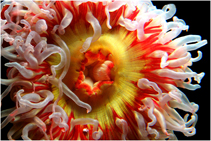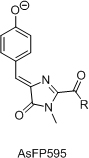 Anemonia
2002-2004
A blue proteinaceous pigment from Rhizostoma pulmo (jellyfish from the Black Sea) was isolated, sequenced and studied by biochemical methods. An attempt to determine the nature of the blue coloration (chromophore) was unsuccessful.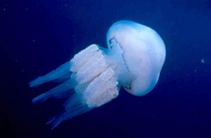 Black Sea jellyfish Rhizostoma pulmo possessing an unidentified blue pigment
Fullname
Position
Contacts
Ilia Yampolsky

, D.Sc

pr. r. f.
Zinaida Osipova

, Ph.D.

s. r. f.
zkaskova@ibch.ru
Chepurnykh T.V.

, Ph.D.

r. f.
Andrey Gorokhovatsky

, Ph.D.

r. f.
Alexey Kotlobay

, Ph.D.

r. f.
Nadezhda Markina
r. f.
Alexander Shcheglov

, Ph.D.

r. f.
Beregovaya (Palkina) K.A.
j. r. f.
Anastasiya Fadeeva
j. r. f.
Veronika Litvinenko
j. r. f.
Vladimir Shmygarev
j. r. f.
Matvey Vavilov
j. r. f.
Anastasiya Andrianova
t. q. - lab. as.
Barikin A.D.
t. q. - lab. as.
Dobronos M.A.
t. q. - lab. as.
Galkova P.V.
t. q. - lab. as.
Gorodisch I.V.
t. q. - lab. as.
Anastasiya Hohlova
t. q. - lab. as.
Anastasiya Khavroshechkina
t. q. - lab. as.
Kurishev S.O.
t. q. - lab. as.
Kuznetsova D.A.
t. q. - lab. as.
Aleksandr Mahin
t. q. - lab. as.
makhin.aleks@gmail.com
Vasiliy Miturich
t. q. - lab. as.
Morozov V.V.
j. r. f.
Podpovetnii K.E.
t. q. - lab. as.
Postnikov A.V.
t. q. - lab. as.
Rumyantsev V.V.
t. q. - lab. as.
Vinogradova E.A.
t. q. - lab. as.
Bugayova E.N.
eng.
Dzhuraev U.K.
eng.
Aleksandra Egorova
eng.
Karataeva T.A.
eng.
Elizaveta Marenkova
eng.
Rubel' I.E.
eng.
Shakhova E.S.
j. r. f.
Sidorova A.I.
eng.
Tkachenko I.L.
eng.

Previously worked here

Vadim Kublitsky
Purtov K.V.
Solov'eva V.A.

, Ph.D.

Aleksandra Tsarkova

, Ph.D.

Starodumova I.P.
Nadezhda Baleeva

, Ph.D.

Mikhail Baranov

, Ph.D.

baranovmikes@gmail.com
Korunova E.S.
Korunova E.S.
Maria Lyakhovich
Pahomova V.G.
Utkina M.V.
Ivan Myasnyanko
Andrey Vvedenskij
Pankratova Y.
Pichugin A.M.
Blohina A.E.
Andrey Bubyrev
Malishevskaya A.K.
Anna Silvestrova
Yaroslav Bolt
Chekova S.V.
Chernysheva A.N.
Elena Guglya

, Ph.D.

Petushkov V.N.
Pletnyova L.K.
Alina Sholomina
Spasel'nikova A.V.
Loading...
Loading...
Ilia Yampolsky
Russia, Moscow, Ul. Miklukho-Maklaya 16/10 — On the map
Loading...