Laboratory of immunosequencing methods
The team works on development of molecular tools for the basic and biomedical studies, mainly in the filed of immunity and autoimmunity. The current focus of interest is the role of clonal T cell populations in the onset and development of autoimmune diseases, DNA technologies for the quantitative analysis of individual TCR and antibody repertoires in health and disease.
Name
Position
Contacts
Dmitriy Chudakov, D.Sc
Head of lab.
ChudakovDM@mail.ru, +7(499)742-81-22
E. Serebrovskaya, Ph.D.
s. r. f.
katya_akts@ibch.ru
Maria Turchaninova, Ph.D.
s. r. f.
turchaninova.m@gmail.com, +7(499)724-81-22
Ekaterina Bogdanova, Ph.D.
r. f.
katya@ibch.ru, +7(495)988-40-83#726
Dmitry Bolotin
r. f.
bolotin.dmitriy@gmail.com, +7(499)742-81-22
Irina Shagina
r. f.
Roman Mungalov
j. r. f.
Olga Zueva
j. r. f.
zueva@yahoo.com
Alina Abdulazizova
t. q. - lab. as.
alina-ab55@yandex.ru
Daniil Lukyanov
eng.
Yurij Mansurov
eng.
Igor Oplochko
eng.
Denis Syirko
eng.
Andrew Zarecky
eng.
a-zaretsky@yandex.ru

Former members:

Ekaterina Merzlyak, Ph.D.
Nadezhda Matveeva
dir. assist.
luk.officemanager@gmail.com
Olga Britanova, Ph.D.
s. r. f.
olbritan@gmail.com
Oksana Druzhilovskaya
r. f.
Vitalina Kirgizova
r. f.
vitalina.kirgizova@gmail.com
Ekaterina Putintseva
r. f.
e.putintseva@yandex.ru
Dmitriy Shcherbo, Ph.D.
r. f.
dshcherbo@gmail.com
Dmitry Staroverov
r. f.
dstaroverov@evrogen.ru
Sofya Kasatskaya
j. r. f.
sonya-kas@yandex.ru
Mikhail Lebedin
j. r. f.
lebmih@yandex.ru
Anton Pereverzev
j. r. f.
anton.pereverzev@gmail.com
Irina Shemiakina
j. r. f.
Mikhail Shugay, Ph.D.
j. r. f.
mikhail.shugay@gmail.com
Evgen Egorov
PhD stud.
Mikhail Lebedin
j. r. f.
lebmih@yandex.ru
Tat'yana Nakonechnaya
PhD stud.
nto15.10@gmail.com
Mark Izraelson
t. q. - lab. as.
mizraelson@gmail.com
Vadim Nazarov
eng.
Investigation of clonal T cell subpopulations in health and disease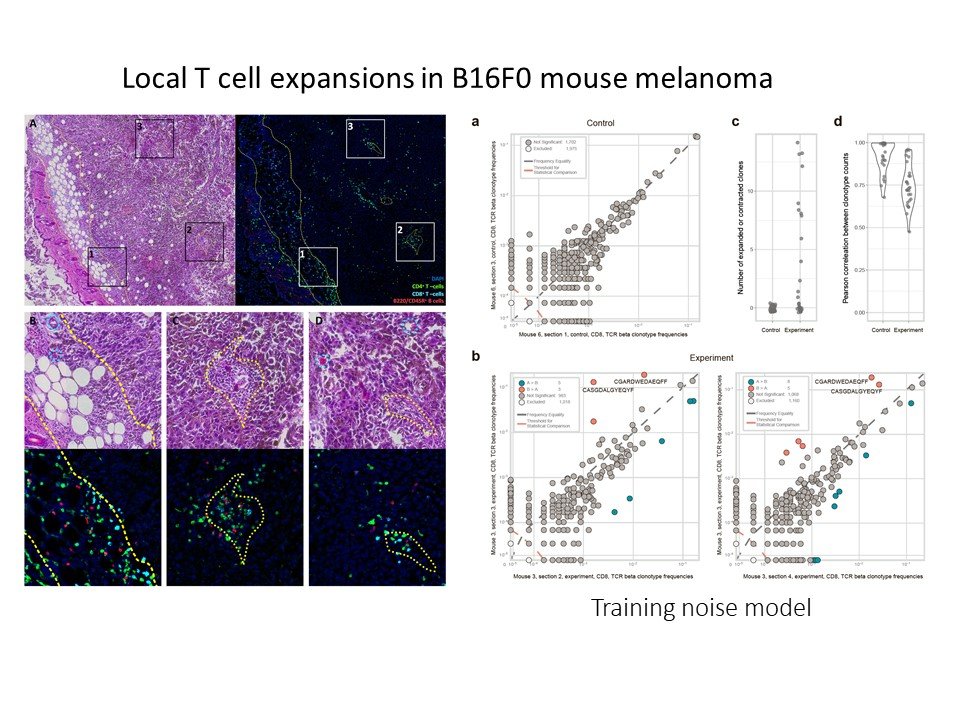 - two functionally distinct subpopulations of CD8 + memory stem cells described.
- a new approach developed to assess the clonal heterogeneity of tumor-infiltrating T-lymphocytes.
-  stably clonal T cell response was shown to be associated with a response to anti-PD1 immunotherapy.
- the T-cell repertoire of nickel-specific CD4 + T-lymphocytes was characterized.
- the repertoire of gamma-delta T lymphocytes involved in the antitumor response was investigated.
- a comparative analysis of the repertoire of follicular helper T-lymphocytes was carried out.
- a deep comparative study of methods for analyzing the repertoire of T-cell receptors was carried out.
Dynamics and phenotypes of memory T cell clones in response to anti-viral vaccination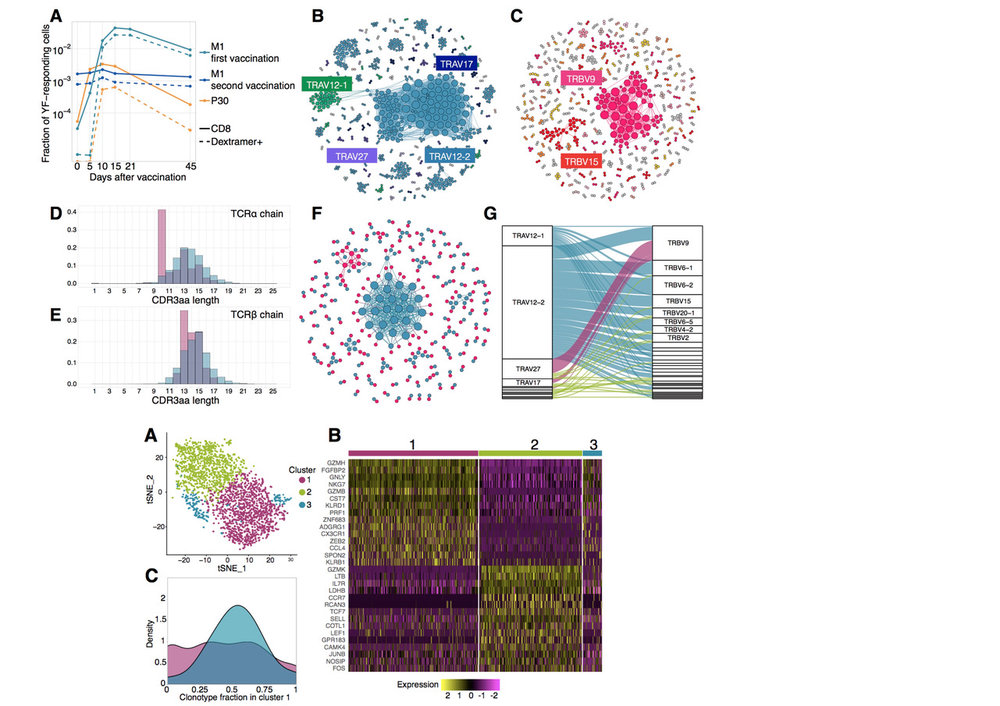 Using TCR alpha and beta repertoire sequencing for T-cell subsets, as well as single-cell RNAseq and TCRseq, we track the concentrations and phenotypes of individual T-cell clones in response to primary and secondary yellow fever immunization — the model for acute infection in humans — showing their large diversity. We confirm the secondary response is an order of magnitude weaker, albeit ~10 days faster than the primary one. Estimating the fraction of the T-cell response directed against the single immunodominant epitope, we identify the sequence features of TCRs that define the high precursor frequency of the two major TCR motifs specific for this particular epitope. We also show the consistency of clonal expansion dynamics between bulk alpha and beta repertoires, using a new methodology to reconstruct alpha-beta pairings from clonal trajectories.
Study of the role of tumor-infiltrating B-lymphocytes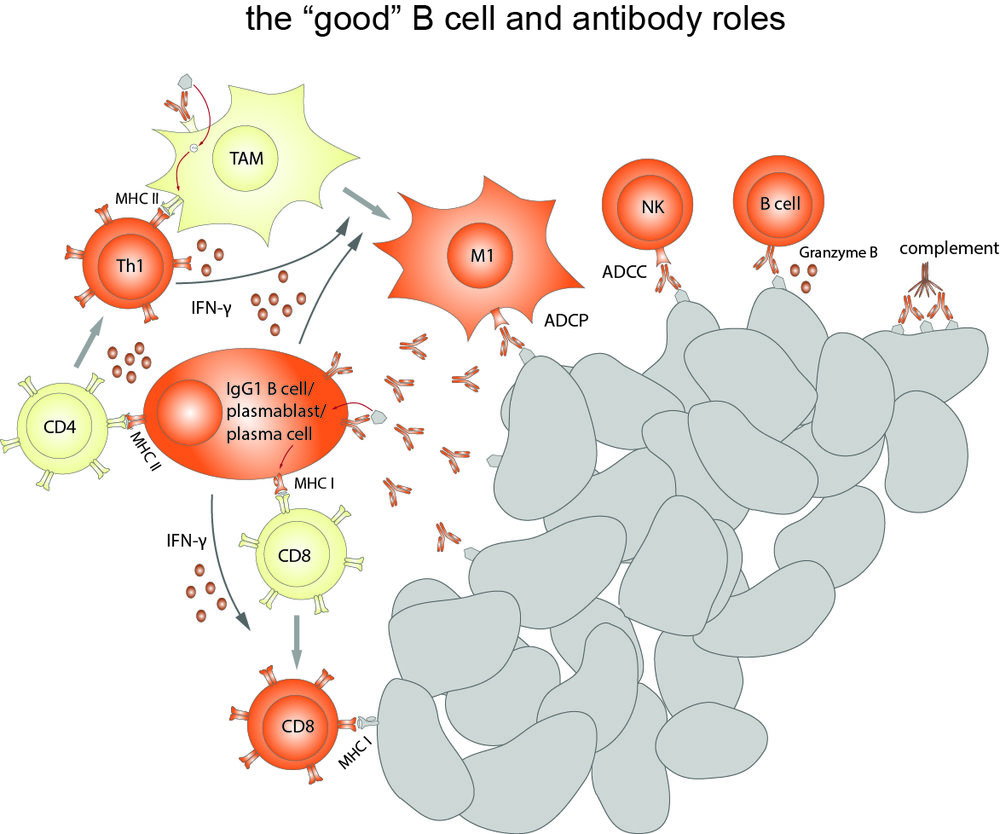 - For the first time, the association of the isotype composition of antibodies and B-cell receptors in the tumor environment and the prognosis of patient survival associated with the presence of certain driver mutations is shown.
- The role of tumor-infiltrating B-lymphocytes was first systemically characterized through the prism of the analysis of repertoires of antibodies and B-cell receptors.
Joint work with Privolzhsky Research Medical University.
Publications:
1) Isaeva OI, Sharonov GV, Serebrovskaya EO, Turchaninova MA, Zaretsky AR, Shugay M, Chudakov DM (2019). Intratumoral immunoglobulin isotypes predict survival in lung adenocarcinoma subtypes. J Immunother Cancer 7 (1), 279
2) Sharonov GV, Serebrovskaya EO, Yuzhakova DV, Britanova OV, Chudakov DM (2020). B cells, plasma cells and antibody repertoires in the tumour microenvironment. Nature Rev. Immunology, in press.
A new approach to the functional analysis of sequencing data for T-lymphocyte repertoires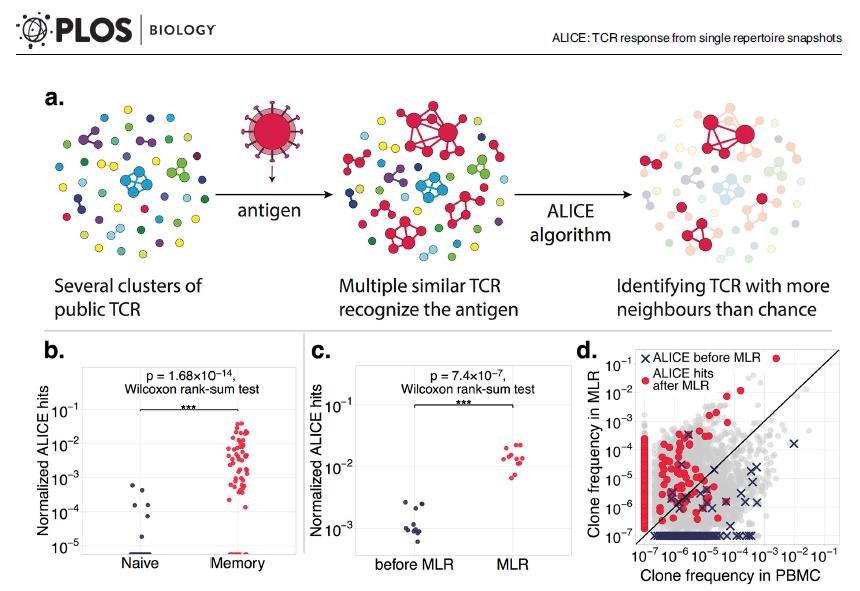 In order to extract clinically relevant information from large high-throughput sequencing of TCR repertoires we create a new statistical approach - Antigen-specific Lymphocyte Identification by Clustering of Expanded sequences (ALICE) /fig a/. We applied our algorithm to distinguish naïve from the effector memory cells in available TCR beta repertoires /fig b/, to identify reactive T-cell clones in mixed lymphocyte reaction (MLR) assay /fig c, d/, to fractionate TCR repertoires of patients with autoimmune disease or ones being under cancer immunotherapy, or subject to an acute viral infection. In summary, implementation of ALICE facilitate the identification of TCR variants associated with diseases and conditions, which can be used for diagnostics and rational vaccine design.
Photoswitchable red fluorescent proteins for nanoscopy of live cells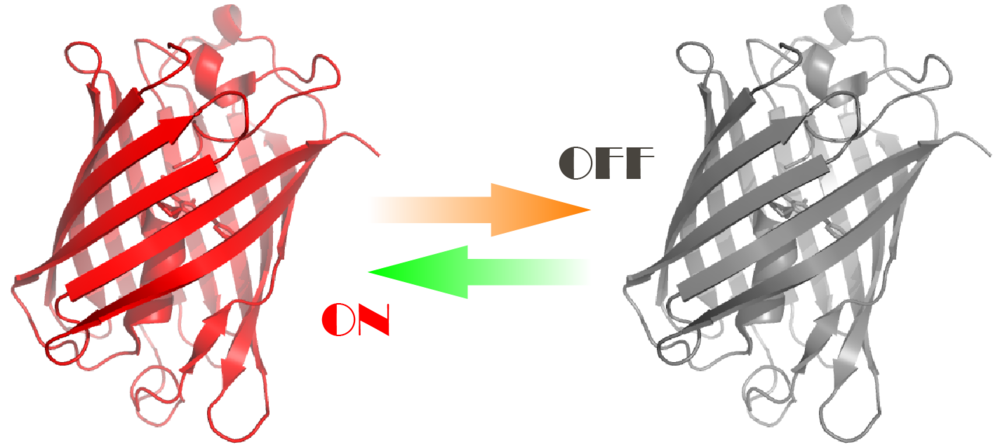 We developed new reversibly photoswitchable red fluorescent proteins based on FusionRed. These proteins, rsFusionRed1, 2 and 3, can be switched OFF and ON and by orange and green light, respectively. This photoswitching behavior allows to avoid illumination by phototoxic violet and blue light, which is commonly used for other photoswitchable proteins. Due to high brightness, high photostability, rapid photoswitching and low phototoxic excitation wavelengths rsFusionReds represent excellent tags for nanoscale imaging of living cells.
Achievements 2017
Investigation of T-cell receptors and antibody repertoires in health and disease