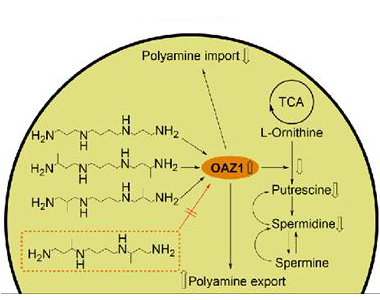 Unforeseen possibilities to investigate the regulation of polyamine metabolism revealed by novel C-methylated spermine derivatives
Scientists from IMB, the University of Eastern Finland, together with employees of the Laboratory of molecular design and synthesis of IBCh RAS, study the cellular functions of biogenic polyamines spermin and spermidin involved in the regulation of vital cellular functions including proliferation and differentiation. An original system of C-methylated spermin derivatives was created, whose interaction with polyamine metabolism enzymes can be regulated by moving the methyl group along the spermin backbone. The use of these compounds allows us to study the individual cellular effects of easily interconvertible and partially interchangeable spermin and spermidin, as well as the mechanisms of Antizyme (OAZ1)-mediated downregulation of polyamines - the main mechanism for maintaining polyamine homeostasis in the cell. The work was published in Journal of Medicinal Chemistry.
IUPAC Global Women's Breakfast 2020 at Institute of Bioorganic Chemistry RAS

conferences

II.15

At the IUPAC initiative the Global Women's Breakfast was held simultaneously on the 12th of February 2020, in different countries all over the world, uniting female scientists from the field of chemistry and related fields in a discussions on current trends in the organization of modern science (https://iupac.org/global-womens-breakfast/). Researchers Zinaida Osipova and Aleksandra Tsarkova of the Laboratory of Chemistry of Metabolic Pathways organized and hosted this event in Moscow in the Institute of Bioorganic Chemistry RAS.

Why acupuncture increases pain threshold of the rodent?

science news

II.11

Scientists from the Laboratory of neuroreceptors and neuroregulators helped colleagues from Chengdu University (China) to conduct a series of in vivo experiments on wild-type and knockout by pain sensing receptors TRPV1 and P2X7 animals. It was shown that a stimulation of ST36 acupuncture point leads to an analgesic effect in the model of inflammation from the introduction of a slightly acidic solution into the paw, similar to the effects of selective TRPV1 and ASIC3 ion channel inhibitors. In the model of inflammation from the administration of α, β-meATP (a P2X1,3 purinergic receptor agonist) the ST36 point stimulation also reduced pain sensitivity, but not so effective as the P2X3 antagonist A-317491 or different ASIC3 channel blockers. The results are published in the British Journal of Pharmacology.

Deciphering Ribosomes' Actions in Living Cells

science news

XII.30.19

Researchers from the Laboratory of Bioinformatics Approaches in Combinatorial Chemistry and Biology IBCH RAS, in collaboration with Irish colleagues, recently published a review in WIRES RNA that compiles the computational approaches, software tools, and data resources that have been developed over the last ten years for ribosome profiling data processing and analysis.