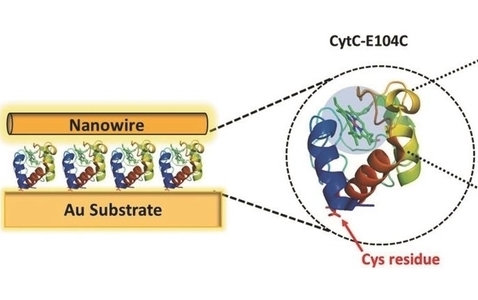 A Solid‐State Protein Junction Serves as a Bias‐Induced Current Switch
A sample-type protein monolayer, that can be a stepping stone to practical devices, can behave as an electrically driven switch. This feat is achieved using a redox protein, cytochrome C (CytC), with its heme shielded from direct contact with the solid-state electrodes. Ab initio DFT calculations, carried out on the CytC–Au structure, show that the coupling of the heme, the origin of the protein frontier orbitals, to the electrodes is sufficiently weak to prevent Fermi level pinning. Thus, external bias can bring these orbitals in and out of resonance with the electrode. Using a cytochrome C mutant for direct S–Au bonding, approximately 80% of the Au–CytC–Au junctions show at greater than 0.5 V bias a clear conductance peak, consistent with resonant tunneling. The on–off change persists up to room temperature, demonstrating reversible, bias-controlled switching of a protein ensemble, which, with its built-in redundancy, provides a realistic path to protein-based bioelectronics. Results of the study are published in Angewandte Chemie International Ediion.
Deciphering Ribosomes' Actions in Living Cells

science news

XII.30.19

Researchers from the Laboratory of Bioinformatics Approaches in Combinatorial Chemistry and Biology IBCH RAS, in collaboration with Irish colleagues, recently published a review in WIRES RNA that compiles the computational approaches, software tools, and data resources that have been developed over the last ten years for ribosome profiling data processing and analysis.

The new method for T-cell receptor alpha chain clonality assessment can be used for minimal disease monitoring in leukemia

science news

XII.27.19

Monitoring of minimum residual disease (MRD) is one of the most important diagnostic tests in the treatment of acute and chronic lymphoblastic leukemia. Currently, several methods for MRD are used, the most sensitive of which is the assessment and monitoring of clonal rearrangements in the immunoglobulin genes characteristic of tumor cells. High sensitivity, up to 1 tumor cell per million, is achieved by using next generation highthroughput sequencing technology (Illumina).

PRMT5 methylome profiling uncovers a direct link to splicing regulation in acute myeloid leukemia

science news

X.29.19

Protein arginine methyltransferase 5 (PRMT5) belongs to the class II arginine methyltransferases and catalyzes monomethylation and symmetrical dimethylation of arginines on proteins. It has recently emerged as a promising cancer drug target, and two PRMT5 inhibitors are currently in clinical trials for a range malignancies. Despite the recognized therapeutic potential, it is unclear which PRMT5 functions underlie its oncogenic activity.