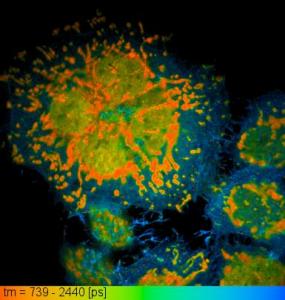 BrUSLEE – green fluorescent protein with the unique properties
Researchers from the Biophotonics lab of IBCH RAS (Anastasia Mamontova, Konstantin Lukyanov and Alexey Bogdanov) designed a new green fluorescent protein that combines high fluorescence brightness and short fluorescence lifetime. They used a semi-rational protein evolution approach. Their collaborators from Bach Institute of Biochemistry and Semenov Institute of Physical Chemistry helped with the time-resolved fluorescence analysis (FLIM) that allowed characterizing the physical properties of this perspective probe. Research has recently been published in the Scientific Reports.
Unique CDR3 epitope targeting by CAR-T cells is a viable approach for treating T cell

science news

IV.26

Efficient and specific removal of malignant cells is the ultimate goal of cancer therapy. The current rapid development of chimeric antigen receptor T cell (CAR-T cell or CART) therapy potentially provides high efficiency and allows long-term surveillance, which have greatly extended the frontier of leukemia treatment.

Nobel Prize winner, Arieh Warshel took part in the meeting of the IBCh RAS scientific council and joined the international advisory Board of the Institute

science news

IV.4

April 3rd 2019, a regular meeting of the IBCh RAS Scientific Council took place, featuring the 2013 Chemistry Nobel Prize awardee, Arieh Warshel. The scientist delivered a short talk, regarding the prospects of contemporary science and possibilities of using the quantum mechanics calculations to predict the behavior of complex systems, up to the organs and organisms. Director of our Institute, Alexander Gabibov, announced that professor Warshel had joined the International Advisory Board of the Institute, along with several other distinguished scientists, and presented him a symbolical gift.

Scientists present a fully genetically encodable bioluminescent system

science news

XI.26.18

Scientists from Russia, UK, Spain, Brazil, Japan, and Austria discovered the essential set of enzymes that allows glowing fungi to emit light. The bioluminescent system includes a brand- new luciferase and three enzymes that enable biosynthesis of fungal luciferin from a widespread metabolite – caffeic acid – as well as its recycling. The genes encoding this "caffeic acid cycle" make up a unique molecular toolkit that allows to turn any higher organism into a glowing one. The work was published in Proceedings of the National Academy of Sciences of the United States of America.
12th INTERNATIONAL CONFERENCE "BIOCATALYSIS.FUNDAMENTALS & APPLICATIONS" "BIOCATALYSIS-2019"

conferences

VI.24–28 (This event is over)

Dear colleagues, The Lomonosov Moscow State University and RAS institutes, including IBCH RAS, is planning to convene a traditional biannual 12 th International Conference "BIOCATALYSIS-2019" in June, 24–28, 2019. Conference will be convened on board a ship cruising via the route St. Petersburg – Valaam – Kizhi – St. Petersburg. More info is available at http://bc2019.org/.

Scientific School for young scientists «Structural biology: main problems and approaches to their solution»

science news

VI.6 (This event is over)

Dear colleagues! The Scientific School is devoted to the latest achievements and methods in the field of structural research will be held at the IBCh RAS on Thursday, 6 June 2019. The scientific program of the School includes lectures by leading scientists working in various fields of molecular biology and representing the basic structural methods, namely, X-ray Crystallography, Cryo-Electron Microscopy, NMR-spectroscopy and computer modeling.

"Molecular Brain" seminar

science news

IV.16 (This event is over)

The seminar is timed to the birthday of academician Eugene Grishin and will take place on April 16 at 14:00 in the Hall of Academic Council. Members of the Department of Molecular Neurobiology created by Eugene, will give talks on their present work. Everyone is cordially invited.