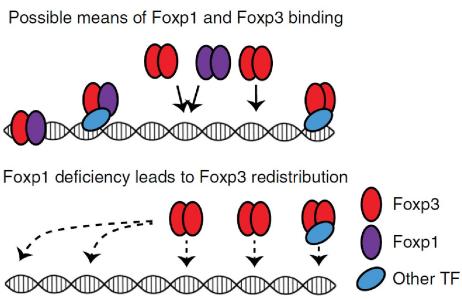 Transcription factor Foxp1 plays important role in Treg
Regulatory T cells (Treg) is subpopulation of T helper lymphocytes which possesses immune suppressive properties. Treg are critical in protection from excessive immune response and autoimmunity. Unique functions of Treg are defined by transcription factor Fop3 that controls Treg-specific expression of genes. Dr. Yury Rubtsov from the Dept. of functioning of living systems in cooperation with colleagues from the Memorial Sloan-Kettering Cancer Center (New York City) studied a role of Foxp3-related protein, Foxp1, specifically in the murine Treg. In the absence of Foxp1, Treg displayed distorted Foxp3 chromatin binding which led to decreased sensitivity of the cells to IL-2 and diminished suppressive capacity. Results of the study are published in Nature Immunology.
Nobel Prize winner, Arieh Warshel took part in the meeting of the IBCh RAS scientific council and joined the international advisory Board of the Institute

science news

IV.4

April 3rd 2019, a regular meeting of the IBCh RAS Scientific Council took place, featuring the 2013 Chemistry Nobel Prize awardee, Arieh Warshel. The scientist delivered a short talk, regarding the prospects of contemporary science and possibilities of using the quantum mechanics calculations to predict the behavior of complex systems, up to the organs and organisms. Director of our Institute, Alexander Gabibov, announced that professor Warshel had joined the International Advisory Board of the Institute, along with several other distinguished scientists, and presented him a symbolical gift.

Scientists present a fully genetically encodable bioluminescent system

science news

XI.26.18

Scientists from Russia, UK, Spain, Brazil, Japan, and Austria discovered the essential set of enzymes that allows glowing fungi to emit light. The bioluminescent system includes a brand- new luciferase and three enzymes that enable biosynthesis of fungal luciferin from a widespread metabolite – caffeic acid – as well as its recycling. The genes encoding this "caffeic acid cycle" make up a unique molecular toolkit that allows to turn any higher organism into a glowing one. The work was published in Proceedings of the National Academy of Sciences of the United States of America.

Kurt Wüthrich took part in the workshop of the Structural biology department

science news

X.10.18

Professor Kurt Wüthrich, Nobel Laureate in Chemistry, 2002, visited Shemyakin–Ovchinnikov Institute of bioorganic chemistry RAS and took part in the workshop of the Structural biology department of the Institute (headed by Prof. Alexander Arseniev).