The unit was disbanded in 2019.
Laboratory of Biopharmaceuticals
The laboratory conducts structure-functional research of biologically active peptides, peptidomimetics and other organic molecules. Besides fundamental research purposes (drug discovery) the Laboratory is engaged in applied research of prospective drug candidates for the purposes of creation of new medical products (drug development).
The Laboratory's research has resulted in several peptide pharmaceuticals acting on a wide range of targets: the immune system, as well as the central and peripheral nervous systems. These drugs are aimed at treatment of autoimmune and neurodegenerative diseases, immunodeficiencies, inflammatory diseases, and alcoholism.
As a result of prior work of the laboratory's lead researchers, two original peptide drugs targeting the immune system have received regulatory approval for the Russian market:
– "Thymodepressin" – an immunosuppressive agent which is approved for use in adults and children for the treatment of autoimmune diseases such as psoriasis, rheumatoid arthritis and others.
– "Stemokin" – an immunostimulant and a hematopoiesis booster, is approved for the treatment of secondary immunodeficiencies.
The laboratory also studies neuropeptides acting on the central nervous system. It has conducted research work on the following neuropeptides currently in Phase II clinical trials:
– "Sedatin" drug (IBCh-05) is an antagonist of the mu-opioid receptor which has anxiolytic and anti-anxiety properties. Currently in Phase II clinical trials in Russia.
– "Opilong" drug (IBCh-07) is a selective agonist of the mu-opioid receptors which inhibits the alcohol dependence. Currently in Phase II clinical trials in Russia.
In collaboration with other laboratories of the IBCh, our Laboratory has conducted research on "Sevanol", a new biologically active compounds isolated from natural raw materials, which has analgesic and anti-inflammatory properties. We have also collaborated on a new drug for the prevention of Alzheimer's disease.
The Laboratory has developed and patented in a number of leading countries an original concept of improving the stability of low molecular weight peptide compounds to enzymatic hydrolysis when administered orally. Also on the basis of this concept we have developed several original neuro- and immunotropnyh peptidomimetics.
The Laboratory cooperates with other laboratories of the IBCh, as well as with S.M. Kirov Military Medical Academy, A. Tsyb Medical Radiological Research Centre, NRC Institute of Immunology FMBA of Russia, V.A. Nasonova Research Institute of Rheumatology, National Research Center for Hematology, D. Rogachev Centre of Pediatric Hematology, Oncology and Immunology, RCCH the Russian children's clinical hospital, Roswell Park Cancer Institute (USA) etc.
The Laboratory was established in 2011.
Vladislav Dejgin
Russia, Moscow, Ul. Miklukho-Maklaya 16/10 — On the map
IBCh RAS, build. 33, office. 333
Phone: +7(495)330-72-38
E-mail: vdeigin@gmail.com
A novel platform for the synthesis of orally active peptidomimetics based on the 2,5-diketopiperazines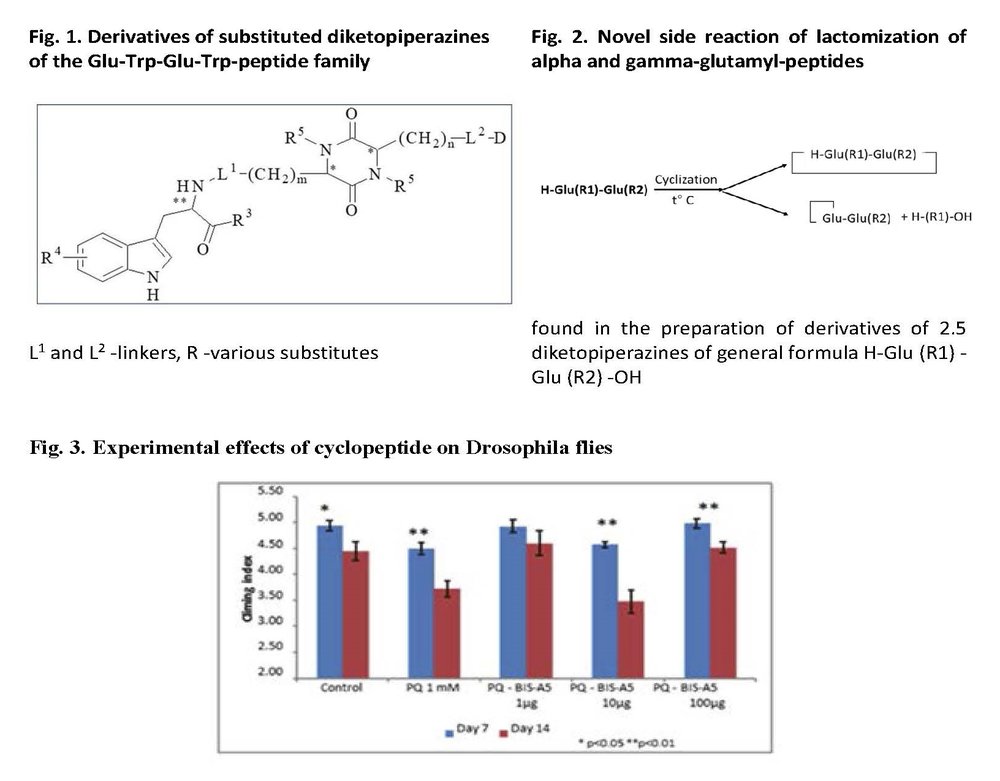 A novel platform of synthetic peptidomimetics based on branched derivatives of 2,5-diketopiperazines with integrated peptide linkers has been created (Fig. 1). A previously unknown side reaction of lactamization of alpha and gamma-glutamyl-peptides was discovered, the discovery of which expands the possibility of rational planning of synthetic methods for the peptide compounds (Fig. 2).
Synthesized library of cyclopeptides that affect the initial stages of neuropoiesis. The leading compounds were identified in models of in vitro modified human neuroblastoma cells (MC-65 cells) and in vivo transgenic fruit flies of Drosophila melanogaster. The leading compound has blocked the development of Parkinson's disease and fully restore the functions of insect flight (Fig. 3).
The new leading compounds for development of next generation medicinal peptidomimetics have been synthesized.
The proton-independent activator of acid-sensing ion channels ASIC3 with unusual pharmacological properties was found in herb Laurus nobilis.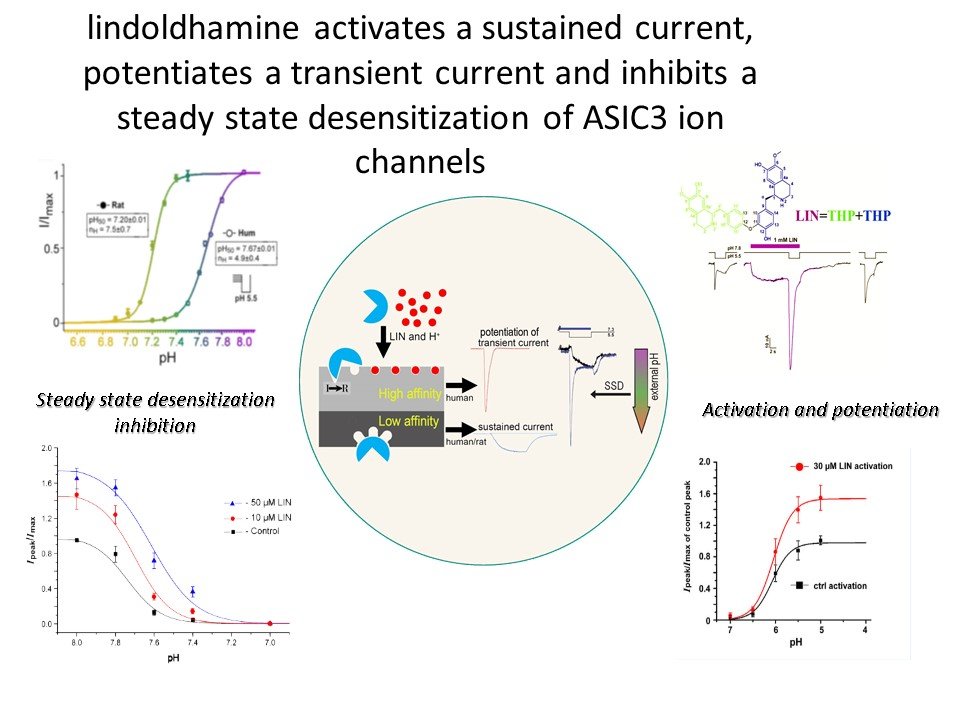 The screening of natural sources for novel ligands to ASIC ion channels resulted by a discovery of Lindoldhamine from laurel noble leaves, which can activate the ASIC3 channel at physiological pH. It has been demonstrated that acidification of extracellular media, which normally leads to the activation of the channel, is not more a necessary condition for the both human and rat ASIC3 isoforms opening. Electrophysiological experiments on heterologous expressed ASIC3 ion channels revealed differences in a modulation of human and rat isoform by lindoldhamine. Various applied protocols let to determine the binding of lindoldhamine with human ASIC3 isoform in the closed state that results in a 2-fold increase of transient current amplitude by acidic pH stimulus, however, the rat ASIC3 isoform was not affected to the ligand. Proton independent activation of the rat channel also due to a significantly lower current amplitude registered. As a result, a potent pharmacological difference among human and rat ASIC3 channels were shown during a respond to the novel alkaloid, which proves once again the ambiguity of interpretation of the animal tests data to the further drug developing for humans. The unusual pharmacological properties of lindoldhamine make possible using it as a new instrument for the ASIC channels activity studying, as well as for a study of the nervous system synaptic plasticity in total, since the decisive role of these channels in this process has been proven. The unique property of new ligand is the ability to compete with protons causing desensitization of the ASIC3 transient current. Lindoldhamine increase the amplitude of the transient current on a pH-dependent desensitization curve in contrast to known ASIC ligands, that can shift this curve towards more acidic/alkali value without amplitude change.