Group of growth factors expression and differentiation
Efficient delivery of oncolytic enterovirus by carrier cell line NK-92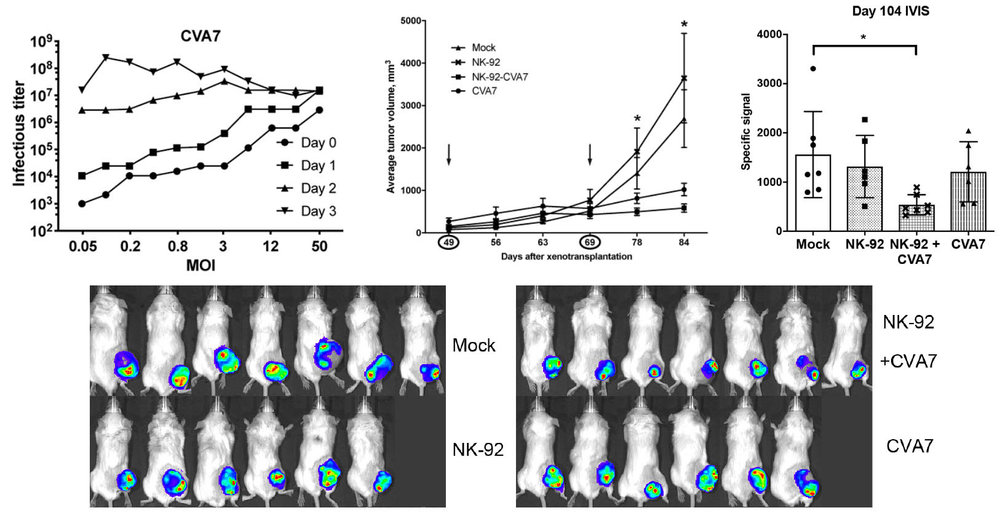 Many representatives of the enterovirus family are considered as promising oncolytic agents; however, their systemic administration is largely inefficient due to the rapid neutralization of the virus in the circulation and the barrier functions of the endothelium. We aimed to evaluate natural killer cells as carriers for delivery of oncolytic enteroviruses, which would allow to combine the effects of cell immunotherapy with virotherapy. We tested four strains of non-pathogenic enteroviruses against the glioblastoma cell line panel and evaluated the produced infectious titers. Next, we explored whether these virus strains could be delivered to the tumor by natural killer cell line NK-92, which is being actively evaluated as a clinically-acceptable therapeutic. Several strains of enteroviruses demonstrated oncolytic properties, but only Coxsackievirus A7 (CVA7) was able to replicate in NK-92 cells efficiently. We compared the delivery efficiency of CVA7 in vivo, using NK-92 cells and direct intravenous administration; and found significant advantages of cell delivery even after a single injection. This suggests that NK-92 cell line can be utilized as a vector for the delivery of the oncolytic strain of CVA7, which can improve the clinical potential of this viral oncolytic for the treatment of glioblastoma multiforme and other forms of cancer. 
Fluorogenic marker for instant live-cell membrane staining and imaging

A new organic-compound-based fluorogenic marker has been created for live-cell membrane staining. Unlike current commercial cell markers, the obtained fluorogenic marker does not fluoresce in the aquatic environment, but acquires fluorescence immediately after being placed in a nonpolar medium, for example, in the cell membrane. This property allows one to instantly stain cells without further washing out the unbound dye. This marker can be applied in fluorescence microscopy for live-cell imaging and flow cytometry.