Group of Plant Metabolic Engineering
The group was formed in 2020. The main focus of the research of the group is aimed to study the phenylpropanoid pathway of plant metabolism - one of the key branches of plant metabolism, providing the biosynthesis of substances necessary for the growth and development of plants, protection from biotic and abiotic stress factors, reproduction.
We study the effect of the various gene on the activity of the phenylpropanoid pathway using a modern method of genetic engineering of plants, metabolomics and bioluminescence imaging.
Creation of plants with genetically encoded autoluminescence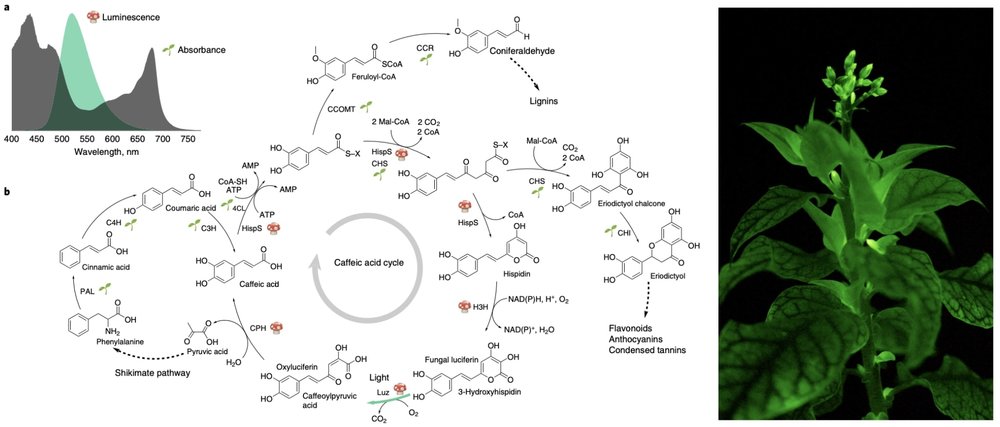 In Nature Biotechnology, scientists from IBCh RAS have announced the feasibility of creating plants that produce their own visible luminescence. It was revealed that bioluminescence found in some mushrooms is metabolically similar to the natural processes common among plants. By inserting DNA obtained from the mushroom Neonothopanus nambi, the scientists were able to create plants that glow much brighter than previously possible. Plants containing the mushroom DNA glow continuously throughout their lifecycle, from seedling to maturity. This biological light can be used for observing the inner workings of plants. In contrast to other commonly used forms of bioluminescence, such as from fireflies, unique chemical reagents are not necessary for sustaining mushroom bioluminescence.