Group for Genomic Regulation of Cell Signaling Systems
Our group exists since February 2006 when it had separated from the group supervised by Dr. Yuri Lebedev in the Laboratory of Human Genes Structure and Functions. First of all, the head of the above laboratory, professor Eugene Sverdlov, is our scientific guru.
Functional genomic analysis of human specific DNA
Design of new experimental techniques for large scale functional studies of the complex genomes
Engineering of gene regulatory sequences
Discovery of chimeric retroelements in the mammalian genomes
Development of new experimental techniques for functional genomics
Identification of gene regulatory regions in the human specific DNA
Directed differentiation of several stem cell cultures
Anton Buzdin
Russia, Moscow, Ul. Miklukho-Maklaya 16/10 — On the map
IBCh RAS, build. 51, office. 663
Phone: +7(495)727-38-63
E-mail: bu3din@mail.ru
Coincidence of functional epigenetic marks and transposable elements enables measuring transcriptional regulation evolution rates of genes and molecular pathways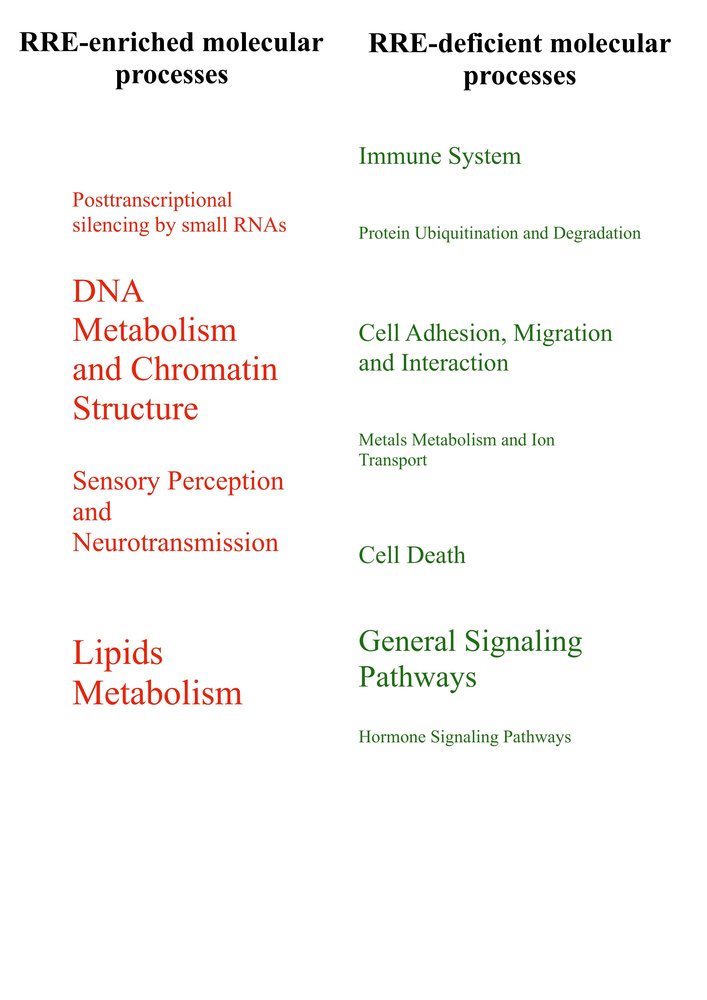 We developed bioinformatic method RetroSpect that enables measuring rates of evolution of transcriptional regulation of genes and molecular pathways based on coincidences of functional genomic epigenetic marks and transposable elements. We applied Retrospect to quantitative data on genomic distribution of transcription factor binding sites and histone marks: H3K4me1, H3K4me3, H3K9ac, H3K27ac, H3K27me3 and H3K9me3. The analysis of public databases demonstrated that the most strongly evolving processes (termed RRE-enriched) are connected with regulation of microRNAs, olfaction, fertilization, immune response, fatty acids metabolism and detoxication. In contrast, the most slowly evolving processes (RRE-deficient) dealt with protein translation, RNA transcription, maintaining chromatin structure and molecular signaling.
New methods of estimation of evolutional rate of molecular pathways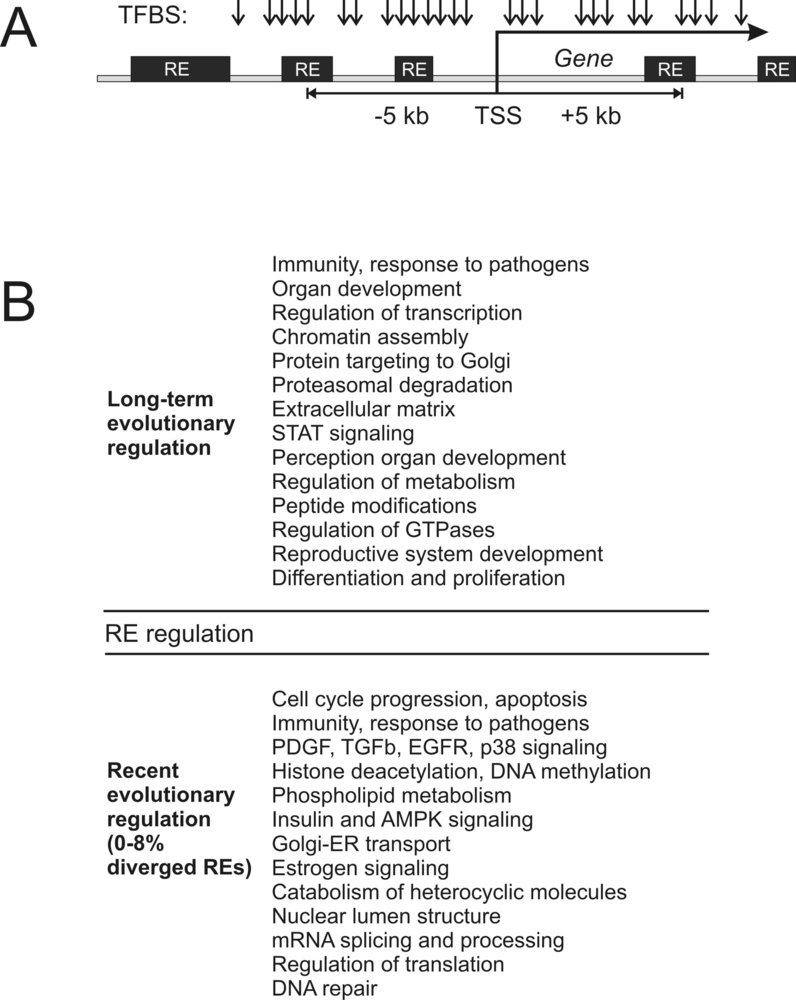 We showed that transcription factor binding sites in the vicinities of gene promoters, that colocalize with the transposable elements, may serve as the markers of the evolutional rate ofmolecular pathways. We found that in human ancestral lineage the most quickly evolving pathways were linked with immunity and response to pathogens, as well as for metabolism of fats and catabolism of heterocyclic molecules, and for formation of perception organs.