Laboratory of Molecular Diagnostics
The laboratory of Molecular Diagnostics was founded in 2015, on basis of Molecular Diagnostics group existing from 2005 in IBCh (before 2005 - group of phytoimmunodiagnostics). Principal work directions of the laboratory are development of the immunochemical test systems for plant pathogens (viruses, bacteria, fungi) detection, and fundamental research in the field of plant virology and molecular biology.
Development of PCR diagnostics systems for identification variable plant and animal pathogens (viruses, bacteria, fungi, nematodes etc.)
Optimization of DNA/RNA separation methods for analysis of plant and animal specimens and microorganisms identification
Genetic engineering of plants
Utilizing of PCR technologies for rapid evaluation of the efficiency of plant growth regulators
Studies of structure and functions a number of phytoviral and plant proteins — interactions with viruses in infected plants
Investigation of inter- and intracellular protein and viruses transport machine in plants, protein functioning and subcellular localization, virus-host interactions
Viral suppresoors of post-transcriptional genes silencing (for example, gamma-b protein of Hordeivirus)
Producing of poly- and monoclonal antibodies
Developing of immunochemical assays
Basic research methods are genetic engineering and immunochemical methods and DNA technologies. Our studies are carried out in cooperation with some other IBCh labs, Belozersky Institute of Physico-Chemical Biology MSU, ZAO "DNA Technologies", Institute of Phytopathology of the Russian Academy of Agricultural Sciences and a number of foreign institutes and companies.
Awards
The Laboratory was awarded with a lot of Russian grants as "Researching of ways and mechanisms of protein translocation through plasmodesma with the model of fitoviruses' transport proteins" or EU grants "Researching of new and rentable methods for a noninvasive diagnostic of human pathogens microorganisms".
Talks and lectures
"Modern approaches for use of monoclonal antibodies in plant protection and studies of virus-induced pathogenic processes"; Erokhina T., 200;
"Studies on plant cell protein At 4/1 capable of interacting with viral movement proteins"; Erokhina T., Minina E., Schepetilnikov M., Solovyev A., Kellmann J., Morozov S.Y., 2005.
...and many Russian talks.
International contacts
Dr. Matthias Leiser, Nexttec Gmbh Biotechnologie Hemmerlrather Weg 201 51377 Leverkusen, Germany;
Dr. Joachim Schiemann, Julius Kuhn Institute, Federal Research Centre for Cultivated Plants, Messeweg 11/12, Braunshweig, Germany;
Dr. Chet Sutula, Agdia Incorporated, 30380 County Road 6 Elkhart, Indiana 46514 USA.
Prof. G. Brem, Agrobiogen GmbH (ABG), established in Thalmannsdorf 25, Hilgertshausen 86567,Germany;
Dr. C.-D. Bauermeister, Labor Dr. Bauermeister & Co. (LB), established in Franz-Haniel-Str. 20 47403 Moers, Germany;
Dr. Radovan Haluza, Generi Biotech s.r.o (GB), established in Machkova 587, 50011Hradec Králové 11 Czech Republic;
Dr. Elisa Gargiullo, DIATHEVA S. r. I (DT), established in Viale Piceno 137/F, 61032 FANO (PU), Italy;
Dr. Ronald Bosch, HLB Research and Consultancy in Agriculture (HLB), established in Kampsweg 27 Wijster, The Netherlands;
Dr. René Pellaux, preenTec AG (PRT), established in Esc. Du Court-Chemin 19, Fribourg CH-1704, Switzerland;
Dr. H. Balayan, Institute of Fine Organic Chemistry, Armenian National Academy of Sciences (IFOC), established in Azatulyan ave. 26, Yerevan 375005, Republic of Armenia;
Dr. Christoph Krukenkamp, Charite — Universitaetsmedizin Berlin (CHA), established Charitéplatz 1, 10117 Berlin, Germany.
Name
Position
Contacts
Sergey Zavriev, corr. member of the RAS
Head of lab.
szavriev@ibch.ru, +7(495)336-45-11
Tatiana Erokhina, Ph.D.
s. r. f.
tne@mx.ibch.ru, +7(495)336-45-11
Dmitry Ryazantsev, Ph.D.
s. r. f.
d.yu.ryazantsev@gmail.com, +7(495)336-45-11
Ravilja Komaleva
r. f.
+7(495)000-00-00
Ol'ga Lahtina
r. f.
+7(495)000-00-00
Elena Petrova, Ph.D.
r. f.
petrova@ibch.ru, +7(495)000-00-00
Maria Simonova, Ph.D.
r. f.
simonova@ibch.ru, +7(495)335-33-22
Alexander Stakheev, Ph.D.
r. f.
stakheev.aa@gmail.com, +7(495)3364511
Margarita Chigareva
j. r. f.
Larisa Samohvalova
j. r. f.
samokhlar@mail.ru, +7(495)000-00-00
Polina Kovalec
t. q. - lab. as.
1685
res. eng.
marina.sar@mail.ru

Former members:

Tat'jana Chernichko
s. r. f.
tcher@mx.ibch.ru
Tat'jana Valjakina, Ph.D.
s. r. f.
valyakina@ibch.ru
Yuliya Zvezdina
t. q. - lab. as.
Viktorina Budkovskaja, Ph.D.
k. eng.
vnb@ibch.ru
Polina Drobyazina
k. eng.
Sergey Zavriev
Russia, Moscow, Ul. Miklukho-Maklaya 16/10 — On the map
IBCh RAS, build. БОН, office. 405
Phone: +7(495)995-55-57#2044
E-mail: szavriev@ibch.ru
Identification of novel Fusarium taxa by multiphasic approach
A comprehensive analysis of the taxonomic status and characteristics of a number of collection strains of fungi of the genus Fusarium was carried out. The use of multilocus phylogenetic analysis, morphological characteristics and the study of toxin formation allowed us to identify a number of cultures that are believed to be new, previously uncharacterized species. The most prominent example of such a strain is strain F-846, originally identified as F.poae. He formed a separate branch on phylogenetic trees constructed using sequences of 5 marker genes. A study using HPLC methods has demonstrated that strain F-846 is capable of synthesizing DON and its acetylated derivatives. Microscopic analysis confirmed that this strain appears to be a new species of the genus Fusarium.
The first recombinant viper three finger toxins - antagonists of the nicotinic acetylcholine receptors of muscle and neuronal types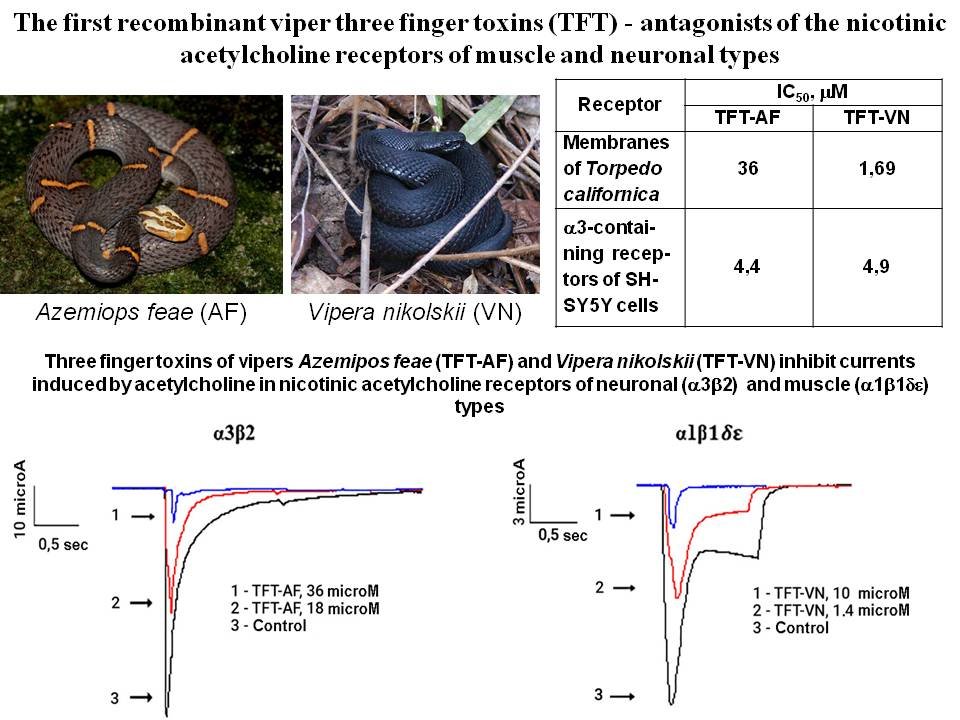 One of the main components of the venom of the snakes from the Elapidae family are three finger toxins, which possess various types of biological activity, including inhibition of synaptic transmission by blocking the nicotinic acetylcholine receptors. So far, three finger toxins have not been found in the venom of the Viperidae snakes, although the mRNA encoding these toxins has been found in the venom glands of snakes from this family. Genes encoding two three-finger toxins TFT-AF and TFT-VN, nucleotide sequences of which were earlier determined by cloning cDNA from venom glands of vipers Azemiops feae and Vipera nikolskii, respectively, were expressed for the first time in E. coli cells. The biological activity of these toxins was studied by electrophysiological techniques, calcium imaging, and radioligand analysis. We have shown for the first time that viper three-finger toxins are antagonists of nicotinic acetylcholine receptors both of neuronal and muscle type.
Subcellular localization and detection of Tobacco mosaic virus ORF6 protein by immunoelectron microscopy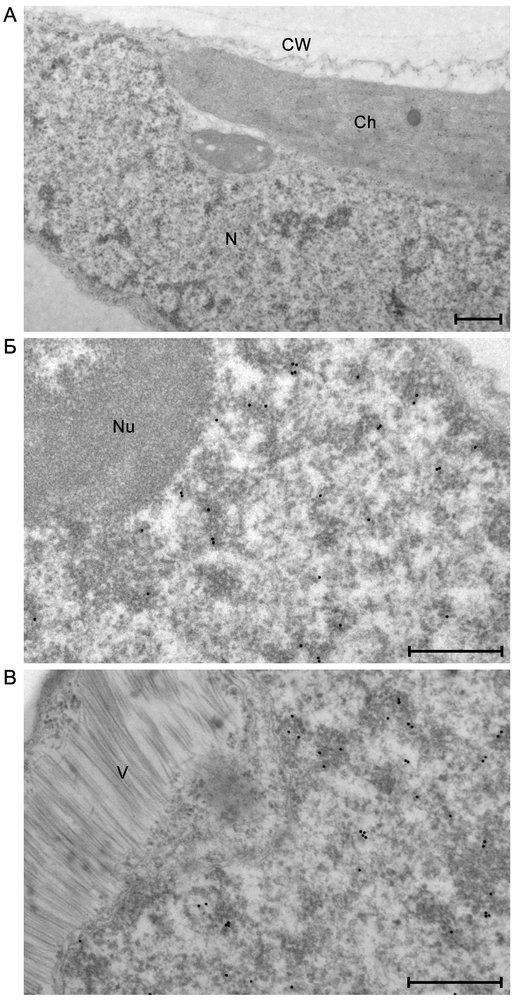 Previous studies have shown that genomes of some tobamoviruses contain not only genes coding for coat protein, movement protein, and the cistron coding for different domains of RNA-polymerase, but also a gene, named ORF6, coding for a poorly conserved small protein. In this study, using biochemical and immunological methods, we have shown that ORF6 peptide is accumulated after infection in case of two isolates of Tobacco mosaic virus strain U1 (TMV-U1 common and TMV-U1 isolate A15). Unlike virus particles accumulating in the cytoplasm, the product of the ORF6 gene is found mainly in nuclei, which correlates with previously published data about transient expression of ORF6 isolated from TMV-U1. Moreover, we present new data showing the presence of ORF6 genes in genomes of several tobamoviruses.
A covalent DNA antibody conjugate was prepared for use in immuno-PCR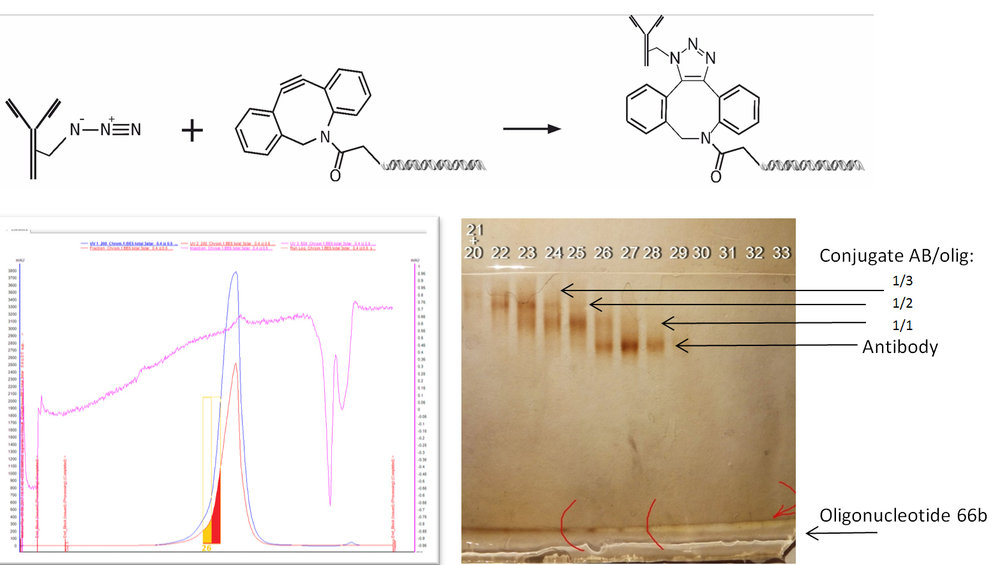 The conjugate of antibody and single-stranded oligonucleotide  was prepared using a bioorthogonal strain promoted azide-alkyne cycloaddition reaction. The antibody was modified by sulphotetrafluorophenyl ester of azidocaproic acid; N-hydroxysuccinimide ester of dibenzocyclooctin was used to modify the oligonucleotide with the amino group introduced during the synthesis. Conjugates are obtained with a degree of  labeling 1-3  of the oligonucleotide to the antibody.
Study of gene expression of trichothecene cluster genes in Fusarium graminearum and F. ussurianum under different culture conditions and their toxigenicity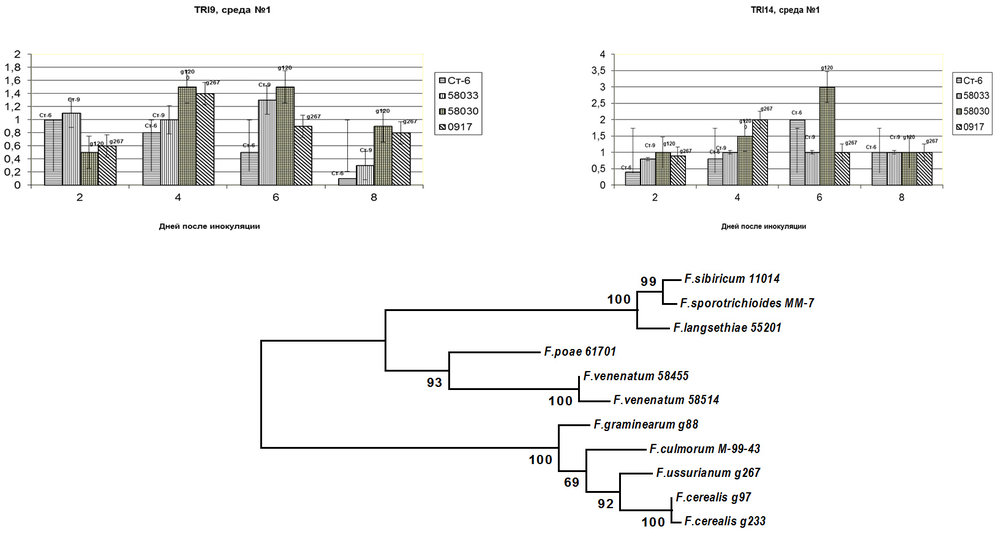 Expression dynamics of genes belonging to the trichothecene cluster which includes 12 genes, responsible for regulation and different steps of mycotoxin biosynthesis has been investigated. Strains of F. graminearum (St-6 and St-9) and F. ussurianum (g. 120 and g. 267) were selected for this study. 3 groups of genes with different levels and periods of expression were identified. A special attention was paid to genes TRI9 and TRI14, which functions are not known at the moment. The expression of these genes kept on the same level during all the cultivation process. Nucleotide sequences of these genes and predicted protein sequences for TRI14 gene of F. poae, F. sambucinum, F. langsethiae, F. venenatum, F. cerealis were determined for the first time.     
Elucidation of structure of elicitor protein CS20EP from Fusarium oxysporum strain CS-20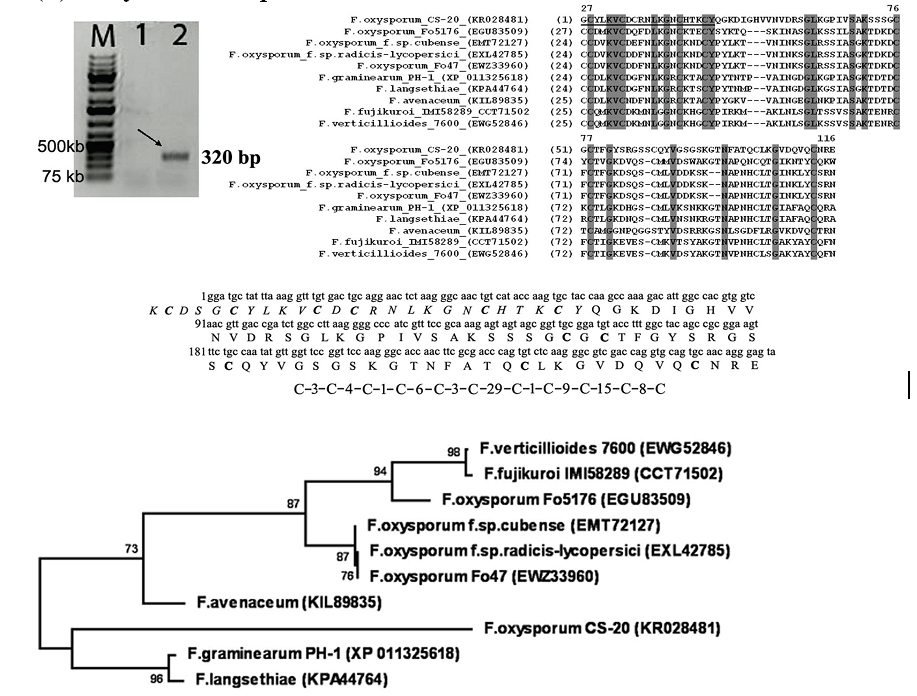 The structure of cDNA of a protein expressed by F. oxysporum strain CS-20 has been determined based on preliminary data of N-terminus sequence. The use of bioinformatics approach allowed to deduce the full amino-acid sequence of the protein. The calculated molecular mass corresponded well to the data obtained earlier by MALDI-TOF (10 kDa). It was demonstrated that the CS20EP possesses elicitor activity and stimulates tomato plants' response to infection by virulent strain of F. oxysporum, causing vascular wilt and necrosis of plant tissue. Several structural differences between CS20EP and similar proteins from other Fusarium species have been shown. The nucleotide sequence of the gene encoding CS20EP protein has been deposited to the GenBank   (accession number KR028481).
Developing of the bank of hybridomas producing monoclonal antibodies to the HLA
Hybridoma clones producing monoclonal antibodies to three different HLA-I variants were obtained. The 5 clones produced monoclonal antibodies to HLA-A03, 9 clones – to HLA-A11, and 6 clones – to HLA-B51. All the clones produced monoclonal antibodies of G isotype. The obtained monoclonal antibodies have no domestic analogues.
The molecular genetics study of toxigenic Fusarium fungi diversity on the territory of Russia. Search of new high polymorphic markers in the fungi genome for their particular diagnostic and identification.
Partial sequences of frataxin and phosphate permease genes of major Fusarium pathogens common in Russia were first identified and presented in the international databases. As well, the phylogenetic potential of these loci was found.