Лаборатория нейрорецепторов и нейрорегуляторов
Лаборатория проводит исследования биологически активных компонентов из природных источников, взаимодействующих с различными мишенями в клеточной мембране, а также разрабатывает общие подходы для их идентификации, выделения, структурно-функционального анализа и использования в качестве тонких инструментов модуляции активности мембранных рецепторов нервной клетки. Исследования Лаборатории позволяют приблизиться к пониманию молекулярных механизмов специфичности действия природных лигандов и закладывают основу для разработки принципиально новых высокоспецифичных лекарственных средств и инсектицидов.
Лаборатория сотрудничает с Институтом эволюционной физиологии и биохимии им. И. М. Сеченова РАН (член-корр. РАН Л. Г. Магазанник), Федеральным научно-клиническим центром физико-химической медицины (академик В.М. Говорун), Институтом биоорганической химии им. Садыкова АН республики Узбекистан (академик Ш. И. Салихов), Институтом общей генетики им. Н. И. Вавилова РАН (в.н.с. Т.И. Одинцова), Всероссийским научно-исследовательским институтом сельскохозяйственной биотехнологии РАСХН (проф. А.В. Бабаков), Католическим университетом г. Левен, Бельгия (проф. Я. Титгат) и др.
В лаборатории проводились совместные научные исследования с компаниями Monsanto, Bayer, Zeneka, DuPont и др. Многие приоритетные результаты защищены международными и российскими патентами. В лаборатории получены гранты по программе Президиума РАН «Молекулярная и клеточная биология», Роснауки, Роспрома, программе «Научная школа», РФФИ и др.
Лаборатория постоянно ведет работу с молодежью, за время существования по тематике исследования были защищены 23 кандидатских диссертации. Хорошее материально-техническое обеспечение, использование передовых методов исследования, постоянное совершенствование практических навыков сотрудников, открытость для дискуссий, большие творческие планы и активное участие сотрудников в общественной жизни Института – это то, что характеризует Лабораторию нейрорецепторов и нейрорегуляторов сегодня.
Лаборатория была основана в 1987 году академиком РАН, профессором Евгением Васильевичем Гришиным, под руководством которого она стала ведущим научным подразделением нашей страны и мира в области изучения природных нейротоксинов и их нейрональных рецепторов.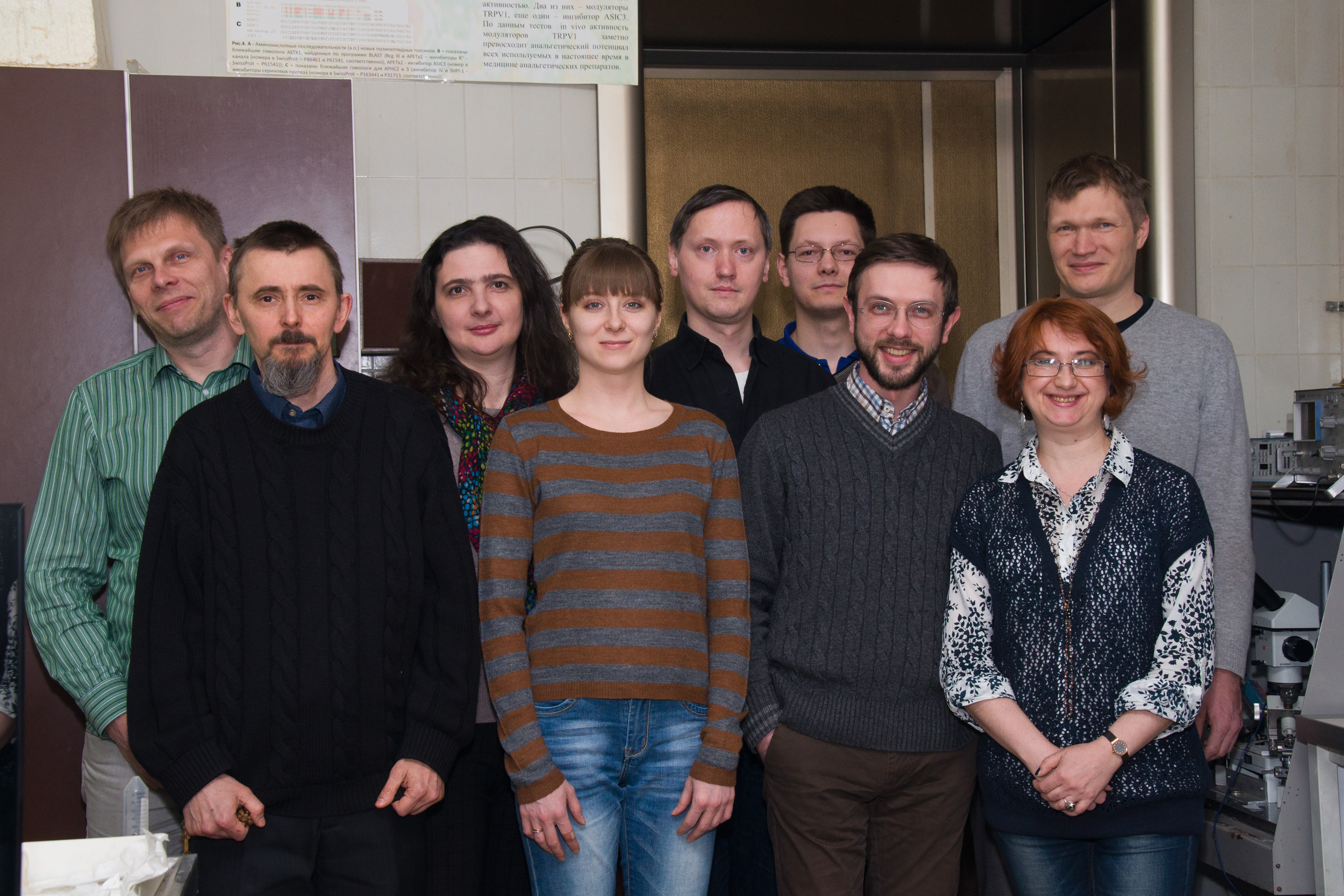 Поиск и исследование полипептидных токсинов и низкомолекулярных соединений, модулирующих активность мембранных рецепторов, участвующих в процессе генерации и передачи болевых ощущений (Юлия Владимировна Королькова, Ярослав Алексеевич Андреев, Сергей Геннадьевич Кошелев, Дмитрий Игоревич Осмаков)
Изучение антимикробных пептидов членистоногих и защитных пептидов растений (Евгений Александрович Рогожин)
Разработка методов защиты сельскохозяйственных растений для повышения урожая (Евгений Александрович Рогожин)
Разработка методов получения рекомбинантных полипептидных токсинов в различных системах гетерологической экспрессии (Ярослав Алексеевич Андреев, Екатерина Евгеньевна Малеева)
Внедрение омиксных технологий в поиск и структурную идентификацию биологически активных соединений сложных многокомпонентных смесей (Александр Николаевич Миков)
Создание клеточных линий для анализа лиганд-рецепторных взаимодействий (Юлия Владимировна Королькова, Ярослав Алексеевич Андреев)
Изучение наноструктуры комплексов ДНК (Василий Николаевич Данилевич)
Сотрудники Лаборатории провели систематические исследования яда пауков, скорпионов, муравьев и змей (всего более 50 видов ядовитых животных) и экстрактов лекарственных растений, в которых было идентифицировано более 150 различных токсинов, из них 136 выделено и охарактеризовано впервые. В процессе этой работы были открыты:
новый класс токсинов пауков типа аргиопина – полиаминных блокаторов глутаматных рецепторов
семейство высокомолекулярных селективных нейротоксинов из яда каракурта («черной вдовы») – латротоксинов
мембраноактивные пептиды из яда муравьев и пауков
полипептидные токсины, специфичные для натриевых, калиевых, кальциевых, протончувствительных, TRPV1, TRPA1каналов.
низкомолекулярные биологически активные соединения из лекарственных растений с анальгетическим действием.
При изучении нейрональных рецепторов впервые выделены и охарактеризованы все индивидуальные компоненты натриевого канала электровозбудимых мембран млекопитающих.
Проведено детальное исследование рецепторов латротоксина и рецепторов аргиопина.
Открыт новый тип ионотропных глутаматных рецепторов.
Установлено существование в пресинаптической мембране нервной клетки функционального комплекса – синаптосекретосомы и нового рецептора – латрофилина, обуславливающих процесс секреции нейромедиатора.
Успешно завершены доклинические испытания двух потенциальных анальгетических препаратов.
Ф.И.О.
Должность
Контакты
Славохотова Анна Александровна
Козлов Сергей Александрович, д. х. н.
рук. подр.
serg@ibch.ru, +7(495)336 4022
Андреев Ярослав Алексеевич, к. б. н.
с.н.с.
ay@land.ru, +7(495)336-40-20
Данилевич Василий Николаевич, к. б. н.
с.н.с.
dan@ibch.ru, +7(495)336-40-22
Елякова Елена Георгиевна, к. х. н.
с.н.с.
elyakova@yandex.ru, +7(495)429-87-20, +7(495)995-55-57#2501
Королькова Юлия Владимировна, к. х. н.
с.н.с.
july@ibch.ru, +7(495)3366540
Кошелев Сергей Геннадьевич, к. б. н.
с.н.с.
sknew@yandex.ru, +7(495)3306683
Садыкова Вера Сергеевна
с.н.с.
Рогожин Евгений Александрович
н.с.
rea21@list.ru, +7(495)336-40-22
Осмаков Дмитрий Игоревич
н.с.
Васильченко Алексей Сергеевич
н.с.
Миков Александр Николаевич
м.н.с.
mikov.alexander@gmail.com, +7(495)3366540
Малеева Екатерина Евгеньевна
м.н.с.
+7()3364022
Мошарова Ирина Владимировна
м.н.с.
+7()3306683
Логашина Юлия Александровна
м.н.с.
yulia.logashina@gmail.com, +7(495)3364022
Владимиров Андрей Алексеевич
тех.-лаб.
Александрова Людмила Александровна
инженер
+7(495)336-40-22
Нигматулина Наталья Борисовна
инженер
natnb@mail.ru
Лубова Ксения Игоревна
инженер
lubova.ksenia@gmail.com
Баранова Анна Александровна
инж.-иссл.
Бозин Тимур Николаевич
инж.-иссл.
Гаврюшина Ирина Александровна
инж.-иссл.

Ранее здесь работали:

Егоров Цезий Алексеевич, д. х. н.
в.н.с.
ego@ibch.ru
Василевский Александр Александрович, к. х. н.
с.н.с.
avas@ibch.ru
Валякина Татьяна Ивановна, к. б. н.
с.н.с.
valyakina@ibch.ru
Плужников Кирилл Андреевич, к. х. н.
с.н.с.
Симонова Мария Александровна, к. х. н.
н.с.
simonova@ibch.ru
Комалева Равиля Люкмановна
н.с.
Лахтина Ольга Евгеньевна
н.с.
Петрова Елена Эдуардовна, к. б. н.
н.с.
petrova@ibch.ru
Мусолямов Александр Хусаинович
м.н.с.
musolyamov@ibch.ru
Самохвалова Лариса Вадимовна
м.н.с.
Астафьева А А
м.н.с.
a_sanya@mail.ru
Сачкова Мария Юрьевна, к. х. н.
асп.
sachkovamasha@mail.ru
Арзамасов Александр Алексеевич
студ.
Alex_arzamasov@hotmail.com
Емельянова Анна Андреевна
инж.-иссл.
annaemelyan@gmail.com
Каневская Жанна Олеговна
лаб.
zh-kanewskaya@yandex.ru
Гришин Евгений Васильевич, академик
Зав. отделом
Козлов Сергей Александрович
Москва, ул. Миклухо-Маклая, 16/10 — На карте
ИБХ РАН, корп. 51, комн. 363
Тел.: +7(495)336 4022
Эл. почта: serg@ibch.ru
Факс: +7 (495) 330 5892
Открыты первые пептидные лиганды, потенцирующие ответ TRPA1 рецепторов на агонисты, проявляющие обезболивающий и противовоспалительный эффекты. (2017-11-24)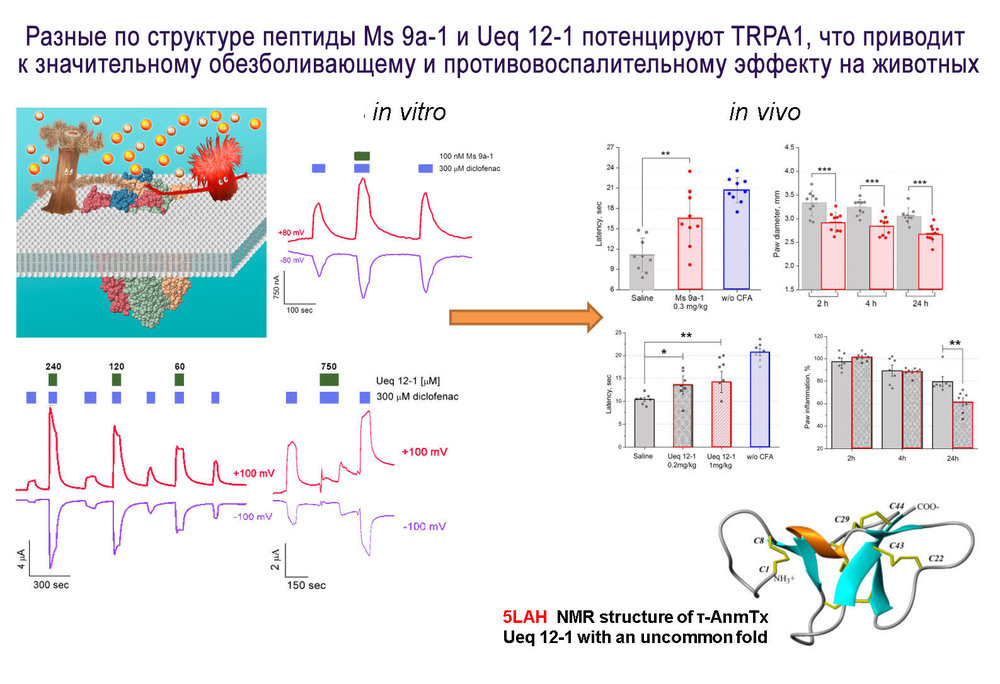 Из морских анемон видов Metridium senile и Urticina eques выделены и охарактеризованы анальгетические пептиды Мs9а-1 и Ueq 12-1. Пептид Мs9а-1 содержит 35 аминокислотных остатков, а его пространственная структура стабилизирована двумя дисульфидными мостиками подобно ранее описанным  пептидам из морских анемон. Ueq 12-1 состоит из 45 аминокислотных остатков, включая 10 остатков цистеина с необычным распределением, образующих 5 дисульфидных связей, и является уникальным среди многообразия известных пептидов морских анемон. Являясь по сути принципиально новой обнаруженной пространственной структурой, пространственная укладка части полипептидной цепи молекулы Ueq 12-1 похожа на альфа дефензины млекопитающих. Возможно, именно поэтому пептид также обладает слабым антимикробным действием на грамм-положительные бактерии. Структурно непохожие друг не друга пептиды Мs9а-1 и Ueq 12-1 имеют схожий механизм действия и одну биологическую мишень. В тестах in vitro на ооцитах лягушки Xenopus laevis и клетках млекопитающих, экспрессирующих рецептор TRPA1, оба пептида усиливали действие прямых агонистов, таких как AITC и диклофенак. В тестах in vivo на мышах введение пептидов внутривенно давало значительный анальгетический и противовоспалительный эффект, при этом сами пептиды при введении не вызывали ни болевых ощущений ни тепловую гиперчувствительность. Обнаруженные эффекты пептидов связаны с тем, что при взаимодействии с TRPA1 пептиды делают рецептор более восприимчивым к распознаванию своих агонистов (потенцирующее действие), таким образом, при появлении эндогенных раздражителей, таких как, например, медиаторы воспаления, происходит десенситизация TRPA1-экспрессирующих нейронов. Способность этих веществ избирательно усиливать активность белка TRPA1 открывает новые возможности фундаментальных исследований и служит основой создания лекарств от боли и воспаления.
Публикации
(2017).

New Disulfide-Stabilized Fold Provides Sea Anemone Peptide to Exhibit Both Antimicrobial and TRPA1 Potentiating Properties.

Toxins (Basel)

9 (5)

, [+]

A novel bioactive peptide named τ-AnmTx Ueq 12-1 (short name Ueq 12-1) was isolated and characterized from the sea anemone Urticina eques. Ueq 12-1 is unique among the variety of known sea anemone peptides in terms of its primary and spatial structure. It consists of 45 amino acids including 10 cysteine residues with an unusual distribution and represents a new group of sea anemone peptides. The 3D structure of Ueq 12-1, determined by NMR spectroscopy, represents a new disulfide-stabilized fold partly similar to the defensin-like fold. Ueq 12-1 showed the dual activity of both a moderate antibacterial activity against Gram-positive bacteria and a potentiating activity on the transient receptor potential ankyrin 1 (TRPA1). Ueq 12-1 is a unique peptide potentiator of the TRPA1 receptor that produces analgesic and anti-inflammatory effects in vivo. The antinociceptive properties allow us to consider Ueq 12-1 as a potential analgesic drug lead with antibacterial properties.

ID:1914

(2017).

Peptide from Sea Anemone Metridium senile Affects Transient Receptor Potential Ankyrin-repeat 1 (TRPA1) Function and Produces Analgesic Effect.

J. Biol. Chem.

292 (7)

,

2992–3004

[+]

The transient receptor potential ankyrin-repeat 1 (TRPA1) is an important player in pain and inflammatory pathways. It is a promising target for novel drug development for the treatment of a number of pathological states. A novel peptide producing a significant potentiating effect on allyl isothiocyanate- and diclofenac-induced currents of TRPA1 was isolated from the venom of sea anemone Metridium senile. It is a 35-amino acid peptide cross-linked by two disulfide bridges named τ-AnmTX Ms 9a-1 (short name Ms 9a-1) according to a structure similar to other sea anemone peptides belonging to structural group 9a. The structures of the two genes encoding the different precursor proteins of Ms 9a-1 were determined. Peptide Ms 9a-1 acted as a positive modulator of TRPA1 in vitro but did not cause pain or thermal hyperalgesia when injected into the hind paw of mice. Intravenous injection of Ms 9a-1 (0.3 mg/kg) produced a significant decrease in the nociceptive and inflammatory response to allyl isothiocyanate (the agonist of TRPA1) and reversed CFA (Complete Freund's Adjuvant)-induced inflammation and thermal hyperalgesia. Taken together these data support the hypothesis that Ms 9a-1 potentiates the response of TRPA1 to endogenous agonists followed by persistent functional loss of TRPA1-expressing neurons. We can conclude that TRPA1 potentiating may be useful as a therapeutic approach as Ms 9a-1 produces significant analgesic and anti-inflammatory effects in mice models of pain.

ID:1928
Впервые охарактеризованы эндогенные лиганды рецептора ASIC3, способные активировать канал без участия протонов, а также выводить ASIC3 человека из состояния десенситизации при физиологических значениях pH. (2017-11-24)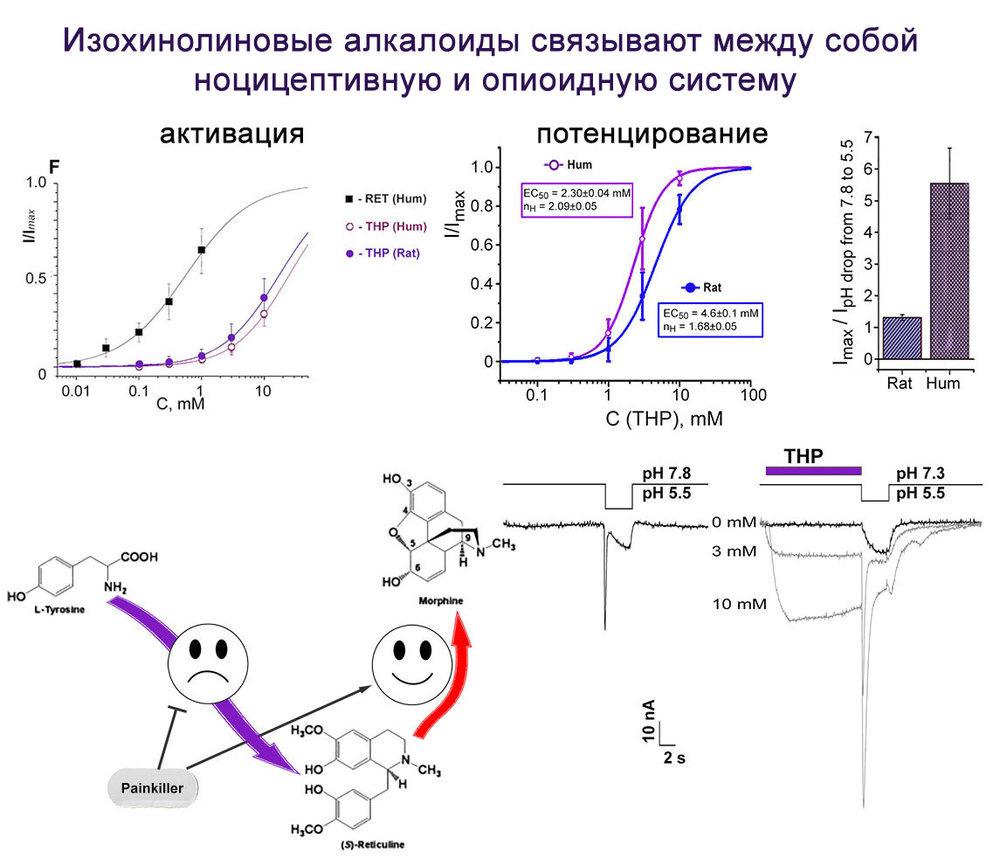 Найдены первые активаторы кислото-чувствительных каналов ASIC, обладающие уникальным, ранее не описанным механизмом действия. Изохинолиновые алкалоиды (THP, ретикулин), которые синтезируются клетками млекопитающих как промежуточные продукты в цикле синтеза эндогенного морфина из тирозина, в милимолярных концентрациях способны возвращать канал ASIC3 из протон-опосредованной десенсибилизации, и одновременно эффективно активировать hASIC3 и rASIC3 при физиологическом рН 7.4 и слабо щелочных условиях. До настоящего момента был описан очень ограниченный набор активаторов ASICs, при чем описанные агонисты главным образом сдвигают активационную способность каналов в область более высоких значений рН, делая рецепторы более чувствительными к меньшим скачкам рН, при этом вклад протонов в процесс открытия каналов рассматривался как основной. Охарактеризованные и зохинолиновые алкалоиды — первые «непротонные» активаторы ASIC3 рецепторов.
При фармакологической характеристике «непротонных» активаторов на изоформы ASIC3 человека и грызунов было выявлено сильное функциональное различие в действии на каналы крысы (незначительный эффект) и человека (сильная потенциация ответа на закисление), что поставило под вопрос эффективность действия известных лигандов, охарактеризованных на животных моделях, при переносе их в клинические исследования.
Также, был сформулирован новый подход к разработке принципиально новых анальгетиков. Найденные лиганд-опосредованные взаимодействия двух систем: ноцицепции (ASIC3) и анти-ноцицепции (опиоидные рецепторы), по нашему мнению, могут находиться во взаимно сбалансированном состоянии, так что ингибирование или активация ферментов в каскаде биосинтеза эндогенного морфина может сдвигать равновесие в ту или иную сторону, приводя к анальгезии или гиперальгезии.
Каналы ASIC играют важную роль не только в ноцицепции, но и в передаче нервного возбуждения, синаптической пластичности, процессах обучения и гибели нейронов. Открытие эндогенных «непротонных» активаторов доказывает существование нескольких путей регуляции этих каналов. Пока не понятно, который из них может в большей степени быть реализован в ЦНС, не исключено, что закисление внеклеточной среды — неосновной путь регуляции. Ответ на этот вопрос будет получен при изучении найденных нами лигандов в модельных экспериментах.
Публикации
(2017).

Endogenous Isoquinoline Alkaloids Agonists of Acid-Sensing Ion Channel Type 3.

Front Mol Neurosci

10

,

282

[+]

Acid-sensing ion channels (ASICs) ASIC3 expressed mainly in peripheral sensory neurons play an important role in pain perception and inflammation development. In response to acidic stimuli, they can generate a unique biphasic current. At physiological pH 7.4, human ASIC3 isoform (hASIC3) is desensitized and able to generate only a sustained current. We found endogenous isoquinoline alkaloids (EIAs), which restore hASIC3 from desensitization and recover the transient component of the current. Similarly, rat ASIC3 isoform (rASIC3) can also be restored from desensitization (at pH < 7.0) by EIAs with the same potency. At physiological pH and above, EIAs at high concentrations were able to effectively activate hASIC3 and rASIC3. Thus, we found first endogenous agonists of ASIC3 channels that could both activate and prevent or reverse desensitization of the channel. The decrease of EIA levels could be suggested as a novel therapeutic strategy for treatment of pain and inflammation.

ID:1932
Установлен разнонаправленный механизм действия пептидных модуляторов TRPV1 рецептора в различных условиях активации рецептора. (2017-11-24)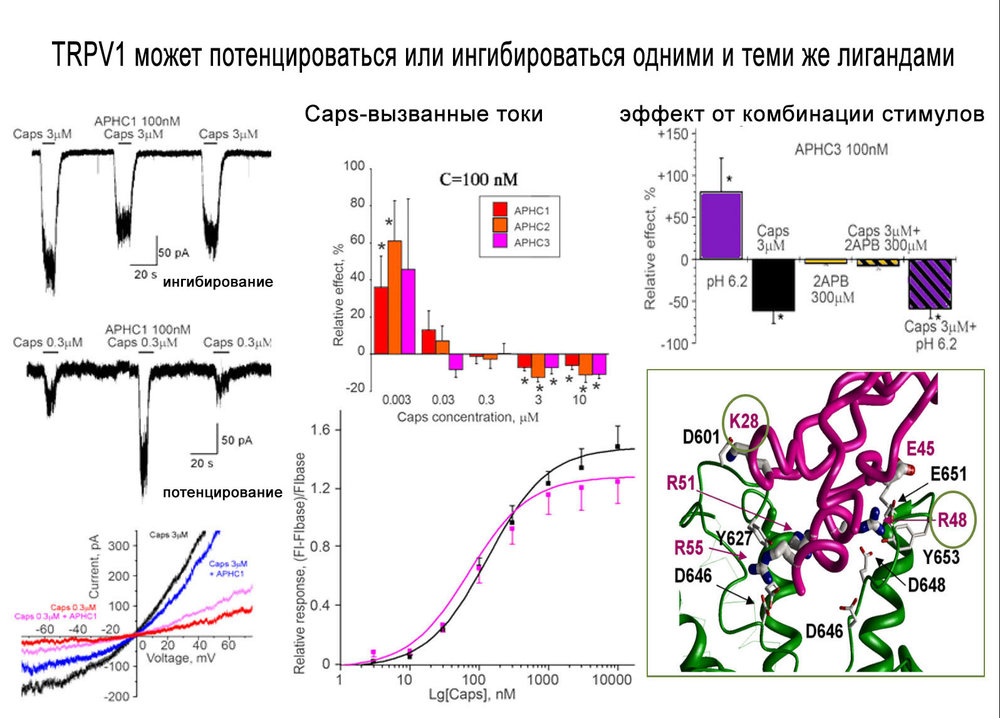 Изучено действие полипептидов APHC1, APHC2 и APHC3, ранее выделенных из морской анемоны Heteractis crispa, на рецепторы rTRPV1, экспрессированные в клетках CHO, с использованием методов электрофизиологии, флуоресцентной спектроскопии и молекулярного моделирования. Установлено, что APHCs потенцируют ответ TRPV1, вызванный низкими (3-300 нМ) концентрациями специфичного агониcта — капсаицина, и ингибируют ответы при высоких (>3.0 мкМ) концентрациях активатора. Были также найдены зависимости действия пептидов на TRPV1 при варьировании активаторов, таких как: 2APB и протоны, и на комбинированные активационные стимулы. В итоге, был установлен бимодальный механизм действия APHCs, зависящий от силы активируюшего стимула, — потенцирование малоамплитудных ответов рецептора и отсутствие эффекта/ингибирование высокоамплитудных ответов. Предложена двойная «шлюзовая» модель активации TRPV1, которая предполагает, что APHC-полипептиды могут стабилизировать промежуточное состояние во время активации рецептора. Методом молекулярного моделирования установлен предполагаемый сайт связывания пептидов между парами внешних P-петель TRPV1.
Модуляторы с дуалистическим эффектом могут иметь определенное преимущество с точки зрения их практического медицинского применения, такие соединения не тормозят нормальную работу рецептора, однако, в случае патологически сильной активации производят желаемый терапевтический эффект.
Публикации
(2017).

TRPV1 activation power can switch an action mode for its polypeptide ligands.

PLoS ONE

12 (5)

,

e0177077

[+]

TRPV1 (vanilloid) receptors are activated by different types of stimuli including capsaicin, acidification and heat. Various ligands demonstrate stimulus-dependent action on TRPV1. In the present work we studied the action of polypeptides isolated from sea anemone Heteractis crispa (APHC1, APHC2 and APHC3) on rat TRPV1 receptors stably expressed in CHO cells using electrophysiological recordings, fluorescent Ca2+ measurements and molecular modeling. The APHCs potentiated TRPV1 responses to low (3-300 nM) concentrations of capsaicin but inhibited responses to high (>3.0 μM) concentrations. The activity-dependent action was also found for TRPV1 responses to 2APB and acidification. Thus the action mode of APHCs is bimodal and depended on the activation stimuli strength-potentiation of low-amplitude responses and no effect/inhibition of high-amplitude responses. The double-gate model of TRPV1 activation suggests that APHC-polypeptides may stabilize an intermediate state during the receptor activation. Molecular modeling revealed putative binding site at the outer loops of TRPV1. Binding to this site can directly affect activation by protons and can be allosterically coupled with capsaicin site. The results are important for further investigations of both TRPV1 and its ligands for potential therapeutic use.

ID:1930
Из яда паука Tibellus oblongus выделен и охарактеризован новый инсекто-специфичный токсин, обладающий «динамическим эпитопом». (2016-03-28)
Новый дисульфид-содержащий полипептидный токсин с мотивом пространственной укладки ICK был обнаружен в яде паука Tibellus oblongus. Методами электрофизиологии для нового полипептида была определена биологическая мишень - пресинаптический Са-канал несекомых. Токсин не действовал на препараты из млекопитающих и позвоночных, поэтому получил название ω-Тbo-IT1. ЛД50  нового инсектотоксина составило 11.7 мкг/г на личинках домашней мухи Musca domestica и 20 мкг/г на ювенильный особях тараканов Gromphadorhina portentosa. Методами электрофизиологии было показано обратимое концентрационно-зависимое ингибирование ω-Тbo-IT1 вызванных возбуждающих постсинаптических токов в нейромышечных препаратах мясной мухи Calliphora vicina  (IC50=40±10 нм и коэффициентом Хилла 3.4±0.3) и отсутствие эффекта пептида на спонтанные токи. Анализ пространственной структуры рекомбинантного ω-Тbo-IT1 методом ЯМР-спектроскопии в водном растворе показал, что токсин состоит из нескольких β-шпилечных петель. Две такие петли - длинная и короткая - в водном растворе способны совершать взаимные колебания, которые мы назвали "scissors-like mutual motions". Такая обнаруженная пластичность молекулы («динамический эпитоп») может играть решающую роль в связывании/распознавании рецептора.
Публикации
(2015).

ω-Tbo-IT1-New Inhibitor of Insect Calcium Channels Isolated from Spider Venom.

Sci Rep

5

,

17232

[+]

Novel disulfide-containing polypeptide toxin was discovered in the venom of the Tibellus oblongus spider. We report on isolation, spatial structure determination and electrophysiological characterization of this 41-residue toxin, called ω-Tbo-IT1. It has an insect-toxic effect with LD50 19 μg/g in experiments on house fly Musca domestica larvae and with LD50 20 μg/g on juvenile Gromphadorhina portentosa cockroaches. Electrophysiological experiments revealed a reversible inhibition of evoked excitatory postsynaptic currents in blow fly Calliphora vicina neuromuscular junctions, while parameters of spontaneous ones were not affected. The inhibition was concentration dependent, with IC50 value 40 ± 10 nM and Hill coefficient 3.4 ± 0.3. The toxin did not affect frog neuromuscular junctions or glutamatergic and GABAergic transmission in rat brains. Ca(2+) currents in Calliphora vicina muscle were not inhibited, whereas in Periplaneta americana cockroach neurons at least one type of voltage gated Ca(2+) current was inhibited by ω-Tbo-IT1. Thus, the toxin apparently acts as an inhibitor of presynaptic insect Ca(2+) channels. Spatial structure analysis of the recombinant ω-Tbo-IT1 by NMR spectroscopy in aqueous solution revealed that the toxin comprises the conventional ICK fold containing an extended β-hairpin loop and short β-hairpin loop which are capable of making "scissors-like mutual motions".

ID:1341
На примере одуванчика лекарственного (Taraxacum officinale Wigg.) впервые показано наличие у растений антимикробного пептида из группы гликопептидов, богатого остатками пролина/гидроксипролина (2016-03-28)
Комбинацией методов автоматического N-концевого секвенирования по Эдману, аминокислотного анализа и нисходящей тандемной масс-спектрометрии определена полная аминокислотная последовательность нового узко специфичного антимикробного пролин/гидроксипролин-богатого, не содержащего остатков цистеина гликопептида, выделенного из цветков одуванчика лекарственного (T. officinale). Установлено наличие гликозилирования данной молекулы пентозами исключительно по остаткам гидроксипролина. Определение спектров кругового дихроизма позволило установить формирование пространственной организации данного гликопептида преимущественно в виде полипролиновой спирали. Высокая специфичность действия нового гликополипептида определяется ингибированием грибов-микромицетов с пигментированной (меланизированной) клеточной стенкой, что может обуславливать механизм его молекулярного действия. При этом экспериментально установлено, что тотальное дегликозилирование не приводит в существенному снижению его антимикробной активности на уровне показателя ИК50. Выделенная молекула является первым примером наличия у растений так называемых потенциальных "гликопептидных антибиотиков" - компонентов врожденной иммунной системы.
Публикации
(2015).

Novel proline-hydroxyproline glycopeptides from the dandelion (Taraxacum officinale Wigg.) flowers: de novo sequencing and biological activity.

Plant Sci.

238

,

323–9

[+]

Two novel homologous peptides named ToHyp1 and ToHyp2 that show no similarity to any known proteins were isolated from Taraxacum officinale Wigg. flowers by multidimensional liquid chromatography. Amino acid and mass spectrometry analyses demonstrated that the peptides have unusual structure: they are cysteine-free, proline-hydroxyproline-rich and post-translationally glycosylated by pentoses, with 5 carbohydrates in ToHyp2 and 10 in ToHyp1. The ToHyp2 peptide with a monoisotopic molecular mass of 4350.3Da was completely sequenced by a combination of Edman degradation and de novo sequencing via top down multistage collision induced dissociation (CID) and higher energy dissociation (HCD) tandem mass spectrometry (MS(n)). ToHyp2 consists of 35 amino acids, contains eighteen proline residues, of which 8 prolines are hydroxylated. The peptide displays antifungal activity and inhibits growth of Gram-positive and Gram-negative bacteria. We further showed that carbohydrate moieties have no significant impact on the peptide structure, but are important for antifungal activity although not absolutely necessary. The deglycosylated ToHyp2 peptide was less active against the susceptible fungus Bipolaris sorokiniana than the native peptide. Unique structural features of the ToHyp2 peptide place it into a new family of plant defense peptides. The discovery of ToHyp peptides in T. officinale flowers expands the repertoire of molecules of plant origin with practical applications.

ID:1474