Group of Structural Organization of T-cell Immunity
MHC-II alleles shape the CDR3 repertoires of conventional and regulatory naïve CD4 T cells.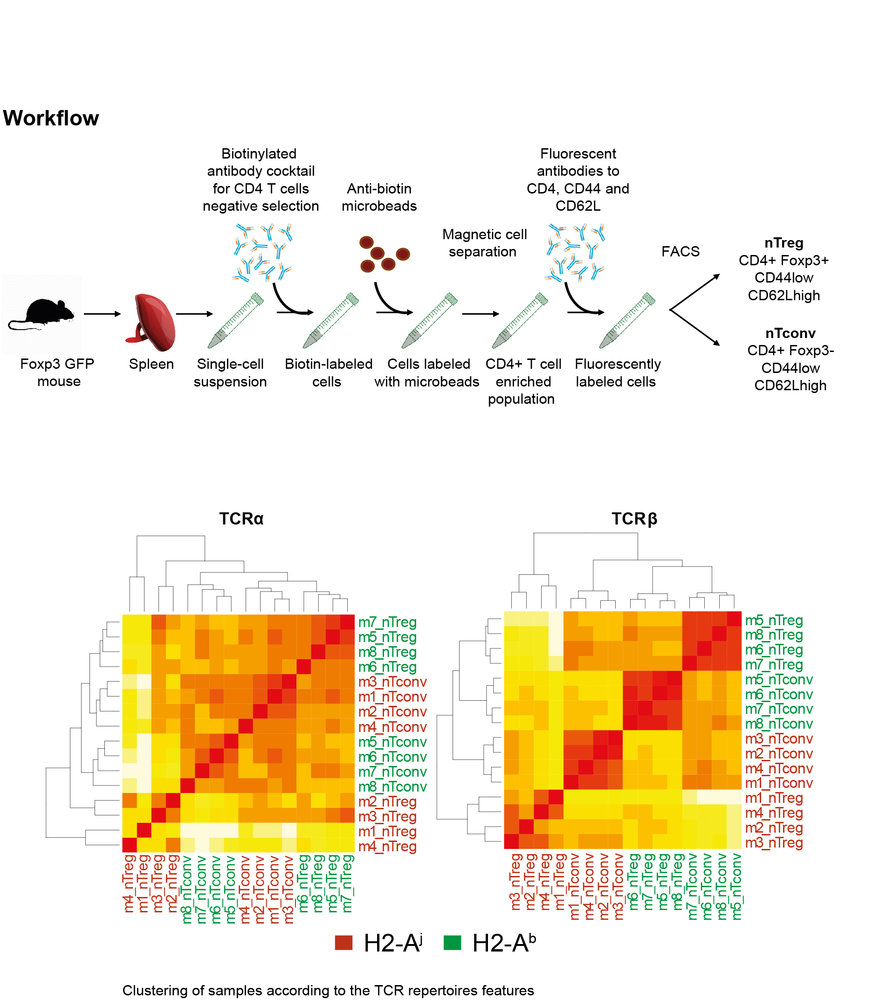 We investigated the generation of naïve CD4+ T cells in mice with different MHC-II genetic contexts and found out that the defective selection of CD4+ T cells on the j allelic variant of MHC-II (H2-Aj) was in agreement with the generation of less diverse and more public TCR repertoires. Furthermore, the selection on H2-Aj favored the development of T cells with a higher average number of hydrophobic and aromatic amino acid residues in the middle of TCR-CDR3 loops, which are mostly responsible for antigen recognition. Of note, the association of such amino acid residues in CDR3 and high affinity and cross-reactivity of the corresponding TCRs has been reported previously. We observed CD4+ regulatory T cells (Treg) with even more hydrophobic CDR3 loops, which were efficiently recruited into homeostatic proliferation on the periphery and even restored their number despite the defective thymic selection. This difference in the average number of hydrophobic and aromatic amino acids in the CDR3 middle part between conventional and naive Treg cells was more prominent in the H2-Aj genetic context.
We conducted functional in vitro experiments to measure the suppressive activity of Treg cells selected on distinct MHC-II allelic variants. Treg cells selected on H2-Aj demonstrated more effective suppression of proliferating autologous conventional CD4+ T cells. 
Investigation of clonal T cell subpopulations in health and disease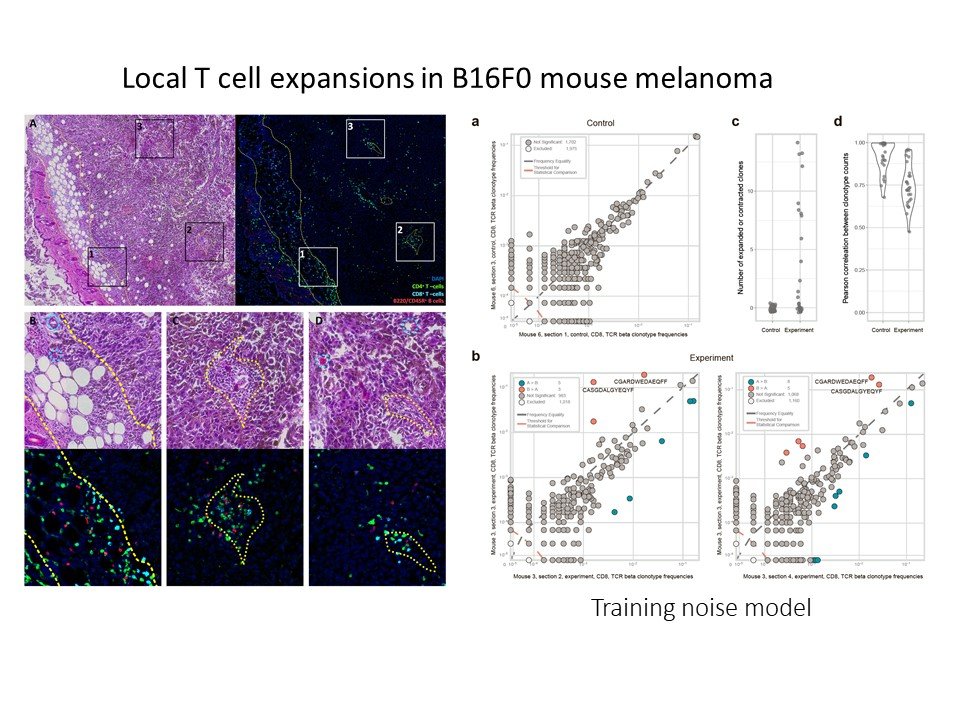 - two functionally distinct subpopulations of CD8 + memory stem cells described.
- a new approach developed to assess the clonal heterogeneity of tumor-infiltrating T-lymphocytes.
-  stably clonal T cell response was shown to be associated with a response to anti-PD1 immunotherapy.
- the T-cell repertoire of nickel-specific CD4 + T-lymphocytes was characterized.
- the repertoire of gamma-delta T lymphocytes involved in the antitumor response was investigated.
- a comparative analysis of the repertoire of follicular helper T-lymphocytes was carried out.
- a deep comparative study of methods for analyzing the repertoire of T-cell receptors was carried out.
Formation of the CD4+ and regulatory CD4+ T cell receptor repertoire.
We studied how different allelic variants of MHC class II shape the TCR repertoires of naive helper and regulatory CD4 + T lymphocytes in two mouse lines. We reveal profound differences in the diversity, convergence, and physicochemical properties of their antigen-interacting regions TCR CDR3 among repertoires of these mouse strains. At the population level, such differences are likely to influence individual susceptibility to infections and autoimmunity.
In our other study, we found that CD4 + lymphocytes with the T memory-like phenotype have been found in the umbilical cord blood and in the embryonic intestine. A rare population of memory CD4+ T cells produce proinflammatory spectrum of cytokines and is characterized by a highly similar TCR repertoires of these cells between different donors, which may indicate the formation of memory in response to similar foreign antigens.