Laboratory of regulatory transcriptomics
Laboratory of regulatory transcriptomics is doing fundamental research in molecular biology, molecular microbiology, epigenetics and molecular oncology. The laboratory studies regulatory functions of RNA in both pro- and eukaryotes. Regulatory role of bacterial non-coding RNAs in tuberculosis is being studied. Investigation of regulation of ribosomal proteins genes in bacteria, including mycobacteria, are being carried out.
Other directions: identifying the detailed mechanisms of the functioning of piRNAs and PIWIL proteins in testicular tumors, and analysis of epigenetic patterns of circulating blood DNA in cancer.
Methods of molecular biology, genetic engineering, microbiology, molecular genetics,  high-throughput sequencing and bioinformatic approaches are actively used.
The laboratory cooperates with many laboratories and groups of the IBCh, as well as the Federal Research Centre "Fundamentals of Biotechnology" of the Russian Academy of Sciences (laboratory of biochemistry of stresses in microorganisms, headed by Prof. Arseny Kaprelyants), Central Research Institute for Tuberculosis (laboratory of immunogenetics, headed by Prof. Alexander Apt), N.N. Blokhin Russian Cancer Research Center, Research Institute of Oncology of the Tomsk National Research Medical Center, Institute of Chemical Biology and Fundamental Medicine of the SB RAS.
International contacts - Institut de Biologie Physico-Chimique, Paris Diderot University, France.
Tatyana Azhikina
Russia, Moscow, Ul. Miklukho-Maklaya 16/10 — On the map
IBCh RAS, build. 52, office. 663
Phone: +7(495)330-6547
E-mail: tatazhik@ibch.ru
Small RNA MTS1338 of Mycobacterium tuberculosis acts as a bacterial virulence factor modulating immune response to infection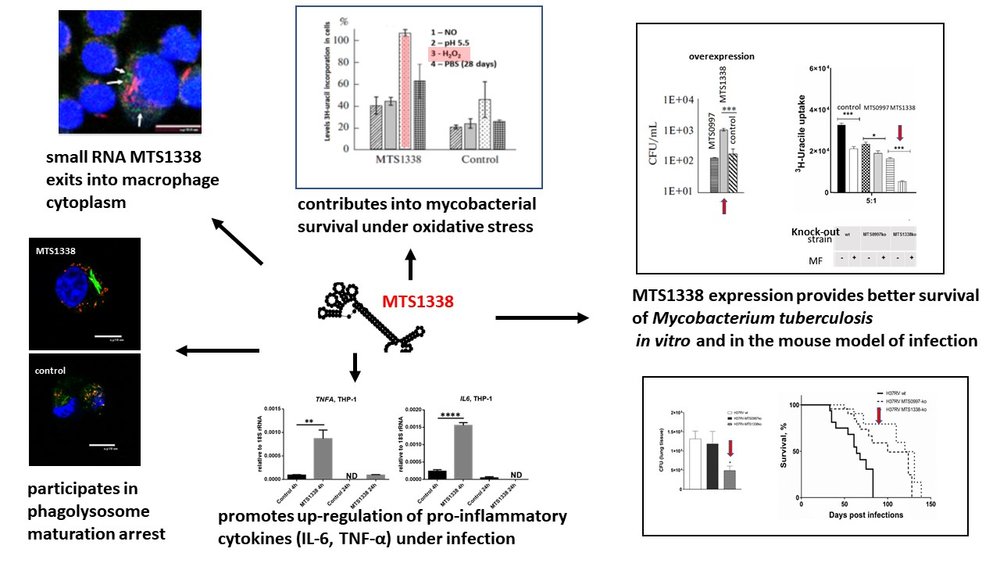 Small noncoding RNA MTS1338 is present only in the genomes of pathogenic mycobacteria of the tuberculosis complex, and is highly expressed during infection. We demonstrated that MTS1338 provides mycobacterial resistance to oxidative stress, arrests maturation of phagolysosomes, and simulates immune response by activating pro-inflammatory cytokines synthesis. The MTS1338 knock-out mutant strain showed a significant attenuation of M. tuberculosis upon infection of mice. Thus, the small noncoding RNA MTS1338 is a new M. tuberculosis virulence factor providing intracellular survival of mycobacteria.
A new class of antisense oligonucleotides – phosphoryl guanidine oligo-2′-O-methylribonucleotides - specifically inhibits target genes expression in intracellular Mycobacteria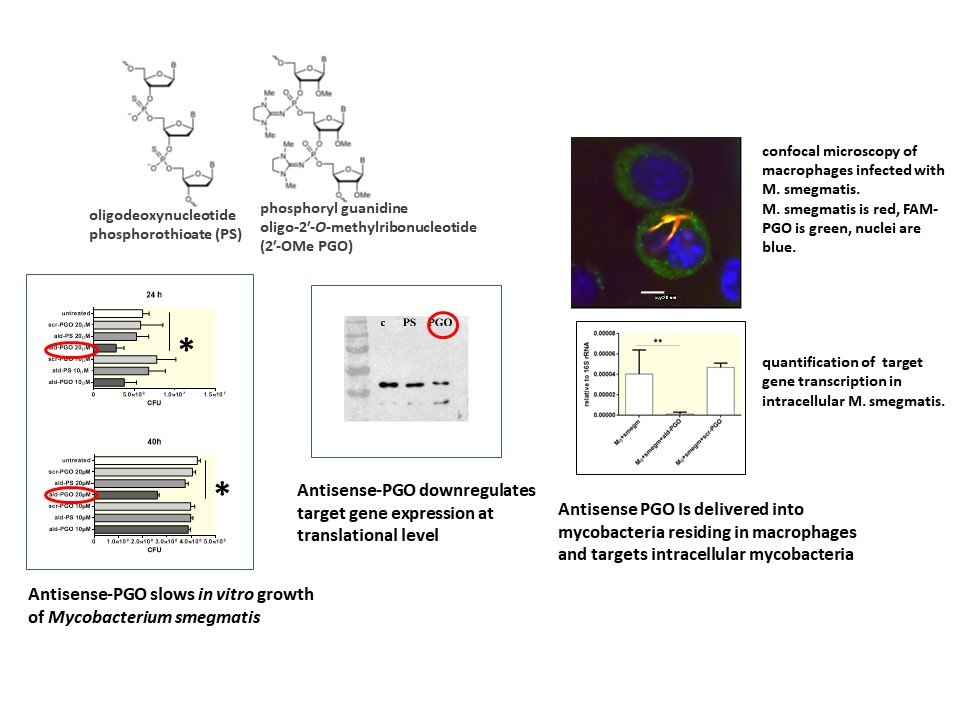 Phosphoryl guanidine oligo-2′-O-methylribonucleotides (2′-OMe PGOs) are a novel type of uncharged RNA analogues. We demonstrated that antisense 2′-OMe PGO inhibits the growth of Mycobacterium smegmatis and downregulates target gene expression at both transcriptional and translational levels. 2′-OMe PGO penetrates into intracellular mycobacteria residing in macrophages without exerting toxic effects on eukaryotic cells, and inhibits the transcription of the target gene in M. smegmatis-infected macrophages. So, these novel oligonucleotide derivatives have a potential as antisense therapeutic agents against tuberculosis, especially its drug-resistant forms
PIWIL2 functions in testicular germ cell tumors development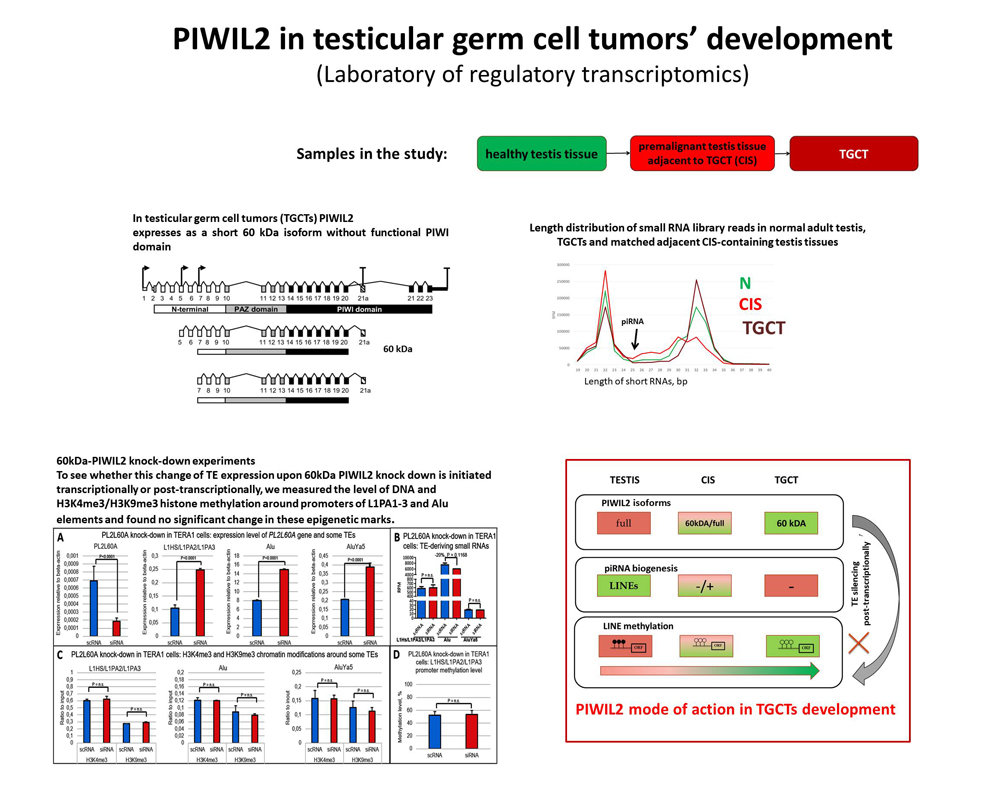 PIWILs, highly evolutionary conserved proteins, are involved in many cellular processes including carcinogenesis. They function in combination with short non-coding RNAs (piRNAs), determining genomes stability, preventing expression and transposition of mobile elements. We studied functions of the PIWI/piRNA system in germ testicular cells, as well as in testicular germ cell tumors development, and showed predominant expression of short 60 kDa PIWIL2 isoform. Herewith, there is no piRNA biogenesis in tumor cells, and the short PIWIL2 isoform suppresses the expression of young LINE and SINE transposon families post-transcriptionally, which can provide advantages for tumor growth by maintaining the stability of its genome.