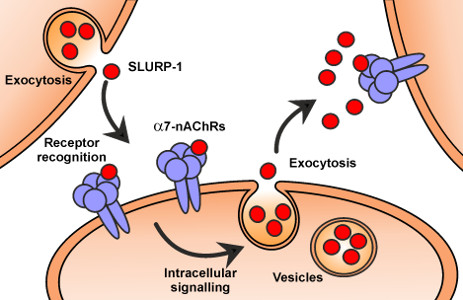 Human SLURP proteins suppress the growth of epithelial cancer cells
Nicotinic acetylcholine receptors (nAChRs) take part in neurotransmission and control the homeostasis of epithelial cells. Group of bioengineering of neuromodulators and neuroreceptors headed by Ekaterina Lyukmanova, Ph.D., studies the influence of human SLURP proteins on the nAChRs in epithelium. In their recent research, published in the British Journal of Pharmacology, investigators proved that SLURPs inhibit the growth of epithelial cancer cells of four carcinomas of epithelial origin, and described the underlying mechanisms. These results show the prospects of implementation of the SLURP proteins for the therapy of epithelial tumours.
Spider venom will cure from paralysis

science news

IV.13

Scientists from IBCh RAS together with foreign colleagues discovered that a toxin from the venom of the spider Heriaeus melloteei may serve as a hit in drug discovery for hypokalemic periodic paralysis type 2. The disease is caused by mutations in the gene encoding voltage-gated sodium channels NaV1.4, characteristic of skeletal muscles. As a result of the mutations, these channels conduct aberrant currents, the muscles are unable to respond to the signals of the nervous system, and weakness develops followed by paralysis. Until now, there is no reliable medication for all cases of this disease. The results of the work are published in the Proceedings of the National Academy of Sciences of the USA (PNAS).

Lindoldhamine can activate the human ASIC3 channel

science news

III.23

Researchers from the Laboratory of Neuroreceptors and Neuroregulators (group leader - Sergei Kozlov) found alkaloid lindoldhamine in the leaves of the noble laurel, which can activate the human ASIC3 channel at physiological pH.

Open call for research fellowships in Systems Biology

science news

II.26

The Skoltech Center for Data Intensive Biomedicine and Biotechnology is proud to announce for the third time an open call for research fellowships in Systems Biology. Application period: 20 February 2018 to 15 March 2018 (Deadline: 23:59, Moscow time). The total amount of support is 630,000 rubles per year. Period: 3-year. Deadline: 15-03-2018 23:59 For more information on who is eligible to apply, how to apply, and available funding, please click here.
5th Workshop on Molecular Neurobiology and Physiology "Current Methods in Physiology Research" dedicated to the 72nd anniversary of the birth of academician Eugene Grishin

science news

IV.20

The workshop will take place on April 20 in the Minor hall. Talks will be made by world-leading scientists and representatives of high-tech entrepreneurship specializing in neurobiology. Everyone is cordially invited.

A lecture by Prof. Alexey Terskikh "Signature of Glioblastoma Differentiation Revealed by Imaging of Epigenetic Landscapes" - April 20

science news

IV.20

A lecture by Prof. Alexey Terskikh "Signature of Glioblastoma Differentiation Revealed by Imaging of Epigenetic Landscapes" will take place on Friday April 20th, 5 pm (seminar room, 5th floor, building 34).

The 5 th International Congress on Microscopy & Spectroscopy (INTERM 2018)

science news

IV.24–30

Dear Colleagues, On behalf of the Organizing Committee, we are pleased to invite you to take part in the "5th International Congress on Microscopy and Spectroscopy (INTERM)" which will be held on April 24-30, 2018 in the stunning Convention Centre of one of the largest international resort in Turkey right in the heart of Blue Lagoon (Oludeniz) area. INTERM is traditional annual congress for scientists and expected to collect a wide audience of participants and listeners. We are planning an outstanding scientific program led by world-renowned invited speakers, that will not only be a platform to showcase exciting new developments in microscopy and spectroscopy, but will also reveal the transformational role of microscopy in supporting a range of physical and life sciences. We hope that the scientific program, including a wide array of topics will live to your expectations, and that participation in the congress will offer you an opportunity to meet up with your colleagues, friends and renowned specialists from all over the world. We look forward to seeing you in Fethiye. INTERM Organizing Committee http://www.intermcongress.org/