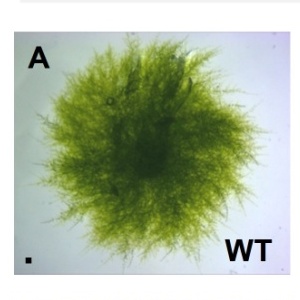 Peptides encoded by short open reading frames regulate plant growth and development
A group of researchers from the Laboratory of Functional Genomics and Plant Proteomics of IBCH, together with scientists from the Federal Research and Clinical Center of Physical-Chemical Medicine and Institute of Biomedical Chemistry, describes peptides encoded by sORFs in a model organism, Physcomitrella patens. The results published in international journal Genome Research. The authors identified about 70,000 transcribed short open reading frames located on long non-coding RNAs and various parts of messenger RNAs. Proteomic and peptidomic methods revealed the translation of peptides from several tens of short frames. Analysis of mutant moss lines with knockout and overexpression of some of them located on long non-coding RNAs revealed that the peptides play an important role in the regulation of moss growth and development. The mechanisms of such regulation need further study. The study was supported by the Russian Science Foundation. Learn more
Deciphering Ribosomes' Actions in Living Cells

science news

XII.30.19

Researchers from the Laboratory of Bioinformatics Approaches in Combinatorial Chemistry and Biology IBCH RAS, in collaboration with Irish colleagues, recently published a review in WIRES RNA that compiles the computational approaches, software tools, and data resources that have been developed over the last ten years for ribosome profiling data processing and analysis.

The new method for T-cell receptor alpha chain clonality assessment can be used for minimal disease monitoring in leukemia

science news

XII.27.19

Monitoring of minimum residual disease (MRD) is one of the most important diagnostic tests in the treatment of acute and chronic lymphoblastic leukemia. Currently, several methods for MRD are used, the most sensitive of which is the assessment and monitoring of clonal rearrangements in the immunoglobulin genes characteristic of tumor cells. High sensitivity, up to 1 tumor cell per million, is achieved by using next generation highthroughput sequencing technology (Illumina).

PRMT5 methylome profiling uncovers a direct link to splicing regulation in acute myeloid leukemia

science news

X.29.19

Protein arginine methyltransferase 5 (PRMT5) belongs to the class II arginine methyltransferases and catalyzes monomethylation and symmetrical dimethylation of arginines on proteins. It has recently emerged as a promising cancer drug target, and two PRMT5 inhibitors are currently in clinical trials for a range malignancies. Despite the recognized therapeutic potential, it is unclear which PRMT5 functions underlie its oncogenic activity.