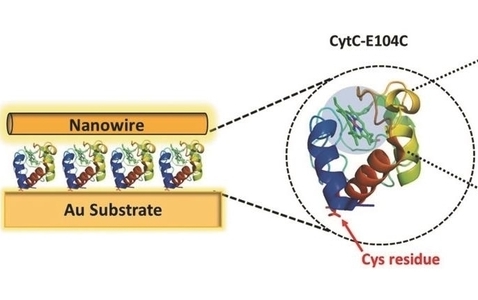 A Solid‐State Protein Junction Serves as a Bias‐Induced Current Switch
A sample-type protein monolayer, that can be a stepping stone to practical devices, can behave as an electrically driven switch. This feat is achieved using a redox protein, cytochrome C (CytC), with its heme shielded from direct contact with the solid-state electrodes. Ab initio DFT calculations, carried out on the CytC–Au structure, show that the coupling of the heme, the origin of the protein frontier orbitals, to the electrodes is sufficiently weak to prevent Fermi level pinning. Thus, external bias can bring these orbitals in and out of resonance with the electrode. Using a cytochrome C mutant for direct S–Au bonding, approximately 80% of the Au–CytC–Au junctions show at greater than 0.5 V bias a clear conductance peak, consistent with resonant tunneling. The on–off change persists up to room temperature, demonstrating reversible, bias-controlled switching of a protein ensemble, which, with its built-in redundancy, provides a realistic path to protein-based bioelectronics. Results of the study are published in Angewandte Chemie International Ediion.
PRMT5 methylome profiling uncovers a direct link to splicing regulation in acute myeloid leukemia

science news

X.29

Protein arginine methyltransferase 5 (PRMT5) belongs to the class II arginine methyltransferases and catalyzes monomethylation and symmetrical dimethylation of arginines on proteins. It has recently emerged as a promising cancer drug target, and two PRMT5 inhibitors are currently in clinical trials for a range malignancies. Despite the recognized therapeutic potential, it is unclear which PRMT5 functions underlie its oncogenic activity.

A previously unknown modulator of purinergic and FGF-signalization, c-Answer, that stimulates regeneration in cold-blooded animals was lost by poorly regenerating warm-blooded animals, including humans

science news

X.18

A group of scientists from the Laboratory of Molecular Bases of Embryogenesis, IBCh RAS, together with colleagues from the Laboratory of Mathematical Methods and Models in Bioinformatics, IPPI RAS developed a bioinformatics method that allows one to reveal genes that appear or disappear at a certain stage of evolution. Using this method, a number of genes were found that disappeared in warm-blooded animals, including humans.

Peptides encoded by short open reading frames regulate plant growth and development

science news

IX.5

All genomes contain millions of short open reading frames (<100 codons) that are discarded during genome annotation. Recently, it has been shown that peptides encoded by short open reading frames can perform many important functions in animal cells.
LIGHTS ON: Molecular Imaging of disease dynamics in vivo

science news

IX.27 — X.11 (This event is over)

Abhijit De PhD Scientific Officer 'F' and Principal Investigator Head, Molecular Functional Imaging Lab Advanced Centre of Training Research and Education in Cancer, Tata Memorial Centre, Kharghar, Navi Mumbai, India.

Seminar "Molecular Brain": Anton Maximov

science news

X.8 (This event is over)

The seminar will be held on the 8th of October at 3 pm in the Small lecture hall (3rd floor, BON, IBCh). Everyone is welcome!

II Joint Life Sciences Forum: VI Russian Congress on Biochemistry and IX Russian Symposium «Proteins and Peptides»

conferences

X.1–6 (This event is over)

Dear Colleagues! We are pleasure to invite you to participate the VI Russian Congress on Biochemistry, which will be held in Sochi, Russia (Dagomys Hotel) on October 1-6, 2019.