Laboratory of human genes structure and functions
Tatyana L. Azhikina Group
The members of Dr. Azhikina's group actively conduct research in two main areas:
1.  Functional genomics and RNomics of mycobacteria, including Mycobacterium tuberculosis, the causative agent of human tuberculosis.
A new method for transcriptome analysis of intracellular pathogens has been developed in our group. It allows to study pathogens in infected tissues and can be used for research projects like search for virulence factors and drug therapy targets, or design of disease monitoring strategies (Azhikina et al., 2010; Skvortsov et al., 2013; Ignatov et al., 2010). By far, this method is the only approach using deep sequencing for analysis of pathogen's transcriptome directly in the infected tissue. We applied this unique approach to investigate transcriptome changes occurring in pathogenic (M.tuberculosis) and opportunistic (M.avium) mycobacterial strains during their adaptation to infection in mice with genetically different susceptibility to tuberculosis. A comparative study of the M.tuberculosis transcriptome in vivo was performed to determine particular features of mycobacterial gene expression leading to the progressive disease (Skvortsov et al., 2013).
Our group is also focused on qualitative and quantitative description of the mycobacterial transcriptomes. For instance, we performed comprehensive analysis of M.avium transcriptome in culture using RNA-seq and determined transcription start sites and relative transcription levels of all genes, and identified 86 novel small RNAs. Some of M.avium small non-coding RNAs were also shown to be present in M.tuberculosis genome. Furthermore, several small RNAs are differently regulated in the two mycobacterial strains, which may contribute to the differences in metabolic features of these bacteria. Several small RNAs specific only for M.avium were also identified (Ignatov et al., 2013).
Finally, a study of M.tuberculosis transcriptome in the non-culturable state model (dormancy model) has also been conducted. We found that a 50-100 fold decrease of the mRNA quantity takes place in the dormant cells compared with the cells in the logarithmic phase. The genes whose level of expression changes during transition to dormancy state have also been identified. Moreover, we found that several small RNAs are transcribed at a level higher than that of the protein-coding genes (Ignatov et al., 2015).
At present, our work is focused on elucidating mechanisms of small RNAs function and their role in the establishment and maintenance of dormancy.
2. Investigation of the role that highly conservative Piwi proteins play in the development and maintenance of germ cell tumours.
Our group is focused on studying testicular germ cell tumors (TGCTs), which are heterogeneous cancers classified into less invasive seminomas and more aggressive nonseminomas. TGCTs are believed to be caused by both genetic and environmental factors and are deemed to arise because of failure to undergo normal spermatogenesis. One of the key players in spermatogenesis is piRNA/PIWI pathway responsible for epigenetic silencing of retrotransposons . Importantly, PIWI proteins have been also implicated in development of other types of cancers. Recently, we have demonstrated that PIWIL2 is expressed in TGCTs as its short 60 kDa isoform (PL2L60A) (Gainetdinov et al, Plos One, 2014). We have also found that spermatogenesis is retained in premalignant testis tissues adjacent to nonseminoma, but not those adjacent to seminomas. Moreover, this pattern is followed by expression of PIWI pathway genes and DNA methylation level over LINE-1 promoters. This finding could be used as a novel diagnostic marker, possibly, noninvasively (Gainetdinov et al, Oncotarget, 2016). Current work is aimed at elucidating detailed mechanisms of PIWI/piRNA pathway deregulation in the course of TGCT development and its clinical implications.
Genomics of cis-regulatory elements (L.G. Nikolaev, S.B. Akopov, I.P. Chernov, T.L. Azhikina)
Publication of nucleotide sequences of several eukaryotic genomes opened up a possibility to study the regulatory mechanisms determining the phenotypic variability of living organisms. Mammalian genome contains up to 30,000 protein-coding genes, and much larger portion of the genome is transcribed. Both genes and transcribed genome regions of a multicellular organism are participate in complex regulated network that determines the existence of many specialized cell types. Transcription of genes and non-coding sequences is regulated at several levels: linear genome architecture represented by DNA cis-regulatory elements, modifications of DNA, chromatin structure, compartmental organization of the nucleus etc.
Despite the achievements in a study of individual regulatory systems, we are still far away from complete understanding of the mechanisms that regulate the genome as a whole. Even in the relatively simple cases of cis-regulators identification we encounter serious problems which demand great efforts from many researchers to be solved. For example, it is predicted that human genome may contain up to 100,000 enhancers and silencers, but only small part of them is characterized to date.
A very important part of genome regulatory machinery are epigenetic elements, i.e. elements determining stably inherited changes in gene expression level without change of DNA sequence. Among them are sites of DNA methylation, regions containing modified histones etc. In mammals, methylation of CpG sites plays a key role in gene regulation by means of either modification of cis-regulatory elements or modification of long genome region which is associated with chromatin conformation change. To elucidate the mechanisms of methyl-dependent regulation of expression the detailed maps of methylation of long genomic regions are necessary. A comparison of these maps for different types of cells may reveal how DNA methylation affects gene expression.
In our lab several methods are developed allowing a high-throughput identification and genome mapping of non-methylated CpG dinucleotides, transcription start sites, and several genomic regulatory elements — nuclear matrix attachment sites (S/MARs), insulators, enhancers, open and closed chromatin regions, and binding sites of DNA-recognizing proteins including transcription factors, within long (1–2 megabases) DNA sequences. The data obtained are integrated within relatively small (1 megabase) region of human chromosome 19. Also, we construct maps of polygenic genome regions for normal and tumor tissues which are necessary for study of genome regulation and for practical use in medical genetics.

Integrated map of regulatory elements positions within 500 kb human chromosome 19 region. Vertical color lines indicate positions of corresponding regulatory elements.
Structure and functional study of Mycobacterium tuberculosis, Burkholderia pseudomallei and Burkholderia mallei pathogenesis (T.L. Azhikina, G.S. Monastyrskaya)
Tuberculosis — a chronic infection caused by Gram-positive bacteria Mycobacterium tuberculosis — is one of ten world's main causes of premature death and second among infections. Mycobacterial genome is extremely variable that complicates tuberculosis diagnostics and therapy. We developed the experimental method of comparative analysis of the genomes — the RFLP subtractive hybridization — which allows comparing genomes of closely related bacterial strains. With the use of this system a comparison of the genomes of different M. tuberculosis strains circulating in Russia and causing different clinical manifestations of the disease was performed. Basing on the differential sequences obtained the experimental approach was developed allowing to study an insertion-deletion polymorphism within Russian population of M. tuberculosis (ID-typing).
M. tuberculosis caused human infection with a wide spectrum of clinical manifestations that depends on complex and not completely studied interactions between host and bacterium. We are studying a full spectrum of transcripts of the M. tuberculosis genes during primary infection and after the transition into chronic and latent forms. This will help to reveal the hoe the pathogen escapes from host response. In collaboration with the immunogenetics lab of Central Institute for Tuberculosis (Head Prof. A.S. Apt) we developed a method allowing for analysis of the intracellular pathogen's transcriptome directly in infected tissues. The method may be useful for search of virulence factors, targets for drug therapy and for development of the epidemiological monitoring strategy for any pathogen.
In collaboration with State Scientific Center of Applied Microbiology (I. Abaev) the whole-genome comparison of pathogenic Burkholderia pseudomallei C—141 and Burkholderia mallei C5 strains causing melioidosis and glanders was performed. The library was constructed that contains DNA fragment that differs between B. pseudomallei C141 and B. mallei C5 and maybe used for diagnostics of melioidosis and glanders.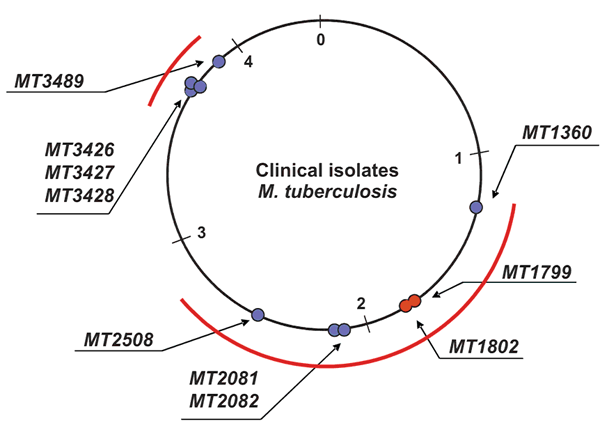 Position of differential fragments found (circles) on the M. tuberculosis deletion genome map. The map reflects non-random distribution of the deleted regions. The numbers indicate genomic distance (in megabases), 0 — replication start site.
Approaches to diagnostics and gene therapy of cancer (T.V. Vinogradova, E.P. Kopantzev, I.P. Chernov)
Currently much attention is paid to development of new generation therapy of cancer. Within the framework of the State program «Priority fields in science and technology in Russia during 2007–2012» our lab participated in the integrated project «Development and production of the prototype of novel and effective therapies and diagnostics of the post-genome generation for use in tumor therapy». The aim of this project was the development and clinical tests of first gene therapy based preparations for treatment of lung and esophagus cancers. The approaches used in this project are based on the fundamental and methodical research performed in the laboratory. The project integrates efforts of the major scientific centers of Russia: Institute of Molecular genetics RAS, Blokhin Cancer Research Center RAMS, Shemyakin-Ovchinnikov Institute of Bioorganic Chemistry RAS, Novosibirsk State University, Institute of gene biology RAS, Gamaleya Research Institute of Epidemiology and Microbiology RAMS, and biotechnology companies Evrogen and Binnofarm. Within the framework of this project the constructions allowing for specific expression of therapeutic genes in tumor cells and systems for delivery of the therapeutic genes into tumors were developed.
Hence, the bases were established for the development and production of novel effective medical preparations and diagnostics based on gene therapy approach and biologically active proteins.
Cancer and development (M.V. Zinovyeva, T.V. Vinogradova, G.S. Monastyrskaya)
Demonstration of the fact that genes that are activated during development of lung and esophagus in embryogenesis are switched off in normal cells when they are being transformed into cancer cells and conversely is one the major achievements of the project. This confirms the hypothesis that process of cancer transformation and progression of normal cells may be compared with embryonal development or self-reproduction and differentiation of stem cells of certain tissues. The genes that express differentially in cancer and development probably play key role in tumorigenesis. Study of such genes allows carrying out a rational choice of therapeutic targets because systems regulating embryonal development and damaged in cancer are most perspective targets.
Modified oligonucleotides (V.K. Potapov)
Development of new methods of production and synthesis of modified oligonucleotides with changed structure of the base or of sugar-phosphate skeleton was the mainstream of the group through the last three years. Working out of approaches to solid phase synthesis of morpholino-analogues of oligonucleotides, which have morpholine ring in their structure instead of ribose, is the most perspective direction of the research. Such analogues are uncharged molecules and resistant to nucleases. They preserve DNA structure and form stable complementary bonds with native oligonucleotides.
Synthesis of oligonucleotides bearing spacers of specified length with thiol group in certain sites is the second direction of the work. These oligonucleotides are used in study of their complexes with integrases of HIV and ASV by X-ray diffraction analysis by prof. Vlodover group (NCI, Frederic).
Name
Position
Contacts
Eugeny Sverdlov, member of the academy of sciences
depart. dir.
sverd@ibch.ru, +7(495)330-65-29
Galina Monastyrskaya, Ph.D., senior research associate
l. r. f.
gal@ibch.ru, +7(495)330-65-38
Viktor Potapov, D.Sc
l. r. f.
vk@ibch.ru
Sergej Akopov, Ph.D.
s. r. f.
akser@ibch.ru, +7(495)330-70-29
Irina Boni, Ph.D.
s. r. f.
irina_boni@ibch.ru, +7(495)330-69-92
Tat'jana Vinogradova, Ph.D.
s. r. f.
tv@ibch.ru, +7(495)330-65-47
Ljudmila Zavalova, Ph.D.
s. r. f.
lz@ibch.ru, +7(495)330-70-29
Evgenij Kopancev, Ph.D.
s. r. f.
kopantzev@ibch.ru, +7(495)3307029
Lev Nikolaev, D.Sc
s. r. f.
lev@ibch.ru, +7(495)3307029
Evgeny Snezhkov, Ph.D.
s. r. f.
eugene@ibch.ru, +7(495)330-70-29
Nataliya Uspenskaya, Ph.D.
s. r. f.
usp@ibch.ru, +7(495)330-58-10
Timofey Skvortsov, Ph.D.
r. f.
timofey@ibch.ru
Dmitry Didych, Ph.D.
r. f.
dmitry_d@inbox.ru, +7(495)330-70-29
Svetlana Bulanenkova, Ph.D.
r. f.
Nina Beljaeva, Ph.D.
r. f.
Marina Zinov'eva, Ph.D.
r. f.
mzinov@ibch.ru, +7(495)330-65-47
Kirill Kashkin, Ph.D.
r. f.
kaschkin@ibch.ru, +7(495)3306992
Nadezhda Skapcova
r. f.
+7(495)330-65-47
Ol'ga Filjukova, Ph.D.
r. f.
+7(495)330-69-92
Igor' Chernov, Ph.D.
r. f.
igor_ch@ibch.ru, +7(495)330-70-29
Irina Alekseenko, Ph.D.
r. f.
irina.alekseenko@mail.ru
Leonid Aseev, Ph.D.
r. f.
leroymail@gmail.com, +7(495)3306329
Ildar Gainetdinov, Ph.D.
r. f.
ildargv@gmail.com
Ljudmila Koledinskaja
j. r. f.
+7(495)3306329
Rudolf Pogosyan
j. r. f.
r.j.f@mail.ru, +7(495)3306547
Aleksandr Sass
j. r. f.
+7(495)330-70-29
Biltueva
PhD stud.
bjuliya87@mail.ru
Sofia Kondratieva
PhD stud.
sofia.a.kondr@gmail.com
Liya Kondratyeva
PhD stud.
liakondratyeva@yandex.ru, +7(495)3307029
Dina Antonova
PhD stud.
tyulkina.dina@mail.ru
Arina Mazurova
PhD stud.
mazarina@ibch.ru, +7(903)1573892
Dmitrij Gnatenko
PhD stud.
gnatenkodmitrij@gmail.com
Ljudmila Averina
eng.
+7(495)330-63-29
Zoja Kravchenko
res. eng.
+7(495)3306329
Tat'jana Levitan
res. eng.
levitanibh@mail.ru, +7(495)3306529
Natalija Medvedeva
res. eng.
+7(495)3306329

Former members:

Tatyana Azhikina, D.Sc
l. r. f.
tatazhik@ibch.ru
Sergey Kotov
eng.
Serg07@pochta.ru
Eugeny Sverdlov
Russia, Moscow, Ul. Miklukho-Maklaya 16/10 — On the map
IBCh RAS, build. 52, office. 657
Phone: +7(495)330-65-29
E-mail: sverd@ibch.ru