Laboratory of organic synthesis
The laboratory conducts molecular design, the development of synthetic schemes and synthesis a wide variety of classes of compounds in preparative amounts. For example, tri- and tetrasaccharide receptors of the SiaLex tetrasaccharide, substituted arylboronic acids of varying acidity, indol derivatives, 7-hydroxycoumarin, pyrrole-2,3-dicarboxylic acid, di- and tri-carboxylic acids of thiazole derivatives, oligoglycine fragments with N-benzylglycine, 1,2-dihydroquinoline-3-carboxylic acid, derivatives of bicyclic complex.
The laboratory conducts experiments to search for the possible conditions of abiotic synthesis of adenosine and adenosine monophosphate, as well as work on the properties, synthesis and possible use of ionic liquids - a fundamentally new type of solvents.
Moreover researchers are engaged in the creation of fluorescent probes for DNA, anesthetics and muscle relaxants new generation, as well as developing methods for the determination of drugs.
Laboratory cooperates with laboratories of the Institute, The Vernadsky Institute of Geochemistry and Analytical Chemistry of the Russian Academу of Sciences, The Faculty of Chemistry of the Moscow State University, The Engelhardt Institute of Molecular Biology of the Russian Academy of Sciences, The Bach Institute of Biochemistry of the Russian Academy of Sciences, The Mendeleev University of Chemical Technology of Russia, etc.
The Laboratory was founded on the basis of organic synthesis Group (worked since 1994) in 2010.
• Development of innovative methods of synthetic organic chemistry and innovative schemes of synthesis of organic compounds
• A practical preparation of compounds of different classes, such as benzoheterocycles, arylsulfamides and arylsulfonic acids, polycyclic and cage compounds, arylboronic acids, drug degradation products, antigens and haptens, fluorescent labels, unconventional amino acids, spin-labeled amino acids of the chromophore and photosensitizing compounds, low-molecular weight compounds.
• Oligopeptide components of Plm II protease inhibitors – ω-hydroxy-L-α-amino acids – were synthesized.
• A new preparative method for the synthesis argiope, synthesized 100 g of this natural toxin. Founded method was used in the synthesis of argiope analogues.
• Efficient methods for synthesis were designed and representative set of substituted 2-thiazolyl-1-alkyl(aryl)ethanol, prospective templates for new pharmacological agents.
• Synthetic schemes were developed and synthesis of haptens were conducted, which play an important role in an enzyme immunoassay toxic components of household detergents that pollute the environment, modern pesticides and antibiotics.
• The methods of synthesis were designed and photoswitchable protein fragment to create a controlled secondary structure elements was received; photoactivated labels for studies of receptor systems; fluorescent labels for the study of structure and functions of nucleic acids; photosensitizing agents; fluorescent indicators.
• As a part of the Program of the Presidium of the RAS "Biosphere Origin and Evolution" were analyzed the abiogenous variations of the adenine formation conditions and condensation of adenine with ribose and ribosophosphate using the methods of computer synthesis; monosaccharides library were formed, methods of determining the methods of gas chromatography-mass spectrometry and GLC were developed.
• New subclass of modified nucleosides having high activity against enveloped viruses was founded. Peruse detected earlier (Bioorgan. Chemistry, 29 (3), 289-294 (2003), Nucleosides, Nucleotides & Nucleic Acids, 24 (5/7), 923-926 (2005), Tetrahedron, 62 (6), 1279 -1287 (2006) Problems of Virology, 2006 (1), 34-38, Org. Biomol. Chem., 4 (6), 1091-1096 (2006)) identified a class of antiviral compounds from the group of substances active against enveloped viruses. Specifically, IC50 5- (perylene-3-yl) ethynyl-2'-deoxyuridine was 50 nmol / L for herpes simplex virus type 1 and 180 nmol / L for hepatitis C. A characteristic feature of active nucleosides structure is the availability of an aromatic residue hydrocarbon perylene rigidly attached to the nucleobase via a triple bond. It is suggested that the unique structure of the resulting compounds is responsible for their incorporation into the virion membrane, resulting in the fusion of the virion to the cell (infection) becomes very disadvantageous process (Figure). The novel compounds practically cytotoxic.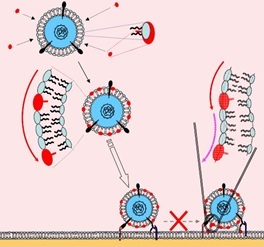 Selected publications
(2017).

Automated Solid-Phase Click Synthesis of Oligonucleotide Conjugates: From Small Molecules to Diverse N-Acetylgalactosamine Clusters.

Bioconjug. Chem.

28 (10)

,

2599–2607

[+]

We developed a novel technique for the efficient conjugation of oligonucleotides with various alkyl azides such as fluorescent dyes, biotin, cholesterol, N-acetylgalactosamine (GalNAc), etc. using copper-catalysed alkyne-azide cycloaddition on the solid phase and CuI·P(OEt)3 as a catalyst. Conjugation is carried out in an oligonucleotide synthesizer in fully automated mode and is coupled to oligonucleotide synthesis and on-column deprotection. We also suggest a set of reagents for the construction of diverse conjugates. The sequential double-click procedure using a pentaerythritol-derived tetraazide followed by the addition of a GalNAc or Tris-GalNAc alkyne gives oligonucleotide-GalNAc dendrimer conjugates in good yields with minimal excess of sophisticated alkyne reagents. The approach is suitable for high-throughput synthesis of oligonucleotide conjugates ranging from fluorescent DNA probes to various multi-GalNAc derivatives of 2'-modified siRNA.

ID:1912

(2017).

Fine Tuning of Pyrene Excimer Fluorescence in Molecular Beacons by Alteration of the Monomer Structure.

J. Org. Chem.

82 (19)

,

10015–10024

[+]

Oligonucleotide probes labeled with pyrene pairs that form excimers have a number of applications in hybridization analysis of nucleic acids. A long excited state lifetime, large Stokes shift, and chemical stability make pyrene excimer an attractive fluorescent label. Here we report synthesis of chiral phosphoramidite building blocks based on (R)-4-amino-2,2-dimethylbutane-1,3-diol, easily available from an inexpensive d-(-)-pantolactone. 1-Pyreneacetamide, 1-pyrenecarboxamide, and DABCYL derivatives have been used in preparation of molecular beacon (MB) probes labeled with one or two pyrenes/quenchers. We observed significant difference in the excimer emission maxima (475-510 nm; Stokes shifts 125-160 nm or 7520-8960 cm(-1)) and excimer/monomer ratio (from 0.5 to 5.9) in fluorescence spectra depending on the structure and position of monomers in the pyrene pair. The pyrene excimer formed by two rigid 1-pyrenecarboxamide residues showed the brightest emission. This is consistent with molecular dynamics data on excimer stability. Increase of the excimer fluorescence for MBs after hybridization with DNA was up to 24-fold.

ID:1866

(2013).

Branched DNA nanostructures efficiently stabilised and monitored by novel pyrene-perylene 2'-α-l-amino-LNA FRET pairs.

Chem. Commun. (Camb.)

49 (5)

,

511–3

[+]

Novel pyrene-perylene α-l-LNA FRET pairs described herein effectively detect assembly of 2- and 3-way branched DNA nanostructures prepared by postsynthetic microwave-assisted CuAAC click chemistry. The fluorescent signalling of assembly by internally positioned FRET pairs is achieved with low to no fluorescence background signal, remarkably low limit of target detection values and stabilization of the resulting nanostructures.

ID:754

(2013).

UR-144 in products sold via the Internet: identification of related compounds and characterization of pyrolysis products.

Drug Testing and Analysis

5 (8)

,

683–92

[+]

The synthetic cannabinoid, UR-144 ((1-pentyl-1H-indol-3-yl)(2,2,3,3-tetramethylcyclopropyl)methanone), was identified in commercial 'legal high' products (herbal, resin, and powder). Along with this, six related compounds were detected. The most abundant one (2.1) was identified as 4-hydroxy-3,3,4-trimethyl-1-(1-pentyl-1H-indol-3-yl)pentan-1-one, a product of the electrophilic addition of water to the cyclopropane moiety in UR-144. Compound 2.1 was found to be undergo cyclisation which leads to the formation of two additional interconvertable compounds (2.3, tentatively identified as 1-pentyl-3-(4,4,5,5-tetramethyl-4,5-dihydrofuran-2-yl)-1H-indole which is stable only in absence of water and also observed as GC artifact) and 2.2, a protonated derivative of 2.3 which is formed in acidic solutions. The remaining compounds were identified as possible degradation products of the group 2 compounds (4,4,5,5-tetramethyldihydrofuran-2(3H)-one and 1-pentylindoline-2,3-dione) and intermediates or by-products from the synthesis of UR-144 ((1H-indol-3-yl)(2,2,3,3-tetramethylcyclopropyl)methanone, 1-pentyl-1H-indole and 1-(1-pentyl-1H-indol-3-yl)hexan-1-one). Pyrolysis of herbal products containing the group 2 compounds or UR-144 resulted in the formation of 3,3,4-trimethyl-1-(1-pentyl-1H-indol-3-yl)pent-4-en-1-one (3). This was confirmed by separate pyrolysis of 2.1 and UR-144. Also, the two additional minor compounds, 1-(1-pentyl-1H-indol-3-yl)ethanone and 1-(1-pentyl-1H-indol-3-yl)propan-1-one, were detected. Pathways for these transformations are presented.

ID:1058

(2013).

5-(Perylen-3-yl)ethynyl-arabino-uridine (aUY11), an arabino-based rigid amphipathic fusion inhibitor, targets virion envelope lipids to inhibit fusion of influenza virus, hepatitis C virus, and other enveloped viruses.

J. Virol.

87 (7)

,

3640–54

[+]

Entry of enveloped viruses requires fusion of viral and cellular membranes. Fusion requires the formation of an intermediate stalk structure, in which only the outer leaflets are fused. The stalk structure, in turn, requires the lipid bilayer of the envelope to bend into negative curvature. This process is inhibited by enrichment in the outer leaflet of lipids with larger polar headgroups, which favor positive curvature. Accordingly, phospholipids with such shape inhibit viral fusion. We previously identified a compound, 5-(perylen-3-yl)ethynyl-2'-deoxy-uridine (dUY11), with overall shape and amphipathicity similar to those of these phospholipids. dUY11 inhibited the formation of the negative curvature necessary for stalk formation and the fusion of a model enveloped virus, vesicular stomatitis virus (VSV). We proposed that dUY11 acted by biophysical mechanisms as a result of its shape and amphipathicity. To test this model, we have now characterized the mechanisms against influenza virus and HCV of 5-(perylen-3-yl)ethynyl-arabino-uridine (aUY11), which has shape and amphipathicity similar to those of dUY11 but contains an arabino-nucleoside. aUY11 interacted with envelope lipids to inhibit the infectivity of influenza virus, hepatitis C virus (HCV), herpes simplex virus 1 and 2 (HSV-1/2), and other enveloped viruses. It specifically inhibited the fusion of influenza virus, HCV, VSV, and even protein-free liposomes to cells. Furthermore, aUY11 inhibited the formation of negative curvature in model lipid bilayers. In summary, the arabino-derived aUY11 and the deoxy-derived dUY11 act by the same antiviral mechanisms against several enveloped but otherwise unrelated viruses. Therefore, chemically unrelated compounds of appropriate shape and amphipathicity target virion envelope lipids to inhibit formation of the negative curvature required for fusion, inhibiting infectivity by biophysical, not biochemical, mechanisms.

ID:852

(2013).

A nascent proteome study combining click chemistry with 2DE.

Proteomics

13 (1)

,

17–21

[+]

To investigate the dynamic cellular response to a condition change, selective labeling of the nascent proteome is necessary. Here, we report a method combining click chemistry protein labeling with 2D DIGE. To test the relevance of the method, we compared nascent proteomes of actively growing bacterial cells with that of cells exposed to protein synthesis inhibitor, erythromycin. Cells were incubated with methionine analog, homopropargyl glycin, and their nascent proteome was selectively labeled with monosulfonated neutral Cy3 and Cy5 azides specially synthesized for this purpose. Following fluorescent labeling, the protein samples were mixed and subjected to standard 2D DIGE separation. The method allowed us to reveal a dramatic reduction of newly synthesized proteins upon erythromycin treatment, while the total proteome was not significantly affected. Additionally, several proteins, whose synthesis was resistant to erythromycin, were identified.

ID:1063

(2012).

Toward creating cell membrane glyco-landscapes with glycan lipid constructs.

Carbohydr. Res.

356

,

238–46

[+]

Synthetic glycolipid-like constructs dispersible in biological media and capable of incorporating into cell membranes have the ability to create novel artificial glyco-landscapes on living cells. Using a variety of different glycans ranging from disaccharides to polysaccharides, together with different lengths and high hydrophilicity spacers, we created a series of synthetic glycolipid-like constructs. Contacting these constructs with live cells gave modified cells with controlled glycan density and/or altered biological function. The ability to also use these constructs as solutions to inhibit antibodies, toxins, and virions extends the potential diagnostic and therapeutic uses for these synthetic glycolipid-like constructs.

ID:1059

(2012).

Two-dye and one- or two-quencher DNA probes for real-time PCR assay: synthesis and comparison with a TaqMan™ probe.

Analytical and bioanalytical chemistry

404 (1)

,

59–68

[+]

A typical TaqMan™ real-time PCR probe contains a 5'-fluorescent dye and a 3'-quencher. In the course of the amplification, the probe is degraded starting from the 5'-end, thus releasing fluorescent dye. Some fluorophores (including fluorescein) are known to be prone to self-quenching when located near each other. This work is aimed at studying dye-dye and dye-quencher interactions in multiply modified DNA probes. Twenty-one fluorogenic probes containing one and two fluoresceins (FAM), or a FAM-JOE pair, and one or two BHQ1 quenchers were synthesized using non-nucleoside reagents and "click chemistry" post-modification on solid phase and in solution. The probes were tested in real-time PCR using an ~300-bp-long natural DNA fragment as a template. The structural prerequisites for lowering the probe background fluorescence and increasing the end-plateau fluorescence intensity were evaluated and discussed.

ID:753

(2011).

LNA for optimization of fluorescent oligonucleotide probes: improved spectral properties and target binding.

Bioconjug. Chem.

22 (4)

,

533–9

[+]

Mixmer LNA/DNA fluorescent probes containing the 1-(phenylethynyl)pyrene fluorophore attached to 2'-arabino-uridine were synthesized and studied. The conjugates displayed significantly higher hybridization affinity to target DNA, increased fluorescence quantum yields of single-stranded oligonucleotides and their duplexes, and improved ability to form an interstrand excimer compared to analogous non-LNA probes.

ID:755

(2011).

Specificity of serum anti-A(di) IgG antibodies from patients with gastrointestinal cancer.

J Immunoassay Immunochem

32 (3)

,

170–90

[+]

Changes in the glycosylation in cancer may lead to an aberrant expression of A, B incompatible or xenogeneic blood group related antigens. To characterize the specificity of IgG antibodies to A, B, and related glycans in sera of gastrointestinal cancer patients, serum probes and affinity-isolated antibodies were analyzed in the indirect and competitive ELISA using a set of homogenous polyacrylamide (PAA) glycoconjugates. Monoreactive antibodies recognizing A(di) (I) and cross-reactive antibodies to A(di)/B(di)/B(tri) (II) or A(di)/A(tri)/Fs(di)/Core5 (III) were affinity-isolated on A(di)-PAA-Sepharose. The population I showed a higher affinity to A(di)-PAA than cross-reactive antibodies. The antibodies II were more specific to B(di) and may belong to the core alpha-Gal reactive antibodies but are also capable of recognizing A(di). The antibodies III were more specific to A(tri); they agglutinated A-erythrocytes and belong to anti-A isoantibodies reactive to xenogeneic oligosaccharides. The purified antibody samples were non- or faintly reactive to Tn. The IC(50) values of PAA glycoconjugates ranged from 6 × 10(-8) to 7 × 10(-6) M. No or weak binding of antibodies to the unrelated antigens used in the detection of polyreactivity (ferritin, casein, and DNA) was observed.

ID:1060

(2010).

Rigid amphipathic fusion inhibitors, small molecule antiviral compounds against enveloped viruses.

Proc. Natl. Acad. Sci. U.S.A.

107 (40)

,

17339–44

[+]

Antiviral drugs targeting viral proteins often result in prompt selection for resistance. Moreover, the number of viral targets is limited. Novel antiviral targets are therefore needed. The unique characteristics of fusion between virion envelopes and cell membranes may provide such targets. Like all fusing bilayers, viral envelopes locally adopt hourglass-shaped stalks during the initial stages of fusion, a process that requires local negative membrane curvature. Unlike cellular vesicles, however, viral envelopes do not redistribute lipids between leaflets, can only use the energy released by virion proteins, and fuse to the extracellular leaflets of cell membranes. Enrichment in phospholipids with hydrophilic heads larger than their hydrophobic tails in the convex outer leaflet of vesicles favors positive curvature, therefore increasing the activation energy barrier for fusion. Such phospholipids can increase the activation barrier beyond the energy provided by virion proteins, thereby inhibiting viral fusion. However, phospholipids are not pharmacologically useful. We show here that a family of synthetic rigid amphiphiles of shape similar to such phospholipids, RAFIs (rigid amphipathic fusion inhibitors), inhibit the infectivity of several otherwise unrelated enveloped viruses, including hepatitis C and HSV-1 and -2 (lowest apparent IC(50) 48 nM), with no cytotoxic or cytostatic effects (selectivity index > 3,000) by inhibiting the increased negative curvature required for the initial stages of fusion.

ID:757

(2010).

Строение 2(5)-алкилзамещенных 4-гидрокси-3,4-дифенилциклопент-2-ен-1-онов.

Журнал органической химии.

46 (8)

,

1118–1122

ID:1061

(2009).

Phenylethynylpyrene excimer forming hybridization probes for fluorescence SNP detection.

Methods Mol. Biol.

578

,

209–22

[+]

Excimer formation is a unique feature of some fluorescent dyes (e.g., pyrene) which can be used for probing the proximity of biomolecules. Pyrene excimer fluorescence has previously been used for homogeneous detection of single nucleotide polymorphism (SNP) on DNA. 1-Phenylethynylpyrene (1-1-PEPy), a photostable pyrene derivative with redshifted fluorescence, is able to form excimers (emission maximum about 500-510 nm) and is well suitable for nucleic acid labeling. We have shown the utility of 1-1-PEPy in the excimer-forming DNA probes for detection of 2144A/G and 2143A/G transitions, and 2143A/C substitution in the 23S ribosomal RNA gene of Helicobacter pylori strains resistant to clarithromycin. The phenylethynylpyrene pair can be generated either from 1-1-PEPy pseudonucleoside 4-[4-(pyren-1-ylethynyl)phenyl]-1,3-butanediol or from 2'-O-(1-PEPy) modified nucleosides--2'-O-[3-(pyren-1-ylethynyl)benzyl]uridine and 2'-O-[4-(pyren-1-ylethynyl)benzyl]uridine.

ID:759

(2005).

Use of metallation reaction to obtain substituted 2-(5-methyl-2-thiazolyl)ethanols.

Chemistry of Heterocyclic compounds

41 (7)

,

877–882

[+]

The reaction of aliphatic and aromatic aldehides with anions obtained under treatment of 2,4,5-trimethylthiazole and 2,5-dimethyl-4-phenylthiazole with butyllithium give rise to substituted 2-thyazolyl-1-ethanols. Metallation proceeds for 2-methyl group of thiazols.

ID:46

(2002).

Synthesis of 2- and 3-pyridinyl(aryl)methanones.

Russ. Chem.Bull. Int.Ed.

3

,

540–543

[+]

A procedure was developed for the preparation of 2- and 3-pyridinyl(aryl)methanones by the reactions of aryllithium with methyl pyridinecarboxylate and methyl esters of substituted phenylcarboxylic acids.

ID:45

(1999).

One-pot scale synthesis of trifluoroacetamidopropyl 2-O-acetyl-4,6-O-benzylidene-beta-D-galactopyranoside.

Carb. lett.

3 (5)

,

305–308

[+]

Acetylation of spacered 4,6-O-benzylidene-β-D-galactopyranoside with acetylimidazole gives rise to 97% 3-O-derivative. Alternatively, chloroacetylation, acetylation, and de-chloroacetylation as one-pot procedure give rise to 85 % yield 2-O-acetyl isomer.

ID:44

(1996).

One-Stage Monosubstitution in Cyclen — Two Novel Examples.

Synthetic Commun.

26 (8)

,

1595–1603

[+]

New routes for alkylsubstitution of one in four amino groups in 1,4,7,10-tetraazacyclododecane are described. Isomeric 10-tris(hydroxyl)butyl-1,4,7-tris(carboxymethyl)cyclones are synthesized in very good yield.

ID:43
Modified oligonucleotides: tunable excimer-forming probes and solid phase click (2017-11-23)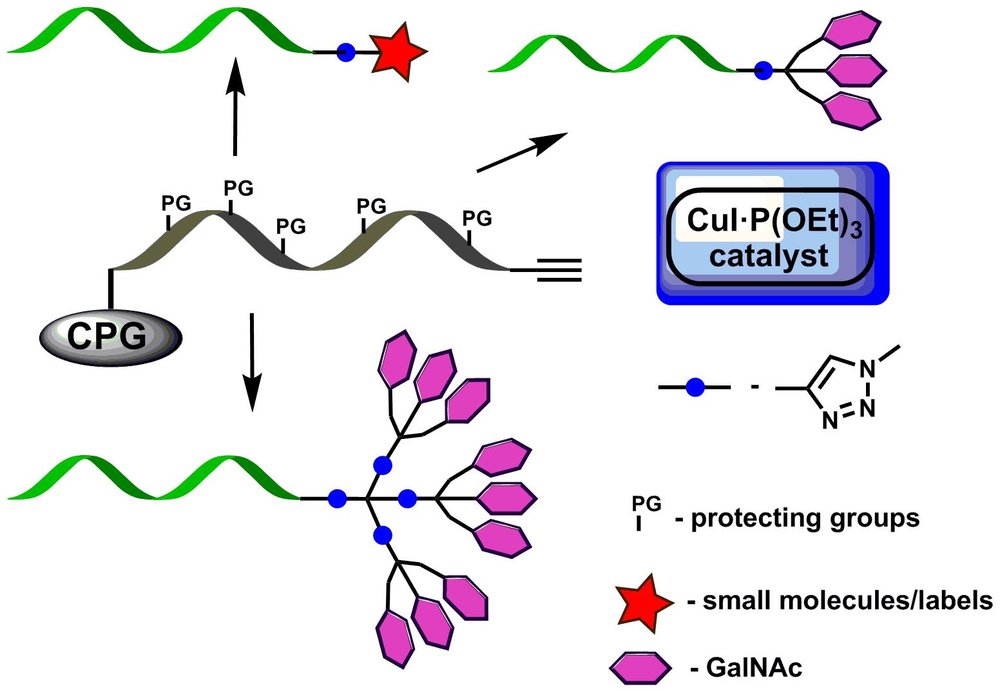 1-Pyreneacetamide, 1-pyrenecarboxamide, and DABCYL derivatives have been used in preparation of molecular beacon (MB) probes labeled with one or two pyrenes/quenchers. The pyrene excimer formed by two rigid 1-pyrenecarboxamide residues showed the brightest emission. Increase of the excimer fluorescence for MBs after hybridization with DNA was up to 24-fold.
We developed a novel technique for the efficient conjugation of oligonucleotides with various alkyl azides such as fluorescent dyes, biotin, cholesterol, N-acetylgalactosamine (GalNAc), etc. using copper-catalysed alkyne−azide cycloaddition on the solid phase and CuI·P(OEt)3 as a catalyst. The approach is suitable for highthroughput synthesis of oligonucleotide conjugates ranging from fluorescent DNA probes to various multi-GalNAc derivatives of 2′-modified siRNA.
Publications
(2017).

Automated Solid-Phase Click Synthesis of Oligonucleotide Conjugates: From Small Molecules to Diverse N-Acetylgalactosamine Clusters.

Bioconjug. Chem.

28 (10)

,

2599–2607

[+]

We developed a novel technique for the efficient conjugation of oligonucleotides with various alkyl azides such as fluorescent dyes, biotin, cholesterol, N-acetylgalactosamine (GalNAc), etc. using copper-catalysed alkyne-azide cycloaddition on the solid phase and CuI·P(OEt)3 as a catalyst. Conjugation is carried out in an oligonucleotide synthesizer in fully automated mode and is coupled to oligonucleotide synthesis and on-column deprotection. We also suggest a set of reagents for the construction of diverse conjugates. The sequential double-click procedure using a pentaerythritol-derived tetraazide followed by the addition of a GalNAc or Tris-GalNAc alkyne gives oligonucleotide-GalNAc dendrimer conjugates in good yields with minimal excess of sophisticated alkyne reagents. The approach is suitable for high-throughput synthesis of oligonucleotide conjugates ranging from fluorescent DNA probes to various multi-GalNAc derivatives of 2'-modified siRNA.

ID:1912

(2017).

Fine Tuning of Pyrene Excimer Fluorescence in Molecular Beacons by Alteration of the Monomer Structure.

J. Org. Chem.

82 (19)

,

10015–10024

[+]

Oligonucleotide probes labeled with pyrene pairs that form excimers have a number of applications in hybridization analysis of nucleic acids. A long excited state lifetime, large Stokes shift, and chemical stability make pyrene excimer an attractive fluorescent label. Here we report synthesis of chiral phosphoramidite building blocks based on (R)-4-amino-2,2-dimethylbutane-1,3-diol, easily available from an inexpensive d-(-)-pantolactone. 1-Pyreneacetamide, 1-pyrenecarboxamide, and DABCYL derivatives have been used in preparation of molecular beacon (MB) probes labeled with one or two pyrenes/quenchers. We observed significant difference in the excimer emission maxima (475-510 nm; Stokes shifts 125-160 nm or 7520-8960 cm(-1)) and excimer/monomer ratio (from 0.5 to 5.9) in fluorescence spectra depending on the structure and position of monomers in the pyrene pair. The pyrene excimer formed by two rigid 1-pyrenecarboxamide residues showed the brightest emission. This is consistent with molecular dynamics data on excimer stability. Increase of the excimer fluorescence for MBs after hybridization with DNA was up to 24-fold.

ID:1866