Laboratory of biotechnology
Name
Position
Contacts
Inna Kuranova
s. r. f.
Elena Gukasova, Ph.D.
r. f.
egucas@ibch.ru, +7(495)330-56-44
Tat'jana Karjagina, Ph.D.
r. f.
tankar@kou.ibch.ru, +7(495)995-49-62
Diana Zayara
PhD stud.
dianazayara@bk.ru
Elena Tuzova
stud.
Alla Barannik
res. eng.
+7(495)335-53-66
Natal'ja Patrusheva
res. eng.
+7(495)3363822
Alexander Breslav
eng.
Julija Kessler
eng.
+7()3306692
Vladimir Timofeev
eng.
Anna Yarenchuk
eng.

Former members:

Oleg Vasil'ev
moisad@yandex.ru
Valerij Berzin, Ph.D.
l. r. f.
Ljudmila Eljakova, D.Sc
l. r. f.
Aleksandr Gurevich, D.Sc, professor
l. r. f.
Aleksej Nekrasov, Ph.D.
s. r. f.
an_nekrasov@mail.ru
Larisa Chupova, Ph.D.
r. f.
Marija Korosteleva, Ph.D.
r. f.
Irina Ljubavina
r. f.
ilyubavina@gmail.com
Aleksandra Demehina
res. eng.
Julija Rilova
res. eng.
yuliaril@mail.ru
Svetlana Vanceva
eng.
Anatoliy Miroshnikov
Russia, Moscow, Ul. Miklukho-Maklaya 16/10 — On the map
IBCh RAS, build. 53, office. 6601
Phone: +7(495)995-55-57#2005
E-mail: aiv@ibch.ru
Fax: +7 (495) 330-74-10
Liposomal formulation of a methotrexate lipophilic prodrug: interactions with tumor cells and studies in vivo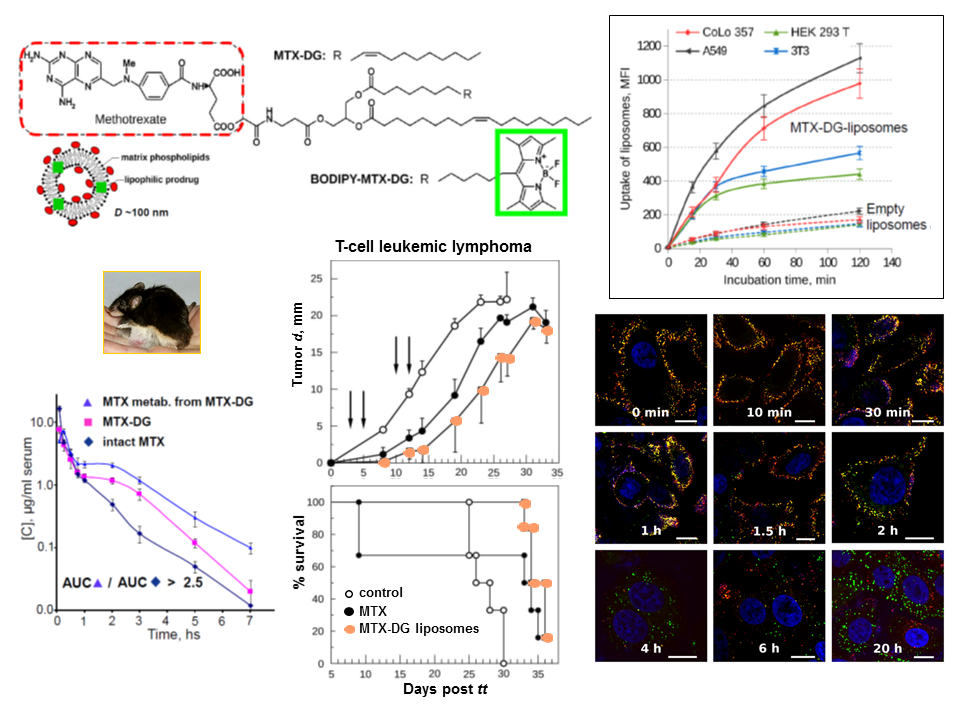 Previously, we developed a formulation of widely used cytostatic agent methotrexate incorporated in the lipid bilayer of 100-nm liposomes in the form of diglyceride ester (MTX-DG, lipophilic prodrug). Here, we first studied interactions of MTX-DG liposomes with various human and mouse tumor cell lines using fluorescence techniques. Liposomes were labeled with fluorescent analogues of phosphatidylcholine and MTX-DG. Carcinoma cells accumulated 5 times more MTX-DG liposomes than the empty liposomes. Studies with inhibitors of liposome uptake and processing by cells demonstrated that the formulation utilized multiple mechanisms to deliver the prodrug inside the cell. According to our data, undamaged liposomes fuse with the cell membrane only 1.5–2 h after binding to the cell surface and then the components of liposomal bilayer enter the cell separately. The study of the time course of plasma concentration in mice showed that the AUC (area under the curve) of methotrexate generated upon intravenous injection of MTX-DG liposomes exceeded that of intact methotrexate 2.5-fold. These data suggested the advantage of using liposomal formulation to treat systemic manifestation of hematological malignancies. Indeed, administration of MTX-DG liposomes to recipient mice bearing T-cell leukemic lymphoma using a dose-sparing regimen (only four low to middle-dose injections) resulted in lower toxicity and retarded lymphoma growth rate as compared to methotrexate.