Laboratory of molecular immunology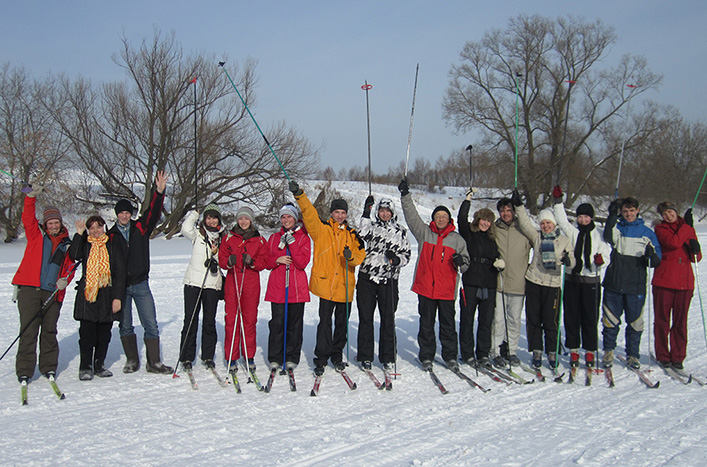 Molecular Immunology Laboratory at the Moscow River.
Name
Position
Contacts
Sergey Deyev, academician
Head of lab.
biomem@mail.ru, +7(495)429-88-10, +7(495)223-52-17, +7(495)995-55-57#5217
Roman Kholodenko, Ph.D.
s. r. f.
khol@mail.ru, +7(495)330-40-11
Ekaterina Lebedenko, Ph.D.
s. r. f.
elebedenko@mail.ru, +7(926)2417030, +7(499)1510178, +7()
Maxim Nikitin, Ph.D.
s. r. f.
max.nikitin@gmail.com, +7(495)330-63-92
Galina Proshkina, Ph.D.
s. r. f.
gmb@ibch.ru, +7(499)724-71-88
Victoria Shipunova, Ph.D.
s. r. f.
viktoriya.shipunova@phystech.edu, +7(985)2519909
Aleksej Shul'ga, Ph.D.
s. r. f.
schulga@gmail.com, +7(495)3353788
Igor' Doronin, Ph.D.
r. f.
doroninII@gmail.com, +7(495)330-72-56
Yuri Khodarovich, Ph.D.
r. f.
khodarovich@mail.ru, +7(495)330-64-65
Elena Shramova, Ph.D.
r. f.
fei@psha.org.ru, +7(916)950-35-49
Ekaterina Souslova, Ph.D.
r. f.
souslova@gmail.com
Olga Shilova
j. r. f.
olchernykh@yandex.ru, +7()
Ivan Zelepukin
j. r. f.
ivan.zelepukin@gmail.com, +7()
1689
PhD stud.
alexkotov117@gmail.com
Alexey Yaremenko
PhD stud.
alexey.vl.yar@gmail.com
Yaroslav Belyaev
t. q. - lab. as.
Olga Gryaznova
t. q. - lab. as.
Ilya Ivanov
t. q. - lab. as.
Tamara Luk'yanova
k. eng.
Elena Konovalova
sen. eng.
elena.ko.mail@gmail.com, +7()
Yaroslav Moiseev
sen. eng.
biotech.moiseev@gmail.com
Anna Sogomonyan
sen. eng.
heyanchoy@icloud.com
Anastasiya Baryshnikova
eng.
Mariya Belova
eng.
Antonina Dunina-Barkovskaya
eng.
Dariya Kiseleva
eng.
darkiseleva@mail.ru
Elena Komedchikova
eng.
lena-kom08@rambler.ru
Polina Kotelnikova
eng.
kotelnikova@phystech.edu, +7()
Evgeniya Kuzichkina
eng.
kuzichkinazhenya@mail.ru
Elena Mewerjakova, Ph.D.
eng.
eam@ibch.ru
Aziz Mirkasymov
eng.
zika131@mail.ru
Dar'ya Rahmaninova
eng.
Mariya Shilova
eng.
Vladislav Solovyev
eng.
soloviev-1@yandex.ru

Former members:

Kristina Mironova, Ph.D.
r. f.
kgobova@gmail.com
Oleg Stremovskij
r. f.
ostr@mail.ru
Taras Balandin
j. r. f.
German Kagarlitskiy
j. r. f.
webdiver@inbox.ru
Irina Kholodenko
j. r. f.
Sergej Lukash
j. r. f.
Galina Semenova
j. r. f.
Evgeniya Sokolova
sen. eng.
Dmitrij Karpenko
res. eng.
Ol'ga Korol'chuk
res. eng.
olg.kor@gmail.com
Boris Veryugin
eng.
boris.veryugin@gmail.com
Tatiana Zdobnova, Ph.D.
eng.
t.zdobnova@mail.ru
Gold nanostructures for biomedical applications.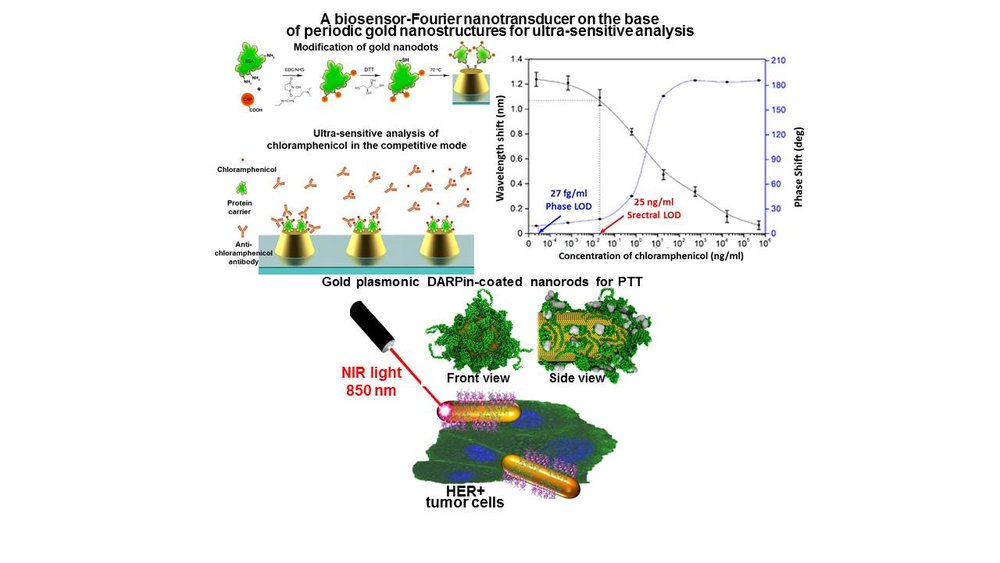 A biosensor-Fourier transducer based on periodic gold nanostructures was created and studied for the first time, which allows achieving ultrahigh sensitivity of the analysis of compounds (10-15 g/ml) in biological matrix. The developed methodology will allow solving the problems of highly sensitive analysis of target compounds in complex matrices, including hormones and other bioregulators acting in very low concentrations (doping control), highly toxic substances (biotoxins), pathogens (for biosafety problems, antibioterrorism protection). For the first time in the world, gold nanorods coated with a tumor-specific addressing module DARPin were obtained, which find tumor cells of a corresponding molecular profile and suppress their growth when irradiated with infrared light in the "Biotissue Transparency Window" (IC50 3.4 nM).
Radioactive (90Y) upconversion nanoparticles conjugated with recombinant targeted toxin for synergistic nanotheranostics of cancer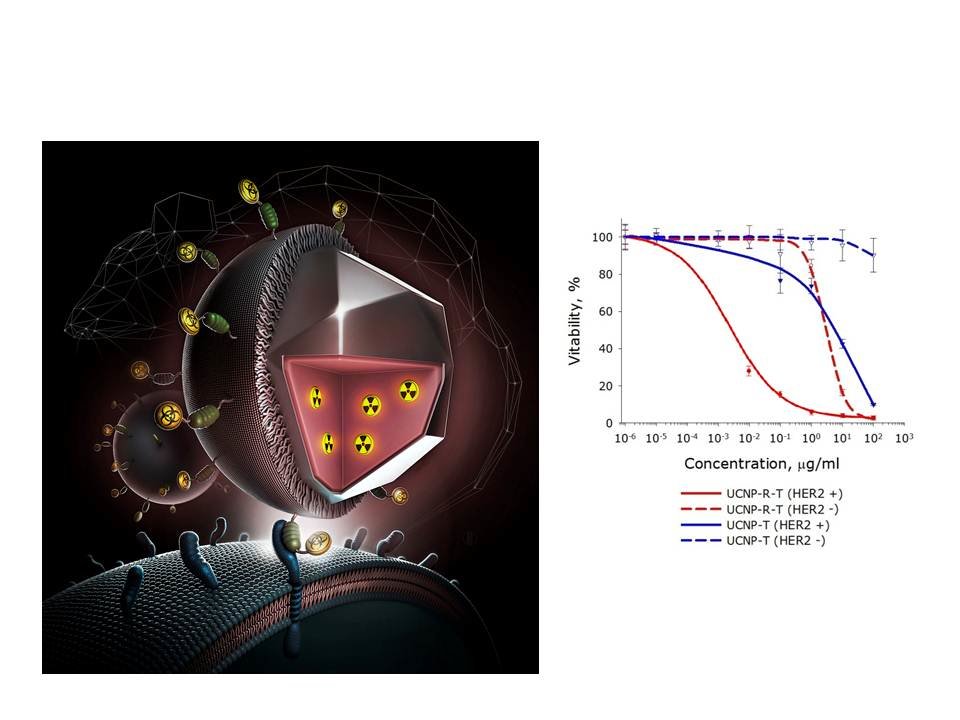 We report combined therapy using upconversion nanoparticles (UCNP) coupled to two therapeutic agents: beta-emitting radionuclide yttrium-90 (90Y) fractionally substituting yttrium in UCNP, and a fragment of the exotoxin A derived from Pseudomonas aeruginosa genetically fused with a targeting designed ankyrin repeat protein (DARPin) specific to HER2 receptors. The resultant hybrid complex UCNP-R-T was tested using human breast adenocarcinoma cells SK-BR-3 overexpressing HER2 receptors and immunodeficient mice, bearing HER2-positive xenograft tumors. The photophysical properties of UCNPs enabled background-free imaging of the UCNP-R-T distribution in cells and animals. Specific binding and uptake of UCNP complexes in SK-BR-3 cells was observed,with separate 90Y- and PE40-induced cytotoxic effects characterized by IC50 140 μg/mL (UCNP-R) and 5.2 μg/mL (UCNP-T), respectively. When both therapeutic agents were combined into UCNP-R-T, the synergetic effect increased markedly, ∼2200-fold, resulting in IC50 = 0.0024 μg/mL. The combined therapy with UCNP-R-T was demonstrated in vivo. PNAS USA, 2018. In colaboration with Lobachevsky University.
Plasmonic gold nanoparticles for photothermal therapy of cancer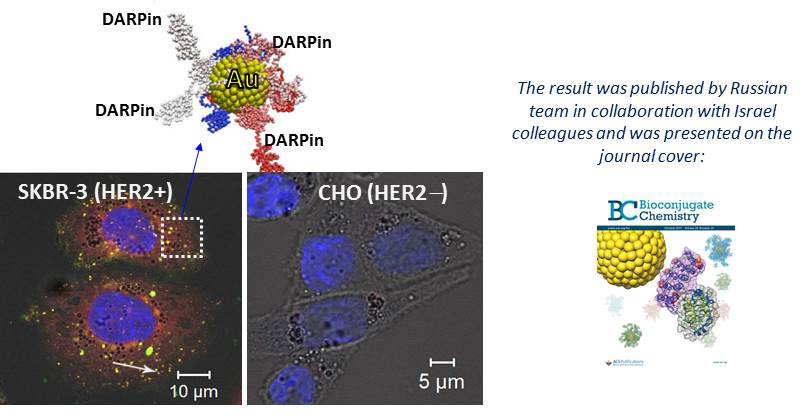 The new agents for tumor theranostics with different mechanisms of action were constructed on the base of hybrid nanoparticles. The 5 nm gold nanoparticles conjugated with designed ankyrin repeat protein (DARPin), which specifically targets human epidermal growth factor receptor 2 (HER 2), are of the utmost interest.  The high stability under physiological conditions and high a ffinity to the receptors overexpressed by cancer cells make conjugates of plasmonic gold nanostructures with DARPin molecules promising candidates for cancer photothermal therapy. This work was supported by the Russian Science Foundation (project no.14-2400106).