Лаборатория молекулярных инструментов для нейробиологии
Кто мы?
Лаборатория была организована в 2017 году на основе существовавшей с 2014 года группы, созданной в рамках программы Президиума РАН «Молекулярная и клеточная биология» одновременно с образованием в ИБХ отдела молекулярной нейробиологии (де факто группа существовала с 2008 года). У нас молодой амбициозный коллектив, и мы всегда рады новым коллегам: аспиранты, студенты, приходите к нам!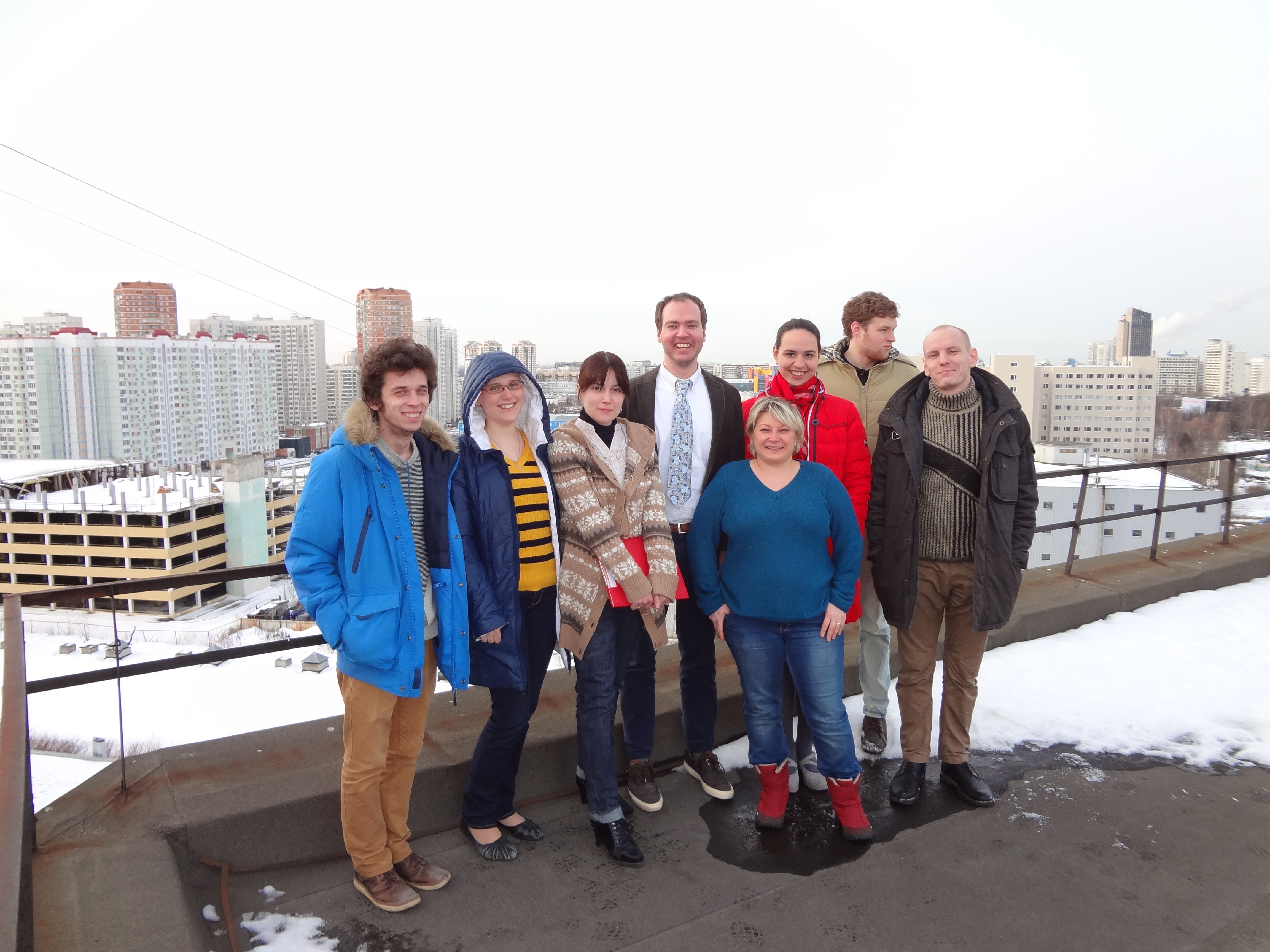 Чем мы занимаемся?
Исследованием плохо изученных природных ядов: медуз, многоножек, некоторых видов пауков, жуков-листоедов, морских ежей и скатов-хвостоколов.
Созданием молекулярных инструментов исследования нейрорецепторов.
Созданием средств диагностики и терапии заболеваний.
Наши международные партнеры:
Лаборатория токсикологии и фармакологии Лёвенского католического университета (Бельгия). Заведующий профессор Ян Титгат. Toxicology and Pharmacology, KU Leuven (Belgium). Head, Professor Jan Tytgat.
Лаборатория экспериментальной анестезиологии и исследования боли, Кёльнская университетская клиника (Германия). Заведующий профессор Тим Хухо. Experimental Anesthesiology and Pain Research, University Hospital of Cologne (Germany). Head, Professor Tim Hucho.
Лаборатория профессора Мадьюк, Стэнфордский университет (США). Заведующий профессор Мерритт Мадьюк. Maduke Lab, Stanford University (USA). Head, Professor Merritt Maduke.
Лаборатория профессора Кулльманна, Институт неврологии Университетского колледжа Лондона (Великобритания). Заведующий профессор Димитрий Кулльманн. Kullmann Lab, Institute of Neurology, University College London (UK). Head, Professor Dimitri Kullmann.
| Ф.И.О. | Должность | Контакты |
| --- | --- | --- |
| Василевский Александр Александрович, к. х. н. | рук. подр. | avas@ibch.ru, +7(495)336-65-40 |
| Кузьменков Алексей Игоревич, к. х. н. | н.с. | aleksey.kuzmenkov@gmail.com, +7(495)336-65-40 |
| Опарин Пётр Борисович, к. х. н. | м.н.с. | spud-13@mail.ru, +7(495)336-65-40 |
| Беркут Антонина Анатольевна | м.н.с. | Problemka2008@gmail.com, +7(495)336-65-40 |
| Сачкова Мария Юрьевна, к. х. н. | м.н.с. | sachkovamasha@mail.ru, +7(495)336-65-40 |
| Коммер Антон Айгарович | асп. | lipokuza@rambler.ru, +7(903)6750157 |
| Гиголаев Андрей Михайлович | студ. | gig-andrey@yandex.ru |
| Кульдюшев Никита Александрович | студ. | nikita.kuldushev@phystech.edu, +7(495)336-65-40 |
| Чудецкий Иван | студ. | ivan.chudetskiy@gmail.com |
| Каневская Жанна Олеговна | лаб. | zh-kanewskaya@yandex.ru, +7(495)000-00-00 |
Василевский Александр Александрович
Москва, ул. Миклухо-Маклая, 16/10 — На карте
ИБХ РАН, корп. 51, комн. 365
Тел.: +7(495)336-65-40
Эл. почта: avas@ibch.ru
Биомолекулярные инструменты для визуализации ионных каналов (2016-11-19)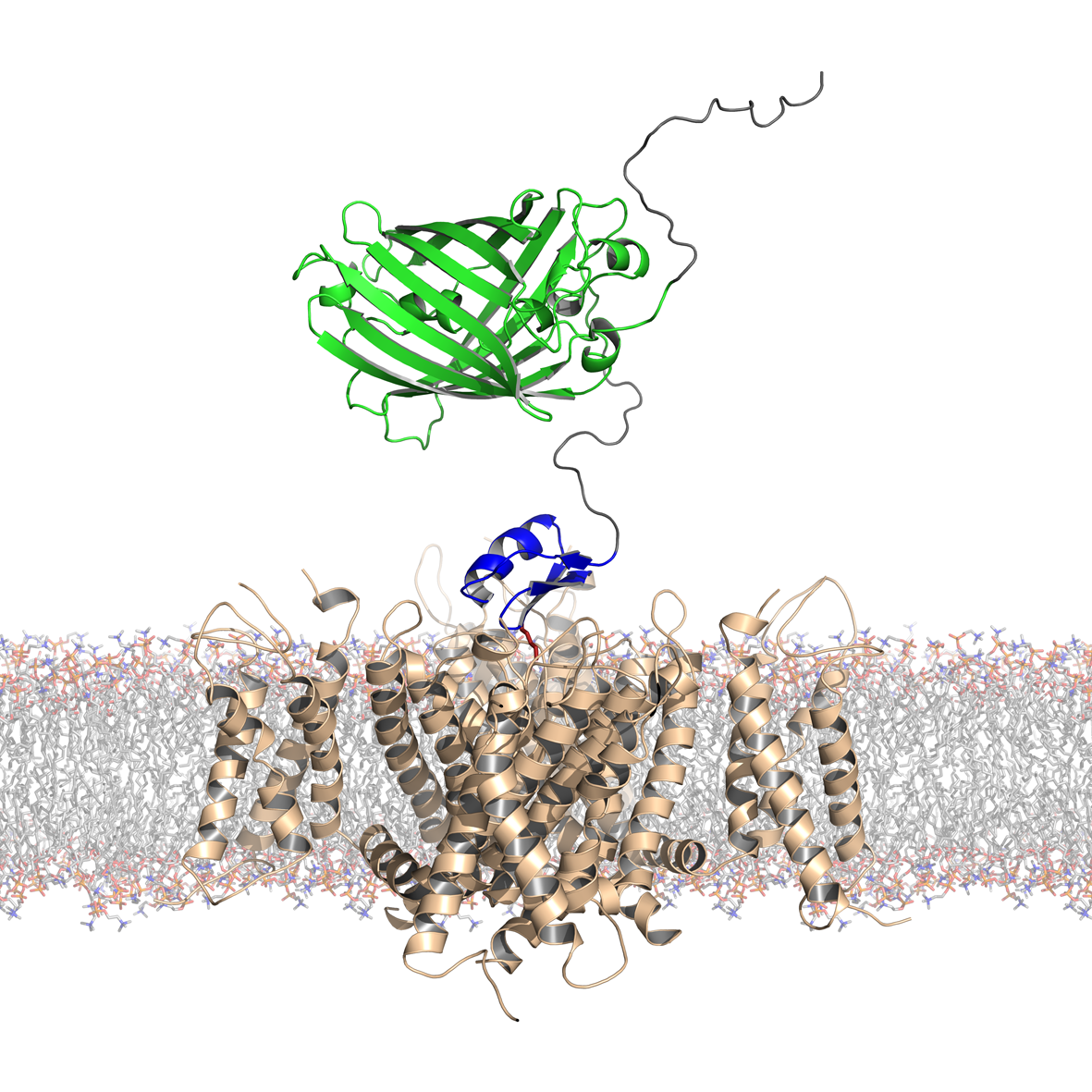 Мы создали высокоаффинные химерные молекулы на основе флуоресцентных белков и токсинов скорпионов, селективно воздействующих на потенциал-чувствительные калиевые каналы человека. Мы также продемонстрировали возможности использования таких химер в нейробиологии для визуализации ионных каналов: изучения их локализации, профиля экспрессии в клетках, тканях и органах. Кроме того, представляется возможным использование новых инструментов для скрининговых технологий и диагностики целого ряда заболеваний.
Публикации
(2016).

Fluorescent protein-scorpion toxin chimera is a convenient molecular tool for studies of potassium channels.

Sci Rep

6

,

33314

[+]

Ion channels play a central role in a host of physiological and pathological processes and are the second largest target for existing drugs. There is an increasing need for reliable tools to detect and visualize particular ion channels, but existing solutions suffer from a number of limitations such as high price, poor specificity, and complicated protocols. As an alternative, we produced recombinant chimeric constructs (FP-Tx) consisting of fluorescent proteins (FP) fused with potassium channel toxins from scorpion venom (Tx). In particular, we used two FP, eGFP and TagRFP, and two Tx, OSK1 and AgTx2, to create eGFP-OSK1 and RFP-AgTx2. We show that these chimeras largely retain the high affinity of natural toxins and display selectivity to particular ion channel subtypes. FP-Tx are displaced by other potassium channel blockers and can be used as an imaging tool in ion channel ligand screening setups. We believe FP-Tx chimeras represent a new efficient molecular tool for neurobiology.

ID:1561
Создана база данных пептидных токсинов из яда скорпионов – Kalium (2016-11-19)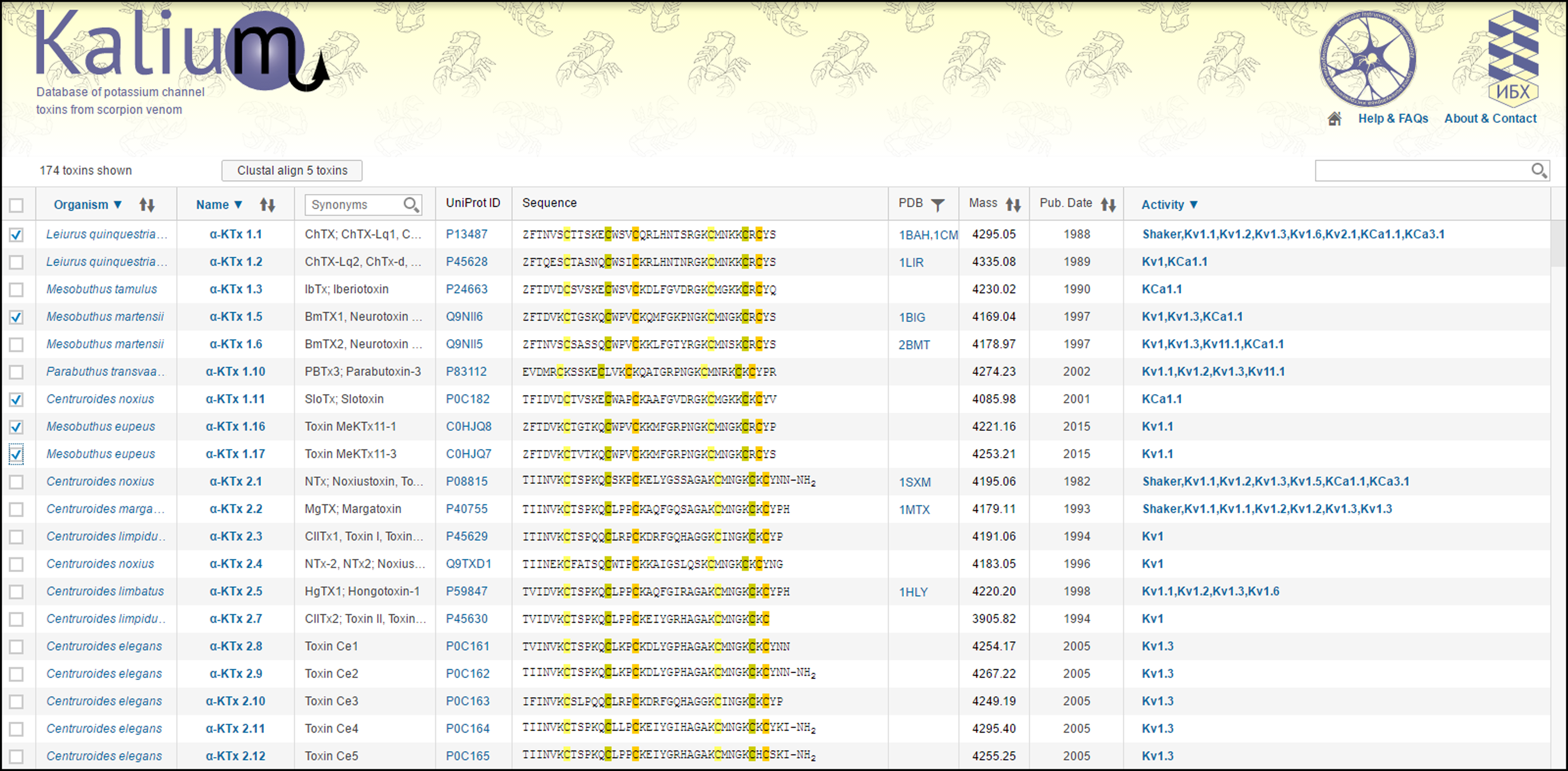 Была создана исчерпывающая база данных токсинов скорпионов, действующих на калиевые каналы (KTx), получившая название Kalium.
Kalium имеет открытый доступ и соответствующие ссылки на другие базы данных, такие как UniProt, PDB и NCBI Taxonomy Browser. Основной особенностью Kalium является простота представленных данных в соответствии с актуальной классификацией KTx. Все данные показаны в виде одной таблицы с возможностью сортировки и фильтрации по разным параметрам. Для каждой молекулы в составе Kalium были учтены все посттрансляционные модификации и рассчитаны молекулярные массы. Было проанализировано порядка 300 публикаций, из которых были взяты экспериментальные данные по физиологической активности KTx. Актуальная информация сопровождается ссылкой на соответствующую статью.
Эта инициатива получила широкое одобрение сообщества, в качестве экспертов Kalium выступили ведущие мировые ученые, занимающиеся исследованием животных ядов. Подробнее читай в пресс-релизе на сайте ИБХ.
Публикации
(2016).

Kalium: a database of potassium channel toxins from scorpion venom.

Database (Oxford)

2016

, [+]

Kalium (http://kaliumdb.org/) is a manually curated database that accumulates data on potassium channel toxins purified from scorpion venom (KTx). This database is an open-access resource, and provides easy access to pages of other databases of interest, such as UniProt, PDB, NCBI Taxonomy Browser, and PubMed. General achievements of Kalium are a strict and easy regulation of KTx classification based on the unified nomenclature supported by researchers in the field, removal of peptides with partial sequence and entries supported by transcriptomic information only, classification of β-family toxins, and addition of a novel λ-family. Molecules presented in the database can be processed by the Clustal Omega server using a one-click option. Molecular masses of mature peptides are calculated and available activity data are compiled for all KTx. We believe that Kalium is not only of high interest to professional toxinologists, but also of general utility to the scientific community.Database URL:http://kaliumdb.org/.

ID:1504

(2015).

Diversity of Potassium Channel Ligands: Focus on Scorpion Toxins.

Biochemistry Mosc.

80 (13)

,

1764–99

[+]

Potassium (K+) channels are a widespread superfamily of integral membrane proteins that mediate selective transport of K+ ions through the cell membrane. They have been found in all living organisms from bacteria to higher multicellular animals, including humans. Not surprisingly, K+ channels bind ligands of different nature, such as metal ions, low molecular mass compounds, venom-derived peptides, and antibodies. Functionally these substances can be K+ channel pore blockers or modulators. Representatives of the first group occlude the channel pore, like a cork in a bottle, while the second group of ligands alters the operation of channels without physically blocking the ion current. A rich source of K+ channel ligands is venom of different animals: snakes, sea anemones, cone snails, bees, spiders, and scorpions. More than a half of the known K+ channel ligands of polypeptide nature are scorpion toxins (KTx), all of which are pore blockers. These compounds have become an indispensable molecular tool for the study of K+ channel structure and function. A recent special interest is the possibility of toxin application as drugs to treat diseases involving K+ channels or related to their dysfunction (channelopathies).

ID:1503
Параллельная эволюция токсинов-модуляторов натриевых каналов у мигаломорфных и аранеоморфных пауков (2016-03-21)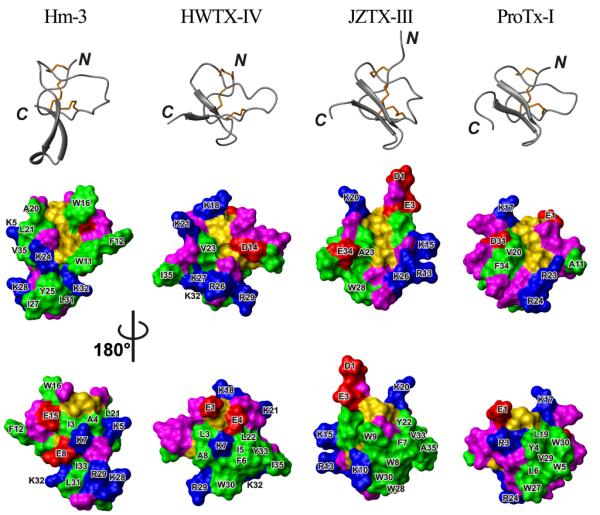 Мы провели детальное структурное и функциональное исследование токсина Hm-3 из яда аранеоморфного паука Heriaeus melloteei. Структура токсина была исследована с помощью ЯМР-спектроскопии, а активность – с помощью электрофизиологии. Оказалось, что подобно многим токсинам мигаломорфных пауков, Hm-3 формирует мотив «цистинового узла», обладает амфифильной структурой, способен связываться с мембранами и ингибирует активацию потенциал-чувствительных натриевых каналов, по-видимому, по механизму «мембранного доступа». Гидрофобные «хребты» на поверхности молекул Hm-3 и токсинов мигаломорфных пауков однако расположены с противоположных сторон. Мы предполагаем параллельную эволюцию ингибиторов активации натриевых каналов у мигаломорфных и аранеоморфных пауков.
Публикации
(2015).

Structure of Membrane-active Toxin from Crab Spider Heriaeus melloteei Suggests Parallel Evolution of Sodium Channel Gating Modifiers in Araneomorphae and Mygalomorphae.

J. Biol. Chem.

290 (1)

,

492–504

[+]

We present a structural and functional study of a sodium channel activation inhibitor from crab spider venom. Hm-3 is an insecticidal peptide toxin consisting of 35 amino acid residues from the spider Heriaeus melloteei (Thomisidae). We produced Hm-3 recombinantly in Escherichia coli and determined its structure by NMR spectroscopy. Typical for spider toxins, Hm-3 was found to adopt the so-called "inhibitor cystine knot" or "knottin" fold stabilized by three disulfide bonds. Its molecule is amphiphilic with a hydrophobic ridge on the surface enriched in aromatic residues and surrounded by positive charges. Correspondingly, Hm-3 binds to both neutral and negatively charged lipid vesicles. Electrophysiological studies showed that at a concentration of 1 μm Hm-3 effectively inhibited a number of mammalian and insect sodium channels. Importantly, Hm-3 shifted the dependence of channel activation to more positive voltages. Moreover, the inhibition was voltage-dependent, and strong depolarizing prepulses attenuated Hm-3 activity. The toxin is therefore concluded to represent the first sodium channel gating modifier from an araneomorph spider and features a "membrane access" mechanism of action. Its amino acid sequence and position of the hydrophobic cluster are notably different from other known gating modifiers from spider venom, all of which are described from mygalomorph species. We hypothesize parallel evolution of inhibitor cystine knot toxins from Araneomorphae and Mygalomorphae suborders.

ID:1138
Разработка интегрального транскриптомного и протеомного подхода для поиска блокаторов калиевых каналов в яде животных (2016-03-21)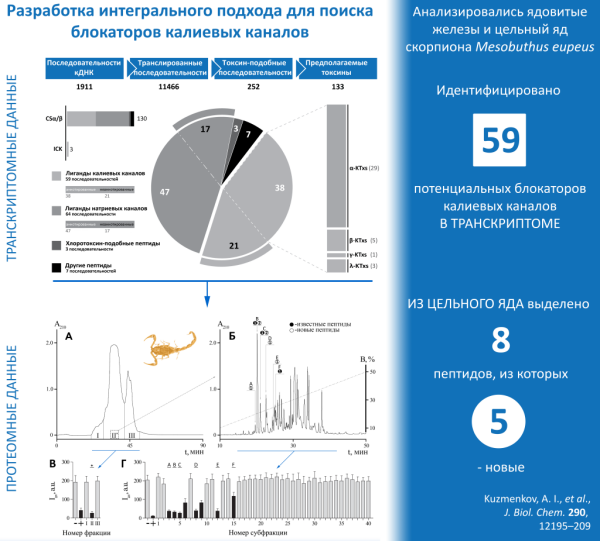 Разработан оригинальный подход поиска новых лигандов калиевых каналов, объединяющий биоинженерную клеточную тест-систему и транскриптомный и протеомный анализ яда животных. С применением этого подхода из яда скорпиона Mesobuthus eupeus были получены восемь высокоаффинных пептидных блокаторов потенциал-зависимого калиевого канала Kv1.1, включая пять новых пептидов. Предложенный подход является универсальным и эффективным инструментом для направленного поиска блокаторов калиевых каналов в природных ядах.
Публикации
(2015).

Variability of Potassium Channel Blockers in Mesobuthus eupeus Scorpion Venom with Focus on Kv1.1: AN INTEGRATED TRANSCRIPTOMIC AND PROTEOMIC STUDY.

J. Biol. Chem.

290 (19)

,

12195–209

[+]

The lesser Asian scorpion Mesobuthus eupeus (Buthidae) is one of the most widely spread and dispersed species of the Mesobuthus genus, and its venom is actively studied. Nevertheless, a considerable amount of active compounds is still under-investigated due to the high complexity of this venom. Here, we report a comprehensive analysis of putative potassium channel toxins (KTxs) from the cDNA library of M. eupeus venom glands, and we compare the deduced KTx structures with peptides purified from the venom. For the transcriptome analysis, we used conventional tools as well as a search for structural motifs characteristic of scorpion venom components in the form of regular expressions. We found 59 candidate KTxs distributed in 30 subfamilies and presenting the cysteine-stabilized α/β and inhibitor cystine knot types of fold. M. eupeus venom was then separated to individual components by multistage chromatography. A facile fluorescent system based on the expression of the KcsA-Kv1.1 hybrid channels in Escherichia coli and utilization of a labeled scorpion toxin was elaborated and applied to follow Kv1.1 pore binding activity during venom separation. As a result, eight high affinity Kv1.1 channel blockers were identified, including five novel peptides, which extend the panel of potential pharmacologically important Kv1 ligands. Activity of the new peptides against rat Kv1.1 channel was confirmed (IC50 in the range of 1-780 nm) by the two-electrode voltage clamp technique using a standard Xenopus oocyte system. Our integrated approach is of general utility and efficiency to mine natural venoms for KTxs.

ID:1310
Предложен удобный «минималистичный» структурный каркас для «скаффолд-инженерии» – проектирования белков с заданной функцией (2015-01-21)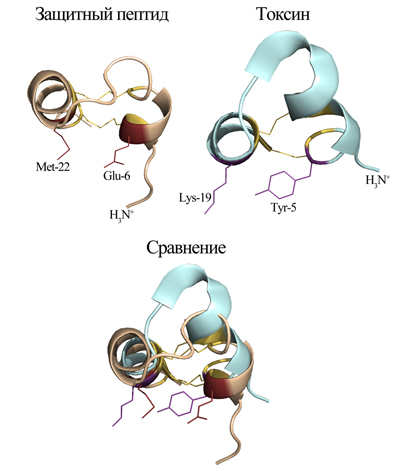 Белковые структуры (типы укладки) различаются по размерам и сложности и, следовательно, по удобству их использования в биоинженерии. Для открытого нами семейства защитных пептидов растений, называемых α-гарпининами, характерна простая укладка. Она состоит из двух коротких α-спиралей, скрепленных двумя дисульфидными мостиками. Подобная структура характерна для некоторых токсинов моллюсков-конусов и скорпионов – ингибиторов калиевых каналов. Мы пересадили функционально важные аминокислотные остатки из токсина в защитный пептид и получили химерную молекулу, полностью воспроизводящую функции токсина. α-Гарпининовая укладка представляется простым и удобным структурным мотивом для белковой инженерии и может быть использована для рационального дизайна лекарственных средств.
Публикации
(2014).

Structural similarity between defense peptide from wheat and scorpion neurotoxin permits rational functional design.

J. Biol. Chem.

289 (20)

,

14331–40

[+]

In this study, we present the spatial structure of the wheat antimicrobial peptide (AMP) Tk-AMP-X2 studied using NMR spectroscopy. This peptide was found to adopt a disulfide-stabilized α-helical hairpin fold and therefore belongs to the α-hairpinin family of plant defense peptides. Based on Tk-AMP-X2 structural similarity to cone snail and scorpion potassium channel blockers, a mutant molecule, Tk-hefu, was engineered by incorporating the functionally important residues from κ-hefutoxin 1 onto the Tk-AMP-X2 scaffold. The designed peptide contained the so-called essential dyad of amino acid residues significant for channel-blocking activity. Electrophysiological studies showed that although the parent peptide Tk-AMP-X2 did not present any activity against potassium channels, Tk-hefu blocked Kv1.3 channels with similar potency (IC50 ∼ 35 μm) to κ-hefutoxin 1 (IC50 ∼ 40 μm). We conclude that α-hairpinins are attractive in their simplicity as structural templates, which may be used for functional engineering and drug design.

ID:1103