The unit was disbanded in 2018.
Laboratory of proteomics
Name
Position
Contacts
Vadim Govorun, academician
head
govorun@hotmail.ru, +7(495)336-07-77
Sergej Grachjov, Ph.D.
s. r. f.
+7(495)330-61-65
Vasilij Kadykov, D.Sc
s. r. f.
vakad@ibch.ru, +7(495)336-19-88
Dmitrij Klinov, Ph.D.
s. r. f.
klinov@ibch.ru, +7(495)336-19-88
Anna Seredina, Ph.D.
j. r. f.
Nikolay Anikanov
PhD stud.
koenzyme@mail.ru
Irina Garanina
PhD stud.
irinagaranina24@gmail.com
Olga Ivanova
PhD stud.
ivolga-msu@mail.ru
Regina Khazigaleeva
PhD stud.
ajregi_12@mail.ru, +7(916)1717582
Elena Pushkova
PhD stud.
Victor Demin, Ph.D.
eng.
vvdem@ibch.ru, +7(495)336-19-88
Nataliya Logvina, Ph.D.
eng.
logvina@genebee.msu.ru

Former members:

Yury Kozmin
s. r. f.
zibotic@mail.ru
Igor Fesenko, Ph.D.
r. f.
argus220@mail.ru
Andrey Knyazev, Ph.D.
r. f.
agrofak@gmail.com
Regina Azarkina
j. r. f.
Viktoria Shender
PhD stud.
shender_vika@mail.ru
Galina Petrova
t. q. - lab. as.
Veronika Manohina
res. eng.
Aleksej Mezin
res. eng.
Alternative splicing shapes transcriptome but not proteome diversity in Physcomitrella patens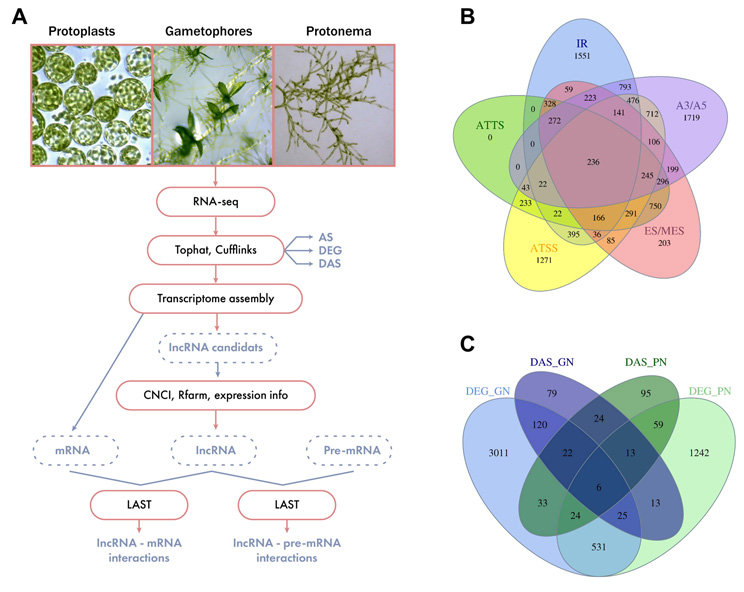 Alternative splicing (AS) can significantly impact the transcriptome and proteome of a eukaryotic cell. We analyzed the extent to which AS contributes to proteome diversity using moss Physcomitrella patens as a model object. We could distinguish a few examples that unambiguously indicated the presence of two or more splice isoforms from the same locus at the proteomic level. Our results indicate that alternative isoforms have a small effect on proteome diversity. We also revealed that mRNAs and pre-mRNAs have thousands of complementary binding sites for long non-coding RNAs (lncRNAs) that may lead to potential interactions in transcriptome. This finding points to an additional level of gene expression and AS regulation by non-coding transcripts in Physcomitrella patens.