Press-room / news / Science news /
FLIM-Based Intracellular and Extracellular pH Measurements Using Genetically Encoded pH Sensor
Determination of the pH value in living cells and tissues is of great importance in physiology and cell biology. Researchers from the Institute of Bioorganic Chemistry, Russian Academy of Sciences, from the Laboratory of Receptor Cell Biology, Laboratory of Molecular Theranostics and the Group of Molecular Physiology, together with colleagues from the I Prokhorov General Physics Institute and Moscow State University, a genetically encoded fluorescent sensor for measuring the pH of the extracellular medium in the slightly alkaline range has been created.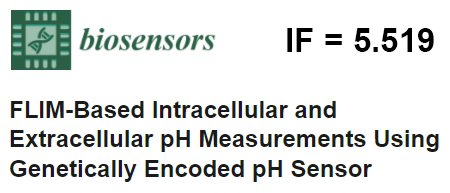 Goryashchenko AS, Pakhomov AA, Ryabova AV, Romanishkin ID, Maksimov EG, Orsa AN, Serova OV, Mozhaev AA, Maksimova MA, Martynov VI, Petrenko AG, Deyev IE
To accomplish this task, a number of chimeric proteins were obtained, which are the previously described pH sensor SypHer3s with different transmembrane domains: from CIRL2, ErBb2, TrkA, IR, and neurexin-1. Among these fusion proteins, only the variant with the transmembrane domain of neurexin-1 was localized on the cell membrane. This protein was named SypHerExtra. It was shown that, upon excitation at 445 nm, the fluorescence lifetime of both SypHer3s and SypHerExtra depends on the pH value. Using the method of fluorescence lifetime imaging microscopy (FLIM) on living tumor cells, it was demonstrated that SypHerExtra can be successfully used to determine extracellular pH, while SypHer3s can be used to measure intracellular pH. Thus, these two sensors are suitable for quantitative measurements of intracellular and extracellular pH in the range from 7.5 to 9.5 in various biological systems using the FLIM method.
The results of this work are published in the journal Biosensors.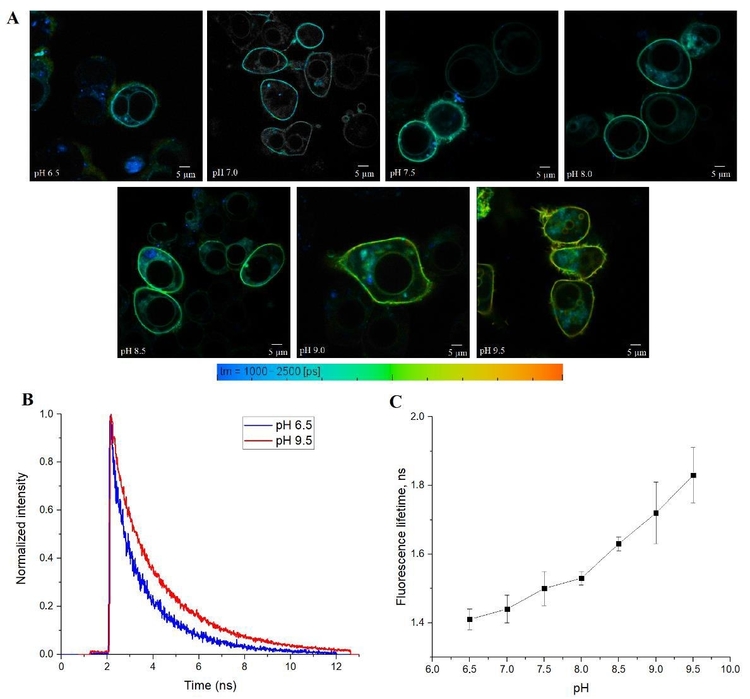 december 14, 2021