Лаборатория биокатализа
Лаборатория биокатализа была основана в ИБХ в 1997 г. В лаборатории развивается два основных проекта, которые идейно вышли из пионерских работ заведующего лабораторией профессора Габибова.
Первая группа под руководством Ивана Смирнова продолжает заниматься классической «абзимологией» (абзимы - антитела, обладающие свойствами ферментов), но уже на качественно новом уровне. Здесь ищется баланс между комбинаторными методами и рациональным дизайном с целью создания белков с заранее заданными свойствами de novo. В последнее время группа активно осваивает микрофлюидные технологии для осуществления многопараметрического скрининга клонов биокатализаторов и вообще клеток.
Вторая группа под руководством Алексея Белогурова изучает молекулярные основы аутоиммунных процессов с уклоном в аутоиммунную нейродегенерацию. В основном, на повестке дня стоит хроническое демиелинизирующее заболевание центральной нервной системы — рассеянный склероз, и в последнее время и нейродегенерация периферической нервной системы — синдром Гийена-Барре. В лаборатории разрабатываются скрининговые технологии, например дрожжевой, фаговый и лентивирусный дисплеи (в этих работах участвует группа Татьяны Бобик).
Ранее в лаборатории были достигнуты значительные успехи в области биотехнологии – экспрессии белков, например, факторов крови, антител в прокариотических системах и в клеточной линии СНО. Огромный вклад в эти исследования внесла профессор Наталья Пономаренко.
Лаборатория имеет широкий круг партнеров, как в Институте, так и за его пределами. Совместно с Лабораторией протеомики изучается рассеянный склероз и синдром Гийена-Барре, ведется работа над созданием иммунотоксинов с Лабораторией инженерии белка и Лабораторией молекулярной иммунологии, ведется изучение ионных каналов в аутореактивных лимфоцитах вместе с Группой молекулярных инструментов для нейробиологии.
Кроме того, Лаборатория сотрудничает с Европейской молекулярно-биологической лабораторией в Гамбурге, с НИИ физико-химической медицины, Центром нанотехнологий РАН, Институтом химической биологии и фундаментальной медицины СО РАН, НТЦ «БиоКлиникум» и НИИ физико-химической биологии им. А.Н. Белозерского МГУ. Лаборатория дружит и с несколькими выдающимися личностями: нобелевскими лауреатами Аароном Чехановером и Сиднеем Альтманом, бывшим президентом Института Скриппса и отцом современной абзимологии Ричардом Лернером и многими другими.
Общие проблемы биокатализа, структурно-функциональные взаимоотношения, определяющие каталитическую эффективность биокатализатора, искусственные ферменты, каталитические антитела-абзимы.
Проблемы индукции каталитической активности молекул суперсемейства иммуноглобулинов.
Антиидиотипические антитела как модель, обеспечивающая передачу функциональной активности белковой молекулы.
Проблемы природной каталитической активности и корреляция каталитической активности антител по отношению к аутоантигенам с глубиной развития патологических процессов.
Молекулярные основы аутоиммунных заболеваний. Роль протеасомы в аутоимунных патологиях ЦНС. Животные модели аутоиммунных процессов. Проблемы направленного элиминирования патологических В-лимфоцитов.
Создание каталитических вакцин, способных разрушать низкомолекулярные токсины, фосфорорганические яды и белки оболочки вирусов, в частности ВИЧ.
Каталитические антитела к биополимерам.
Антитела-протеазы и ДНКазы. Проблемы цитотоксичности аутоантител и механизмы апоптоза (совместно с Лабораторией иммунологии рака Института биологии гена РАН).
Протеазы, индуцируемые при аутоиммунных процессах. Протеазы патогенов (совместно с лабораторией химии ферментов ИБХ РАН). Комбинаторные подходы (в частности фаговый дисплей) для поиска эффективных субстратов протеаз. ДНК-топоизомеразы и механизмы взаимодействия с противораковыми препаратами. Механизмы действия эстераз.
Биотехнологические исследования (совместно с лабораторией биотехнологии ИБХ РАН): создание лекарственных препаратов на основе рекомбинантных белков, экспрессируемых в про- и эукариотических системах. Получение пролонгированных лекарственных средств с помощью полисиалирования, получение комбинированных ДНК-белковых вакцин.
Высказано предположение о наличии «природной каталитической активности» антител по отношению к аутоантигенам при патологических процессах в организме человека и у модельных животных.
Открыты природные ДНК-абзимы. Показаны цитотоксические эффекты этих антител. Установлен молекулярный механизм их действия на уровне 3D. Показано, что каталитические антитела могут быть получены как антиидиотипические антитела к ферментам.
Получена искусственная протеаза и ацетилхолинэстераза (совместно с технологическим университетом —  г. Компьень, Франция). Продемонстрировано ее специфическое взаимодействие с аналогами фосфорорганических отравляющих веществ.
Установлен механизм действия, получены кристаллы и разрешена трехмерная структура первого каталитического антитела, взаимодействующего с аналогами фосфорорганических отравляющих веществ. Показана ДНК-гидролизующая активность этого антитела и установлен механизм его действия.
Найден способ получения эпитоп-специфические каталитических антител-протеаз.
Получены антитела, специфически разрезающие поверхностный белок оболочки ВИЧ, gp120. Обнаружена сайт-специфическая деградация основного белка миелина под действием аутоантител, выделенных из сывороток крови больных рассеянным склерозом и модельных животных, развивающих ЕАЕ (экспериментальный аутоиммунный энцефаломиелит) и продемонстрирован диагностический и прогностический потенциал этого эффекта.
Установлена роль убиквитин-независимого протеолиза основного белка миелина в развитии нейродегенеративных патологий ЦНС.
Впервые предложен метод оптической детекции ДНК-топоизомеразной реакции. Установлен кинетический механизм ДНК-топоизомераз.
С помощью методов предстационарной кинетики установлен механизм действия летального фактора сибирской язвы.
Совместно с лабораторией биотехнологии ИБХ РАН получен отечественный препарат «Растан» (рекомбинантный гормон роста человека), колониестимулирующий фактор, рекомбинантный фактор свертывания крови VII.
Ф.И.О.
Должность
Контакты
Габибов Александр Габибович, академик
рук. подр.
gabibov@mx.ibch.ru, +7(495)727-38-60, +7(495)995-55-57#3860
Северин Евгений Сергеевич, чл.-корр. РАН
в.н.с.
e.severin@mail.ru
Тоневицкий Александр Григорьевич, чл.-корр. РАН
в.н.с.
tonevitsky@mail.ru
Донцова Ольга Анатольевна, академик
с.н.с.
olga.a.dontsova@gmail.com
Белогуров Алексей Анатольевич, к. х. н.
с.н.с.
belogurov@mx.ibch.ru, +7(495)7273860
Смирнов Иван Витальевич, д. х. н.
с.н.с.
ivansmr@inbox.ru, +7(926)7397865
Воробьев Иван Иванович, к. х. н.
н.с.
ptichman@gmail.com, +7(495)429-82-69
Кнорре Вера Дмитриевна, к. х. н.
н.с.
vera.knorre@gmail.com, +7(495)7273860
Костин Никита Николаевич
н.с.
nkostin1@gmail.com
Курбацкая Инна Николаевна
н.с.
Терехов Станислав Сергеевич
н.с.
Степанова Анастасия Валерьевна
н.с.
avkaznacheeva@gmail.com
Степанов Алексей Вячеславович, к. б. н.
н.с.
stepanov.aleksei.v@gmail.com
Ломакин Яков Анатольевич, к. б. н.
н.с.
yasha.l@bk.ru
Бобик Татьяна Владимировна, к. х. н.
н.с.
bobik_tanya@mail.ru
Кудряева Анна Анатольевна
н.с.
anna.kudriaeva@gmail.com, +7()
Калинин Роман Сергеевич
асп.
romelfork@gmail.com, +7(969)3470093
Васькина Марина Ивановна
асп.
marinavaskina04@gmail.com
Назаров Антон Сергеевич
асп.
nazarov.ngu@gmail.com
Пантелеев Сергей Владимирович
асп.
pandelion@mail.ru
Попов Роман Юрьевич
асп.
poprom@outlook.com
Гайнова Кристина Михайловна
тех.-лаб.
Хаврошечкина Екатерина Викторовна
тех.-лаб.
Дуброво Сергей Павлович
тех.-лаб.
Мокрушина Юлиана Анатольевна
инженер
Овчинникова Лейла Александровна
инженер
Мамедов Азад Энверович
инженер
bioaz12@gmail.com
Головин Андрей Викторович
инженер

Ранее здесь работали:

Пономаренко Наталья Александровна, д. б. н.
в.н.с.
Колесников Александр Владимирович, к. б. н.
с.н.с.
Кузина Екатерина Сергеевна
н.с.
kat.kuzina@gmail.com
Захарова Мария Юрьевна, к. б. н.
н.с.
zakharova@ibch.ru
Дронина Мария Алексеевна, к. б. н.
н.с.
mdronina@mail.ru
Дубилей Светлана Алексеевна, к. б. н.
н.с.
Дурова Оксана Михайловна
н.с.
Козырь Арина Владимировна, к. б. н.
н.с.
Орлова Надежда , к. б. н.
н.с.
nobiol@gmail.com
Илюшин Денис Григорьевич
н.с.
IlyushinDenis@gmail.com
Каминская Алена Николаевна
н.с.
Габибов Александр Габибович
Помощник
Кнорре Вера Дмитриевна
Создана платформа для ультравысокопроизводительного скрининга биокаталитической активности в каплях двойной микрофлюидной эмульсии. (2017-11-27)

Создана платформа для ультравысокопроизводительного скрининга биокаталитической активности в каплях двойной микрофлюидной эмульсии. Высокая селективность и чувствительность платформы позволили детектировать различные типы активности, а также дискриминировать уровни одинаковой активности. Универсальность и работоспособность предложенного подхода была с успехом продемонстрирована на примере естественной библиотеки микроорганизмов способных ингибировать рост известной бактерии-патогена Staphylococcus aureus (Terekhov et al., PNAS, 2017).
Публикации
(2017).

Microfluidic droplet platform for ultrahigh-throughput single-cell screening of biodiversity.

Proc. Natl. Acad. Sci. U.S.A.

114 (10)

,

2550–2555

[+]

Ultrahigh-throughput screening (uHTS) techniques can identify unique functionality from millions of variants. To mimic the natural selection mechanisms that occur by compartmentalization in vivo, we developed a technique based on single-cell encapsulation in droplets of a monodisperse microfluidic double water-in-oil-in-water emulsion (MDE). Biocompatible MDE enables in-droplet cultivation of different living species. The combination of droplet-generating machinery with FACS followed by next-generation sequencing and liquid chromatography-mass spectrometry analysis of the secretomes of encapsulated organisms yielded detailed genotype/phenotype descriptions. This platform was probed with uHTS for biocatalysts anchored to yeast with enrichment close to the theoretically calculated limit and cell-to-cell interactions. MDE-FACS allowed the identification of human butyrylcholinesterase mutants that undergo self-reactivation after inhibition by the organophosphorus agent paraoxon. The versatility of the platform allowed the identification of bacteria, including slow-growing oral microbiota species that suppress the growth of a common pathogen, Staphylococcus aureus, and predicted which genera were associated with inhibitory activity.

ID:1962
Гипотеза молекулярной мимикрии как одного из вариантов развития рассеянного склероза (2017-11-27)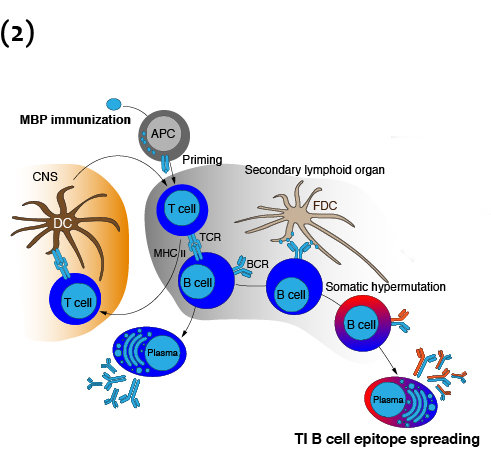 Экспериментально подтверждена гипотеза молекулярной мимикрии как одного из вариантов развития рассеянного склероза. Доказана возможность индукции миелин-реактивных антител путем введения вирусного антигена in vivo (Lomakin et al., Front. Immunol., 2017).
Публикации
(2017).

Exposure to the Epstein-Barr Viral Antigen Latent Membrane Protein 1 Induces Myelin-Reactive Antibodies In Vivo.

Front Immunol

8

,

777

[+]

Multiple sclerosis (MS) is an autoimmune chronic inflammatory disease of the central nervous system (CNS). Cross-reactivity of neuronal proteins with exogenous antigens is considered one of the possible mechanisms of MS triggering. Previously, we showed that monoclonal myelin basic protein (MBP)-specific antibodies from MS patients cross-react with Epstein-Barr virus (EBV) latent membrane protein 1 (LMP1). In this study, we report that exposure of mice to LMP1 results in induction of myelin-reactive autoantibodies in vivo. We posit that chronic exposure or multiple acute exposures to viral antigen may redirect B cells from production of antiviral antibodies to antibodies, specific to myelin antigen. However, even in inbred animals, which are almost identical in terms of their genomes, such an effect is only observed in 20-50% of animals, indicating that this change occurs by chance, rather than systematically. Cross-immunoprecipitation analysis showed that only part of anti-MBP antibodies from LMP1-immunized mice might simultaneously bind LMP1. In contrast, the majority of anti-LMP1 antibodies from MBP-immunized mice bind MBP. De novo sequencing of anti-LMP1 and anti-MBP antibodies by mass spectrometry demonstrated enhanced clonal diversity in LMP1-immunized mice in comparison with MBP-immunized mice. We suggest that induction of MBP-reactive antibodies in LMP1-immunized mice may be caused by either Follicular dendritic cells (FDCs) or by T cells that are primed by myelin antigens directly in CNS. Our findings help to elucidate the still enigmatic link between EBV infection and MS development, suggesting that myelin-reactive antibodies raised as a response toward EBV protein LMP1 are not truly cross-reactive but are primarily caused by epitope spreading.

ID:1870
Подходы к индукции толерантности инкапсулированными фрагментами аутоантигенов (2017-11-27)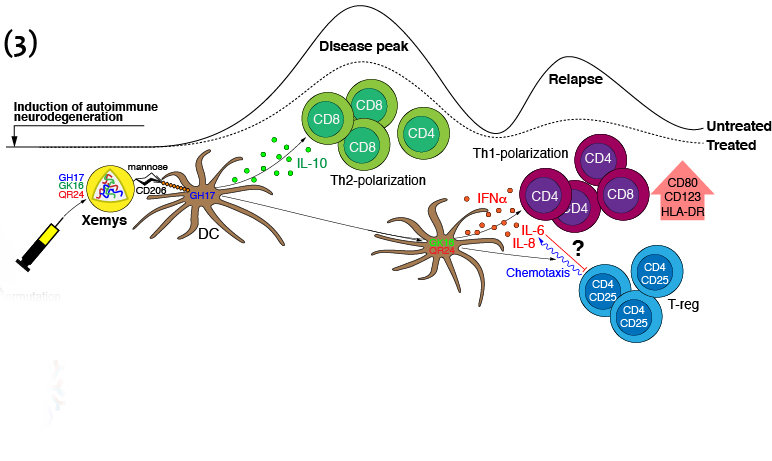 Разработаны подходы к индукции толерантности инкапсулированными фрагментами аутоантигенов. Предложенный на их основе препарат Ксемис успешно прошел I и II фазы клинических испытаний с имеющимся одобренным синопсисом на фазу III. Показан молекулярный механизм его действия, включающий в себя двухфазное подавление аутоиммунной нейродегенрации, опосредованное выбросом противовоспалительных цитокинов на первом этапе и индукции регуляторных Т-клеток на втором (Ivanova et al., Front.Immunol., 2017).
Публикации
(2017).

Divergent Immunomodulation Capacity of Individual Myelin Peptides-Components of Liposomal Therapeutic against Multiple Sclerosis.

Front Immunol

8

,

1335

[+]

Multiple sclerosis (MS) is an autoimmune disease characterized by demyelination and consequent neuron injury. Although the pathogenesis of MS is largely unknown, a breach in immune self-tolerance to myelin followed by development of autoreactive encephalitogenic T cells is suggested to play the central role. The myelin basic protein (MBP) is believed to be one of the main targets for autoreactive lymphocytes. Recently, immunodominant MBP peptides encapsulated into the mannosylated liposomes, referred as Xemys, were shown to suppress development of experimental autoimmune encephalomyelitis, a rodent model of MS, and furthermore passed the initial stage of clinical trials. Here, we investigated the role of individual polypeptide components [MBP peptides 46-62 (GH17), 124-139 (GK16), and 147-170 (QR24)] of this liposomal peptide therapeutic in cytokine release and activation of immune cells from MS patients and healthy donors. The overall effects were assessed using peripheral blood mononuclear cells (PBMCs), whereas alterations in antigen-presenting capacities were studied utilizing plasmacytoid dendritic cells (pDCs). Among three MBP-immunodominant peptides, QR24 and GK16 activated leukocytes, while GH17 was characterized by an immunosuppressive effect. Peptides QR24 and GK16 upregulated CD4 over CD8 T cells and induced proliferation of CD25(+) cells, whereas GH17 decreased the CD4/CD8 T cell ratio and had limited effects on CD25(+) T cells. Accordingly, components of liposomal peptide therapeutic differed in upregulation of cytokines upon addition to PBMCs and pDCs. Peptide QR24 was evidently more effective in upregulation of pro-inflammatory cytokines, whereas GH17 significantly increased production of IL-10 through treated cells. Altogether, these data suggest a complexity of action of the liposomal peptide therapeutic that does not seem to involve simple helper T cells (Th)-shift but rather the rebalancing of the immune system.

ID:1959
The QM-maturation scheme (2016-11-15)
Селекция in vitro антител из широких репертуаров с использованием комбинаторных библиотек является мощным инструментом для поиска специфических центров связывания и катализа. Впервые предложено  применить алгоритмы для виртуального отбора наиболее эффективных иммуноглобулинов, обладающих каталитической функцией. Для этого были применены QM/MM расчеты реакций деградации антигенов, после чего параметры этих реакций были использованы для выработки критериев виртуального скрининга.
проведена вторая фаза клинических испытаний препарата Xemys для лечения рассеянного склероза (2016-11-15)
•Проведена вторая фаза клинических испытаний инкапсулированных  пептидов, фрагментов основного белка миелина для лечения рассеянного склероз Введение этих пептидов инкапсулированных в монозилированные липосомы нормализовало уровень сывороточного TNF-alpha и IL-2 и хемоаттрактантов CCL2 и CCl4 у пациентов с диагнозом рассеянного склероза. Препарат по всей видимости может иметь перспективу использования в случае неудач в применении препаратов первой линии