Лаборатория биомолекулярной ЯМР-спектроскопии
Лаборатория исследует структуру белков и пептидов. Для этого используют один из важнейших современных методов – спектроскопию ядерного магнитного резонанса (ЯМР).
Сотрудники лаборатории занимаются исследованиями мембранных белков, таких, как рецепторные nирозинкиназы, ионные каналы, toll-подобные рецепторы, предшественник бета-амилоида, GPCR-ы и другие. Ведутся работы по изучению свойств природных люцеферинов, механизмов действия блокаторов болевых рецепторов, вирусных белков, необходимых для заражения клетки, а также механизмов лиганд-рецепторных взаимодействий.
Большая часть исследований напрямую связана с практическими вопросами: поиском противораковых мишеней, причин возникновения болезни Альцгеймера, созданием эффективных болеутоляющих, специфичных диагностических систем и др.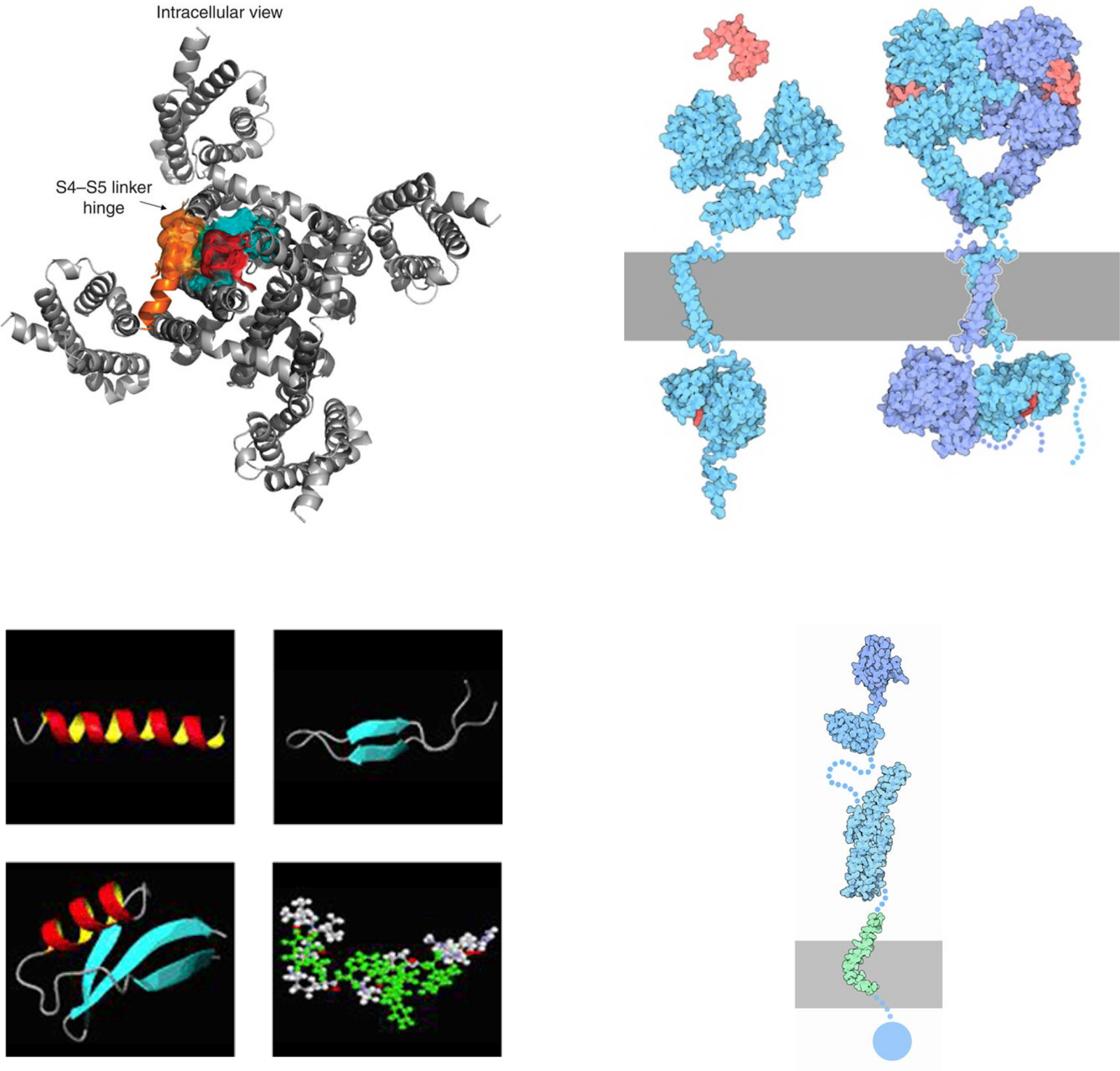 В распоряжении лаборатории находятся самые современные приборы фирмы Bruker: 600, 700 и 800 MHz, оборудованные криодатчиками, имеется твердотельный датчик с вращением под «магическим» углом.  Кроме того, в лаборатории есть необходимое оборудование и технологии для бактериального и бесклеточного синтеза рекомбинантных белков и их физико-химической характеризации. На их основе были разработаны методы получения изотопно-меченых и селективно-меченых белков.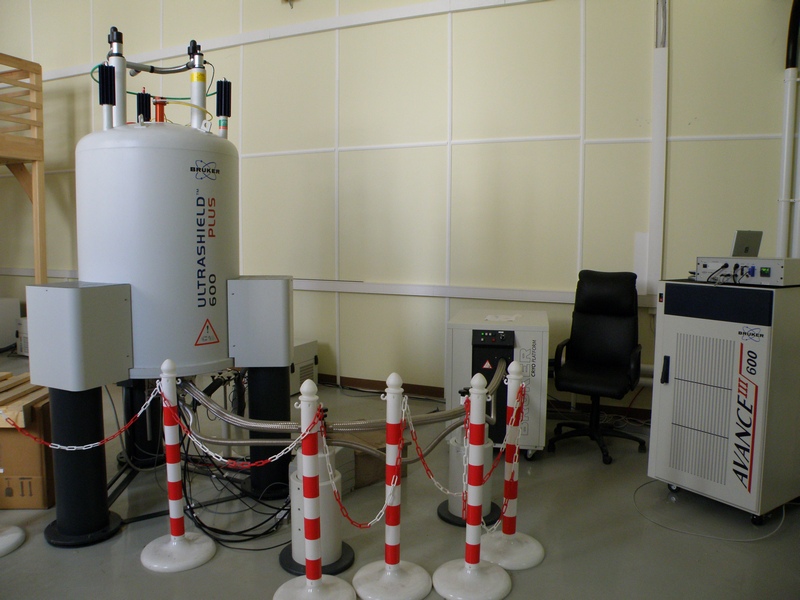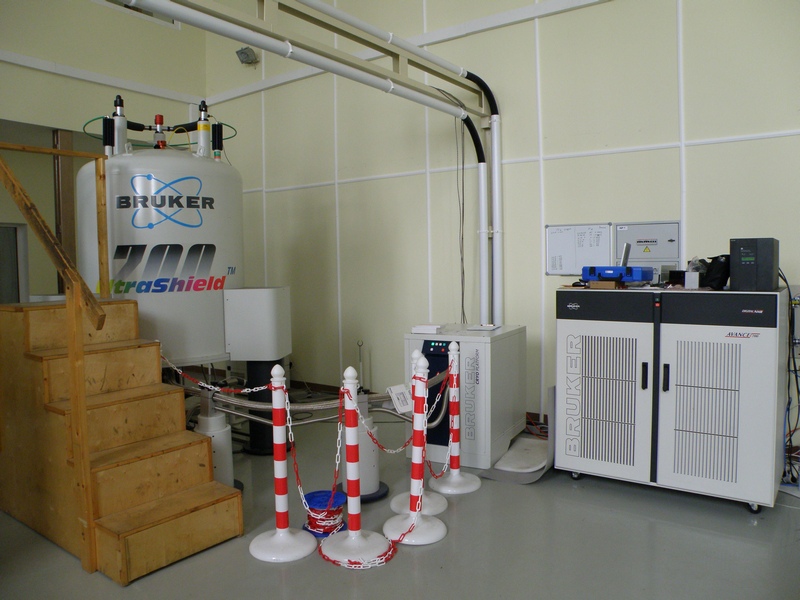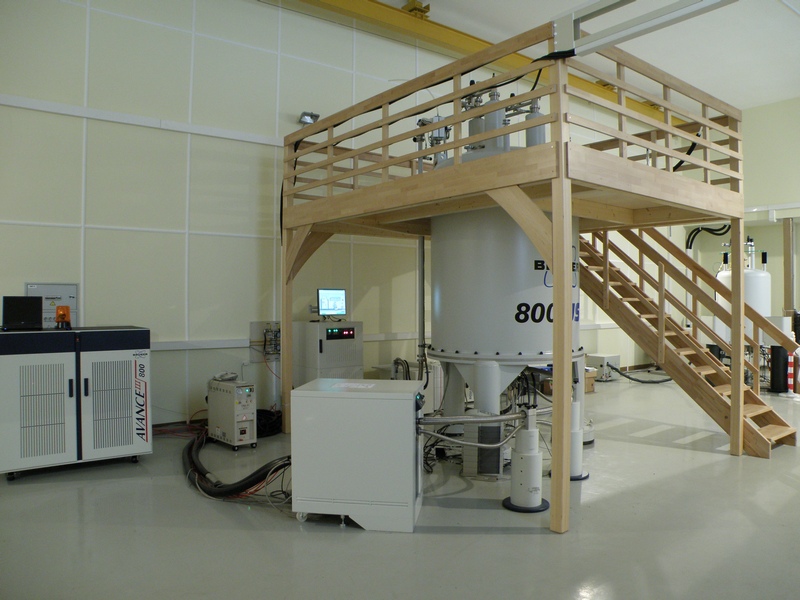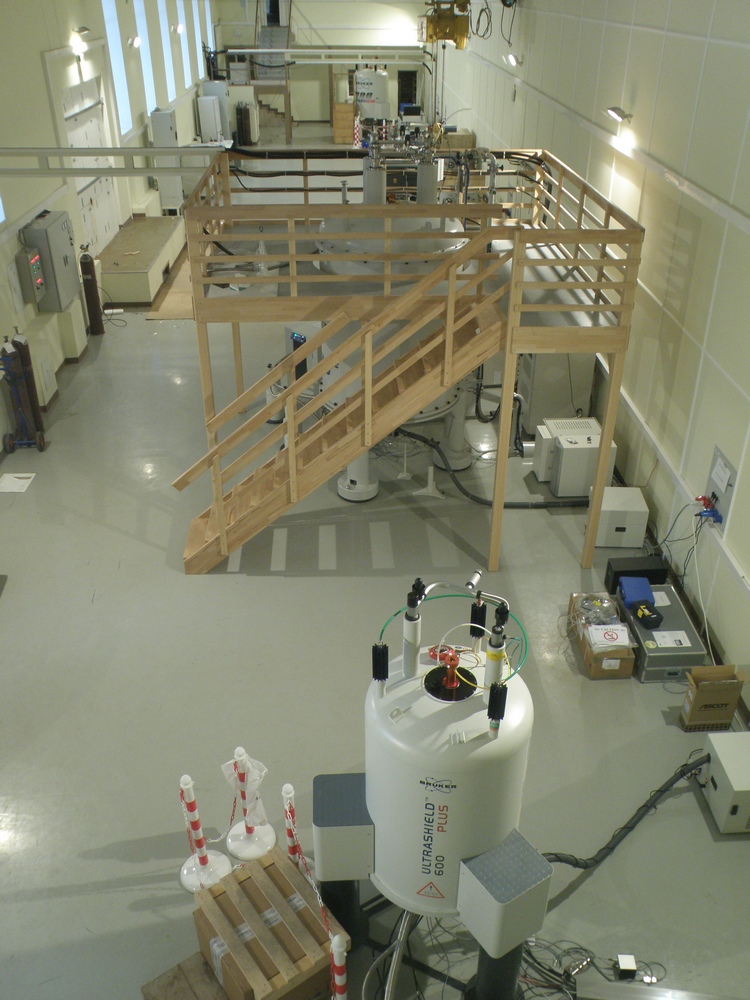 Все это позволяет успешно решать сложнейшие задачи на грани и за гранью возможностей современной структурной биологии.
Оборудование лаборатории является частью центра коллективного пользования ИБХ РАН, поэтому существует возможность выполнить анализ образцов высокой сложности методами ЯМР-спектроскопии на коммерческой основе.
Лаборатория имеет богатую историю. В 1965 году ее основал Владимир Федорович Быстров, член-корреспондент Академии наук СССР. Он одним из первых в мире начал заниматься структурными исследованиями белков и пептидов в растворе методом ЯМР-спектроскопии и создал крупнейшую в Советском Союзе научную школу. В 1990 г. лабораторию возглавил его ученик, профессор Александр Сергеевич Арсеньев.
По сей день лаборатория продолжает начинания Быстрова и является одной из ведущих мировых школ ЯМР в мире. Каждый год она выпускает новых высококвалифицированных специалистов и кандидатов наук, способных решать самые сложные задачи с использованием ЯМР-спектроскопии.
За долгие годы работы у лаборатории появилось множество друзей и партнеров. Среди них – лаборатория нобелевского лауреата Курта Вютриха, одна из сильнейших в мире ЯМР-лабораторий профессора Герхарда Вагнера, вторая по величине в мире фармацевтическая компания «Новартис» и другие.
Сегодня наша лаборатория – это очень дружный коллектив, который ставит перед собой самые амбициозные задачи и готов на любое интересное сотрудничество!
I. Биологические исследования
Установление структуры биомолекул в контексте присущих им взаимодействий:
Пептиды защитной системы растений: гевеин-подобные и их взаимодействия с гликополимерами клеточной стенки грибов (хитином), липид-переносящий белок и его взаимодействие с фосфолипидами, ингибиторы трипсина и других протеаз
Гомо- и гетеродимеразиция трансмембранных спиралей битопных мембранных белков (рецепторы тирозинкиназ)
G-белок сопряжённые рецепторы
Пептидные антибиотики и изучение механизма их действия
Структура и межмолекулярные взаимодействия трансмембранных фрагментов "amyloid precursor protein" (APP), участвующего в развитии болезни Альцгеймера
Мембраноактивные пептиды (токсины из яда змей, насекомых, фрагменты вирусных белков и др.) и их взаимодействия с биологическими мембранами.
II. Методические разработки для ЯМР- и ЭПР-спектроскопии биомолекул
Разработка методов получения изотопно-меченых мембранных пептидов и белков
Разработка новых мембрано-моделирующих сред для исследования мембранных белков;
Программное обеспечение для анализа:
Гетероядерных (13C,15N) ЯМР-данных белков и пептидов
Диффузии макромолекул, формы линии 31Р-ЯМР (2Н-ЯМР) широких линий фосфолипидных дисперсий
Декомпозиции двухкомпонентных спектров ЭПР.
Первым весомым вкладом в копилку мирового опыта исследования структуры пептидов и белков методом ЯМР стала работа коолектива под руководством В.Ф. Быстрова,  устанавливающая взаимосвязь между константой спин-спинового взаимодействия протонов H-NCa-H и двугранным углом Q (Tetrahedron, 1973). Найденная зависимость получила название: уравнение Быстрова.
Исследования не ограничивались пептидами и белками. Прорыв был сделан и в мембранологии. Владимир Федорович  совместно с  лабораторией химии липидов ИБХ (руководитель –  член-корреспондент АН СССР Бергельсон Л.Д.) нашёл способ измерения проницаемости фосфолипдных мембран с помощью дифференции их внешних и внутренних поверхностей с использованием парамагнитных ионов (Chemistry and Physics Lipids, 1971).
После отработки методологии последовательного отнесения сигналов в спектрах ЯМР, сконцентрированной в Швейцарии, в лаборатории проф. К. Вютриха, в которой принимал участие стажировавшийся там А.С. Арсеньев, несомненным успехом лаборатории Быстрова стали биологические приложения метода ЯМР.  
В 1985 установили детальную пространственную структуру грамицидинового канала в комплексе с одновалентными катионами, выяснили механизм блокирования канала двухвалентными катионами, установили взаимосвязь дисперсности ионной проводимости и внутримолекулярной динамики, механизм открывания и закрывания канала. Работа, посвящённая структуре грамицидоновго канала (FEBS Letters, 1985), до сих пор является одной из самых цитируемых работ лаборатории.
С тех пор "димерная" тема стала визитной карточкой Лаборатории. Как оказалось, многие биологические процессы сопровождаются димеризацией задействованных в них молекул полипептидов. В частности, именно димеризацией транс-мембранных доменов тирозинкиназных рецепторов сопровождается их активация (см. обзор, посвящённый этому направлению (Cell Adhesion and Migration, 2010)), нарушение димеризации транс-мембранного домена белка АРР отвечает за развитие болезни Альцгеймера человека (FEBS Letters, 2012), формирование транс-мембранных бета-шпилечных димеров ареницином лежит в основе антимикробной активности этого пептида (Biochemistry, 2011).
В настоящее время лаборатория располагает собственной базой для получения изотопно-меченых рекомбинантных белков генно-инженерными методами, современными ЯМР-спектрометрами и программным обеспечением для обработки и анализа получаемых спектров. Например, несомненным авторитетом среди ЯМР-спектроскопистов пользуется программа DASHA для анализа релаксационных данных биомолекул, разработанная под руководством проф. А.С. Арсеньева (Applied Magnetic Resonance. 1995). Постоянный приток молодых сотрудников в лабораторию и её популярность среди студентов МФТИ позволяют надеяться, что список достижений лаборатории будет пополняться.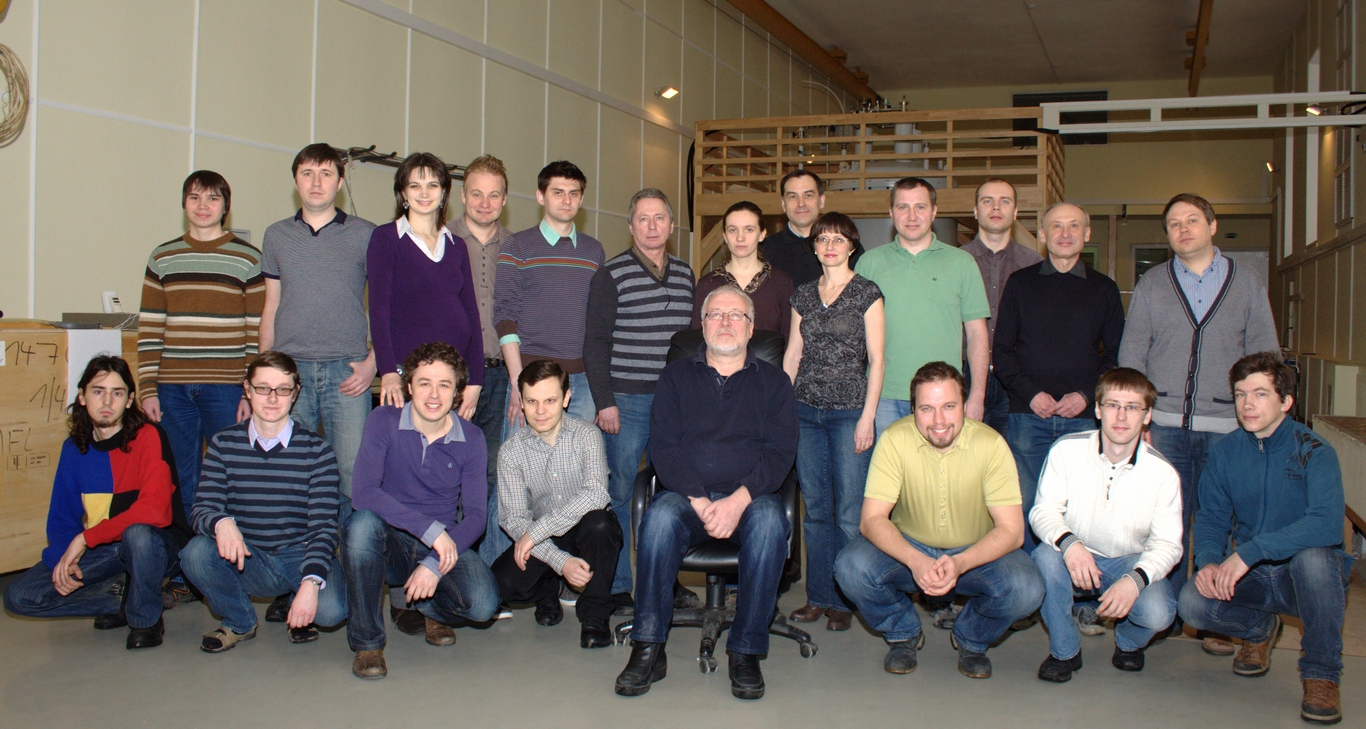 Ф.И.О.
Должность
Контакты
Арсеньев Александр Сергеевич, д. х. н., профессор
рук. подр.
aars@nmr.ru, +7(495)330-59-29
Бочарова Ольга Владимировна, к. м. н.
с.н.с.
o.bocharova@gmail.com, +7(495)335-27-33#127
Бочаров Эдуард Валерьевич, к. х. н.
с.н.с.
bon@nmr.ru, +7(495)330-74-83#113
Минеев Константин Сергеевич, к. ф.-м. н.
с.н.с.
mineev@nmr.ru, +7(495)330-74-83#116
Лесовой Дмитрий Михайлович, к. ф.-м. н.
н.с.
dima_l@nmr.ru, +7(495)330-74-83#154
Дубинный Максим Анатольевич, к. ф.-м. н.
н.с.
maxim@nmr.ru, +7(495)335-27-33#114
Гончарук Марина Валерьевна, к. б. н.
н.с.
m.s.goncharuk@gmail.com, +7(495)335-27-33#127, +7(495)330-74-83#127
Гончарук Сергей Александрович, к. б. н.
н.с.
ms.goncharuk@gmail.com, +7(495)335-27-33#127, +7(495)330-74-83#127
Надеждин Кирилл Дмитриевич, к. ф.-м. н.
н.с.
kirill@nmr.ru, +7(495)330-74-83#113
Нольде Светлана Борисовна
м.н.с.
sveta@nmr.ru, +7(495)330-74-83#159
Урбан Анатолий Сергеевич
м.н.с.
anatoly.urban@gmail.com
Кот Эрик Федорович
тех.-лаб.
Лушпа Владислав Александрович
тех.-лаб.
Брагин Павел Евгеньевич
инженер
bragin@nmr.ru
Артемьева Лилия Евгеньевна
инж.-иссл.
Абдулазизова Алина Ражидиновна
инж.-иссл.
alina-ab55@yandex.ru, +7(925)0619107

Ранее здесь работали:

Чупин Владимир Викторович, д. х. н., профессор
в.н.с.
vvchupin@gmail.com
Шенкарёв Захар Олегович, д. ф.-м. н.
с.н.с.
zakhar-shenkarev@yandex.ru
Балашова Тамара Андреевна, к. х. н.
с.н.с.
taba@nmr.ru
Масленников Иннокентий Вячеславович, к. ф.-м. н.
с.н.с.
maslennikov@salk.edu
Дубовский Пётр Викторович, к. х. н.
н.с.
peter@nmr.ru
Парамонов Александр Сергеевич, к. ф.-м. н.
н.с.
apar@nmr.ru
Пустовалова Юлия Евгеньевна, к. ф.-м. н.
м.н.с.
jul@nmr.ru
Кузьмичёв Павел Константинович
м.н.с.
ibch.fizteh@gmail.com
Трунов Кирилл Игоревич
асп.
kirill.trunov@gmail.com
Петрова Галина Фёдоровна
тех.-лаб.
Сливинский Владимир Александрович
инженер
sva@nmr.ru
Мышкин Михаил Юрьевич
инж.-иссл.
mikhail.myshkin@phystech.edu
Арсеньев Александр Сергеевич
Москва, ул. Миклухо-Маклая, 16/10 — На карте
ИБХ РАН, корп. 33, комн. 129
Тел.: +7(495)330-59-29
Эл. почта: aars@nmr.ru
Альтернативная димеризация ТМ домена рецептора EGFR и белок-липид опосредованный механизм активации РТК (2016-11-18)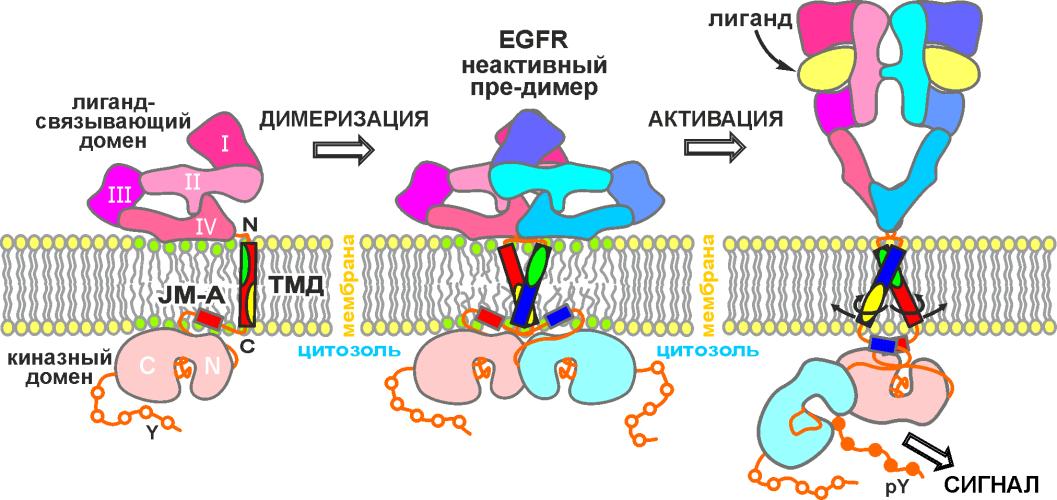 Рецептор эпидермального фактора роста EGFR, как представитель HER/ErbB семейства рецепторных тирозинкиназ (РТК), играет ведущую роль в процессах пролиферации и дифференциации клеток в норме и при патологиях организма человека. С помощью ЯМР-спектроскопии высокого разрешения мы показали, что смена мембранноподобного окружения приводит к альтернативной димеризации  трансмембранного  домена EGFR. Из сопоставления результатов исследования с литературными данными для лиганд-связывающих, примембранных и киназных доменов предложен новый механизм аллостерической передачи сигнала РТК через мембрану клетки посредством согласованных белок-липидного и белок-белковых взаимодействий, объясняющий ряд парадоксов, наблюдаемых при активации EGFR  и других РТК. 
Публикации
(2016).

Alternative packing of EGFR transmembrane domain suggests that protein-lipid interactions underlie signal conduction across membrane.

Biochim. Biophys. Acta

1858 (6)

,

1254–61

[+]

The human epidermal growth factor receptor (EGFR) of HER/ErbB receptor tyrosine kinase family mediates a broad spectrum of cellular responses transducing biochemical signals via lateral dimerization in plasma membrane, while inactive receptors can exist in both monomeric and dimeric forms. Recently, the dimeric conformation of the helical single-span transmembrane domains of HER/ErbB employing the relatively polar N-terminal motifs in a fashion permitting proper kinase activation was experimentally determined. Here we describe the EGFR transmembrane domain dimerization via an alternative weakly polar C-terminal motif A(661)xxxG(665) presumably corresponding to the inactive receptor state. During association, the EGFR transmembrane helices undergo a structural adjustment with adaptation of inter-molecular polar and hydrophobic interactions depending upon the surrounding membrane properties that directly affect the transmembrane helix packing. This might imply that signal transduction through membrane and allosteric regulation are inclusively mediated by coupled protein-protein and protein-lipid interactions, elucidating paradoxically loose linkage between ligand binding and kinase activation.

ID:1596

(2016).

Cell Free Expression and Purification of the Fragments of the Receptor Tyrosine Kynases of the EGFR Family, Containing the Transmembrane Domain with the Juxtamembrane Region, for Structural Studies.

BIOLOGICHESKIE MEMBRANY

33 (2)

,

124–132

[+]

The EGFR/HER receptor family of an epidermal growth factor represents an important class of the receptor tyrosine kinases playing the key role in the control of cell growth and differentiation in mammalian cells, as well as in the development of a number of pathological processes, including oncogenesis. Binding of a ligand to the extracellular domains initiates switching of the EGFR/HER receptor between the alternative dimeric states that causes the allosteric activation of kinase domains in cell cytoplasm. The transmembrane (TM) domain and adjacent flexible regions alternatively interacting with either membrane surface or kinase domains are directly involved in the complex conformational transition in EGFR/HERs. Here we report on a highly efficient system of the cell free production of the EGFR/HER TM domains with functionally important juxtamembrane (JM) regions for the investigation of the molecular basis of biochemical signal transduction across the cell membrane. To increase the efficiency of synthesis of the EGFR/HER TM-JM fragments of the receptors, we used two N-terminal expression tags, which significantly increased the protein yield. In the case of the TM-JM fragments of EGFR (residues 638–692) and HER2 (residues 644–700), the method allowed us to obtain milligram quantities of the 13C,15N-labeled protein for structural and biophysical investigations in the membrane-mimicking environments using high-resolution heteronuclear NMR spectroscopy.

ID:1622
Исследована пространственная структура и подвижность связки трансмембранного и цитоплазматического доменов рецептора нейротрофинов р75 (2016-03-28)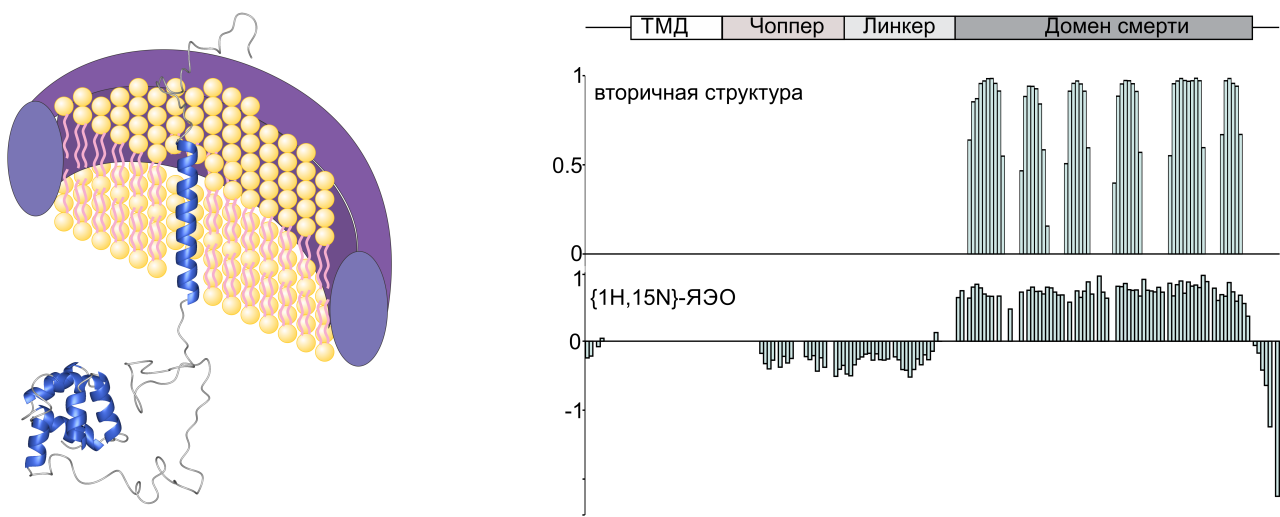 Рецептор нейротрофина р75 является важнейшим участником регуляции клеточного цикла нейронов, его дисфункция может приводить к нейродегенеративным заболеваниям. Для понимания молекулярных механизмов функционирования сигнальной системы р75 в 2015 году было проведено исследование структурной организации и внутримолекулярной подвижности связки трансмембранного и цитоплазматического доменов р75 (р75-ТМД-ЦПД) в различных мембраноподобных средах. Были разработаны протоколы продукции, ренатурации и очистки белка, после чего р75-ТМД-ЦПД был встроен в липид-белковые нанодиски различного размера и состава, структура белка была исследована методом гетероядерной ЯМР-спектроскопии высокого разрешения. Было показано, что глобулярный «домен смерти» р75 соединён с трансмембранным доменом гибким неупорядоченным линкерным участком, движения «домена смерти» и трансмембранного домена никак не взаимосвязаны. На основании полученных данных предложены различные варианты механизмов активации р75.
Публикации
(2015).

NMR Dynamics of Transmembrane and Intracellular Domains of p75NTR in Lipid-Protein Nanodiscs.

Biophys. J.

109 (4)

,

772–82

[+]

P75NTR is a type I integral membrane protein that plays a key role in neurotrophin signaling. However, structural data for the receptor in various functional states are sparse and controversial. In this work, we studied the spatial structure and mobility of the transmembrane and intracellular parts of p75NTR, incorporated into lipid-protein nanodiscs of various sizes and compositions, by solution NMR spectroscopy. Our data reveal a high level of flexibility and disorder in the juxtamembrane chopper domain of p75NTR, which results in the motions of the receptor death domain being uncoupled from the motions of the transmembrane helix. Moreover, none of the intracellular domains of p75NTR demonstrated a propensity to interact with the membrane or to self-associate under the experimental conditions. The obtained data are discussed in the context of the receptor activation mechanism.

ID:1312
Структурно-функциональное исследование трансмембранного домена рецептора VEGFR-2 (2015-01-05)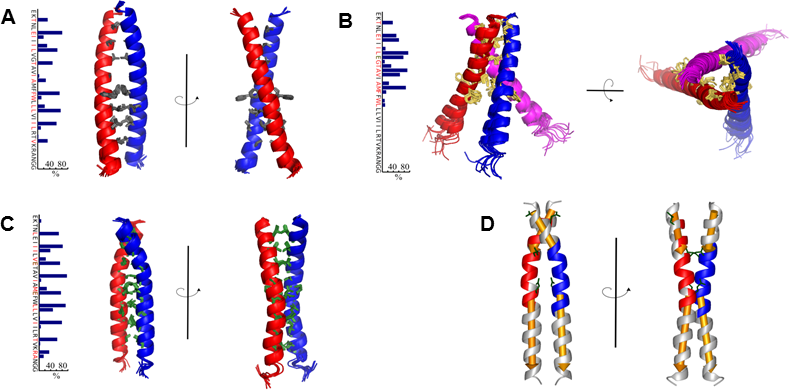 Рецеторная тирозинкиназа VEGFR-2 из семейства рецепторов васкулярных эндотелиальных ростовых факторов регулирует процессы ангиогенеза и является одной из ключевых мишеней для противоопухолевых препаратов. В рамках проекта было проведено структурно-функциональное исследования роли трансмембранного (ТМ) домена рецептора в процессах его активации. Были найдены мутации в ТМ домене, способные вызывать лиганд-независимую активацию VEGFR-2, а также VEGFR-2 с делегированным внеклеточным доменом. Были определены пространственные структуры димера ТМ домена VEGFR-2 дикого типа, тримера ТМ домена VEGFR-2 V769E, а также димера ТМ домена VEGFR-2 G770E/F778E. Для проведения детального сравнения полученных структур была разработана методика для измерения свободной энергии ассоциации ТМ спиралей в мицеллярных средах методами ЯМР спектроскопии высокого разрешения, что позволило для всех трех объектов измерить величины свободной энергии димеризации, и, где возможно, тримеризации. На основании данных мутагенеза, ЯМР-спектроскопии и полученных пространственных структур был предложен механизм активации VEGFR-2, подразумевающий существование неактивного димерного состояния рецептора.
Публикации
(2014).

Toll-like receptor 3 transmembrane domain is able to perform various homotypic interactions: An NMR structural study.

FEBS Lett.

, [+]

Toll-like receptors (TLRs) take part in both the innate and adaptive immune systems. The role of the transmembrane domain in TLR signaling is still elusive, while its importance for the TLR activation was clearly demonstrated. In the present study the ability of the TLR3 transmembrane domain to form dimers and trimers in detergent micelles was shown by solution NMR spectroscopy. Spatial structures and free energy magnitudes were determined for the TLR3 transmembrane domain in dimeric and trimeric states, and two possible surfaces that may be used for the helix-helix interaction by the full-length TLR3 were revealed.

ID:1107

(2014).

Structural and functional characterization of alternative transmembrane domain conformations in VEGF receptor 2 activation.

Structure

22 (8)

,

1077–89

[+]

Transmembrane signaling by receptor tyrosine kinases (RTKs) entails ligand-mediated dimerization and structural rearrangement of the extracellular domains. RTK activation also depends on the specific orientation of the transmembrane domain (TMD) helices, as suggested by pathogenic, constitutively active RTK mutants. Such mutant TMDs carry polar amino acids promoting stable transmembrane helix dimerization, which is essential for kinase activation. We investigated the effect of polar amino acids introduced into the TMD of vascular endothelial growth factor receptor 2, regulating blood vessel homeostasis. Two mutants showed constitutive kinase activity, suggesting that precise TMD orientation is mandatory for kinase activation. Nuclear magnetic resonance spectroscopy revealed that TMD helices in activated constructs were rotated by 180° relative to the interface of the wild-type conformation, confirming that ligand-mediated receptor activation indeed results from transmembrane helix rearrangement. A molecular dynamics simulation confirmed the transmembrane helix arrangement of wild-type and mutant TMDs revealed by nuclear magnetic resonance spectroscopy.

ID:1104