Laboratory of biomolecular NMR-spectroscopy
Laboratory investigates the structure of proteins and peptides. For this purpose Laboratory uses one of the most powerful modern techniques – nuclear magnetic resonance spectroscopy (NMR).
The research of the Laboratory is focused on the membrane proteins such as receptor tyrosine kinases, ion channels, toll-like receptors, the beta-amyloid precursor protein, GPCR-s and others. The properties of natural luciferins, the blockers of pain receptors, the viral proteins required for the infection s, as well as the mechanisms of ligand-receptor interactions are also under investigation.
Most of the research is directly related to practical issues such as the search for anti-cancer targets, the causes of Alzheimer's disease, the creation of effective painkillers, specific diagnostic systems and others.
At the disposal of the Laboratory are the most advanced devices of the Bruker company: 600, 700 and 800 MHz machines, equipped with the supersensitive cryogenic probes, and a solid-state MAS probe. In addition, the Laboratory has necessary equipment and techniques for bacterial in-cell and cell-free synthesis ofrecombinant proteins and their physicochemical characterization. Methods for the production of isotropicaly and selectively isotope-labeled proteins were developed on their basis.
All aforesaid allows us to successfully solve the most difficult tasks within and beyond the capabilities of modern structural biology.
Laboratory equipment is a part of the IBCh Shared Research Center, so it is possible to analyze the samples of high complexity by NMR spectroscopy on a commercial basis.
The Laboratory has a rich history. In 1965 it was founded by Vladimir F. Bystrov, the associate member of the USSR Academy of Sciences. He was one of the first in the world who began to engage in structural studies of proteins and peptides in solution by NMR spectroscopy and created the largest in the Soviet Union scientific school. In 1990 the laboratory was headed by his apprentice, Professor Alexander Arseniev.
The Laboratory continues to develop the Bystrov's initiatives till now and is considered as the one of the leading schools in the world of NMR. Each year it produces new highly qualified professionals and PhDs who can solve the most complex problems using NMR-spectroscopy.
Nowadays Laboratory has many friends and partners. Among them are the laboratory of Nobel laureate Kurt Wüthrich, one of the strongest NMR-laboratory in the world of Professor Gerhard Wagner, "Novartis", the second-largest pharmaceutical company in the world and others.
Today, our lab is a very friendly team which has set itself the most ambitious goals and is ready for any interesting collaboration!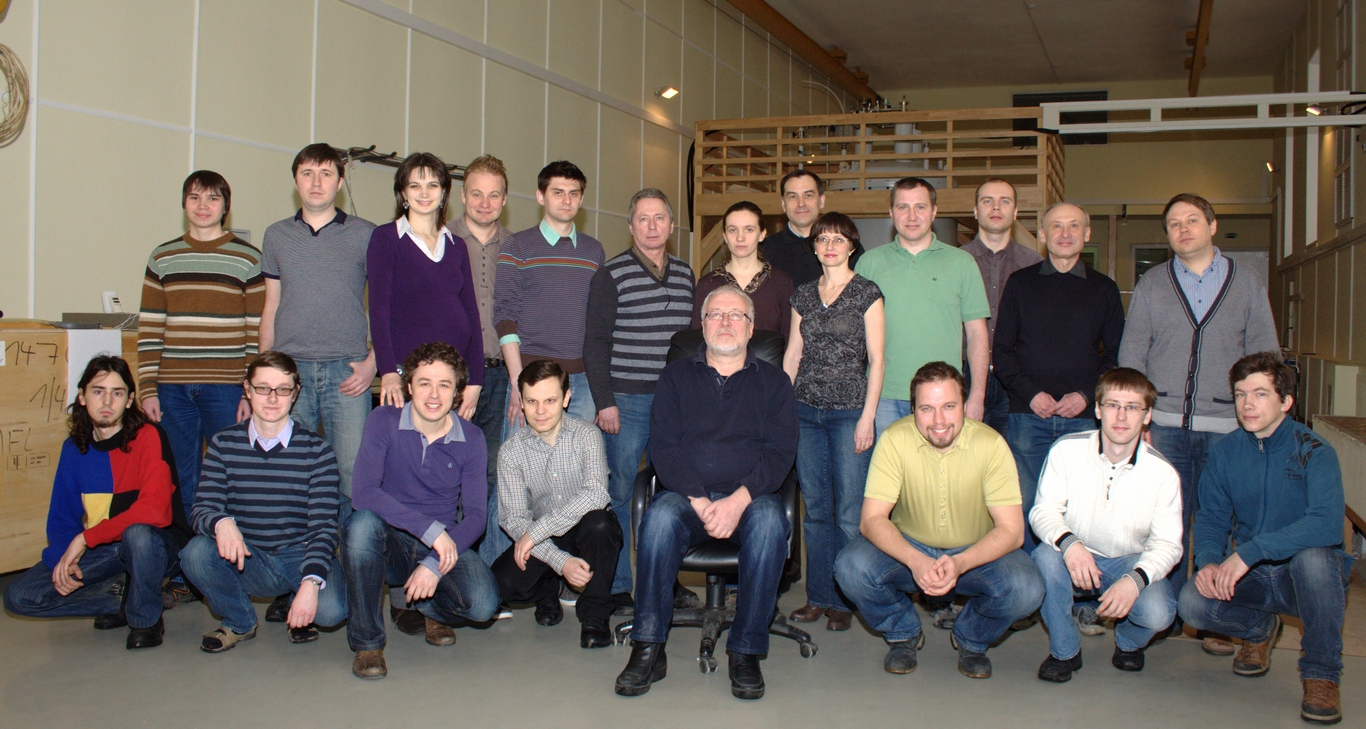 Methodological developments for biomolecular NMR spectroscopy
NMR pulse sequences (with parameters) for Bruker AVANCE spectrometers for 13C relaxation measurements of 15N/13C uniformly labeled proteins.
Name
Position
Contacts
Alexander Arseniev, D.Sc, professor
depart. dir.
aars@nmr.ru, +7(495)330-59-29
Olga Bocharova, Ph.D.
s. r. f.
o.bocharova@gmail.com, +7(495)335-27-33#127
Eduard Bocharov, Ph.D.
s. r. f.
bon@nmr.ru, +7(495)330-74-83#113
Konstantin Mineev, Ph.D.
s. r. f.
mineev@nmr.ru, +7(495)330-74-83#116
Dmitry Lesovoy, Ph.D.
r. f.
dima_l@nmr.ru, +7(495)330-74-83#154
Maxim Dubinnyi, Ph.D.
r. f.
maxim@nmr.ru, +7(495)335-27-33#114
Marina Goncharuk, Ph.D.
r. f.
m.s.goncharuk@gmail.com, +7(495)335-27-33#127, +7(495)330-74-83#127
Sergey Goncharuk, Ph.D.
r. f.
ms.goncharuk@gmail.com, +7(495)335-27-33#127, +7(495)330-74-83#127
Kirill Nadezhdin, Ph.D.
r. f.
kirill@nmr.ru, +7(495)330-74-83#113
Svetlana Nol'de
j. r. f.
sveta@nmr.ru, +7(495)330-74-83#159
Anatolii Urban
j. r. f.
anatoly.urban@gmail.com
Erik Kot
t. q. - lab. as.
Vladislav Lushpa
t. q. - lab. as.
Pavel Bragin
eng.
bragin@nmr.ru
Liliya Artem'eva
res. eng.
Alina Abdulazizovna
res. eng.
alina-ab55@yandex.ru, +7(925)0619107

Former members:

Vladimir Chupin, D.Sc, professor
l. r. f.
vvchupin@gmail.com
Zakhar Shenkarev, D.Sc
s. r. f.
zakhar-shenkarev@yandex.ru
Tamara Balashova, Ph.D.
s. r. f.
taba@nmr.ru
Innokentiy Maslennikov, Ph.D.
s. r. f.
maslennikov@salk.edu
Peter Dubovskii, Ph.D.
r. f.
peter@nmr.ru
Alexander Paramonov, Ph.D.
r. f.
apar@nmr.ru
Yulia Pustovalova, Ph.D.
j. r. f.
jul@nmr.ru
Pavel Kuzmichev
j. r. f.
ibch.fizteh@gmail.com
Kirill Trunov
PhD stud.
kirill.trunov@gmail.com
Galina Petrova
t. q. - lab. as.
Vladimir Slivinskij
eng.
sva@nmr.ru
Mikhail Myshkin
res. eng.
mikhail.myshkin@phystech.edu
Alexander Arseniev
Russia, Moscow, Ul. Miklukho-Maklaya 16/10 — On the map
IBCh RAS, build. 33, office. 129
Phone: +7(495)330-59-29
E-mail: aars@nmr.ru
Alternative dimerization of the EGFR transmembrane domain and protein-lipid mediated signal transduction mechanism of RTK activation (2016-11-18)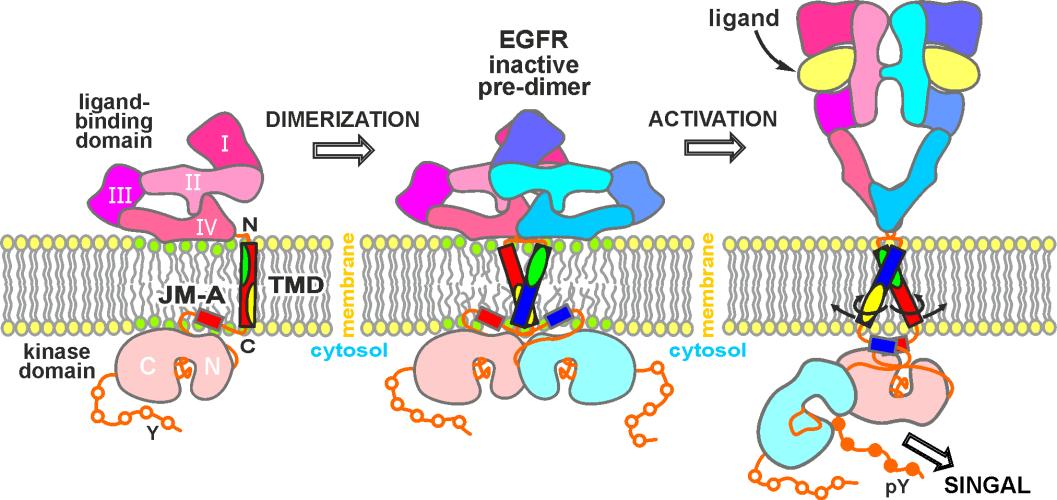 The epidermal growth factor receptor EGFR is a representative of HER/ErbB receptor tyrosine kinases family (RTK) and plays important role in cell proliferation and differentiation, both in normal and pathological conditions of the human organism. With the help of high-resolution NMR spectroscopy, we showed that a change of membrane mimicking environment leads to alternative dimerization of the EGFR TM domain. Comparing the investigation results with the published data for the ligand-binding, juxtamembrane and kinase domains, we proposed a novel mechanism of RTK signaling through the cell membrane by means of protein-lipid interactions, explaining a number of paradoxes observed at RTK activation.
Publications
(2016).

Alternative packing of EGFR transmembrane domain suggests that protein-lipid interactions underlie signal conduction across membrane.

Biochim. Biophys. Acta

1858 (6)

,

1254–61

[+]

The human epidermal growth factor receptor (EGFR) of HER/ErbB receptor tyrosine kinase family mediates a broad spectrum of cellular responses transducing biochemical signals via lateral dimerization in plasma membrane, while inactive receptors can exist in both monomeric and dimeric forms. Recently, the dimeric conformation of the helical single-span transmembrane domains of HER/ErbB employing the relatively polar N-terminal motifs in a fashion permitting proper kinase activation was experimentally determined. Here we describe the EGFR transmembrane domain dimerization via an alternative weakly polar C-terminal motif A(661)xxxG(665) presumably corresponding to the inactive receptor state. During association, the EGFR transmembrane helices undergo a structural adjustment with adaptation of inter-molecular polar and hydrophobic interactions depending upon the surrounding membrane properties that directly affect the transmembrane helix packing. This might imply that signal transduction through membrane and allosteric regulation are inclusively mediated by coupled protein-protein and protein-lipid interactions, elucidating paradoxically loose linkage between ligand binding and kinase activation.

ID:1596

(2016).

Cell Free Expression and Purification of the Fragments of the Receptor Tyrosine Kynases of the EGFR Family, Containing the Transmembrane Domain with the Juxtamembrane Region, for Structural Studies.

BIOLOGICHESKIE MEMBRANY

33 (2)

,

124–132

[+]

The EGFR/HER receptor family of an epidermal growth factor represents an important class of the receptor tyrosine kinases playing the key role in the control of cell growth and differentiation in mammalian cells, as well as in the development of a number of pathological processes, including oncogenesis. Binding of a ligand to the extracellular domains initiates switching of the EGFR/HER receptor between the alternative dimeric states that causes the allosteric activation of kinase domains in cell cytoplasm. The transmembrane (TM) domain and adjacent flexible regions alternatively interacting with either membrane surface or kinase domains are directly involved in the complex conformational transition in EGFR/HERs. Here we report on a highly efficient system of the cell free production of the EGFR/HER TM domains with functionally important juxtamembrane (JM) regions for the investigation of the molecular basis of biochemical signal transduction across the cell membrane. To increase the efficiency of synthesis of the EGFR/HER TM-JM fragments of the receptors, we used two N-terminal expression tags, which significantly increased the protein yield. In the case of the TM-JM fragments of EGFR (residues 638–692) and HER2 (residues 644–700), the method allowed us to obtain milligram quantities of the 13C,15N-labeled protein for structural and biophysical investigations in the membrane-mimicking environments using high-resolution heteronuclear NMR spectroscopy.

ID:1622