Press-room / news / Science news /
Antigen-specific stimulation and expansion of CAR-T cells using membrane vesicles as target cell surrogates
Development of CAR-T therapy led to immediate success in the treatment of B cell leukemia. Manufacturing of therapy-competent functional CAR-T cells needs robust protocols for ex vivo/in vitro expansion of modified T-cells. In this work, a team of scientists from the IBCh RAS in collaboration with a group of scientists from Dmitry Rogachev National Medical Research Center and colleagues from the Faculty of Biology of Moscow State University have created a new technology for the expansion of CAR T cells using artificial vesicles carrying surface tumor antigens. This approach will allow in the future to obtain CAR T-cells with improved functional properties and to minimize the level of premature "exhaustion" of the CAR T-cell population.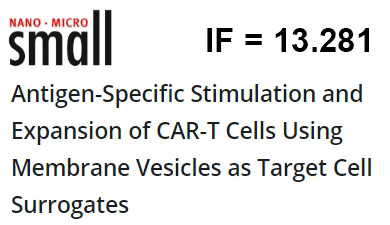 Ukrainskaya V, Rubtsov Y, Pershin D, Podoplelova N, Terekhov S, Yaroshevich I, Sokolova A, Bagrov D, Kulakovskaya E, Shipunova V, Deyev S, Ziganshin R, Chernov A, Telegin G, Maksimov E, Markov O, Oshchepkova A, Zenkova M, Xie J, Zhang H, Gabibov A, Maschan M, Stepanov A, Lerner R
Current protocols for the production of CAR-T cells are imperfect, since non-specific stimulation leads to a rapid proliferation of CAR-negative T-cells, and the removal of feeder cells from mixed cultures requires additional purification steps. To develop a specific and improved protocol for CAR-T cell expansion, we took advantage of cell-derived membrane vesicles, and the simple structural demands of the CAR-antigen interaction. This novel approach was to make antigenic microcytospheres from common cell lines stably expressing surface-bound CAR antigens, and then use them for stimulation and expansion of CAR-T cells. It is known that the blebbing of cell membranes caused by cytochalasin B treatment results in the generation of microvesicles surrounded by plasma membrane. The data presented in this article clearly demonstrate that this protocol produced vesicles with the capacity to induce stronger stimulation, proliferation and functional activity of CAR-T cells than is possible with existing protocols. It is predicted that this new methodology will significantly improve the ability to obtain improved populations of functional CAR-T cells for therapy.
This work was supported by Russian Scientific Foundation project No. 17-74-30019 and by the Russian Foundation for Basic Research grant No. 19-29-04087_mk and published in the Small journal.
november 11, 2021