Press-room / news / Science news /
Relationship between phenolic compounds and antioxidant activity in berries and leaves of raspberry genotypes and their genotyping using SSR markers
In recent years, the enrichment of fruits and berries with biologically active substances, in particular, antioxidants has received increased development in breeding (the creation of functional food). Researchers from the Forest Biotechnology Group of the FIBCh, together with colleagues from other institutes, studied the content of total phenols, flavonoids and anthocyanins, their relationship with the antioxidant activity of berries and leaves of various raspberry cultivars of Russian and foreign origin, as well as new breeding lines.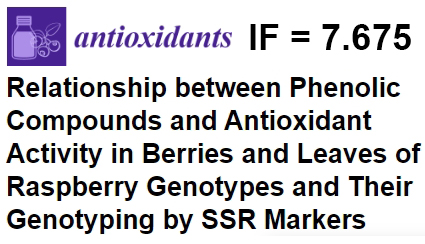 Lebedev VG, Lebedeva TN, Vidyagina EO, Sorokopudov VN, Popova AA, Shestibratov KA
An optimal method for the analysis of antioxidant activity of raspberry was determined, breeding lines superior to standard cultivars were identified, and phenological phases for the maximum bioactive value of raspberry plants were established. In addition, for the first time, the relationship between the chemical diversity of plant cultivars and genetic markers specific for a particular metabolic pathway, SSR markers from the structural and regulatory genes of flavonoid biosynthesis, was studied. The strong correlation between biochemical and genetic data makes it possible to use these markers in marker-assisted selection for improving nutritional properties, as well as to study the mechanisms of flower and fruit color formation. The study published in Antioxidants.
november 21, 2022