Laboratory of Biophotonics
Laboratory works on development of novel fluorescent tags and methods of fluorescence labeling of biological objects. The main focus is on the fluorescent proteins of GFP family, and also on other methods of noninvasive visualization of structures and processes in live cells. These methods are widely used in biomedical research enabling deciphering the molecular mechanisms of various normal and pathological phenomena and facilitating preclinical drug screening.
We are fully equipped for gene-engineering works, mammalian cell culture works, fluorescence and laser scanning confocal microscopy, and optical spectroscopy.
Laboratory collaborates with many groups of the Institute: Total Synthesis Lab on studying physic-chemical properties of fluorescent protein chromophores and developing novel methods of fluorescence labeling using their analogs; Molecular technologies laboratory on development of novel fluorescent sensors; Laboratory of X-ray study on analysis of 3D structure of fluorescent proteins and structure-guided changes of their spectral properties; Laboratory of molecular bases of embryogenesis on application of fluorescent tools for developmental studies.
Also, Laboratory collaborates with Institute of Biomedical Technologies (Nizhny Novgorod Medical State Academy) on novel methods of super-resolution fluorescence microscopy and on fluorescence imaging of mouse tumor models; Laboratory of Physical Biochemistry (A.N. Bach Institute of Biochemistry) on fluorescence lifetime imaging microscopy of biological models; Kyril Solntsev (Georgia Institute of Technology, Atlanta, GA) on ultrafast spectroscopy of fluorescent proteins; laboratory of Anna Krylov (University of Southern California, Los Angeles, CA) on studying physic-chemical processes in fluorescent proteins; laboratory of Vladislav Verkhusha (Albert Einstein College of Medicine, Bronx, NY) on development of novel fluorescent proteins; laboratory of Jens Meiler (Vanderbilt University, Nashville, TN) on computer modeling of fluorescent proteins.
Laboratory was separated in 2009 from Laboratory of Molecular Technologies for Biology and Medicine headed by Sergey Lukyanov; our team is working with fluorescent proteins since 1999.
Novel fluorescent proteins
GFP and related fluorescent proteins are widely used as genetically encoded tags for visualization of proteins and cell populations in live systems. We use site-directed and random mutagenesis to create new variants of fluorescent proteins. This approach allows to generate proteins with usual spectral properties due to new chromophore structures or altered amino acid environment of the chromophore. In addition, we are working on improvement of fluorescent proteins characteristics such as brightness and photostability that are important for their practical applications.
Chudakov DM, et al. Fluorescent proteins and their applications in imaging living cells and tissues. Physiol Rev. 2010, 90, 1103-63.
Pletnev VZ, et al. Structure of the red fluorescent protein from a lancelet (Branchiostoma lanceolatum): a novel GYG chromophore covalently bound to a nearby tyrosine. Acta Crystallogr D Biol Crystallogr. 2013, 69, 1850-60.
Sarkisyan KS, et al. Green fluorescent protein with anionic tryptophan-based chromophore and long fluorescence lifetime. Biophys J. 2015, 109, 380-9.
Mishin AS, et al. Novel uses of fluorescent proteins. Curr Opin Chem Biol. 2015, 27, 1-9.
Novel genetically encoded sensors
We are working on new fluorescent protein-based sensors for various regulatory activities, which enable quantitative visualization of the target events in live cells. For example, we recently developed ratiometric sensor for nonsense-mediated mRNA decay (NMD) and far-red sensor for caspase-3.
Gurskaya NG, et al. Analysis of alternative splicing of cassette exons at single-cell level using two fluorescent proteins. Nucleic Acids Res. 2012, 40, e57.
Pereverzev AP, et al. Method for quantitative analysis of nonsense-mediated mRNA decay at the single cell level. Sci Rep. 2015, 5, 7729.
Zlobovskaya OA, et al. Genetically encoded far-red fluorescent sensors for caspase-3 activity. Biotechniques. 2016, 60, 62-8.
Photoconversions of fluorescent proteins
Photoactivatable fluorescent proteins (PAFP) are used for tracking movements of proteins, organelles and cells in live systems, as well as for super-resolution fluorescence microscopy. Earlier, our team developed several PAFPs, such as KFP1, PS-CFP and Dendra, which were among the world's first members of this protein type. Currently, we continue to work on development of new PAFPs and PAFP-based techniques.
In 2009 we discovered oxidative photoconversion of green fluorescent proteins based on electron transfer from the chromophore to an external molecule of electron acceptor. We are studying mechanisms of this phenomenon and development of methods of its practical applications (for example, for enhancement of fluorescent protein photostability).
In collaboration with Nizhny Novgorod State Medical Academy we work on development of novel labels and methods of super-resolution fluorescence microscopy (PALM/STORM single molecule localization microscopy).
Chudakov DM, et al. Kindling fluorescent proteins for precise in vivo photolabeling. Nat Biotechnol. 2003, 21, 191-4.
Gurskaya NG, et al. Engineering of a monomeric green-to-red photoactivatable fluorescent protein induced by blue light. Nat Biotechnol. 2006, 24, 461-5.
Bogdanov AM, et al. Green fluorescent proteins are light-induced electron donors. Nat Chem Biol. 2009, 5, 459-61.
Bogdanov AM, et al. Cell culture medium affects GFP photostability: a solution. Nat Methods. 2009, 6, 859-60.
Mamontova AV, et al. Influence of cell growth conditions and medium composition on EGFP photostability in live cells. Biotechniques. 2015, 58, 258-61.
Genetically encoded photosensitizers
Phototoxic fluorescent proteins (the first such protein, KillerRed, was developed by us in 2006) produce reactive oxygen species (ROS) upon light illumination. We are developing this optoginetic technology, which makes it possible to induce oxidative stress in target cell compartments, inactivate proteins and kill specific cell populations using light.  
Bulina ME, et al. A genetically encoded photosensitizer. Nat Biotechnol. 2006, 24, 95-9.
Lukyanov KA, et al. Fluorescent proteins as light-inducible photochemical partners. Photochem Photobiol Sci. 2010, 9, 1301-6.
Serebrovskaya EO, et al. Phototoxic effects of lysosome-associated genetically encoded photosensitizer KillerRed. J Biomed Opt. 2014,19, 071403.
Sarkisyan KS, et al. KillerOrange, a Genetically Encoded Photosensitizer Activated by Blue and Green Light. PLoS One. 2015, 10, e0145287.
2002—2006. A panel of photoactivated fluorescent proteins with different types of light-induced spectral transitions was introduced: nonflourescent-to-red (KFP1), blue-to-green (PS-CFP), and green-to-red (Dendra). These newly developed instruments KFP1, PS-CFP and Dendra were applied for precise photolabeling of cells, cell organelles, and proteins and subsequent tracking of the labeled object. The new tools were also used for monitoring the target protein degradation in an individual cell in real time using fluorescence confocal microscopy.
2005—2006. The first genetically encoded photosensitizer was created. This phototoxic red fluorescent protein named KillerRed can be used for precise light-induced destruction of proteins and cell killing.
2005—2007. A panel of improved fluorescent proteins for practical applications was created using the methods of directed molecular evolution. Particularly, there were obtained red and far-red fluorescent proteins, exceeding all known analogs in brightness. Bright far-red fluorescent proteins open up new prospects in whole-body fluorescent imaging technology.
2005—2008. First syntheses of chromophores of red fluorescent proteins (asFP595, Kaede, zFP538) and their structural analogs were performed. This work revealed various aspects of structure-properties relationship in this group of chromophores and allowed to propose promising amino-acid substitutions in fluorescent proteins to obtain variants with novel spectral properties.
Name
Position
Contacts
Konstantin Lukyanov, corresponding member of the academy of sciences
depart. dir.
kluk@ibch.ru, +7(499)724-81-22
Alexander Mishin, Ph.D.
s. r. f.
mishin@ibch.ru, +7(499)742-81-22
Karen Sarkisyan
s. r. f.
durshlak@gmail.com
Nadezhda Gurskaya, Ph.D.
r. f.
ngurskaya@ibch.ru, +7(499)742-81-22
E. Serebrovskaya, Ph.D.
r. f.
katya_akts@ibch.ru
Olga Zlobovskaya
j. r. f.
olgazlob@yandex.ru, +7()
Alina Ryumina
PhD stud.
ryumina-07@mail.ru
Nadezhda Markina
PhD stud.
markina.nadya@gmail.com
Anton Pereverzev
PhD stud.
anton.pereverzev@gmail.com
Natalia Povarova
PhD stud.
povarovanv@gmail.com, +7(915)0447115
Nina Bozhanova
PhD stud.
nbozhanova@gmail.com
Alexej Bogdanov, Ph.D.
PhD stud.
noobissat@gmail.com, +7(499)742-81-22
Liubov Kost
PhD stud.
lu.kurkova@gmail.com
Anastasia Mamontova
PhD stud.
sphingozin@gmail.com
1149
PhD stud.
kolesov14@inbox.ru
Ljubov' Gladkova
res. eng.
+7(499)742-81-22

Former members:

Nadezhda Matveeva
dir. assist.
luk.officemanager@gmail.com
Ilia Yampolsky, D.Sc
r. f.
ivyamp@ibch.ru
Anna Belousova
stud.
amb.ence@gmail.com
Konstantin Lukyanov
Russia, Moscow, Ul. Miklukho-Maklaya 16/10 — On the map
IBCh RAS, build. 34, office. 522
Phone: +7(499)724-81-22
E-mail: kluk@ibch.ru
Deep structure-functional analysis of amino acid substitutions on photophysical properties of green fluorescent proteins (2016-11-24)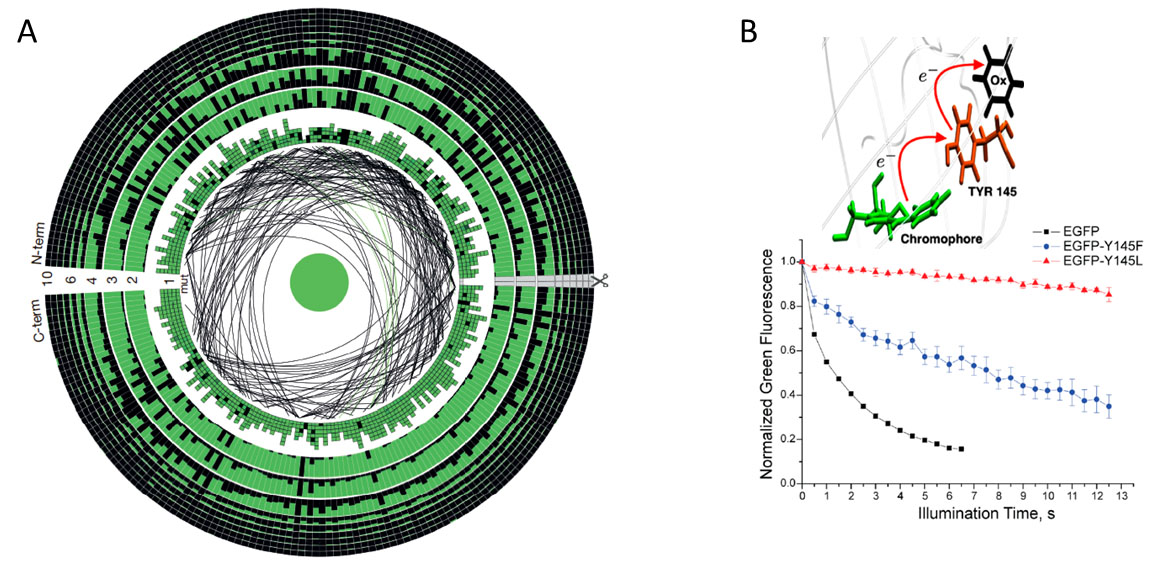 A so called "fitness landscape" was for the first time experimentally probed at the whole protein level using GFP as a model. A unique approach developed in this work enabled to correlate a function (fluorescence) with amino acid sequence of several tens of thousands of random mutants, revealing a number of negative and positive epistatic interactions between substitutions. Characterization of the GFP fitness landscape allows for computer prediction of properties of new mutants of fluorescent proteins. It also has important implications for several fields including molecular evolution and protein design.
Using calculations of the possible electron transfer pathways from excited GFP chromophore to external molecules and further experimental verification of these hypotheses, we constructed mutants with blocked electron transfer pathway and correspondingly increased photostability. This strategy may represent a new approach toward enhancing photostability of fluorescent proteins.
Figure. (A) Scheme of GFP fitness landscape derived from analysis of 51000 mutants. The GFP sequence arranged in a circle, each column representing one amino acid site. In the first circle, the colour intensity of the squares indicates the brightness of a single mutation at the corresponding site relative to the wild type, shown in the centre. Sites with positive and negative epistatic interactions between pairs of mutations are connected by green and black lines, respectively. In circles further away from the centre, representing genotypes with multiple mutations, the fraction of the column coloured green (black) represents the fraction of genotypes corresponding to high (low) fluorescence among all assayed genotypes with a mutation at that site. (B) Electron transfer in GFP. Upper panel – scheme of calculated pathway of electron transfer from the chromophore to external acceptor molecule via tyrosine-145 as an intermediate electron acceptor. Bottom panel – photobleaching curves of EGFP and its mutants in the presence of oxidant in the medium, showing a dramatic enhancement of photostability due to blocking the electron transfer pathway. 
Publications
(2016).

Photoinduced Chemistry in Fluorescent Proteins: Curse or Blessing?

Chem. Rev.

, [+]

Photoinduced reactions play an important role in the photocycle of fluorescent proteins from the green fluorescent protein (GFP) family. Among such processes are photoisomerization, photooxidation/photoreduction, breaking and making of covalent bonds, and excited-state proton transfer (ESPT). Many of these transformations are initiated by electron transfer (ET). The quantum yields of these processes vary significantly, from nearly 1 for ESPT to 10(-4)-10(-6) for ET. Importantly, even when quantum yields are relatively small, at the conditions of repeated illumination the overall effect is significant. Depending on the task at hand, fluorescent protein photochemistry is regarded either as an asset facilitating new applications or as a nuisance leading to the loss of optical output. The phenomena arising due to phototransformations include (i) large Stokes shifts, (ii) photoconversions, photoactivation, and photoswitching, (iii) phototoxicity, (iv) blinking, (v) permanent bleaching, and (vi) formation of long-lived intermediates. The focus of this review is on the most recent experimental and theoretical work on photoinduced transformations in fluorescent proteins. We also provide an overview of the photophysics of fluorescent proteins, highlighting the interplay between photochemistry and other channels (fluorescence, radiationless relaxation, and intersystem crossing). The similarities and differences with photochemical processes in other biological systems and in dyes are also discussed.

ID:1666

(2016).

Local fitness landscape of the green fluorescent protein.

Nature

533 (7603)

,

397–401

[+]

Fitness landscapes depict how genotypes manifest at the phenotypic level and form the basis of our understanding of many areas of biology, yet their properties remain elusive. Previous studies have analysed specific genes, often using their function as a proxy for fitness, experimentally assessing the effect on function of single mutations and their combinations in a specific sequence or in different sequences. However, systematic high-throughput studies of the local fitness landscape of an entire protein have not yet been reported. Here we visualize an extensive region of the local fitness landscape of the green fluorescent protein from Aequorea victoria (avGFP) by measuring the native function (fluorescence) of tens of thousands of derivative genotypes of avGFP. We show that the fitness landscape of avGFP is narrow, with 3/4 of the derivatives with a single mutation showing reduced fluorescence and half of the derivatives with four mutations being completely non-fluorescent. The narrowness is enhanced by epistasis, which was detected in up to 30% of genotypes with multiple mutations and mostly occurred through the cumulative effect of slightly deleterious mutations causing a threshold-like decrease in protein stability and a concomitant loss of fluorescence. A model of orthologous sequence divergence spanning hundreds of millions of years predicted the extent of epistasis in our data, indicating congruence between the fitness landscape properties at the local and global scales. The characterization of the local fitness landscape of avGFP has important implications for several fields including molecular evolution, population genetics and protein design.

ID:1529

(2016).

Turning On and Off Photoinduced Electron Transfer in Fluorescent Proteins by π-Stacking, Halide Binding, and Tyr145 Mutations.

J. Am. Chem. Soc.

138 (14)

,

4807–17

[+]

Photoinduced electron transfer in fluorescent proteins from the GFP family can be regarded either as an asset facilitating new applications or as a nuisance leading to the loss of optical output. Photooxidation commonly results in green-to-red photoconversion called oxidative redding. We discovered that yellow FPs do not undergo redding; however, the redding is restored upon halide binding. Calculations of the energetics of one-electron oxidation and possible electron transfer (ET) pathways suggested that excited-state ET proceeds through a hopping mechanism via Tyr145. In YFPs, the π-stacking of the chromophore with Tyr203 reduces its electron-donating ability, which can be restored by halide binding. Point mutations confirmed that Tyr145 is a key residue controlling ET. Substitution of Tyr145 by less-efficient electron acceptors resulted in highly photostable mutants. This strategy (i.e., calculation and disruption of ET pathways by mutations) may represent a new approach toward enhancing photostability of FPs.

ID:1526
Method for analysis of nonsense-mediated mRNA decay in the single live cells using fluorescent proteins (2016-03-17)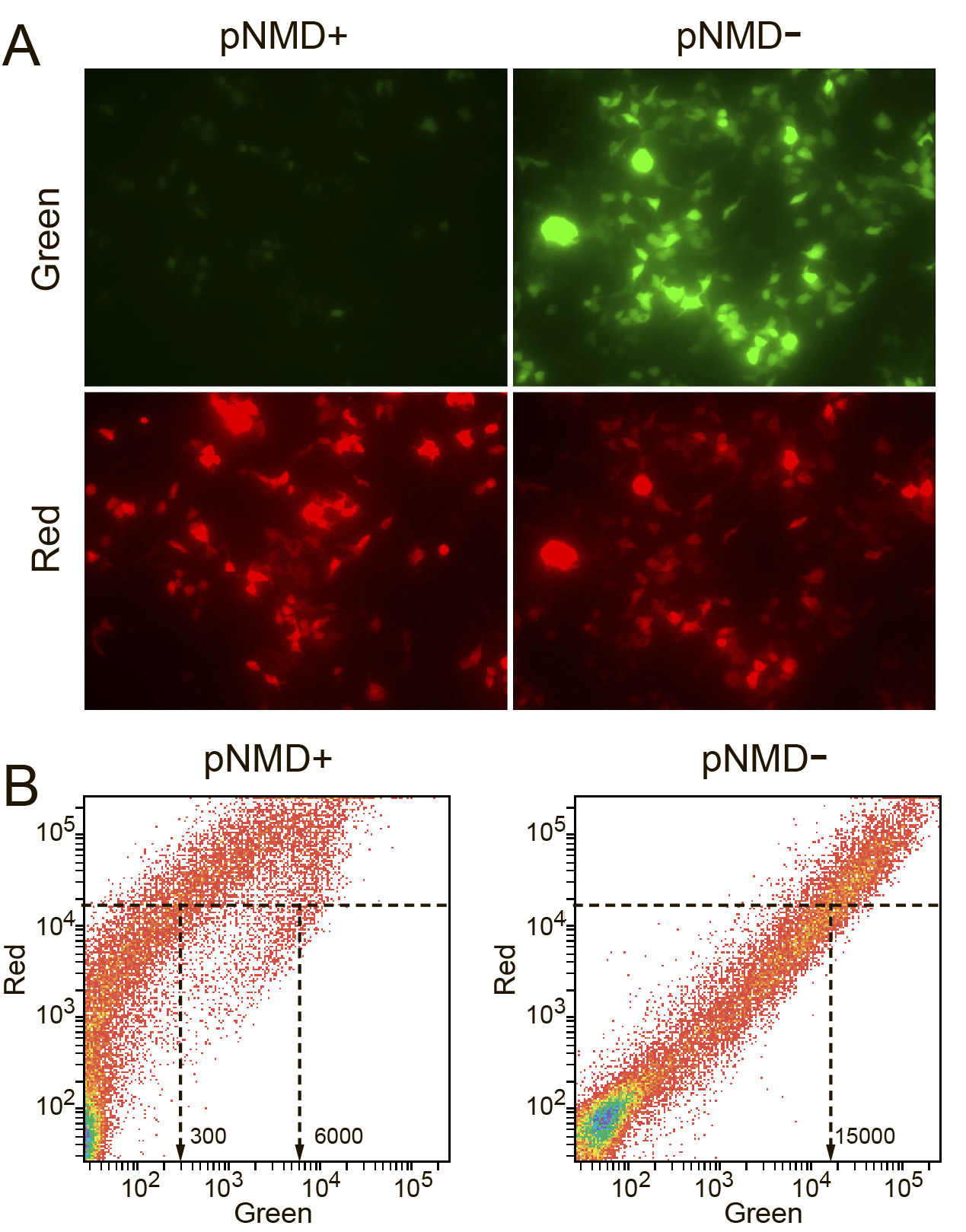 Nonsense-mediated mRNA decay (NMD) is an evolutionary conserved mechanism of recognition and degradation of transcripts with a premature stop-codon. Recent studies demonstrated that NMD plays an important role in global regulation of gene expression. We developed novel reporter of NMD activity based on fluorescent proteins. It enables quantitative analysis of NMD activity at the level of single live cells (this cannot be done by any other known method of NMD analysis). Using our NMD reporter, we revealed strong differences of NMD activity between mammalian cell lines. Also, a phenomenon of significant heterogeneity of NMD activity within some cell lines was observed for the first time. In particular, subpopulations of cells with high and low NMD activity were detected in HEK293, Jurkat, and HaCaT cells. Our method opens new possibilities to decipher mechanisms of NMD regulation as well as to study consequences of low NMD activity on gene expression patterns and cell physiology.  
Publications
(2015).

Differences of Nonsense-Mediated mRNA Degradation Activity in Mammalian Cell Lines Revealed by a Fluorescence Reporter.

Bioorg. Khim.

41 (5)

,

587–91

[+]

Activity of nonsense-mediated mRNA degradation (NMD) was studied in several mammalian cell cultures using recently developed genetically encoded fluorescence sensor [Pereverzev et al., Sci. Rep., 2015, vol. 5, p. 7729]. This NMD reporter enables measurement of NMD activity in single live cells using ratio of green and red fluorescent proteins signals. The following cell lines were analyzed: mouse colon carcinoma CT26, mouse Lewis lung carcinoma LLC, human T-cell leukemia Jurkat, and spontaneously immortalized human keratinocytes HaCaT. These cell lines demonstrated very different NMD activities. In CT26, NMD activity was low, whereas in LLC it was high (8.5-fold higher than in CT26). Jurkat and HaCaT cells possessed strong heterogeneity and consisted of two cell subpopulations with high and low NMD activities. In addition, we detected high NMD activity in primary culture of mouse embryonic hippocampal neurons.

ID:1416

(2015).

Novel uses of fluorescent proteins.

Curr Opin Chem Biol

27

,

1–9

[+]

The field of genetically encoded fluorescent probes is developing rapidly. New chromophore structures were characterized in proteins of green fluorescent protein (GFP) family. A number of red fluorescent sensors, for example, for pH, Ca(2+) and H2O2, were engineered for multiparameter imaging. Progress in development of microscopy hardware and software together with specially designed FPs pushed superresolution fluorescence microscopy towards fast live-cell imaging. Deeper understanding of FPs structure and photophysics led to further development of imaging techniques. In addition to commonly used GFP-like proteins, unrelated types of FPs on the base of flavin-binding domains, bilirubin-binding domains or biliverdin-binding domains were designed. Their distinct biochemical and photophysical properties opened previously unexplored niches of FP uses such as labeling under anaerobic conditions, deep tissue imaging and even patients' blood analysis.

ID:1293

(2015).

Method for quantitative analysis of nonsense-mediated mRNA decay at the single cell level.

Sci Rep

5

,

7729

[+]

Nonsense-mediated mRNA decay (NMD) is a ubiquitous mechanism of degradation of transcripts with a premature termination codon. NMD eliminates aberrant mRNA species derived from sources of genetic variation such as gene mutations, alternative splicing and DNA rearrangements in immune cells. In addition, recent data suggest that NMD is an important mechanism of global gene expression regulation. Here, we describe new reporters to quantify NMD activity at the single cell level using fluorescent proteins of two colors: green TagGFP2 and far-red Katushka. TagGFP2 was encoded by mRNA targeted to either the splicing-dependent or the long 3'UTR-dependent NMD pathway. Katushka was used as an expression level control. Comparison of the fluorescence intensities of cells expressing these reporters and cells expressing TagGFP2 and Katushka from corresponding control NMD-independent vectors allowed for the assessment of NMD activity at the single cell level using fluorescence microscopy and flow cytometry. The proposed reporter system was successfully tested in several mammalian cell lines and in transgenic Xenopus embryos.

ID:1247