Laboratory of optical microscopy and spectroscopy of biomolecules
The Laboratory studies biologically active molecules, membranous and membrane-active proteins and develops new methods of optical microscopy and spectroscopy to support these studies. Developed methods are used to study the action mechanisms and structural-functional interrelationships of investigated molecules at different levels of structural organization: molecular, cellular and tissue.
The methods of microscopy of single-molecules and their complexes are developed in the Laboratory using the unique scientific equipment. It includes an installation for one-photon and multiphoton 4Pi superresolution microscopy and an installation for fluorescence microscopy based on the effect of total internal reflection. Both installations have got a high sensitivity, allowing registering fluorescent signals even from single molecules.
Experimental installation for confocal laser microspectroscopy was created in the Laboratory. Also, the method of confocal microspectroscopy and reconstruction of spectral images (COMIRSI) was developed that provided possibility to identify and study molecular interactions of biologically active compounds in living cells with a three-dimensional submicron spatial resolution. The experimental installation and the COMIRSI method are widely used  in the development, scientific and clinical studies of new Russian photosensitizers for photodynamic cancer therapy, as well as in the studies of membrane and membrane-active proteins.
The Laboratory is open for cooperation with the departments of the Institute and other scientific organizations.
The development of analytical systems based on hybrid ion channels for the search and study of potassium channel blockers is conducted jointly with the Group of nanobioengineering. A search and study of potassium channel blockers in scorpion venoms are carried out in collaboration with the Molecular Instruments for Neurobiology Group. The functional properties of toxins from snake venom are studied together with the Laboratory of Molecular Toxinology.
Also, the Laboratory conducts joint studies with a number of other scientific organizations. Study of photosensitizers for photodynamic anti-cancer and antimicrobial therapy and optimization of their properties is carried out in cooperation with the Moscow Technological University, the P.A. Herzen Moscow Oncology Research Institute and the State Scientific Center "NIOPIK". Studies of structural rearrangements in nucleosomes under the influence of various nuclear proteins using the methods of fluorescence microscopy of single molecules and their complexes are carried out together with the Bioengineering Department, the Laboratory for the Regulation of Transcription and Replication of the Biological Faculty of Moscow State University and colleagues from Fox Chase Cancer Center (USA). The structure optimization of conjugates of boron-containing nanoparticles and natural porphyrins is conducted jointly with the Moscow Technological University and INEOS RAS.
The laboratory collaborates with foreign scientific organizations. Biomedical nanosensors for the diagnosis and treatment of breast cancer are being developed together with the University of Tours (France) and the Rhine-Waal University of Applied Sciences (Germany).
The Laboratory employees teach the basics of optical microscopy to students of the ESC of the IBCh RAS and the Department of Bioengineering of the Biological Faculty of the Moscow State University. Each year, several bachelor's and master's works as well as scientific research of graduate students and young scientists are conducted. under the supervision of the Laboratory employees
The Laboratory of optical microscopy and spectroscopy of biomolecules was established in 2005. It is a part of the Department of Structural Biology, which arose as a result of reorganization of the Laboratory of Instrumental Methods of Analysis. This reorganization was  conducted due to the initiative of professor A.S. Arsenyev, who is the current head of the Department.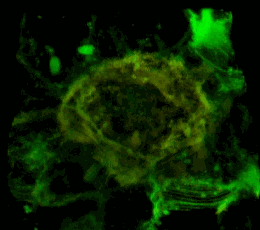 A three-dimensional confocal image of HEK293 cells in which a stable expression of the EphA2 receptor of EphA2 fused to a cyan fluorescent protein (shown in green) is achieved, together with EphA2 fused to a yellow fluorescent protein (shown in red). The coincidence of the two structures localization is shown in yellow. The cell model is used to study the mechanisms of activation and dimerization of Efrin receptors using the method of resonant fluorescence energy transfer (FRET).
Cellular bioengineering systems and methods of their applications using fluorescence microscopy have been developed. They are used to study pore blockers of voltage-gated potassium channels and to search for peptide blockers in natural venoms.
Using fluorescent proteins and scorpion toxins,  the high-affinity conjugates were designed that interact selectively with Kv1 channels and can be used for their visualization.   
New high-affinity channel blockers of Kv1.x (x = 1-3.6) were discovered in scorpion venoms and characterized by activity.
Recombinant peptide-blockers of Kv-channels having improved selectivity were created.  Molecular models of peptide-blockers complexes with Kv-channels were constructed.; Interaction interfaces and amino acid residues affecting the force and selectivity of interactions were described.
Methods for studying single molecules and their complexes in the free diffusion regime  and in the immobilized state have been developed based on Forster resonance energy transfer microscopy.  Applicability of these methods for investigation of structural changes of nucleosomal DNA in complexes with different protein factors was demonstrated.  
Structures of new conjugates of boron-containing nanoparticles and natural porphyrins have been optimized that provided delivery of more than 1 billion boron atoms per cancer cell. In this way, applicability of new nanoconjugates for boron-neutron capture therapy (BNCT) was provided. Nanoconjugates are active photosensitizers and cause photoinduced death of tumor cells at nanomolar concentrations. New conjugates are perspective multifunctional agents for photodynamic therapy, BNСT and fluorescent cancer diagnostics.
It has been established that the key structural element determining high accumulation of chlorin e6 conjugates with cobalt bis(dicarbolide) nanoparticle in cancer cells is the amino-polyalkyl-amine linker that connects a porphyrin chromophore to nanoparticle. Photocytotoxicity of conjugates is based on photoinduced lipid peroxidation, lysosomes permeabilization, and proteases activation in cytoplasm of cells.
Selected publications
(2016).

Large-scale ATP-independent nucleosome unfolding by a histone chaperone.

Nat. Struct. Mol. Biol.

, [+]

DNA accessibility to regulatory proteins is substantially influenced by nucleosome structure and dynamics. The facilitates chromatin transcription (FACT) complex increases the accessibility of nucleosomal DNA, but the mechanism and extent of its nucleosome reorganization activity are unknown. Here we determined the effects of FACT from the yeast Saccharomyces cerevisiae on single nucleosomes by using single-particle Förster resonance energy transfer (spFRET) microscopy. FACT binding results in dramatic ATP-independent, symmetrical and reversible DNA uncoiling that affects at least 70% of the DNA within a nucleosome, occurs without apparent loss of histones and proceeds via an 'all-or-none' mechanism. A mutated version of FACT is defective in uncoiling, and a histone mutation that suppresses phenotypes caused by this FACT mutation in vivo restores the uncoiling activity in vitro. Thus, FACT-dependent nucleosome unfolding modulates the accessibility of nucleosomal DNA, and this activity is an important function of FACT in vivo.

ID:1625

(2016).

Towards universal approach for bacterial production of three-finger Ly6/uPAR proteins: Case study of cytotoxin I from cobra N. oxiana.

Protein Expr. Purif.

130

,

13–20

[+]

Cytotoxins or cardiotoxins is a group of polycationic toxins from cobra venom belonging to the 'three-finger' protein superfamily (Ly6/uPAR family) which includes small β-structural proteins (60-90 residues) with high disulfide bond content (4-5 disulfides). Due to a high cytotoxic activity for cancer cells, cytotoxins are considered as potential anticancer agents. Development of the high-throughput production methods is required for the prospective applications of cytotoxins. Here, efficient approach for bacterial production of recombinant analogue of cytotoxin I from N. oxiana containing additional N-terminal Met-residue (rCTX1) was developed. rCTX1 was produced in the form of E. coli inclusion bodies. Refolding in optimized conditions provided ∼6 mg of correctly folded protein from 1 L of bacterial culture. Cytotoxicity of rCTX1 for C6 rat glioma cells was found to be similar to the activity of wild type CTX1. The milligram quantities of (13)C,(15)N-labeled rCTX1 were obtained. NMR study confirmed the similarity of the spatial structures of recombinant and wild-type toxins. Additional Met residue does not perturb the overall structure of the three-finger core. The analysis of available data for different Ly6/uPAR proteins of snake and human origin revealed that efficiency of their folding in vitro is correlated with the number of proline residues in the third loop and the surface area of hydrophobic residues buried within the protein interior. The obtained data indicate that hydrophobic core is important for the folding of proteins with high disulfide bond content. Developed expression method opens new possibilities for structure-function studies of CTX1 and other related three-finger proteins.

ID:1599

(2016).

Complexes of Peptide Blockers with Kv1.6 Pore Domain: Molecular Modeling and Studies with KcsA-Kv1.6 Channel.

J Neuroimmune Pharmacol

, [+]

Potassium voltage-gated Kv1.6 channel, which is distributed primarily in neurons of central and peripheral nervous systems, is of significant physiological importance. To date, several high-affinity Kv1.6-channel blockers are known, but the lack of selective ones among them hampers the studies of tissue localization and functioning of Kv1.6 channels. Here we present an approach to advanced understanding of interactions of peptide toxin blockers with a Kv1.6 pore. It combines molecular modeling studies and an application of a new bioengineering system based on a KcsA-Kv1.6 hybrid channel for the quantitative fluorescent analysis of blocker-channel interactions. Using this system we demonstrate that peptide toxins agitoxin 2, kaliotoxin1 and OSK1 have similar high affinity to the extracellular vestibule of the K(+)-conducting pore of Kv1.6, hetlaxin is a low-affinity ligand, whereas margatoxin and scyllatoxin do not bind to Kv1.6 pore. Binding of toxins to Kv1.6 pore has considerable inverse dependence on the ionic strength. Model structures of KcsA-Kv1.6 and Kv1.6 complexes with agitoxin 2, kaliotoxin 1 and OSK1 were obtained using homology modeling and molecular dynamics simulation. Interaction interfaces, which are formed by 15-19 toxin residues and 10 channel residues, are described and compared. Specific sites of Kv1.6 pore recognition are identified for targeting of peptide blockers. Analysis of interactions between agitoxin 2 derivatives with point mutations (S7K, S11G, L19S, R31G) and KcsA-Kv1.6 confirms reliability of the calculated complex structure.

ID:1611

(2016).

Fluorescent protein-scorpion toxin chimera is a convenient molecular tool for studies of potassium channels.

Sci Rep

6

,

33314

[+]

Ion channels play a central role in a host of physiological and pathological processes and are the second largest target for existing drugs. There is an increasing need for reliable tools to detect and visualize particular ion channels, but existing solutions suffer from a number of limitations such as high price, poor specificity, and complicated protocols. As an alternative, we produced recombinant chimeric constructs (FP-Tx) consisting of fluorescent proteins (FP) fused with potassium channel toxins from scorpion venom (Tx). In particular, we used two FP, eGFP and TagRFP, and two Tx, OSK1 and AgTx2, to create eGFP-OSK1 and RFP-AgTx2. We show that these chimeras largely retain the high affinity of natural toxins and display selectivity to particular ion channel subtypes. FP-Tx are displaced by other potassium channel blockers and can be used as an imaging tool in ion channel ligand screening setups. We believe FP-Tx chimeras represent a new efficient molecular tool for neurobiology.

ID:1561

(2015).

Latarcins: versatile spider venom peptides.

Cell. Mol. Life Sci.

72 (23)

,

4501–22

[+]

Arthropod venoms feature the presence of cytolytic peptides believed to act synergetically with neurotoxins to paralyze prey or deter aggressors. Many of them are linear, i.e., lack disulfide bonds. When isolated from the venom, or obtained by other means, these peptides exhibit common properties. They are cationic; being mostly disordered in aqueous solution, assume amphiphilic α-helical structure in contact with lipid membranes; and exhibit general cytotoxicity, including antifungal, antimicrobial, hemolytic, and anticancer activities. To suit the pharmacological needs, the activity spectrum of these peptides should be modified by rational engineering. As an example, we provide a detailed review on latarcins (Ltc), linear cytolytic peptides from Lachesana tarabaevi spider venom. Diverse experimental and computational techniques were used to investigate the spatial structure of Ltc in membrane-mimicking environments and their effects on model lipid bilayers. The antibacterial activity of Ltc was studied against a panel of Gram-negative and Gram-positive bacteria. In addition, the action of Ltc on erythrocytes and cancer cells was investigated in detail with confocal laser scanning microscopy. In the present review, we give a critical account of the progress in the research of Ltc. We explore the relationship between Ltc structure and their biological activity and derive molecular characteristics, which can be used for optimization of other linear peptides. Current applications of Ltc and prospective use of similar membrane-active peptides are outlined.

ID:1395

(2015).

Variability of Potassium Channel Blockers in Mesobuthus eupeus Scorpion Venom with Focus on Kv1.1: AN INTEGRATED TRANSCRIPTOMIC AND PROTEOMIC STUDY.

J. Biol. Chem.

290 (19)

,

12195–209

[+]

The lesser Asian scorpion Mesobuthus eupeus (Buthidae) is one of the most widely spread and dispersed species of the Mesobuthus genus, and its venom is actively studied. Nevertheless, a considerable amount of active compounds is still under-investigated due to the high complexity of this venom. Here, we report a comprehensive analysis of putative potassium channel toxins (KTxs) from the cDNA library of M. eupeus venom glands, and we compare the deduced KTx structures with peptides purified from the venom. For the transcriptome analysis, we used conventional tools as well as a search for structural motifs characteristic of scorpion venom components in the form of regular expressions. We found 59 candidate KTxs distributed in 30 subfamilies and presenting the cysteine-stabilized α/β and inhibitor cystine knot types of fold. M. eupeus venom was then separated to individual components by multistage chromatography. A facile fluorescent system based on the expression of the KcsA-Kv1.1 hybrid channels in Escherichia coli and utilization of a labeled scorpion toxin was elaborated and applied to follow Kv1.1 pore binding activity during venom separation. As a result, eight high affinity Kv1.1 channel blockers were identified, including five novel peptides, which extend the panel of potential pharmacologically important Kv1 ligands. Activity of the new peptides against rat Kv1.1 channel was confirmed (IC50 in the range of 1-780 nm) by the two-electrode voltage clamp technique using a standard Xenopus oocyte system. Our integrated approach is of general utility and efficiency to mine natural venoms for KTxs.

ID:1310

(2015).

Preparation of mononucleosomal templates for analysis of transcription with RNA polymerase using spFRET.

Methods Mol. Biol.

1288

,

395–412

[+]

Single positioned nucleosomes have been extensively employed as simple model experimental systems for analysis of various intranuclear processes. Here we describe an experimental system containing positioned mononucleosomes allowing transcription by various RNA polymerases. Each DNA template contains a pair of fluorescent labels (Cy3 and Cy5) allowing measuring relative distances between the neighboring coils of nucleosomal DNA using Forster resonance energy transfer (FRET). The single-particle FRET (spFRET) approach for analysis of DNA uncoiling from the histone octamer during transcription through chromatin is described in detail.

ID:1471

(2014).

Cobra cytotoxins: determinants of antibacterial activity.

Mendeleev Communications

25 (1)

,

70–71

[+]

The investigation of antibacterial activity of three-finger cobra cytotoxins towards Gram-negative and Gram-positive bacteria showed no activity against the former species, whereas M. luteus was found most susceptible to cytotoxins. A correlation was revealed between this activity and hydrophobicity of the toxins (HTL scores), total charge and its distribution over the toxin molecule: the absence of Glu-16 residue and the presence of positively charged residues (Lys30/His31) in the tip of the loop 2.

ID:1398

(2013).

Fluorescent system based on bacterial expression of hybrid KcsA channels designed for Kv1.3 ligand screening and study.

Analytical and bioanalytical chemistry

, [+]

Human voltage-gated potassium channel Kv1.3 is an important pharmacological target for the treatment of autoimmune and metabolic diseases. Increasing clinical demands stipulate an active search for efficient and selective Kv1.3 blockers. Here we present a new, reliable, and easy-to-use analytical system designed to seek for and study Kv1.3 ligands that bind to the extracellular vestibule of the K(+)-conducting pore. It is based on Escherichia coli spheroplasts with the hybrid protein KcsA-Kv1.3 embedded into the membrane, fluorescently labeled Kv1.3 blocker agitoxin-2, and confocal laser scanning microscopy as a detection method. This system is a powerful alternative to radioligand and patch-clamp techniques. It enables one to search for Kv1.3 ligands both among individual compounds and in complex mixtures, as well as to characterize their affinity to Kv1.3 channel using the "mix and read" mode. To demonstrate the potential of the system, we performed characterization of several known Kv1.3 ligands, tested nine spider venoms for the presence of Kv1.3 ligands, and conducted guided purification of a channel blocker from scorpion venom.

ID:782

(2009).

N-terminal amphipathic helix as a trigger of hemolytic activity in antimicrobial peptides: a case study in latarcins.

FEBS Lett.

583 (14)

,

2425–8

[+]

In silico structural analyses of sets of alpha-helical antimicrobial peptides (AMPs) are performed. Differences between hemolytic and non-hemolytic AMPs are revealed in organization of their N-terminal region. A parameter related to hydrophobicity of the N-terminal part is proposed as a measure of the peptide propensity to exhibit hemolytic and other unwanted cytotoxic activities. Based on the information acquired, a rational approach for selective removal of these properties in AMPs is suggested. A proof of concept is gained through engineering specific mutations that resulted in elimination of the hemolytic activity of AMPs (latarcins) while leaving the beneficial antimicrobial effect intact.

ID:318

(2007).

Спектральная лазерная сканирующая конфокальная микроскопия в биологических исследованиях.

Успехи биолог. хим.

47

,

371–410

ID:91

(2006).

Cycloimide bacteriochlorin p derivatives: photodynamic properties and cellular and tissue distribution.

Free Radic. Biol. Med.

40 (3)

,

407–19

[+]

Reactive oxygen species generated by photosensitizers are efficacious remedy for tumor eradication. Eleven cycloimide derivatives of bacteriochlorin p (CIBCs) with different N-substituents at the fused imide ring and various substituents replacing the 3-acetyl group were evaluated as photosensitizers with special emphasis on structure-activity relationships. The studied CIBCs absorb light within a tissue transparency window (780-830 nm) and possess high photostability at prolonged light irradiation. The most active derivatives are 300-fold more phototoxic toward HeLa and A549 cells than the clinically used photosensitizer Photogem due to the substituents that improve intracellular accumulation (distribution ratio of 8-13) and provide efficient photoinduced singlet oxygen generation (quantum yields of 0.54-0.57). The substituents predefine selective CIBC targeting to lipid droplets, Golgi apparatus, and lysosomes or provide mixed lipid droplets and Golgi apparatus localization in cancer cells. Lipid droplets and Golgi apparatus are critically sensitive to photoinduced damage. The average lethal dose of CIBC-generated singlet oxygen per volume unit of cell was estimated to be 0.22 mM. Confocal fluorescence analysis of tissue sections of tumor-bearing mice revealed the features of tissue distribution of selected CIBCs and, in particular, their ability to accumulate in tumor nodules and surrounding connective tissues. Considering the short-range action of singlet oxygen, these properties of CIBCs are prerequisite to efficient antitumor photodynamic therapy.

ID:92

(2005).

Cancer cell injury by cytotoxins from cobra venom is mediated through lysosomal damage.

Biochem. J.

390 (Pt 1)

,

11–8

[+]

Cytotoxins from cobra venom are known to manifest cytotoxicity in various cell types. It is widely accepted that the plasma membrane is a target of cytotoxins, but the mechanism of their action remains obscure. Using the confocal spectral imaging technique, we show for the first time that cytotoxins from cobra venom penetrate readily into living cancer cells and accumulate markedly in lysosomes. Cytotoxins CT1 and CT2 from Naja oxiana, CT3 from Naja kaouthia and CT1 from Naja haje are demonstrated to possess this property with respect to human lung adenocarcinoma A549 and promyelocytic leukaemia HL60 cells. Immobilized plasma membrane binding accompanies the internalization of CT3 from Naja kaouthia in the HL60 cells, but it is very weak for other cytotoxins. Detectable membrane binding is not a property of any of the cytotoxins tested in A549 cells. The kinetics and concentration-dependence of cytotoxin accumulation in lysosomes correlate well with their cytotoxic effects. On the basis of the results obtained, we propose that lysosomes are a primary target of the lytic action of cytotoxins. Plasma membrane permeabilization seems to be a downstream event relative to lysosome rupture. Direct damage to the plasma membrane may be a complementary mechanism, but its relative contribution to the cytotoxic action depends on the cytotoxin structure and cell type.

ID:93

(2005).

Comparative analysis of proapoptotic activity of cytochrome c mutants in living cells.

Apoptosis

10 (4)

,

797–808

[+]

A non-traumatic electroporation procedure was developed to load exogenous cytochrome c into the cytoplasm and to study the apoptotic effect of cytochrome c, its K72-substitued mutants and "yeast --> horse" hybrid cytochrome c in living WEHI-3 cells. The minimum apoptosis-activating intracellular concentration of horse heart cytochrome c was estimated to be 2.7 +/- 0.5 microM (47 +/- 9 fg/cell). The equieffective concentrations of the K72A-, K72E- and K72L-substituted mutants of cytochrome c were five-, 15- and 70-fold higher. The "yeast --> horse" hybrid created by introducing S2D, K4E, A7K, T8K, and K11V substitutions (horse protein numbering) and deleting five N-terminal residues in yeast cytochrome c did not evoke apoptotic activity in mammalian cells. The apoptotic function of cytochrome c was abolished by the K72W substitution. The K72W-substituted cytochrome c possesses reduced affinity to the apoptotic protease activating factor-1 (Apaf-1) and forms an inactive complex. This mutant is competent as a respiratory-chain electron carrier and well suited for knock-in studies of cytochrome c-mediated apoptosis.

ID:94

(2004).

Comparative study of photodynamic properties of 13,15-N-cycloimide derivatives of chlorin p6.

Photochem. Photobiol.

79 (2)

,

172–88

[+]

Comparative study of 13,15-[N-(2-hydroxyethyl)]cycloimide chlorin p6 (2), 13,15-(N-acetoxy)cycloimide chlorin p6 (3), 13,15-(N-hydroxy)cycloimide chlorin p6 methyl ester (4) and 13,15-(N-methoxy)cycloimide chlorin p6 methyl ester (5) together with the previously investigated 13,15-[N-(3-hydroxypropyl)]cycloimide chlorin p6 (1) was performed. The dependence of the key photodynamic properties of 1-5 on the introduced substituents was analyzed. The photoinduced cell-killing activity of 4 is 100- and 280-fold higher than that of chlorin p6 and Photogem, respectively, as estimated on A549 human lung adenocarcinoma cells. The activity is reduced eight times in the order 4 > 5 > 1 > 2 > 3. The intracellular accumulation of 1-5 occurs in cytoplasm in a monomeric form bound to the lipids of cellular membranes. This form of 1, 2, 3, 4 and 5 is characterized by the high quantum yield of singlet oxygen generation, which depends on the introduced substituents, 0.66, 0.59, 0.35, 0.51 and 0.73, respectively. The photostability is two-fold less for 1 and four-fold less for 2, 3 and 5 than for 4. The rates of cellular uptake and efflux of 1-5 vary widely, thus providing the way to optimize the pharmacological properties of the photosensitizer (PS) using the respective substituents. Modifying the substituents, 1-5 were targeted to different cellular organelles. The enhanced accumulation in the Golgi apparatus and mitochondria complemented with diffuse staining of intracellular membranous structures is a property of 1-4. Compound 5 accumulates selectively in the lipid droplets and stains weakly perinuclear structures. Temperature-sensitive mechanisms of transport are responsible for the 1-4 uptake. Diffusion can play a role in the internalization of 5 but not of 1-4. Endocytosis via caveolae, clathrin-dependent and adenosine triphosphate-dependent pathways are not noticeably involved in the 1-5 internalization. Independently from their intracellular localization 1, 4 and 5 are highly efficient near-IR PS, which induce predominantly an apoptotic type of cell death under conditions providing ca 50% level of phototoxicity and necrosis at the 100% level of phototoxicity.

ID:95
Internalization mechanisms and intracellular distribution features of magnetic nanoparticles functionalized with folic acid (2017-11-27)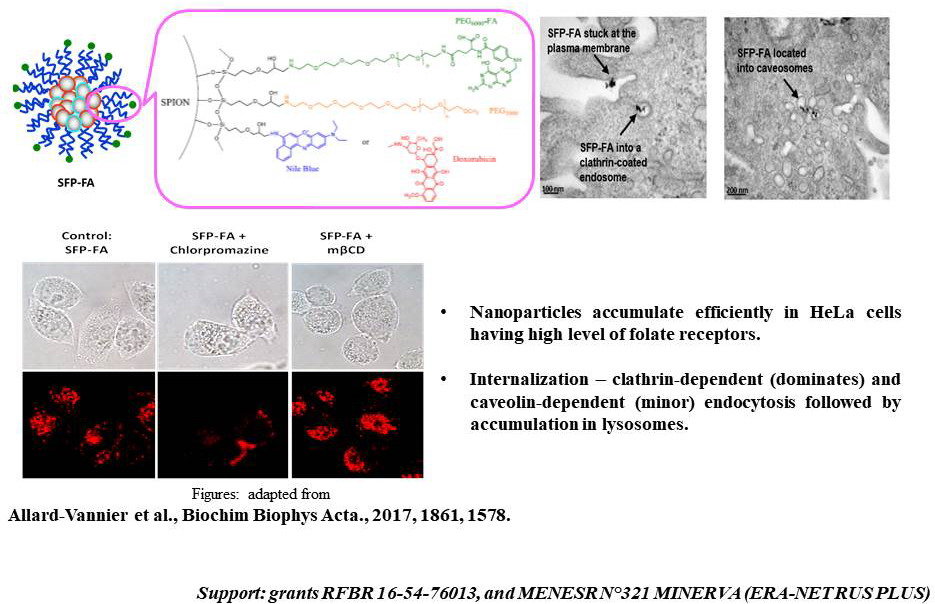 Ignatova A.A., Feofanov A.V.
Theranostics-oriented fluorescently-labeled iron oxide nanoparticles coated with polyethylene glycol and functionalized with folic acid effectively accumulate in HeLa cervix carcinoma cells having a high level of membrane folate receptors.
Penetration of nanoparticles into HeLa cells occurs primarily by clathrin-dependent endocytosis with a weak participation of caveolin-mediated endocytosis and ends with their accumulation in lysosomes.
This work was performed in collaboration with Shebanova A. (Biological Faculty, Lomonosov Moscow State University), Allard-Vannier E., Hervé-Aubert K., Kaaki K., Blondy T., Saboungi M.L., Chourpa I.(EA 6295 Nanomédicaments et Nanosondes, Université F. Rabelais de Tours, Tours, France).
Publications
(2017).

Folic acid-capped PEGylated magnetic nanoparticles enter cancer cells mostly via clathrin-dependent endocytosis.

Biochim. Biophys. Acta

1861 (6)

,

1578–1586

[+]

This work is focused on mechanisms of uptake in cancer cells of rationally designed, covalently assembled nanoparticles, made of superparamagnetic iron oxide nanoparticles (SPIONs), fluorophores (doxorubicin or Nile Blue), polyethylene glycol (PEG) and folic acid (FA), referred hereinafter as SFP-FA.

ID:1689
AN EFFICIENT METHOD FOR PRODUCTION OF RECOMBINANT α-КТХ PEPTIDES – THE BLOCKERS OF POTASSIUM CHANNELS (2017-11-27)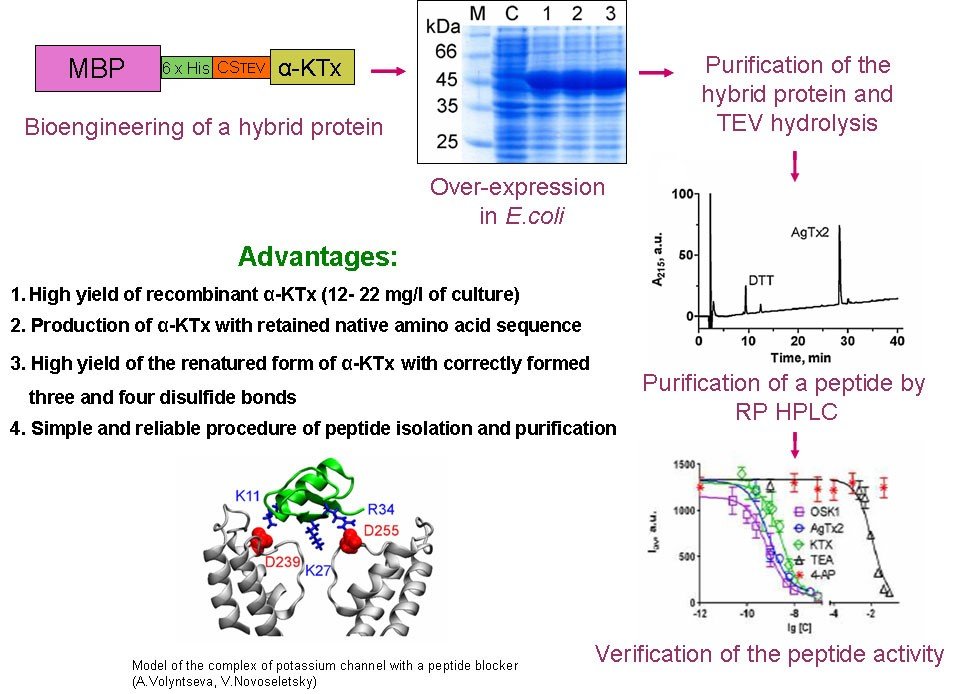 O.V.Nekrasova, K.S.Kudryashova, S.A.Yakimov, M.P.Kirpichnikov
A.V.Feofanov
A bioengineering method for production of peptide blockers of potassium Kv1 channels has been developed that provides:
high yield of the target peptides (12-22 mg/l culture);
retaining the native amino acid sequence of α-КТх peptides;
high yield of the renatured form of the peptides with correctly formed three and four disulfide bonds;
simple and reliable procedure of peptide isolation and purification.
The recombinant peptides of the α-KTx family obtained by this method have the activity of the natural blockers. High affinity potassium channel blockers from scorpion venom are widely used to study the structure and function of the channels and have a promising medical significance.
Publications
(2017).

Recombinant scorpion toxins: Focus on four-disulfide peptide blockers of Kv1-channels.

Bioengineered

,

1–5

[+]

We have recently developed a simple and effective bioengineering approach to large-scale production of alpha-KTx, peptide toxins from scorpion venoms, that block voltage-gated potassium channels with high affinity and specificity. This approach was successfully approved for different peptides containing three disulfide bonds. To extend this method to production of peptide toxins with four disulfide bridges, in particular, maurotoxin and hetlaxin, appropriate conditions of a cleavage reaction with tobacco etch virus (TEV) protease need to be found. For this, the interplay between efficiency of TEV hydrolysis and sensitivity of the target peptides to disulfide reducing agents was studied, and optimized protocols of TEV cleavage reaction were worked out. Maurotoxin and hetlaxin were produced in a folded form avoiding in vitro renaturation step with yields of 14 and 12 mg/liter of culture, respectively.

ID:1978

(2016).

Straightforward approach to produce recombinant scorpion toxins-Pore blockers of potassium channels.

J. Biotechnol.

241

,

127–135

[+]

Scorpion venom peptide blockers (KTx) of potassium channels are a valuable tool for structure-functional studies and prospective candidates for medical applications. Low yields of recombinant KTx hamper their wide application. We developed convenient and efficient bioengineering approach to a large-scale KTx production that meets increasing demands for such peptides. Maltose-binding protein was used as a carrier for cytoplasmic expression of folded disulfide-rich KTx in E. coli. TEV protease was applied for in vitro cleavage of the target peptide from the carrier. To produce KTx with retained native N-terminal sequence, the last residue of TEV protease cleavage site (CSTEV) was occupied by the native N-terminal residue of a target peptide. It was shown that decreased efficiency of hydrolysis of fusion proteins with non-canonical CSTEV can be overcome without by-product formation. Disulfide formation and folding of a target peptide occurred in cytoplasm eliminating the need for renaturation procedure in vitro. Advantages of this approach were demonstrated by producing six peptides with three disulfide bonds related to four KTx sub-families and achieving peptide yields of 12-22mg per liter of culture. The developed approach can be of general use for low-cost production of various KTx, as well as other disulfide-rich peptides and proteins.

ID:1690
Development of integrated transcriptomic and proteomic approach to search for blockers of potassium channels in animal venoms (2016-03-26)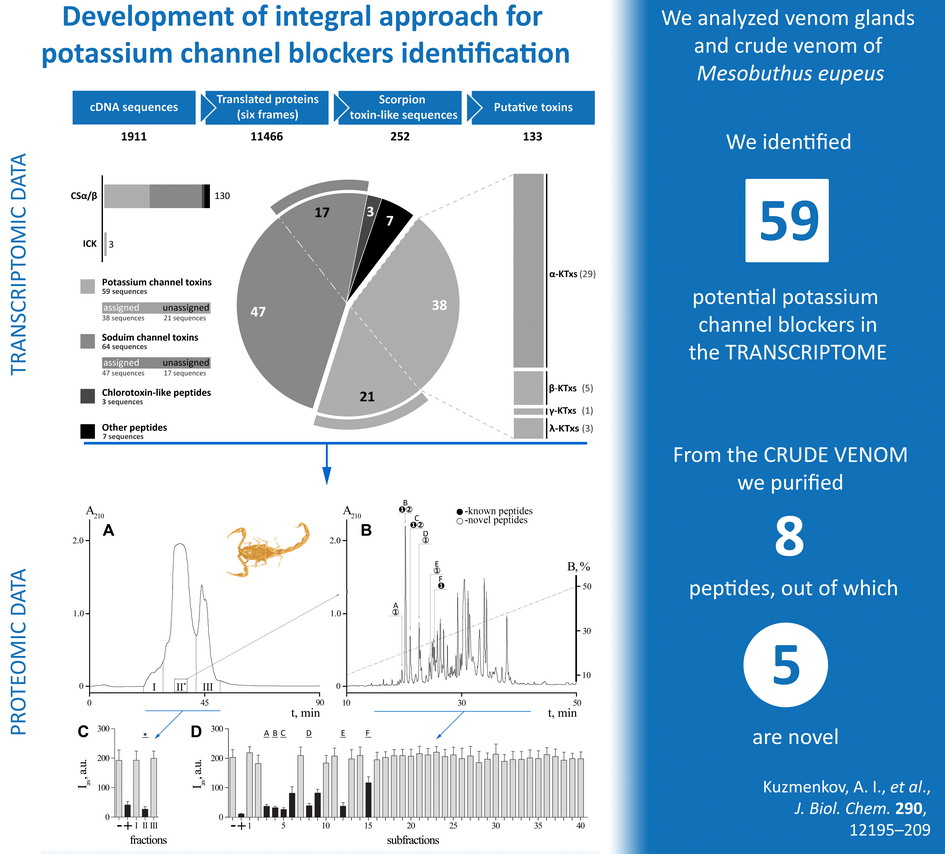 Authors: 
Kuzmenkov A.I. , Vassilevski A.A., Grishin Eu.V.
Department of molecular neurobiology
Kudryashova K.S., Nekrasova O.V., Kirpichnikov M.P.  
Bioengineering Department  
Feofanov A.V.  
Laboratory of optical microscopy and spectroscopy of biomolecules
Annotation: 
An original approach was developed to search for new ligands of potassium channels. It combines the bioengineering cellular test system and transcriptomic and proteomic analysis of animal venoms. Using this approach eight high-affinity peptide blockers of voltage-gated potassium channel Kv1.1 (including five new peptides) were found in the venom of the scorpion Mesobuthus eupeus. The proposed approach is a versatile and effective tool for directed search for  blockers of potassium channels in natural venoms.
Publications
(2015).

Variability of Potassium Channel Blockers in Mesobuthus eupeus Scorpion Venom with Focus on Kv1.1: AN INTEGRATED TRANSCRIPTOMIC AND PROTEOMIC STUDY.

J. Biol. Chem.

290 (19)

,

12195–209

[+]

The lesser Asian scorpion Mesobuthus eupeus (Buthidae) is one of the most widely spread and dispersed species of the Mesobuthus genus, and its venom is actively studied. Nevertheless, a considerable amount of active compounds is still under-investigated due to the high complexity of this venom. Here, we report a comprehensive analysis of putative potassium channel toxins (KTxs) from the cDNA library of M. eupeus venom glands, and we compare the deduced KTx structures with peptides purified from the venom. For the transcriptome analysis, we used conventional tools as well as a search for structural motifs characteristic of scorpion venom components in the form of regular expressions. We found 59 candidate KTxs distributed in 30 subfamilies and presenting the cysteine-stabilized α/β and inhibitor cystine knot types of fold. M. eupeus venom was then separated to individual components by multistage chromatography. A facile fluorescent system based on the expression of the KcsA-Kv1.1 hybrid channels in Escherichia coli and utilization of a labeled scorpion toxin was elaborated and applied to follow Kv1.1 pore binding activity during venom separation. As a result, eight high affinity Kv1.1 channel blockers were identified, including five novel peptides, which extend the panel of potential pharmacologically important Kv1 ligands. Activity of the new peptides against rat Kv1.1 channel was confirmed (IC50 in the range of 1-780 nm) by the two-electrode voltage clamp technique using a standard Xenopus oocyte system. Our integrated approach is of general utility and efficiency to mine natural venoms for KTxs.

ID:1310